Whether you have a small space or just want to highlight a corner of the house, small Christmas trees make more of a statement than what you might think. With some creative display ideas, a small tree can still make an impressive focal point. You definitely won't feel like you are missing out if space doesn't allow for a large tree. I'll show you a variety of clever ideas on how to decorate with small trees.
When our kids were growing up, we always had large Christmas trees and usually more than one. I loved those big focal points in our home. However, now we have a small condo and a small cabin, neither of which have space for a large tree. At least not with taking over too much of the room! So, I decided that decorating with small Christmas trees was better than crowding us out of our living space. In doing so, I have been pleasantly surprised at how much I really enjoy a smaller tree.
For the past few years, we have simply cut a small pine tree down from our woods. We still spend about the same amount of time looking for a tree as when we would go to a Christmas tree farm in the past. However, now when I cut one down, I can carry it with one hand to the car. A fun and easy experience!
How To Decorate With A Small Christmas Tree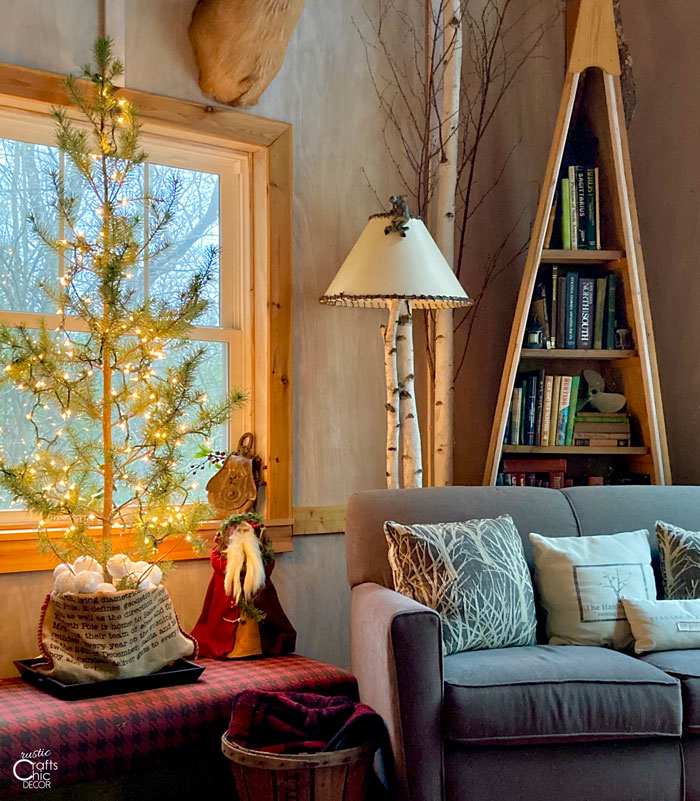 1. Add White Lights
Some small trees, like ours, are a little too flimsy to hold heavy ornaments but can still handle lights. When the tree is lit up at night, it still creates that warm cozy feeling regardless of the size.
2. Simplify The Ornaments
Even if your tree is dense enough to hold ornaments, you may want to keep it simple. Choose ornaments of the same color or keep it to just special keepsake ornaments. A little goes a long way with a small tree.
If your tree is not dense enough for ornaments, find other creative ways to display ornaments around the house. Since I couldn't put my snowball ornaments on the tree, I placed them in the bucket holding my tree instead.
3. Leave Off The Tree Topper
A small Christmas tree can be a bit overwhelmed by a large tree topper. I placed my Santa tree topper next to the tree instead. If you can't go without a topper, just using something small like a star or tie a ribbon around the top.
4. Add Height With Furniture
Placing a small tree on a low table or bench gives additional height that adds more impact and draws the eye up. If you only need to add a little height, place a tree on a vintage sled. A mini Christmas tree makes a nice tabletop tree for higher tables like sofa or end tables.
5. Place The Tree In A Decorative Container
Rustic buckets, crocks, or baskets work great for holding a Christmas tree. Since you may not really need a traditional stand, you can add more to the decor with a fun container. I normally just place my tree in a rusty bucket. However, this year I wrapped the bucket in a Christmas style burlap sack.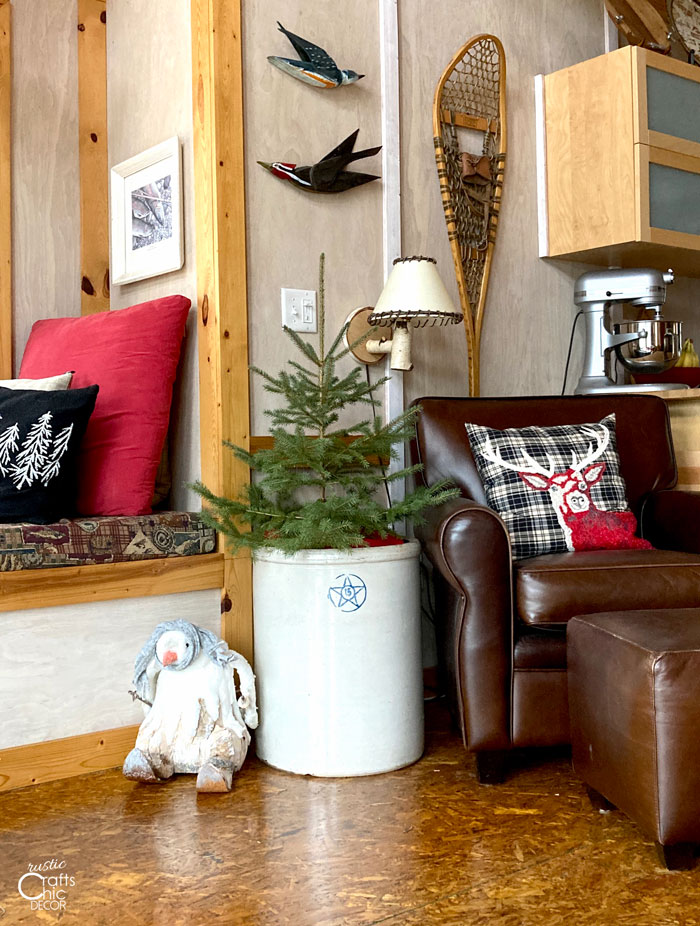 Usually when we go to cut down a tree, I find several possibilities and end up cutting a few down. This is always nice for distributing trees around the cabin. I do like to have options! Because this little spruce was quite small, it was perfect for placing in a large crock for additional height.
More Small Christmas Tree Inspiration
Short And Dense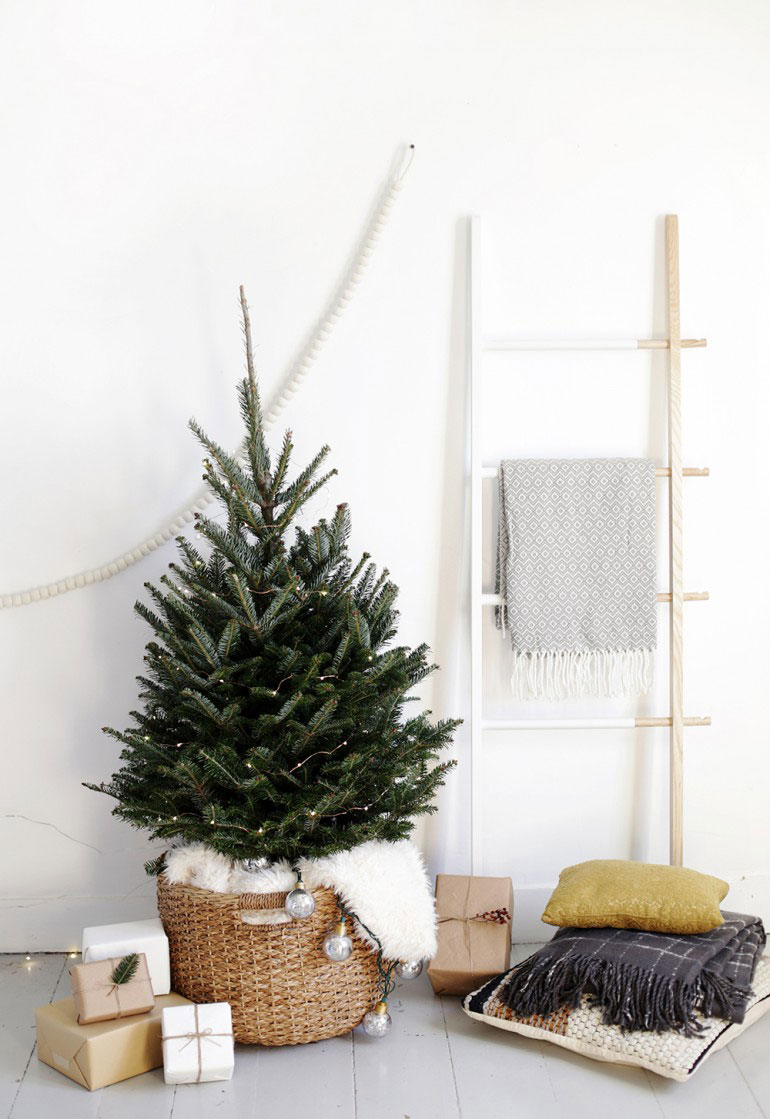 A short and dense tree has a totally different vibe than a narrow and wispy one. You don't need to go as high, with this type of tree, to add impact. Placing it in a large basket is enough. Notice the contrast of the small white lights on the tree and the large lights draping out of the basket. This adds a ton of visual interest while still keeping a minimal feel.
Bare Tree In A Crate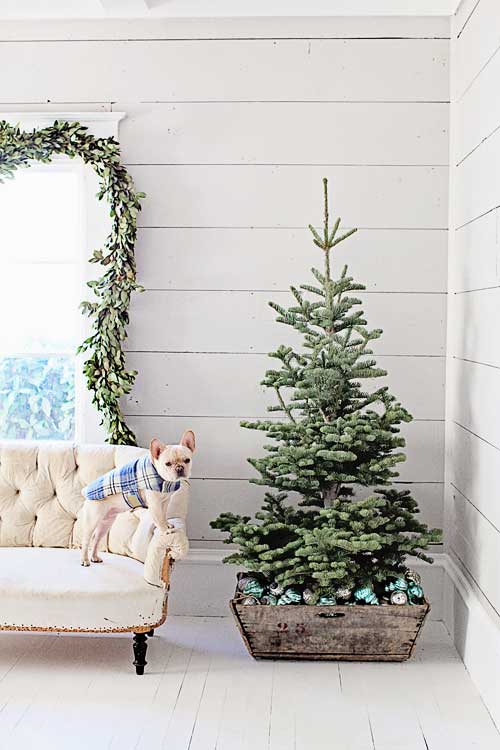 This completely bare tree is still loaded with style. The shiny ornaments that fill the rustic crate base add all the wow factor that this tree needs.