Summer holidays and just general good weather, bring about the desire for some outdoor entertaining. This, in turn, makes decorating the outdoor table at the top of the list for parties and barbecues. And, just like rustic decor is popular for inside the house, it also is a great theme for an outdoor table. I'll show you some outdoor table decoration ideas that use elements from nature. The decor will highlight and blend with the environment.
Fresh and natural decor can be accomplished with very little effort or expense. The way it is displayed is what gives the most impact. Think about what you have on hand that can be used to display nature and how it complements the look. Here are some ideas to get you started with decorating your outdoor table.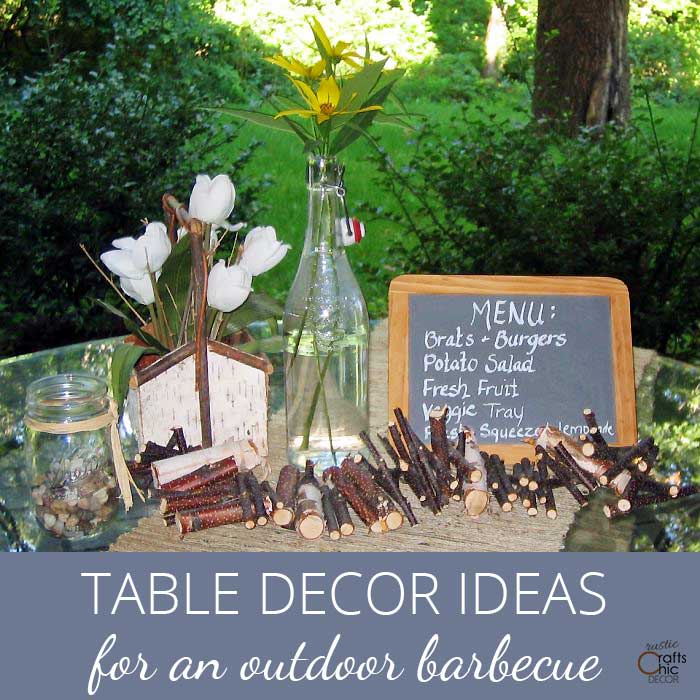 How To Decorate An Outdoor Table
Use Vintage Bottles To Display Flowers
To add just a little more appeal to your flower displays, why not use vintage bottles as vases? This gives a romantic or nostalgic feel to the table which makes it even more welcoming.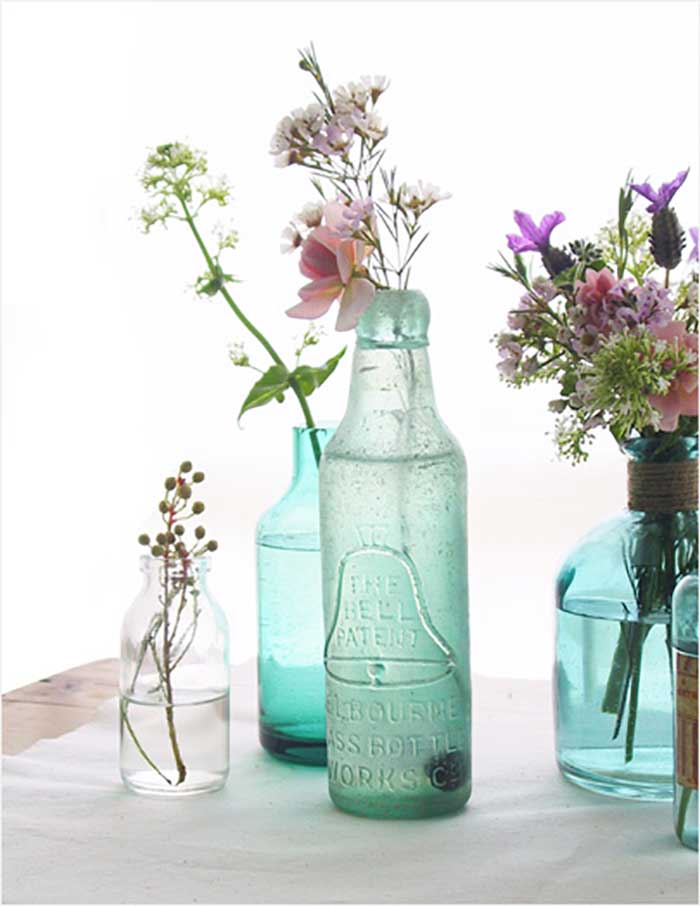 A display of several different bottles in various sizes and colors is particularly pretty. Just fill with fresh flowers from your garden.
Incorporate Branches In Your Table Decor
When branches are displayed creatively, they can add a lot to an outdoor table. Whether you display some in a vase or scatter them on the center of a table, the rustic appeal is perfect for outside. See how I made a birch branch garland to dress up my table. Another idea is to place decorative branch smore sticks at each table setting.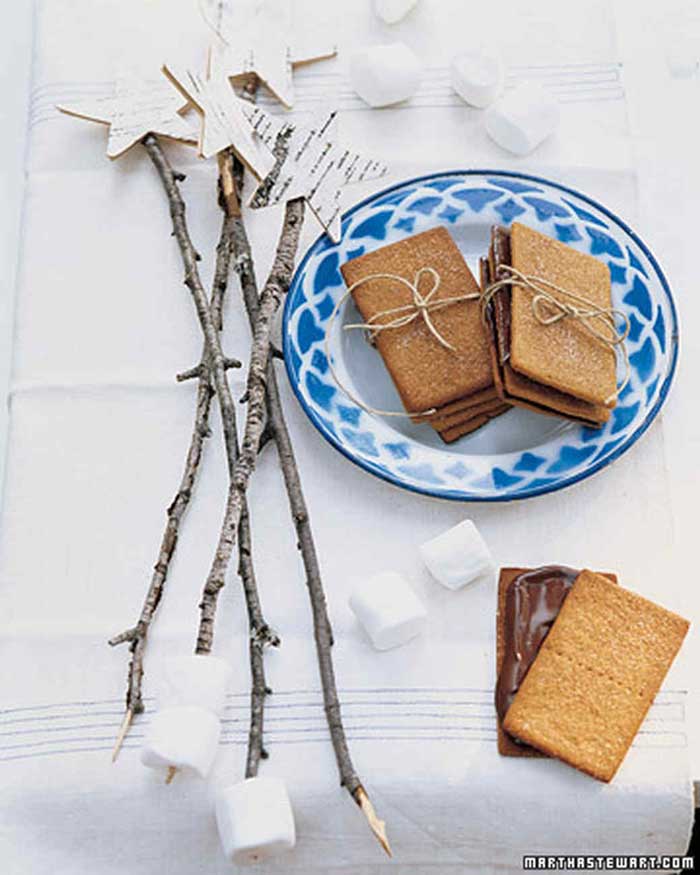 A perfect addition to an outdoor barbecue is a campfire for making smores. Placing decorative smore sticks on the table makes for a stylish and functional display. The fact that these particular sticks are topped with stars makes them perfect for the patriotic holidays.
Use Planters Or Rustic Containers
I happen to love containers that are covered in birch bark. The rustic chic look is perfect for an outdoor table. See how to cover any container with birch bark at my tutorial for a birch covered vase. If you don't have access to birch bark, you can still get a realistic look by painting anything to look like birch. Simple planters also make great containers for storing utensils or flowers.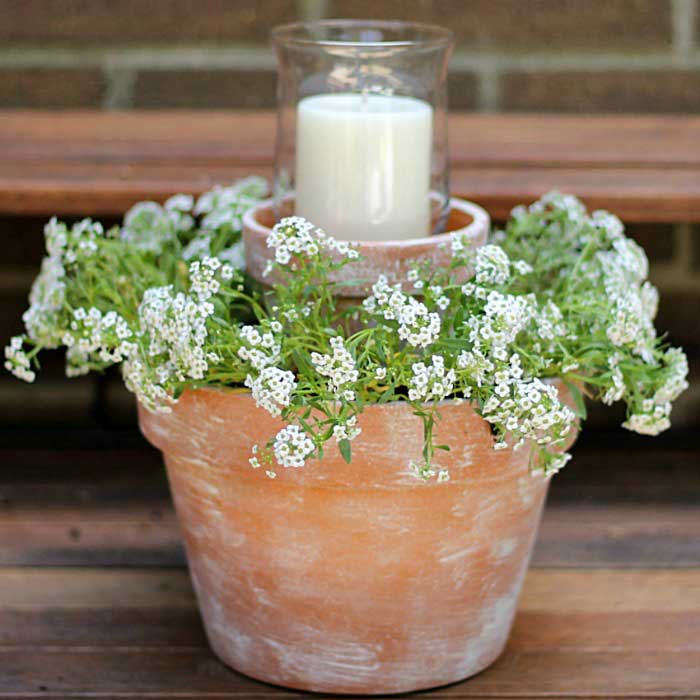 I love this idea for using two flowerpots for a unique outdoor centerpiece design. This idea could also be changed up depending on your purpose. For an outdoor barbecue, you might want to put utensils in the top pot instead of a candle.
Be Creative With Chalkboard Signs
Chalkboard signs are a fun way to add decorative interest to an outdoor table. I like to use small chalkboards to display the barbecue menu. However, you could also use one to make a welcome sign.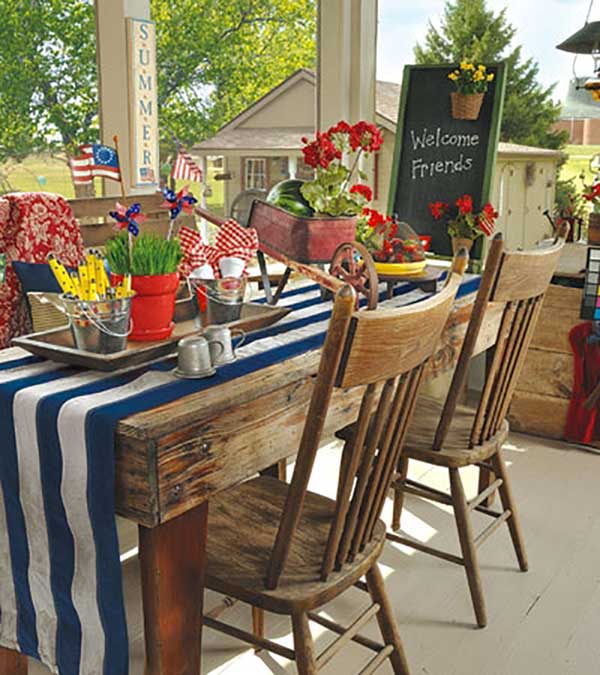 Add Some Candle Light
An outdoor table is not complete unless it has a little sparkly candle light. Burn a regular candle or use a citronella candle to also help ward off mosquitos. See how I used an old mason jar and rocks to make an outdoor table candle. You can also use outdoor finish materials, like brick, to holder tea light candles.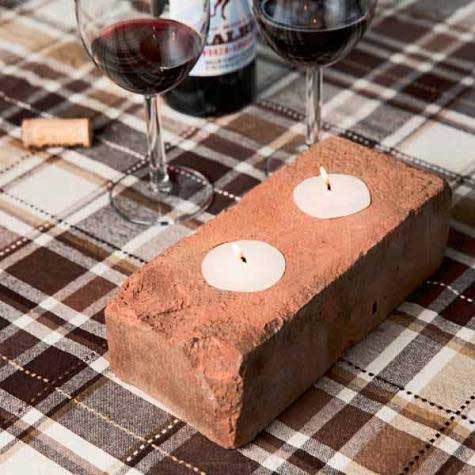 Another benefit of using a heavy brick to hold candles, is that it will add weight to a paper tablecloth to keep it from blowing off. For more outdoor table decoration ideas, see over 30 cool rustic outdoor decor ideas.