Any time that I walk through an antique store I am filled with warmth and inspiration. Because of this, it makes sense to use some of those worn and rustic treasures in a craft room design. With all of the potential work surfaces, chairs, storage shelving, and containers it's easy to create a functional work space with style. These vintage craft room ideas show you what you can do with worn items from the past.
It's important to have a craft room design that inspires creativity. If remnants from the past get your mind thinking, then these vintage craft room ideas are sure to inspire you. Even if you can only incorporate a few of the ideas, the warmth that they give off will make your space comfortable and inviting.
Vintage Sewing Room
This post contains recommended product links. If you make a purchase through one of the links, I will earn a small commission at no cost to you.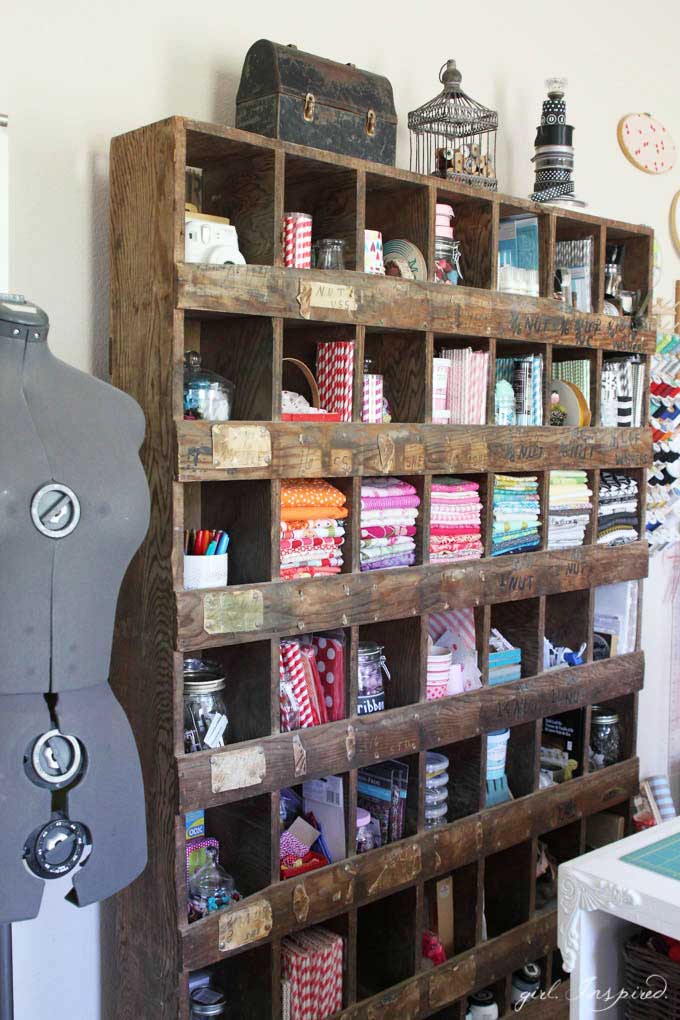 I am always excited to find old cubbies that were once used to house materials for a warehouse or office. This particular cubby once held screws and other hardware for an old factory. The small cubbies make perfect storage space for craft room materials. But not only is the unit super functional, it oozes warmth and style. The old wood is such a great contrast to all of the bright new fabrics and other supplies.
Vintage Barn Studio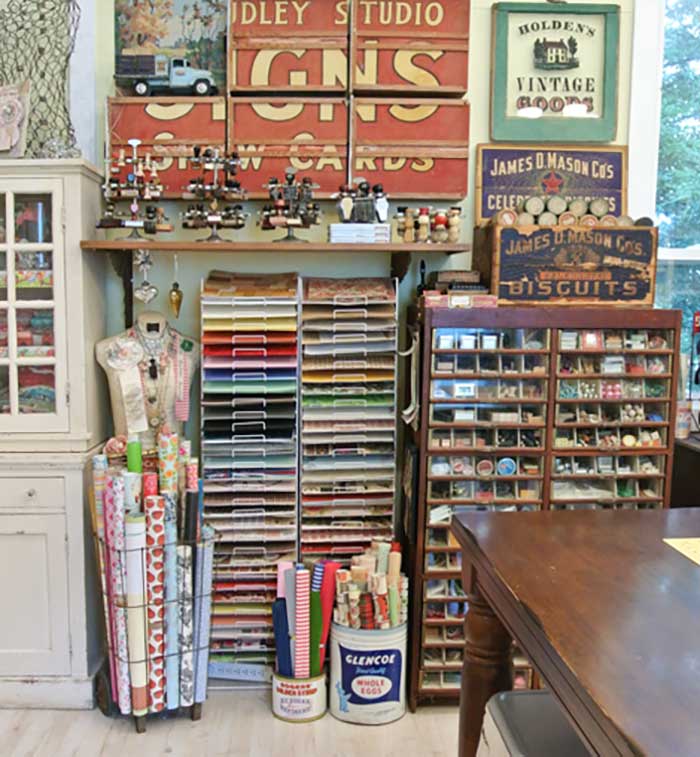 Along with old cubbies and antique furniture, for storage, are things like vintage crates and old buckets. Although you can buy plenty of new bins for craft room storage, using old crates and buckets add so much more character. Plus, it's a great way to give an old item new life.
Vintage Craft Room Storage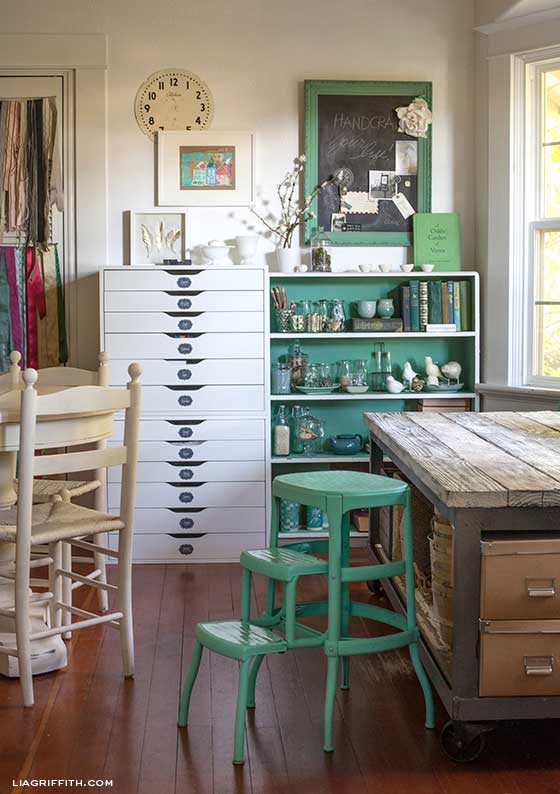 Another thing that I see a lot of in antique stores are industrial work tables. When you put one of these in a craft room, you get a large and sturdy work surface with room for storage underneath. The fact that many of these work tables are also on wheels just adds to the functionality.
Vintage Style Creative Space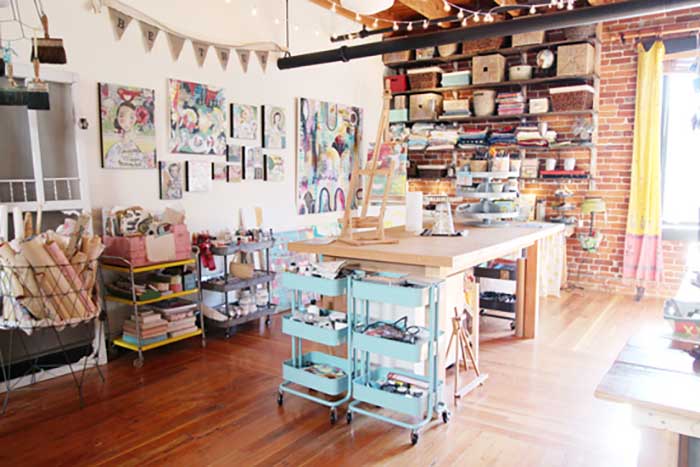 How about an old warehouse loft space to create in? Four artists work together in this amazing space. I live in an industrial loft and love how the space makes me feel. With all of the rustic warmth, I can imagine how great it would be to work creatively in. To get a similar feel for your own craft room, you could make your own brick wall by installing thin brick. A wood floor, beams, and industrial lighting are other features to consider.
Warm And Rustic Craft Room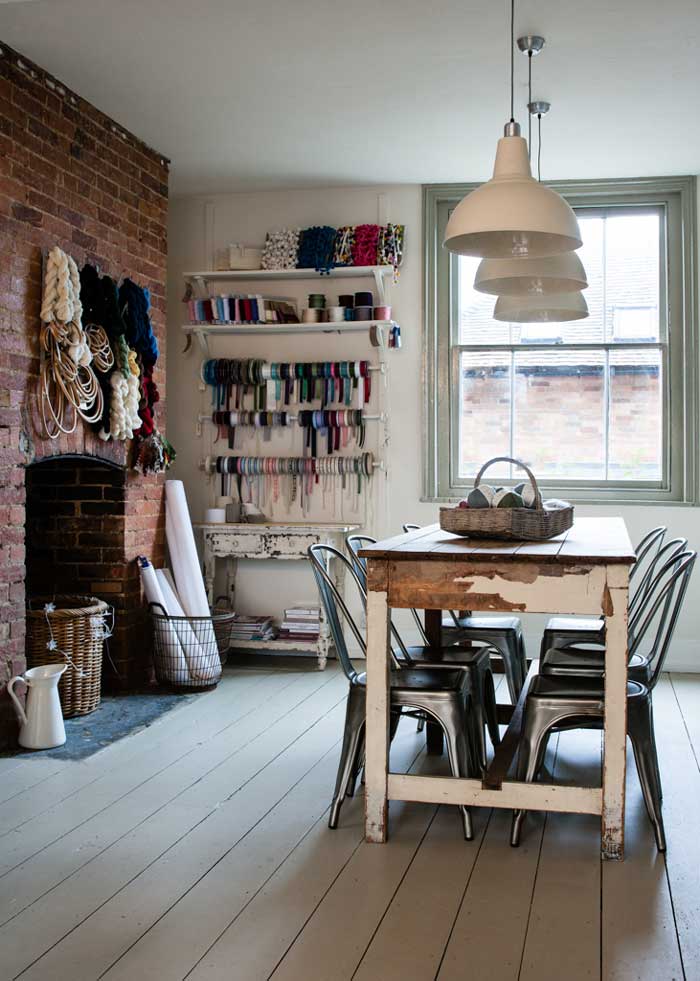 Gather your friends together and work together at a large farmhouse style table. There's nothing better than crafting and socializing at the same time! Old tables like this are also fairly easy to find at antique stores or flea markets. Then, just purchase a set or two of inexpensive metal chairs and you are ready for a crafting party.
Vintage Yardstick Hanging Rod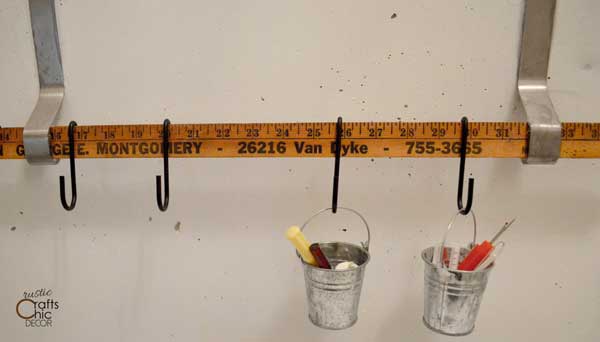 Sometimes just a small vintage item can become useful in the craft room. I used an old yard stick as a bar to hang small tin buckets. By attaching small hooks from Ikea, I am able to hang the buckets to store small sewing supplies. I think the yard stick adds a little more character than a plain metal rod.