I once bought a bag of clothespins because I just needed a couple for hanging a curtain valance. This left me with a lot of extras that I didn't know what to do with. However, I quickly figured out what to do with clothespins in projects around my house. There are several ways to decorate with clothespins.
Unique Clothespin Crafts
Clothespins make an excellent base for some fun craft projects.  You can buy a pretty large bag of these fairly inexpensively. Or, just use leftovers that you have around the house.
Make Decorative Clips
An obvious craft choice is one that I like to do and that is to make decorative clips.  I tended to use clothespins as chip clips anyway but they were a little boring to look at just plain. I figured why not jazz them up a little bit and use them all over the house for clipping papers, gift bags, recipe cards and even photos.  Some I have even attached magnets to the back to use on a magnet board or refrigerator.
This set of clips was fun to make with a combination of colorful buttons and vintage mother of pearl buttons.

I made another set for a vintage heat register that I turned into a clip board. Since I wanted a more industrial look for these, I decorated with metallics.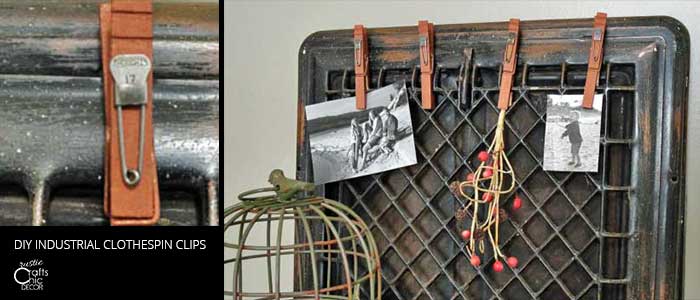 I simply painted them with a copper metallic paint and embellished them with a fun vintage looking safety pin.  There are just so many ways to embellish a clip.  You can paint, stamp, mod podge, embellish with fabric, buttons, rhinestones or game pieces.  Your imagination is the limit!
Besides clips, there are several other crafts that you can make with clothespins.  Here are just a few.

SOURCE: Country Living
This circular mirror by Country Living is a fun example of using clothespins creatively.  It gives you the ability to clip motivating notes to yourself to the mirror each morning!
Decorate Flower Pots With Clothespins

TUTORIAL: Martha Stewart
These clothespins are made to look like a picket fence around the plants.  It's a cute way to add a rustic touch to your basic planters.
Make A Clip On Storage Rack

SOURCE: Our Everyday Life
This is such a cool idea for hanging those kitchen essentials.  Just tie clothespins to a peg rack and hang upside down. I love the rustic look too with the weathered board behind it!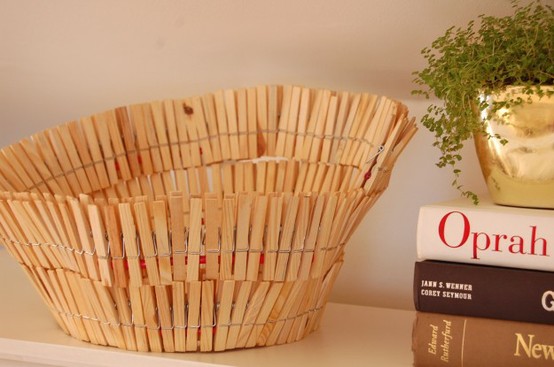 TUTORIAL: The Art Of Doing Stuff
The Art Of Doing Stuff put together this amazing fruit bowl which may be a little easier than you think.   You must check out her blog to see how this was put together!