Decorating a bathroom for a cabin can be a lot of fun.  Since a cabin is typically more casual than a home, you have a little more license to experiment with some budget materials.  Since we were looking to decorate as simply and inexpensively as possible, we tried some homemade and vintage options that fit right in with the rustic decor.
The walls are made with a rough grade of pine bead board and then stained in a warm honey pine color.  We figured this was less work and expense than drywall and paint and would give the bathroom the rustic look we were going for.
The storage tower was made with leftover wood from our building project and just left natural.  We purchased all of the baskets from Ikea for about $5 each and use them to store all of our toiletries.
The sink cabinet was a bargain from Home Depot.  It was about $40 for the cabinet which originally came with it's own sink counter.  We wanted to do something a little more fun with the sink, however.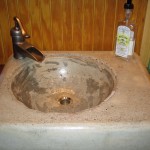 Using a cement mixing tub, a kitchen mixing bowl and some plumbers pipe, my husband formed our sink out of cement.  He placed the inverted mixing bowl into the mixing tub and inserted plumbers pipe where he wanted the holes for the faucet and drain.  A cement mix with coarse gravel was used and then it was sealed with several layers of a gloss sealer.  He made a wooden "counter" to place between the cabinet and the sink.
We have one small window that needed some kind of window treatment for privacy.  I wanted to do something fun there and we found exactly what we needed from an antique store.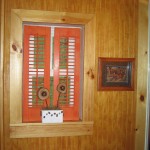 These orange shutters were just the right size to set on the window ledge.  I placed my wooden flowers in front of them for a little extra fun.  The orange gives a nice touch of color to all of the pine and complements a fun cottagy look.
Speaking of fun, we wanted some wall art that was just a little out of the ordinary and that would lend to the "up north" feel.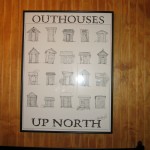 We found this fun print of outhouse sketches and one of the local art stores.  Apparently, these sketches are all of outhouses found in northern Michigan.
It was definitely a fun project decorating our bathroom with homemade and vintage items and a little bit of fun art!