Kitchen Decor: Decorate With Vintage Accessories
Is it okay to add shabby and vintage accessories to a newer and more modern kitchen?
I have collected several vintage kitchen accessories to display in my kitchen but my very latest addition is a somewhat questionable shabby sign.
One thing that you can say about most kitchens is that they tend to be the heart of the home.  They are a place where families like to gather and unwind.  Kitchens already have one big plus, that makes them inviting, and that is the wonderful aromas that come emanating from them…..unless I am making fish…good to eat, not so good to smell!
It makes sense that the kitchen should be visually warm and appealing as well.  There are many ways to accomplish this but one sure way is to throw in some old along with the new.  So I say, go ahead and shabby it up a little if you like.
I love to collect vintage kitchen accessories and have them placed throughout my kitchen.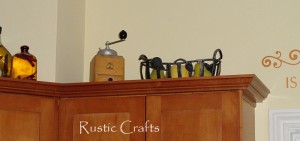 This antique coffee grinder is perched between more modern kitchen decor.  However, I have plenty of other vintage pieces scattered throughout the kitchen.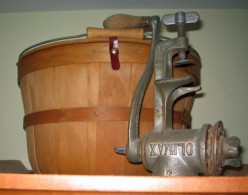 This bushel basket and coffee grinder are another vintage setting that I have above my cabinets.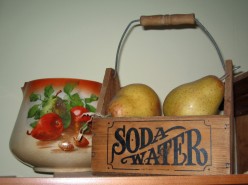 One of my favorite vintage pieces is this old soda water container.  It makes a great place to store some faux pears.
Which brings me to my latest purchase…..it actually wasn't even for sale.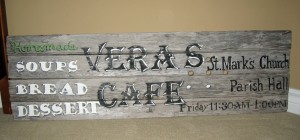 I found this in the back yard area of the antique store I was shopping at.  There were plenty of things for sale back there, some with price tags and some without.  This didn't have a tag but I was ready to negotiate!  I grabbed the gem and headed for the counter only to find out that it wasn't for sale.  This sign was still being used by a local church for an annual charity dinner.  However, the store owner decided that she could easily have another one made if we wanted to make a donation to the church…which we did!
Although I really liked the sign, it took me quite a while to figure out what I wanted to do with it and where I wanted to put it in my house.  I was concerned that it may be just a wee bit too shabby for my kitchen.  I considered it for our cabin and it can still go there if I don't like it in the house.  One of the problems that I couldn't get past or come up with a way to fix were all of the holes.  Do you see them?  Right between where it says "Vera's Cafe" and "St. Mark's Parish" there are six perfectly round holes.  I don't like them.  I know it is a shabby sign but I wanted it to be a neat and clean shabby sign.  I kept brainstorming on what to do to fill them or cover them up and came up with……..nothing!
My husband likes it the way it is but then again it probably reminds him of bullet holes or something manly like that!  I finally decided to display the sign over the top of my kitchen cabinets.  It wouldn't hurt to just place it there.  If I didn't like it I could always simply take it back down with no harm done.
I moved some things around and found a good spot.  I kind of liked it….but not the holes.  So, I took a couple of my baskets and displayed them in such a way that they cover up those unsightly blemishes completely.  Just like a band aid.  Now I was starting to like it!  I added a little eggplant for color and moved my vintage kitchen scale from one area of the kitchen to sit next to the sign.  I think they complement each other well.
Here is the reveal of the whole sign above the cabinet: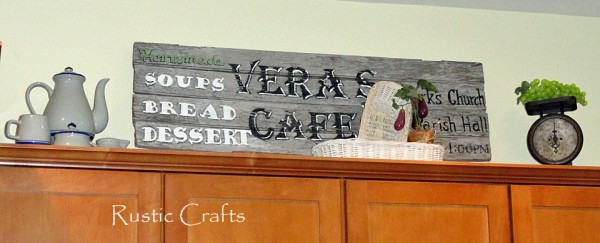 And a broader view of the kitchen: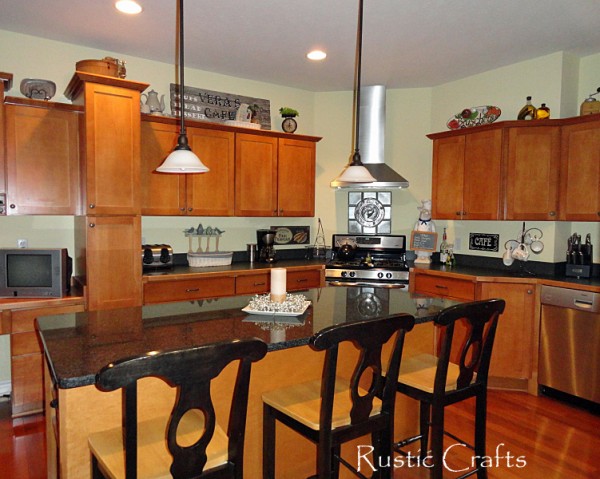 For now I am keeping the shabby sign up there and seeing how I feel after a few days.
So what do you think?  Should it stay or should it go?