When decorating for the Fall season, don't get strung along by the ordinary. Instead, string your own garland for a unique and creative look. This collection of DIY Fall garlands use a variety of rustic materials. From acorns, to pinecones, to book pages and buffalo plaid fabric, there are all kinds of decorative ideas. With all of the inspiration, you are sure to find something you'll enjoy making.
I love using homemade garlands for several different areas of the home. They look fantastic draped over mantels, shelves, and windows. Even a small button garland helps to dress up an ordinary picture frame. The best part is that most garlands are very easy to make.
Although garlands work well for decorating at any time of the year, festive garlands help to set the tone for a particular season or holiday. That's what I love about these Fall garlands. They all set the tone for the season with the warm colors, textures, and shapes. The most common type of DIY fall garland uses leaves in some way. Some of the more unique ideas include feathers, root vegetables, and cinnamon sticks.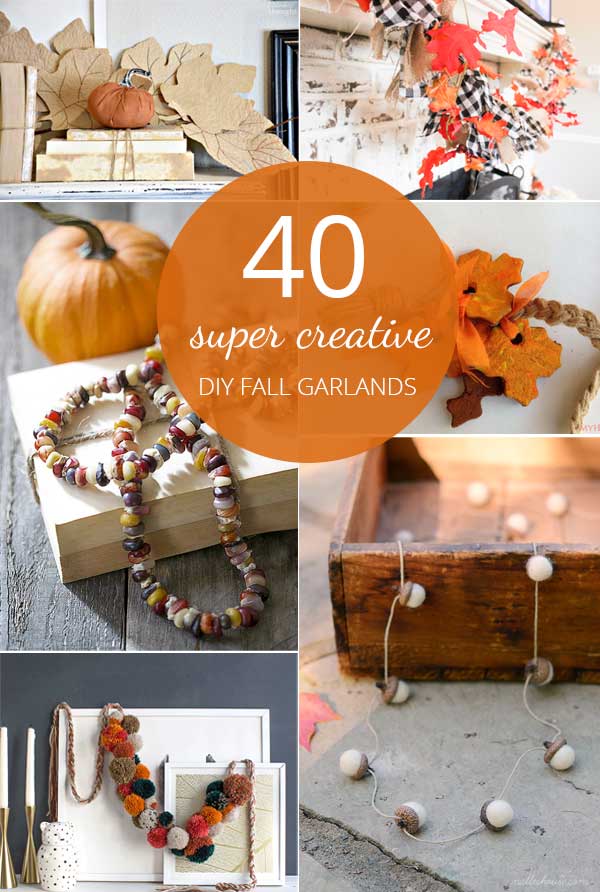 This post contains recommended product links. If you make a purchase through one of the links, I may earn a small commission at no cost to you.
Fall Felt Ball Garland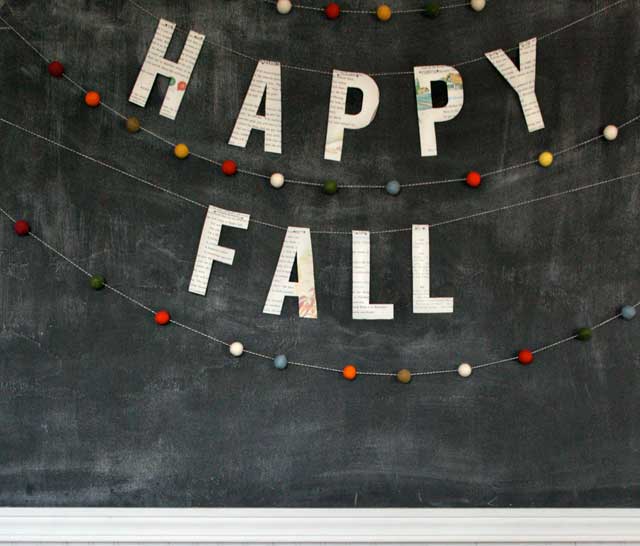 I don't know what it is about colorful felt balls, but I love them! They look playful and fun and you can choose colors that reflect the changing leaves. Just purchase the balls and string them on twine or other thick string.
Felted Acorn Garland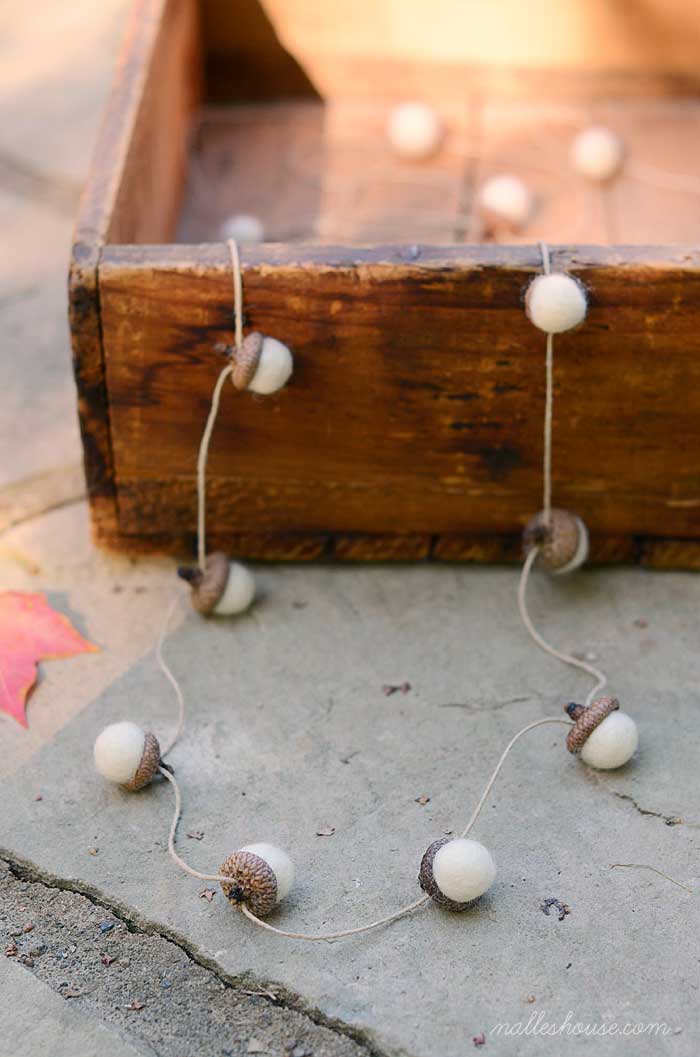 You can also use felt balls to glue onto an acorn cap which enhances the fall season even more. If you don't want to use felt balls, try using marbles for acorns instead.
Acorn And Pinecone Garland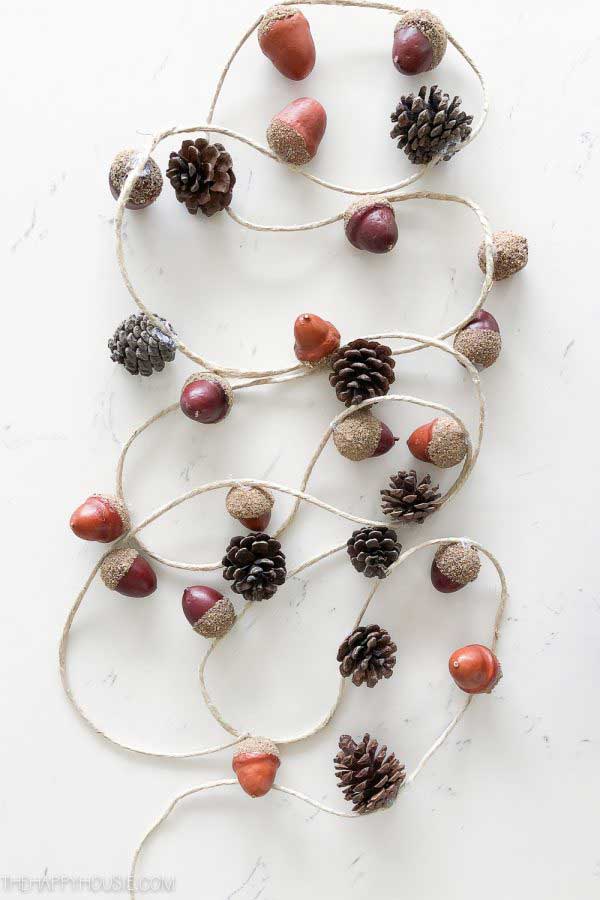 Combine acorns with pinecones to add a lot of textural interest.
Before using any real acorns in a craft project, see how to clean and dry acorns for crafts.
Painted Acorn Garland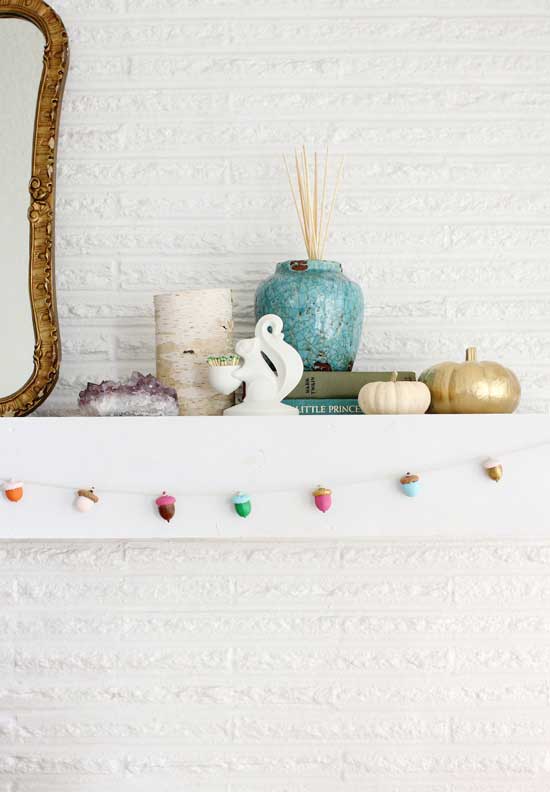 Although you can simply string natural acorns for a decorative garland, painting the acorns first gives a cheerful look. For the most interest, paint the tops and nuts with different color combinations.
Pinecone And Bead Garland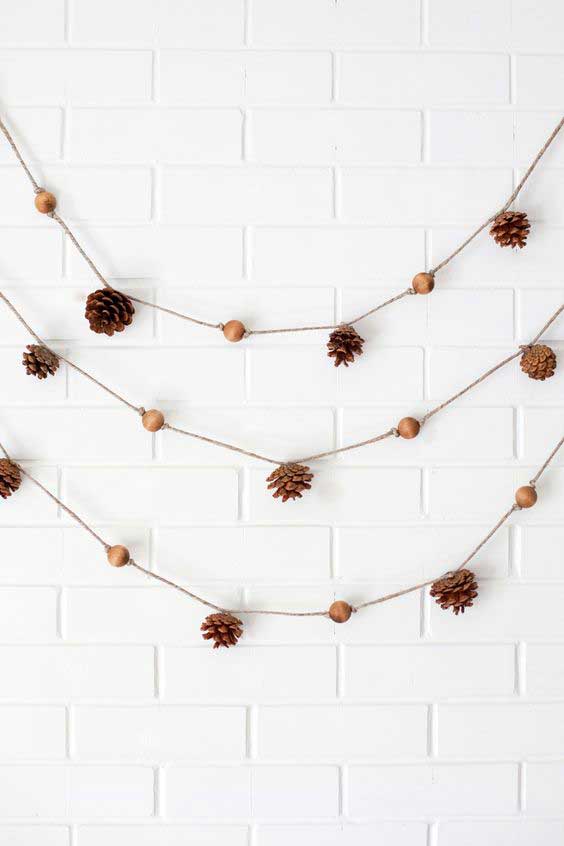 Another fun look is to combine pinecones with natural wooden beads. It's a clean look that is striking against a white background.
Autumn Acorn Banner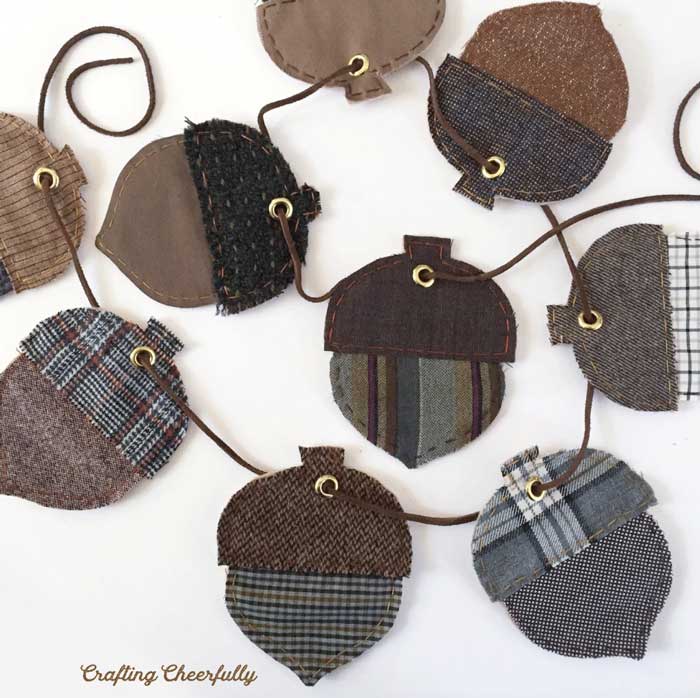 How cute are these fabric acorns! They look especially polished strung through gold grommets on a leather strand.
Fall Crepe Paper Garland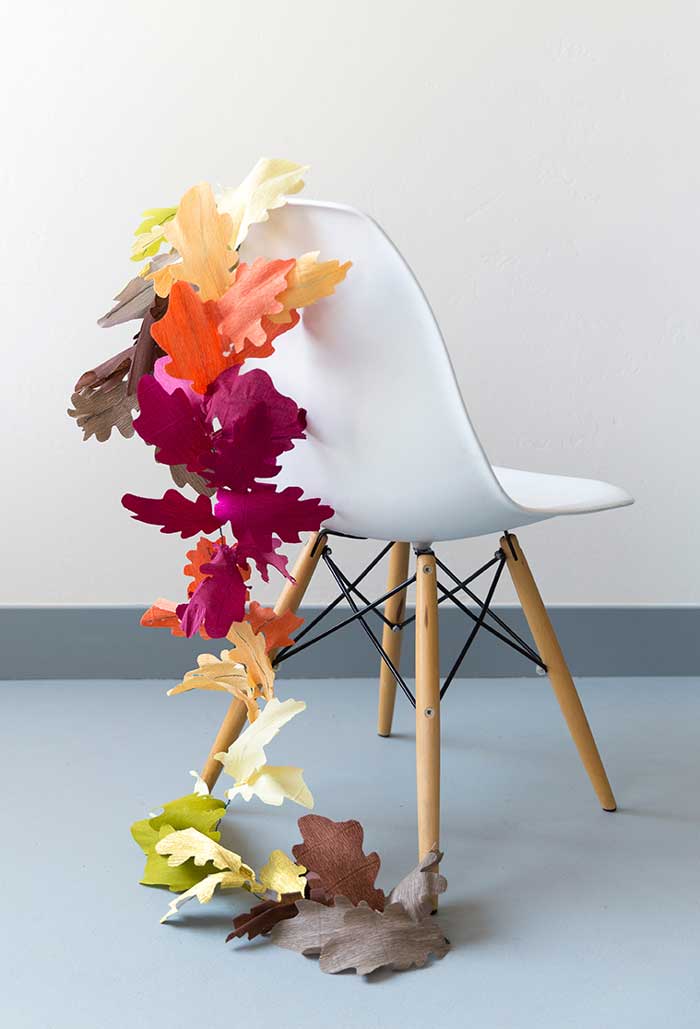 Have fun with crepe paper in a variety of colors. Large leaves like these are especially fun across a large shelf or fireplace mantel.
DIY Autumn Garland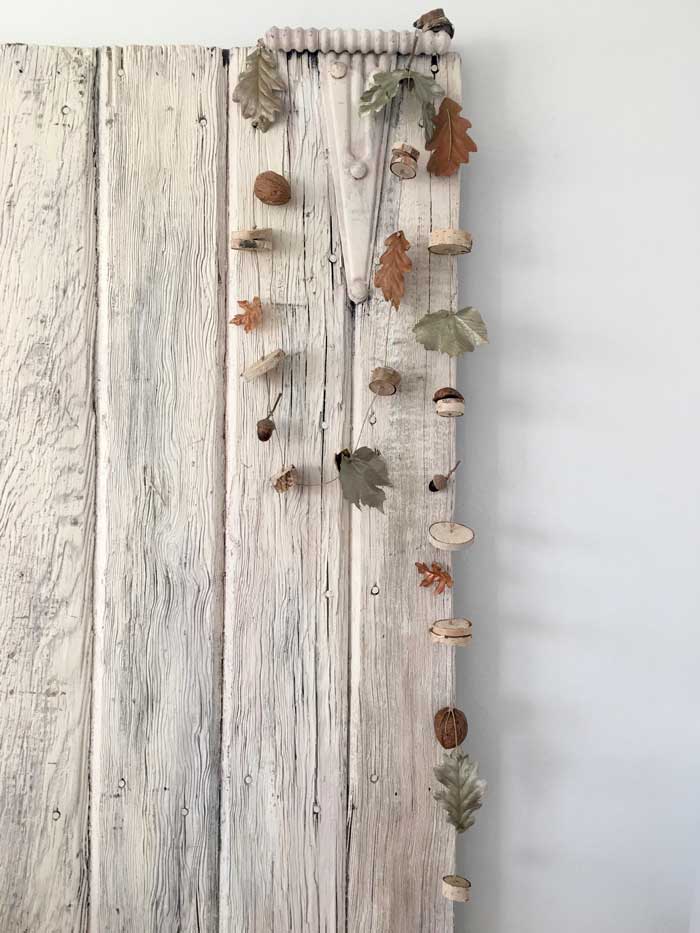 Of course, I had to include a DIY fall garland that has birch slices in part of the strand! The birch is another natural element that complements the colorful leaves.
Glitter Leaf Garland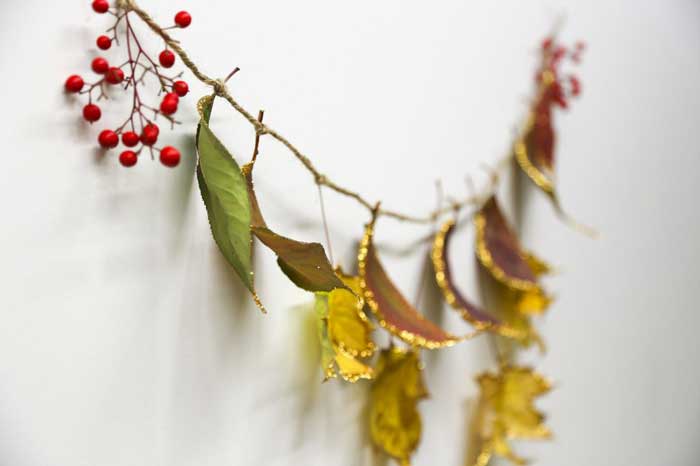 Add a bit of glitz and glamour by painting on some gold glitter to the edges of the leaves.
DIY Burlap Leaf Garland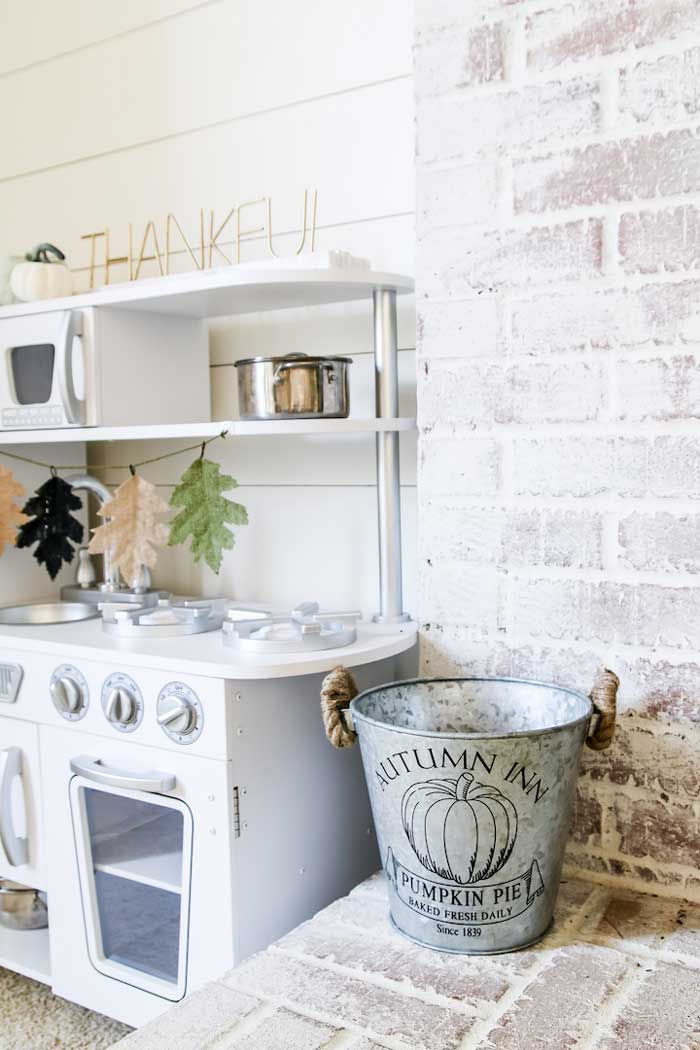 Burlap is a great fabric to use for making a leaf garland. The texture is perfectly rustic.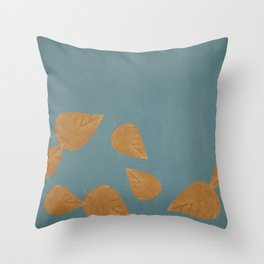 DIY Fall Garland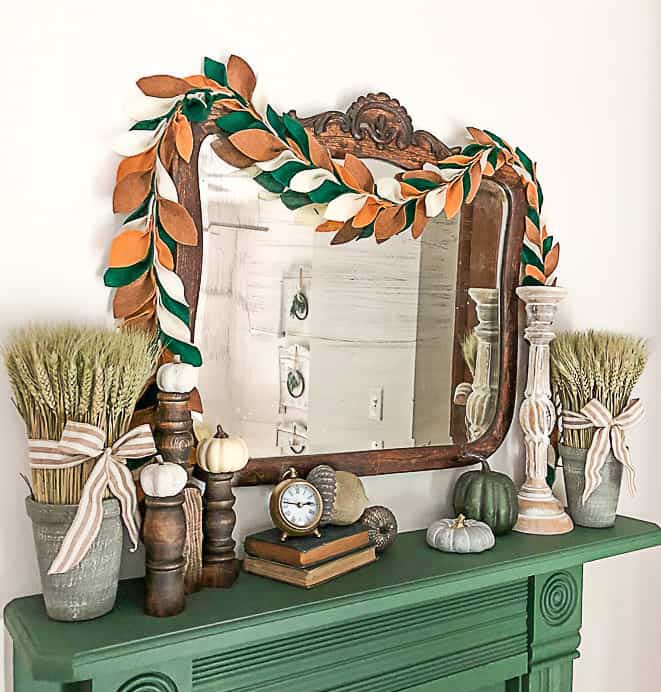 For a softer looking leaf, choose felt to make a garland. It drapes so softly over a mirror or shelf.
Book Page Leaf Garland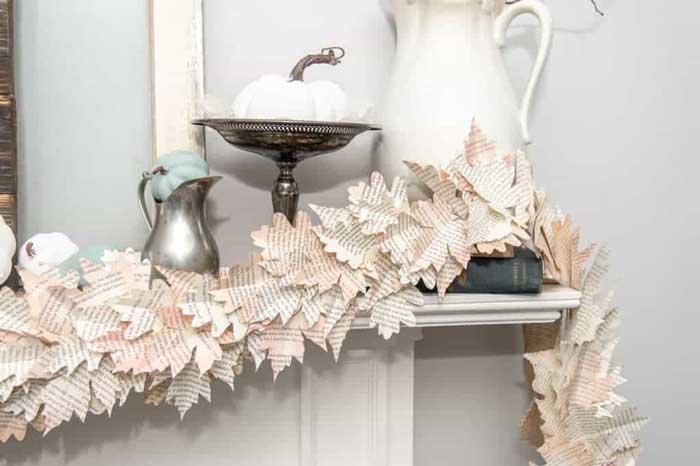 Book pages are once again a great option for a chic farmhouse look. If you have some aged books, they are great to include for a warmer look.
White Maple Leaf Garland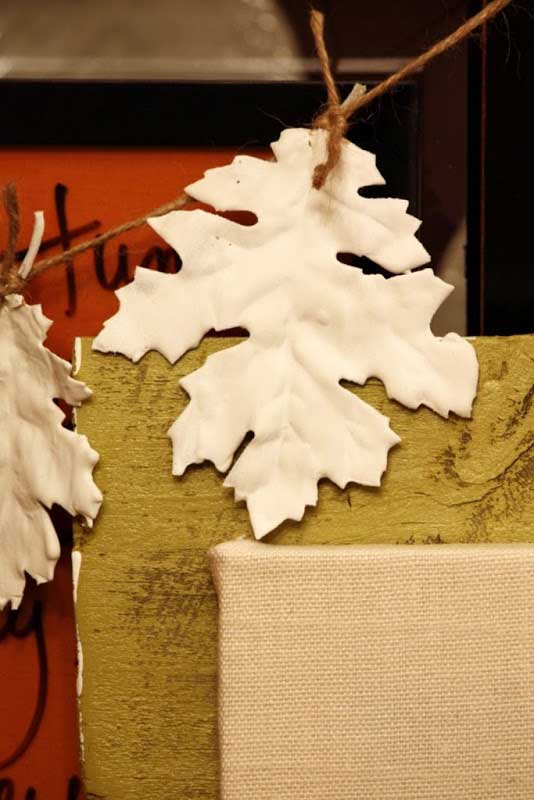 When you have a lot of warm color already in your decor, make white leaves to use in your garland.
Lighted Fall Leaf Garland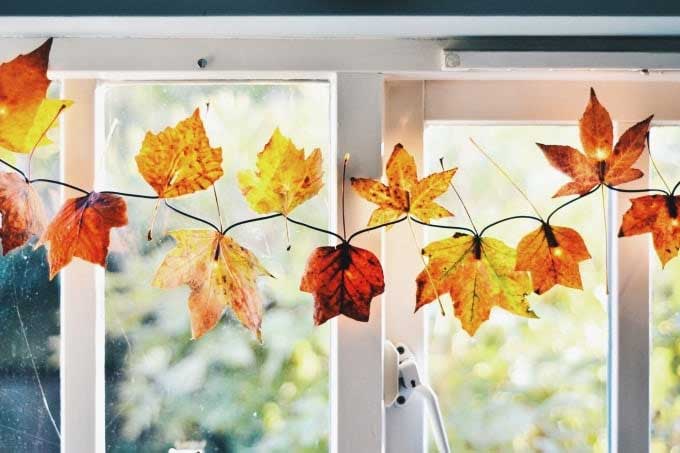 String leaves on white Christmas lights to illuminate the warm colors.
Beeswax Dipped Leaf Garland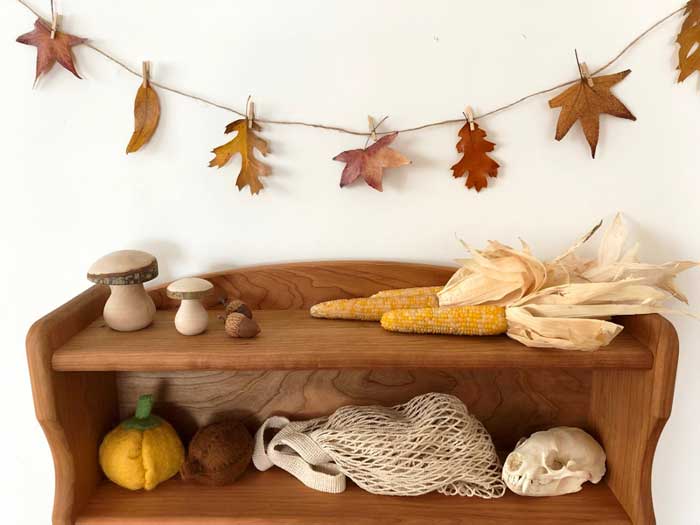 Add a satin sheen to your leaves by coating them with beeswax.
Fallen Leaves Garland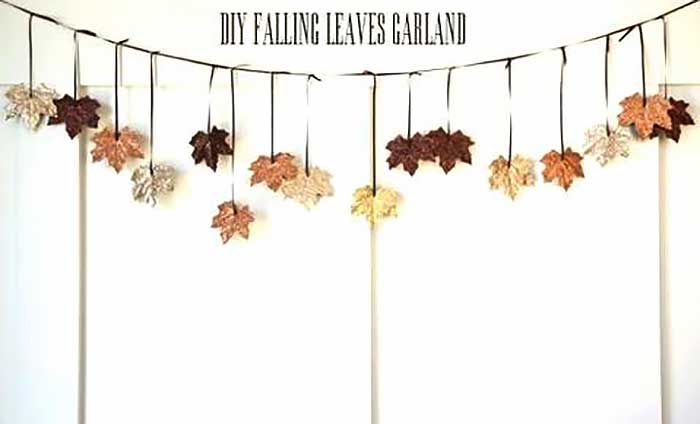 To give the feel of fallen leaves, hang individual leaves from a main strand at differing heights.
Fall Fabric Leaf Garland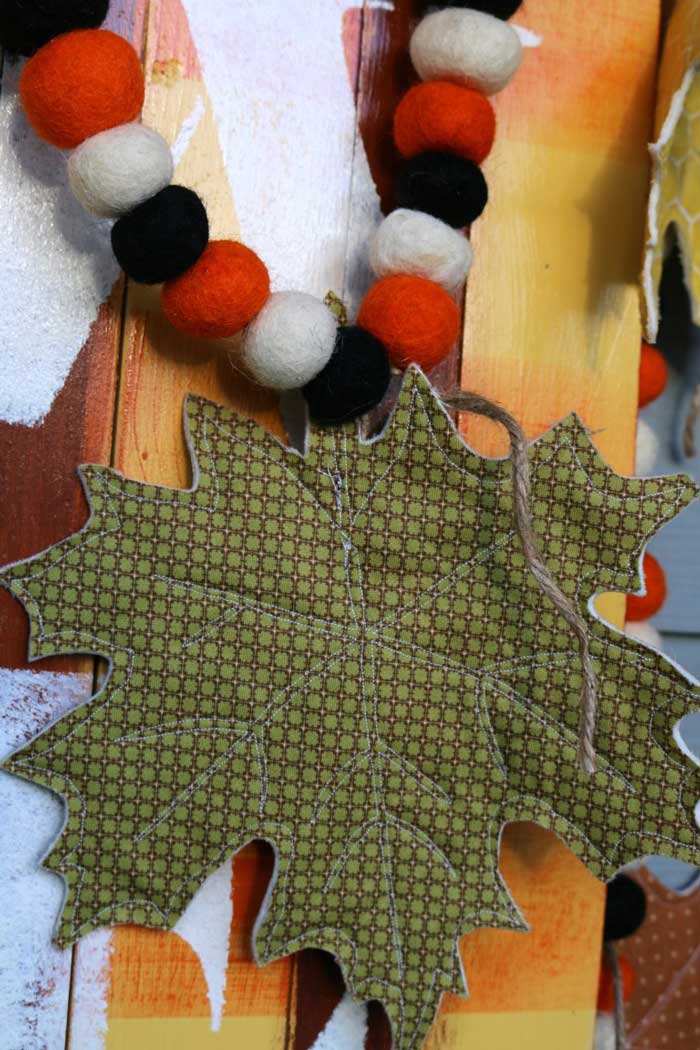 Patterned fabric is cheery to use for leaves in a Fall garland. When combined with colorful felt balls you get even more bang for your buck.
Felt Leaf Garland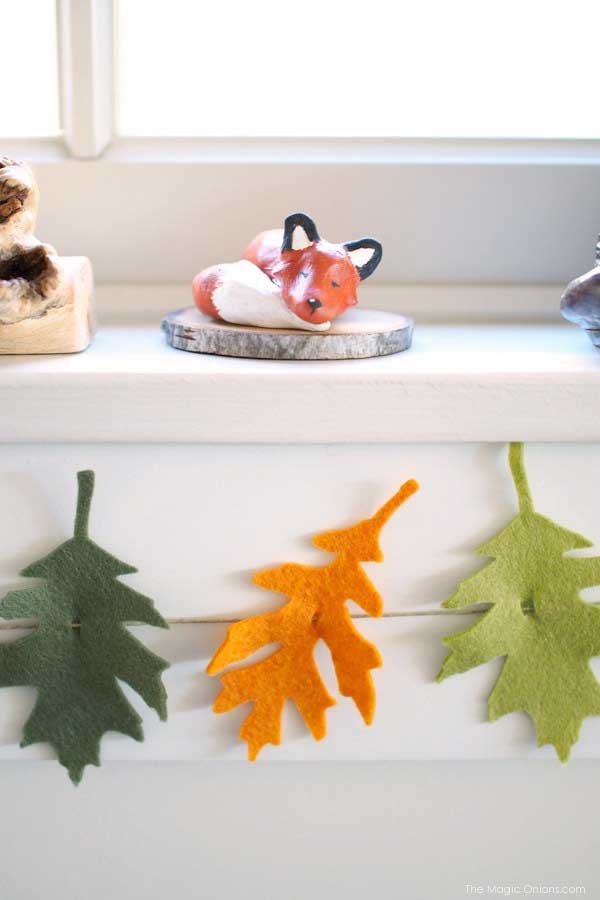 I love the simple and clean look of this DIY Fall garland.
Dough Leaf Garland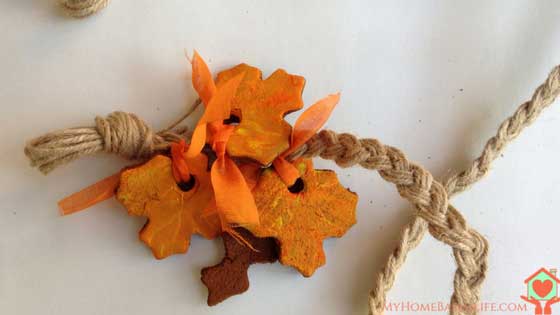 Make your own dough leaves for a unique garland that smells good too.
Fall Feather Garland DIY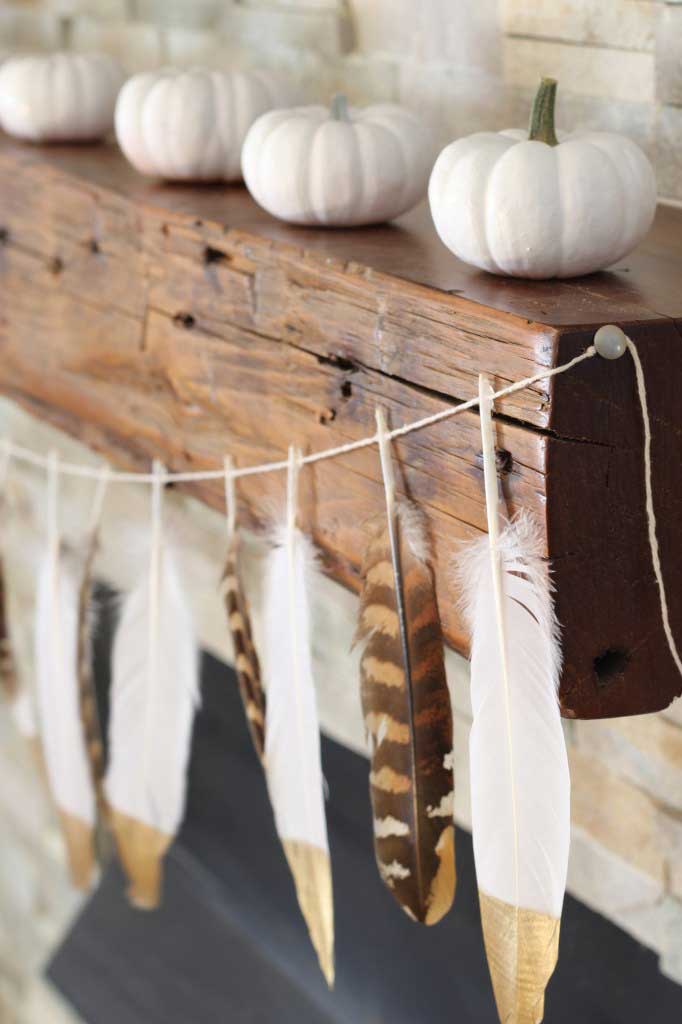 Simply string feathers on some white twine for an easy but creative garland.
Mini Pumpkin Garland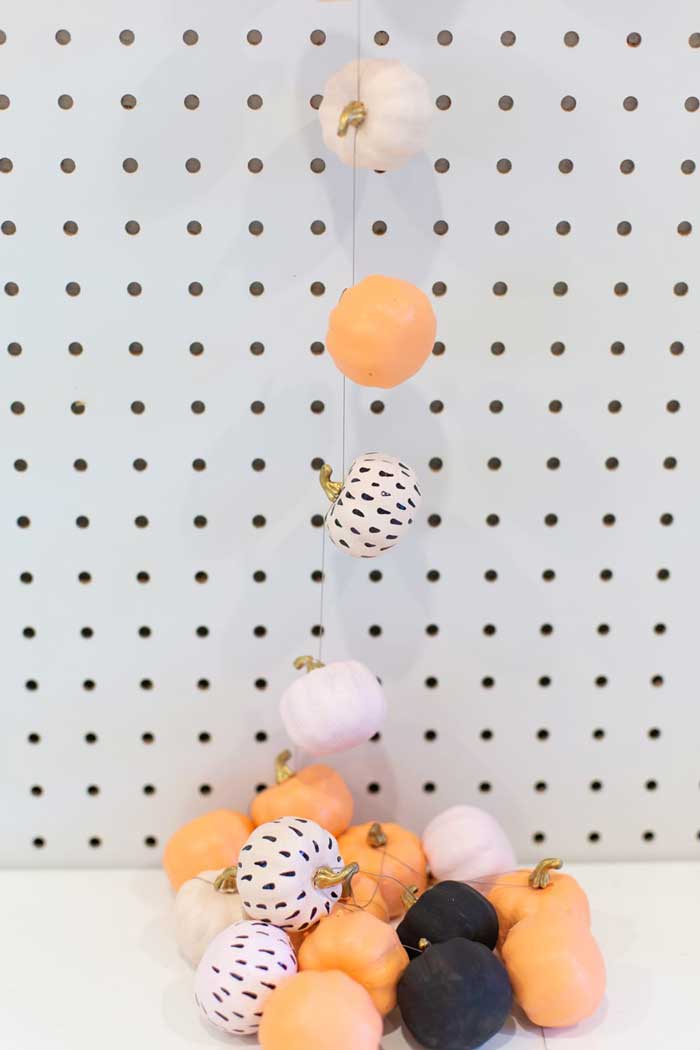 Create your own look by painting mini plastic pumpkins in the colors and patterns that you choose.
DIY Felted Pumpkin Garland

A fun and cheery idea with pops of color.
Fall Pumpkin Garland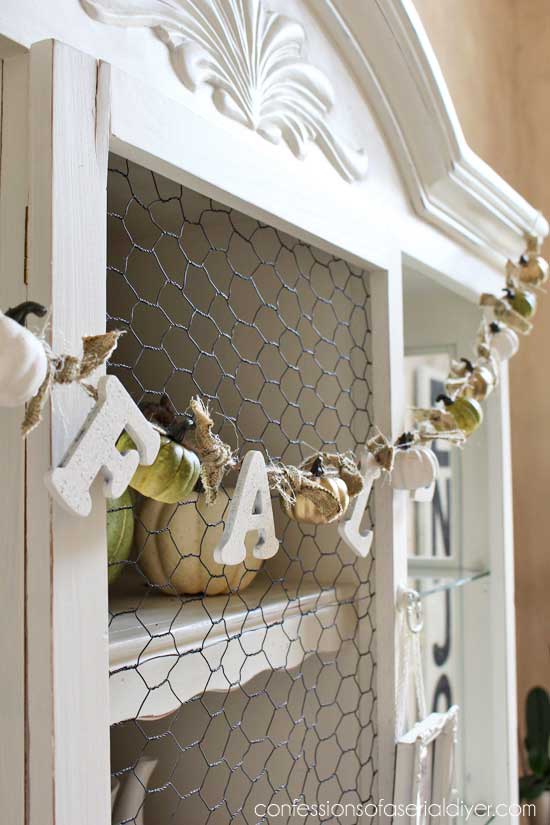 Just in case there is any doubt that the garland is for Fall, add the word with wooden letters.
Faux Pumpkin Garland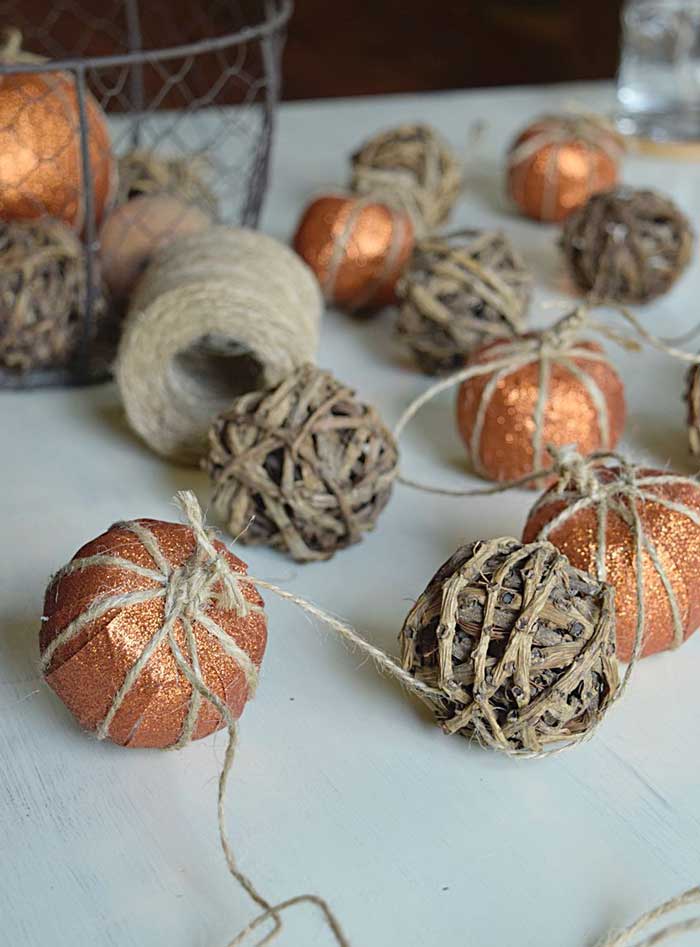 These little pumpkins are made from styrofoam, glitter tape, and twine.
Cinnamon Stick Fabric Pumpkin Strand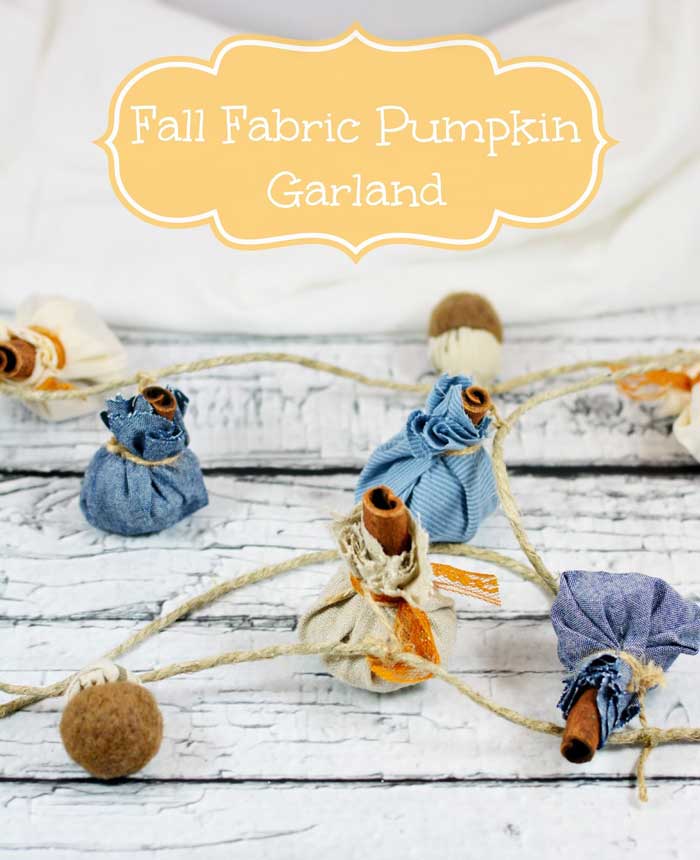 Wrap fabric around a cinnamon stick for a more abstract form of pumpkin.
Fabric Scrap Fall Garland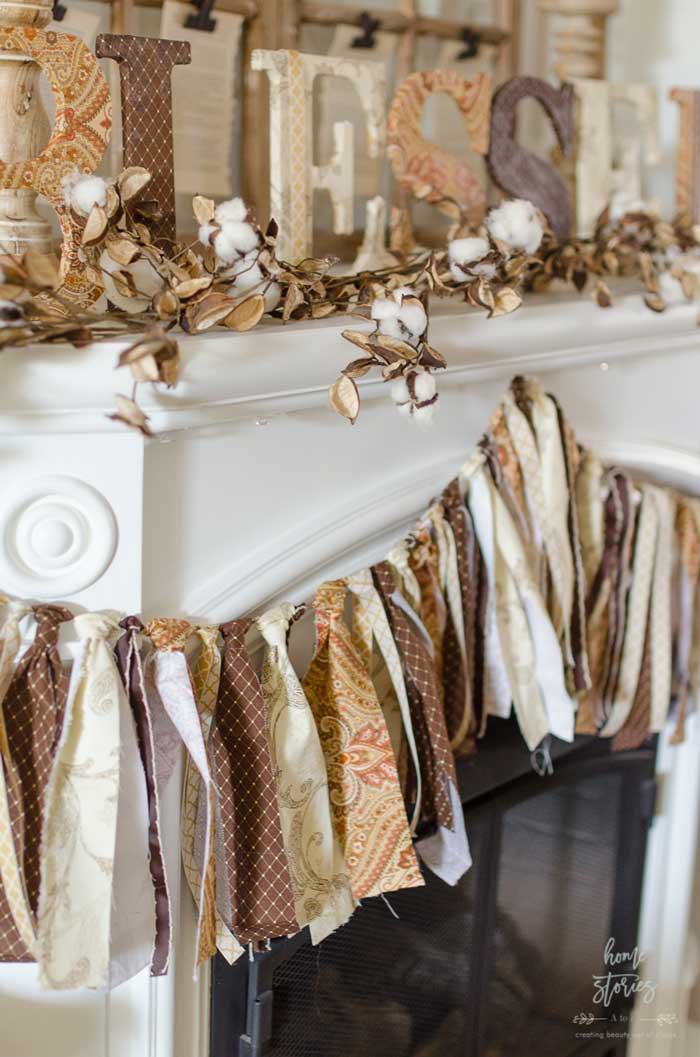 Scraps of fabric in warm colors work together to create a soft and festive garland for the season.
Indian Corn Garland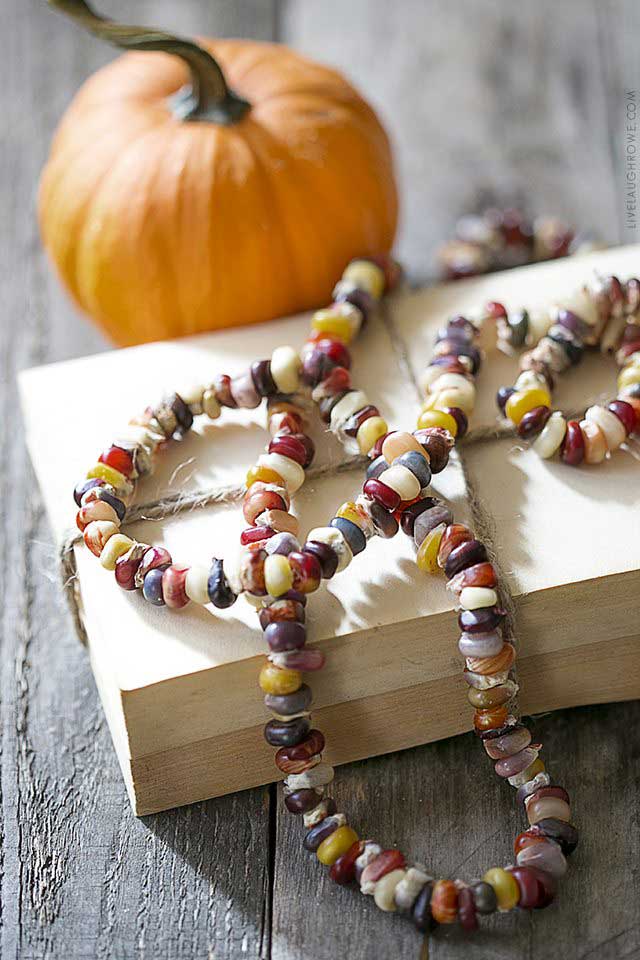 Although a little time consuming, stringing Indian corn together is well worth the effort.
Farmhouse Fall Banner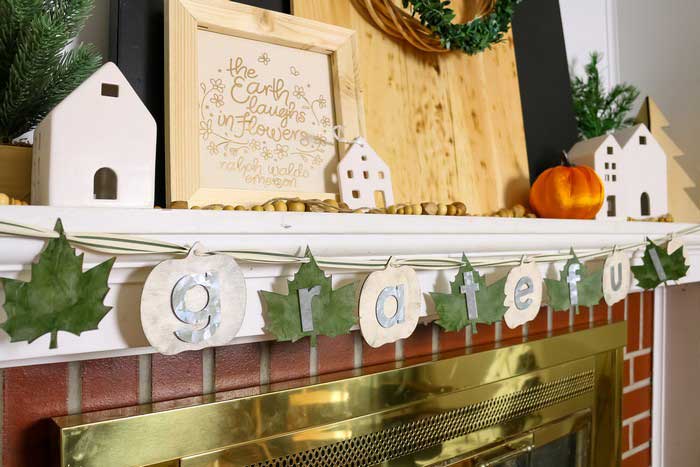 Add letters to a Fall garland to spell out a seasonal message. Grateful is a perfect word at any time.
DIY Fall Garland From Root Vegetables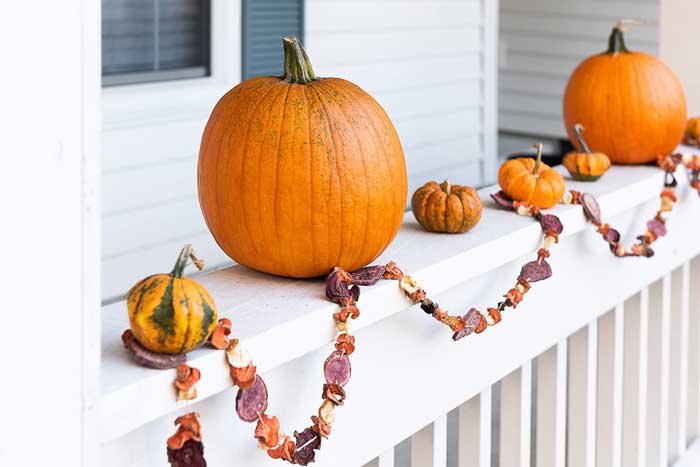 Just when you thought that you've seen it all, here is a super unique and colorful garland made up of root vegetables!
Yarn Apple Garland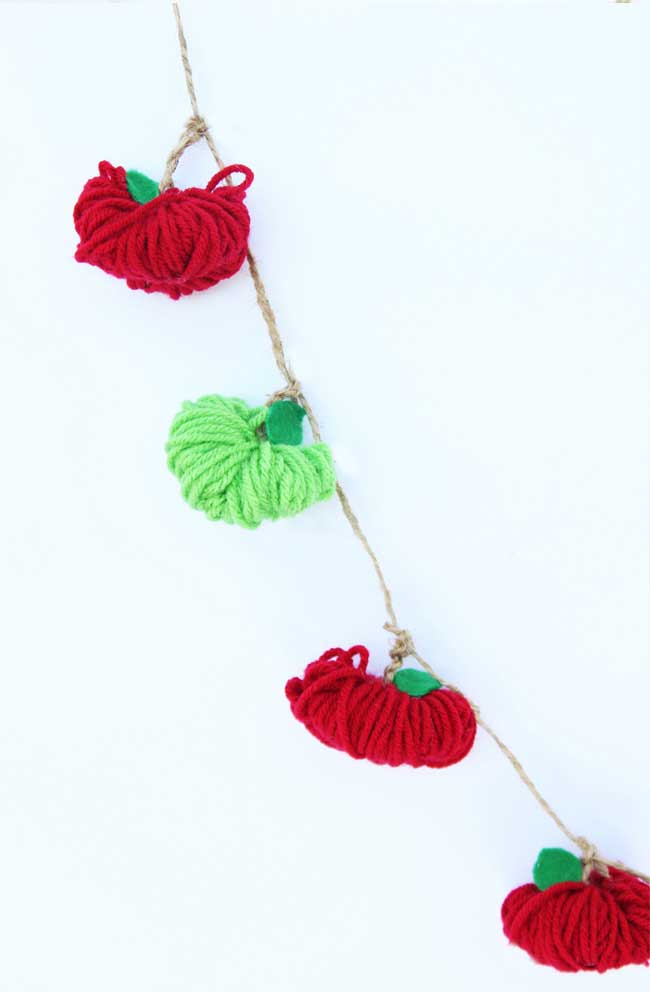 We can't forget about apples for the Fall season. These yarn apples are so adorable and super easy to make.
Fall Paper Garland

Sew decorative paper together for a fun look.
Deco Mesh Fall Garland Idea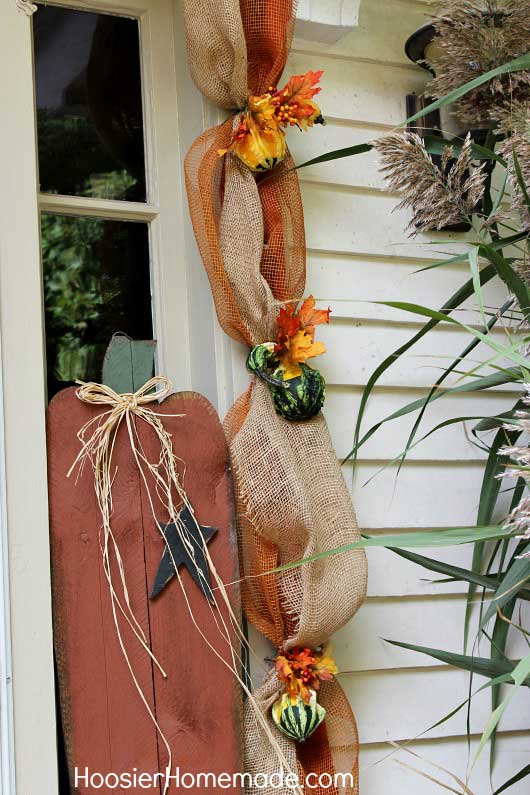 You can also use garlands outside to frame a door or window.
DIY Fall Garlands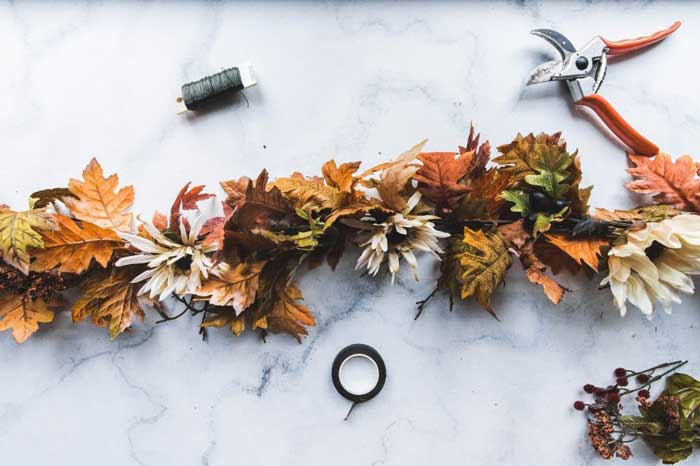 String together a combination of silk flowers and leaves for a festive look.
Fall Pom Pom Garland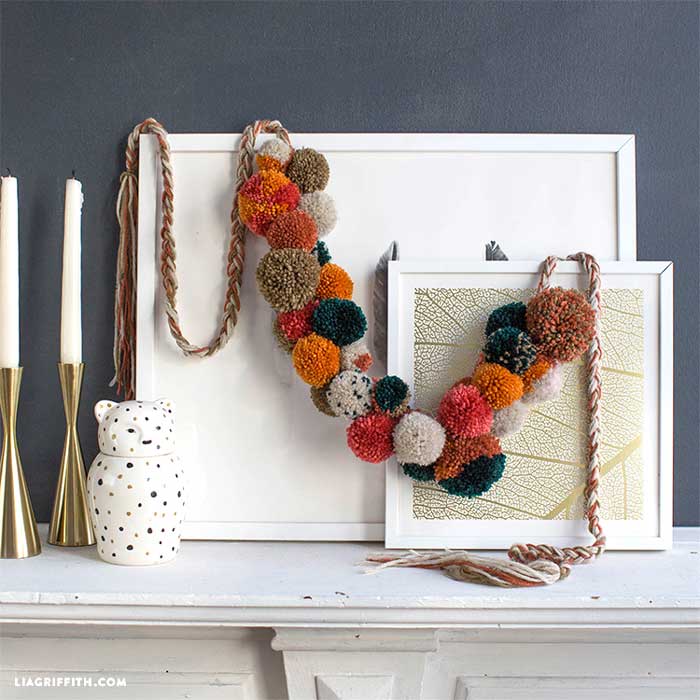 Love the look of pom poms? Try a pom pom rustic centerpiece as well.
Fall Leaves Pennant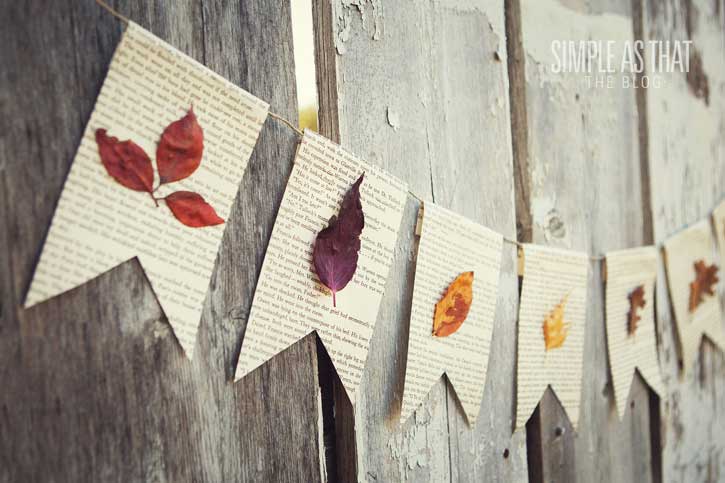 DIY Fall garlands that include book pages are always fun. If you don't want to use real book pages for this craft, make your own book pages.
Apple Stamp Banner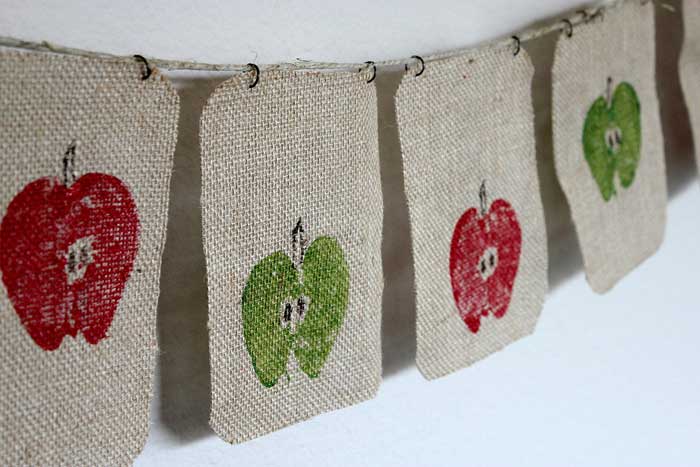 Little banners are always fun. Apple stamps look great on a burlap background.
Corn Husk Garland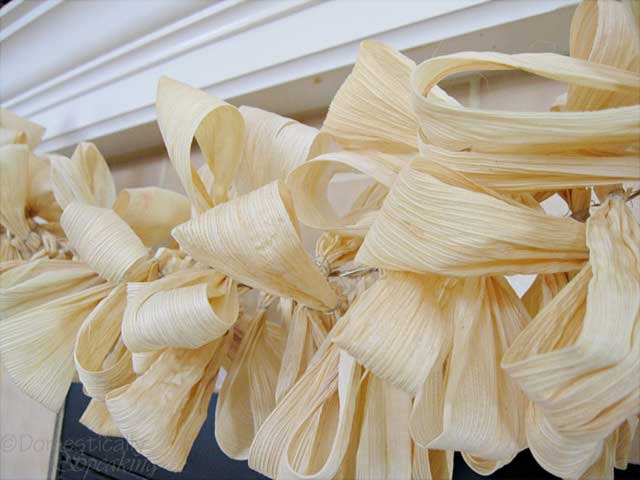 Besides using corn kernels for a colorful garland, you can also use the husks for something neutral and chic.
Buffalo Plaid Fall Garland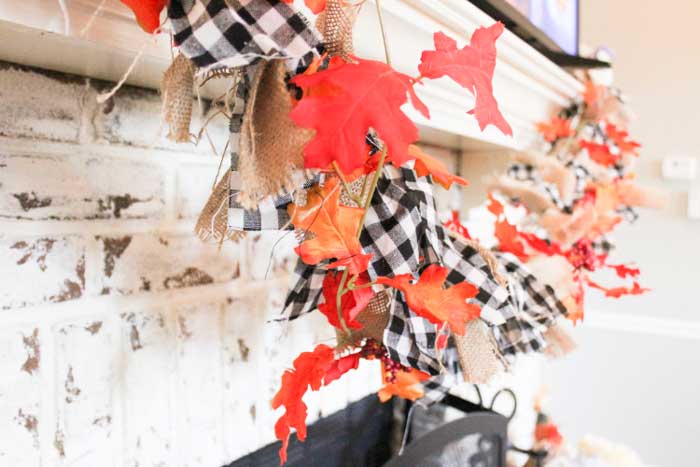 Accompany this fall garland with a log candle painted in a buffalo plaid pattern.
Paper Lunch Bag Fall Garland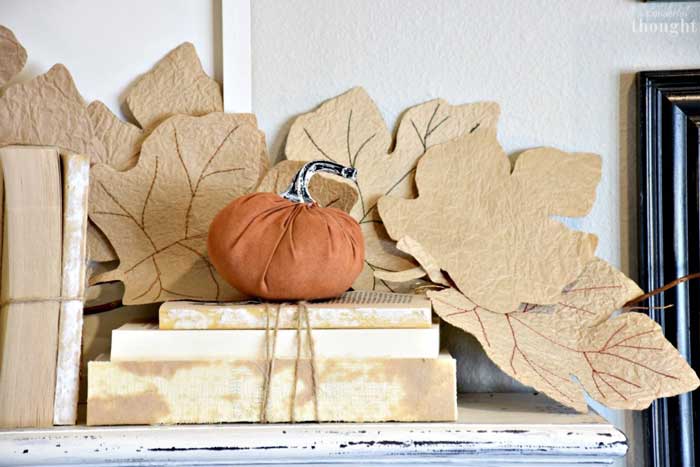 If you like the thought of using paper bags in a craft, you may also like these ideas for gift wrapping with paper bags.
Fall Rag Garland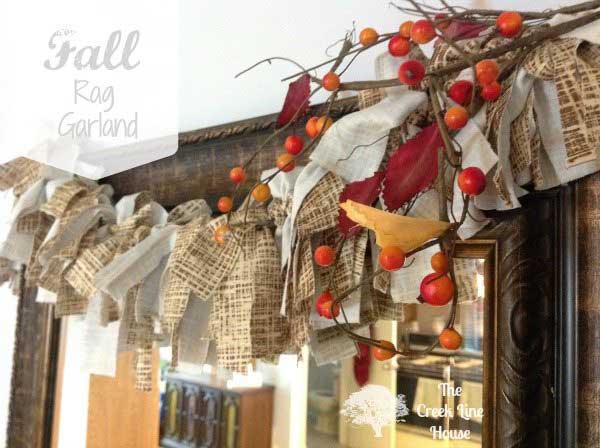 For another fun rag idea, check out my chic rag swag window treatment.
I hope you've enjoyed this collection of DIY Fall Garlands!