Whether you plan on having a Halloween party or just like decorating your home, I have some creative Halloween ideas to make your space festive. Homemade costumes usually get the most attention when it comes to creativity. However, the way you dress up your home can be just as fun. After all, you want to create the right atmosphere for all of the fun. I came up with a collection of Halloween crafts that are easy to do so you will have plenty of time left to concentrate on the costumes!
Front Porch Halloween Decorations
The first space that should get the most creative attention is the front porch. With all of the kids and parents traipsing up the steps, it's fun to make it as festive as possible. Here a variety of fun porch decorations ranging from cute to scary.
Creative Halloween Accent Ideas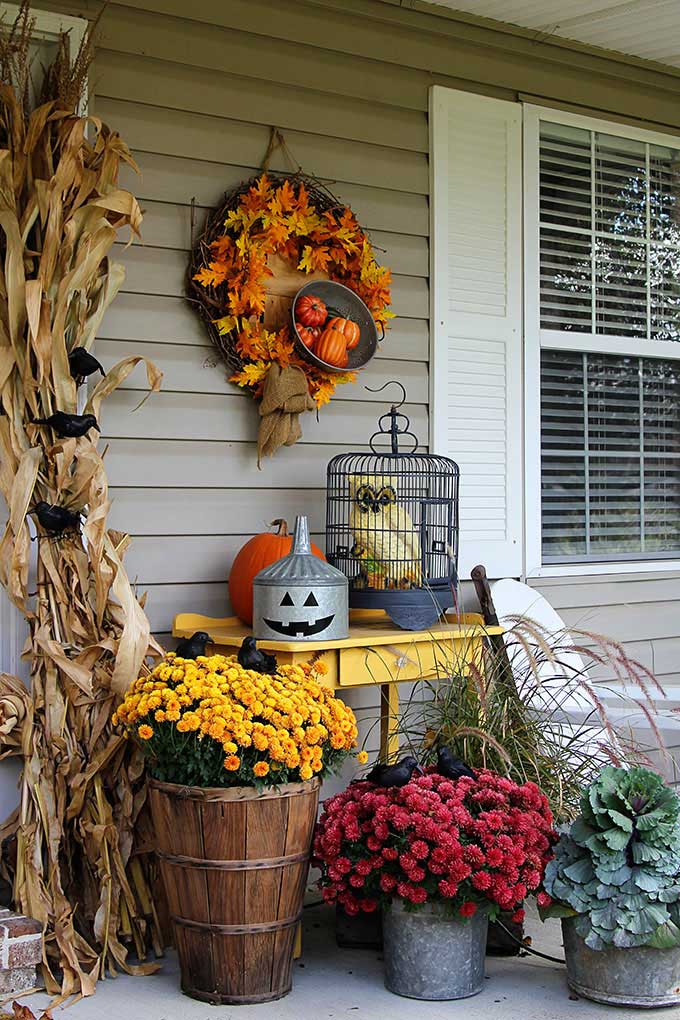 Colorful mums make a pretty Fall statement while the caged owl, crows, and an old funnel Jack-O-Lantern create the right atmosphere for Halloween. This is a porch that provides both a cheerful welcome and some festive fun. I love when you can recycle things to use in Halloween decor.
A Fun Halloween Sign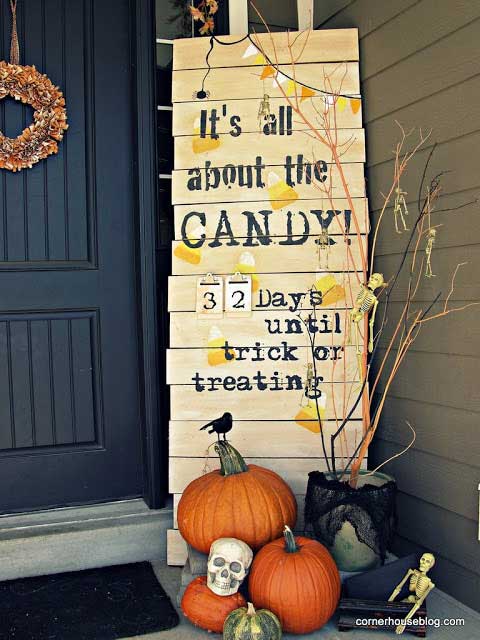 The highlight of this Halloween porch display is the fun rustic sign. It even includes a countdown to the actual day for trick or treating. Because the sign is so tall, it makes a big impact that everyone can see.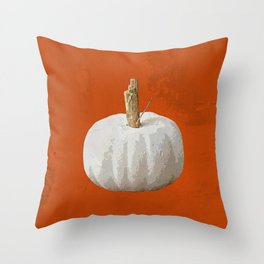 Change Out The Rugs For Halloween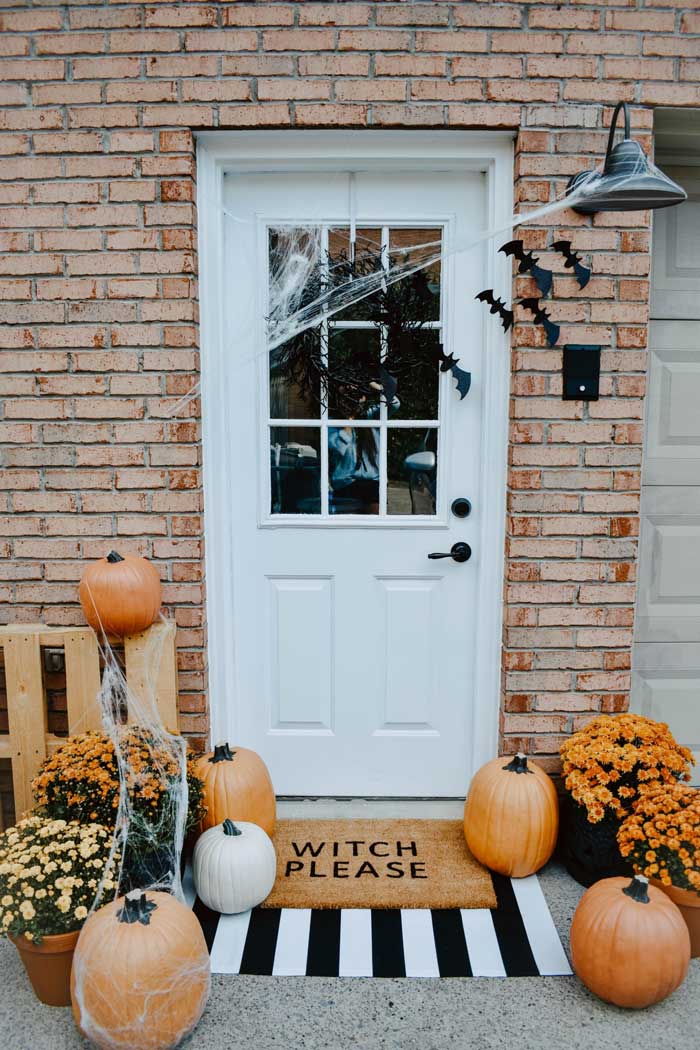 All it really takes to add a little creepiness to a pretty pumpkin and mum display is some cob webs and an assortment of bats! I also love the idea of changing out the welcome mats for the holiday. Layered front door mats are so popular and are a great way to add a little festive style.
Use Black And White For A Neutral Option

Maybe you are up for being festive but want to stay a little more subtle. If so, simply keep your Halloween decor to black and white. I like how most of the pumpkins are white with just one black one. With the dark branches and black crows, the whole display balances out well.
Creative Halloween Ideas For Inside
Creative Halloween Mummy Beverage Tub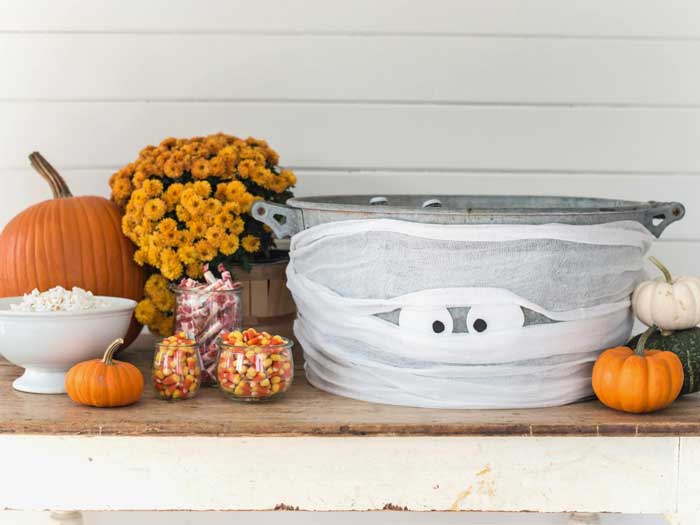 If you like to decorate rustic style, you might already have a galvanized tub somewhere. All you have to do is wrap it up a little to create a fun and somewhat spooky Halloween accessory. This fun idea doesn't take any time at all to complete.
Creepy Crystal Balls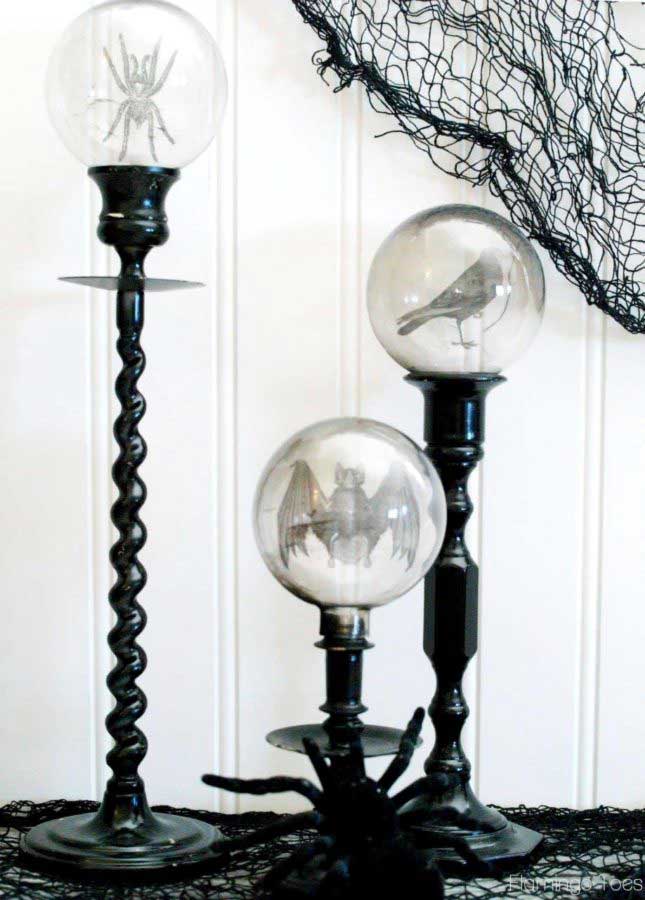 At a certain light, these candlesticks may look elegant. However, when you get close, you see just how creepy they are. This Halloween idea is subtle yet has a ton of spooky impact.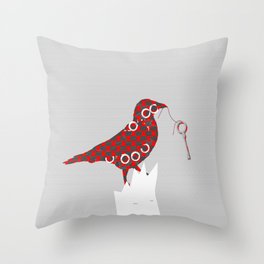 For more creative Halloween ideas, check out these fun ways to carve pumpkins. I also have a collection of fun Halloween decor ideas from nature. And, for decorating ideas for both Fall and Halloween, see these 100 easy Fall decorating ideas.