A variety of beautiful sounds can be created from simple wind chimes. It all depends on what you use to make them for the sound they give off. See what some of the key elements are, for DIY wind chimes, to make them both pleasant sounding and decorative.
There are a couple of outdoor decor stores that I like to visit in Northern Michigan during the summer. Typically, they will have a variety of wind chimes hanging from the trees outside. When I walk past, I love all of the different soft sounds that they give off. The sound of a wind chime should be pleasant to the ear versus a loud clang. I'll go over what to use, in making your own wind chimes, that will ensure a relaxing sound as well as a decorative look.
Before showing you some great designs, it may be a good idea to understand the basics of wind chime design. There are certain materials that will produce a better sound. Metal rods and pipe are popular to use. However, the rods will sustain a note longer than a hollow pipe. Also, hard metals create sharper tones while softer metals produce softer tones. For more on the basics, check out how to build and tune a wind chime by Wiki How.
Besides metal, you can create interesting sounds with glass, bamboo, shells, and other items from nature. Whatever you think that you might want to use for a wind chime, it's a good idea to strike the object to see what kind of sound you get. Play around with a variety of objects to see how they work together in creating a soothing tone. When you get the sounds that you like, it is just a matter of hanging them in a way where they will catch the wind easily.
The following DIY wind chimes use those materials in a variety of different objects. For instance, metal could come from recycled keys and glass from recycled bottles. You can definitely get very creative with wind chimes.
Creative DIY Wind Chimes
Skeleton Key Wind Chime DIY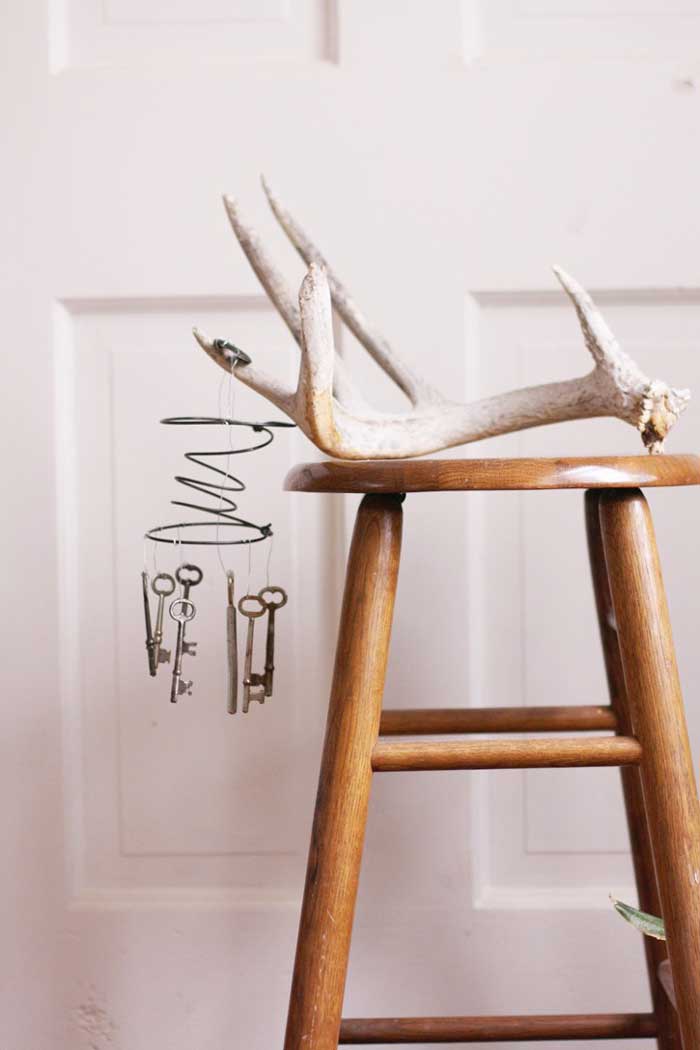 Since metal is probably the most popular material to use in making a wind chime, it makes sense that someone thought of using vintage keys. This simple design is easily made from attaching a collection of keys to an old bed spring with thin wire. It's whimsical, affordable, and pretty to look at. Other options would be to hang vintage silverware, lengths of rusty chain, or a variety of small metal pieces that you have on hand. This makes a perfect rustic DIY decor project.
Modeling Clay Pendants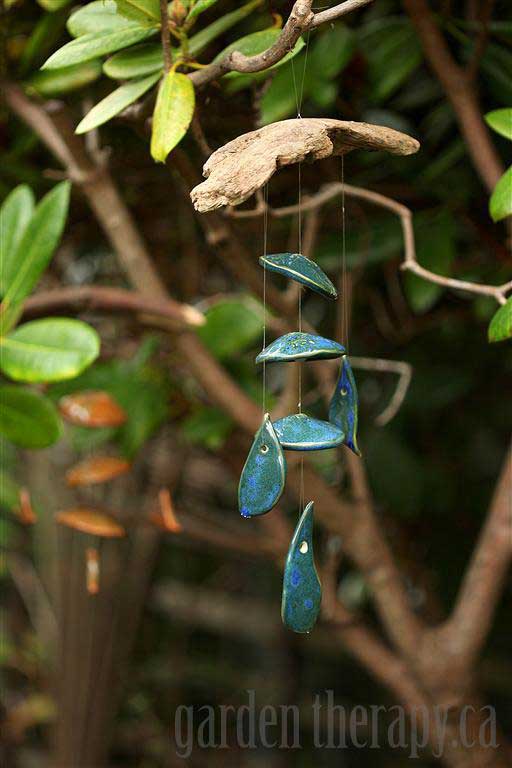 Clay pendants make a beautiful wind chime with a soothing sound. Using modeling clay, you can easily make your own pendants at home. Just form your shapes, punch out a hole, and bake in your oven. If you don't want to make your own pendants, think about things like tiny clay pots or saucers that could be used instead.
Copper Pipe For A Traditional Wind Chime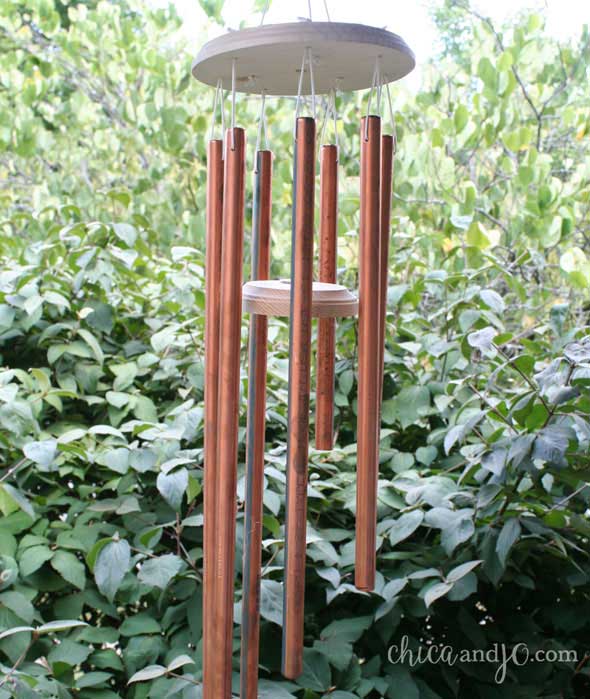 For a more traditional looking wind chime, you can always make your own using copper plumbers pipe. Just buy a length of pipe from a home improvement store and have them cut it into smaller pieces for you. The copper is such a pretty color to have hanging outside with all the green.
Bamboo Wind Chime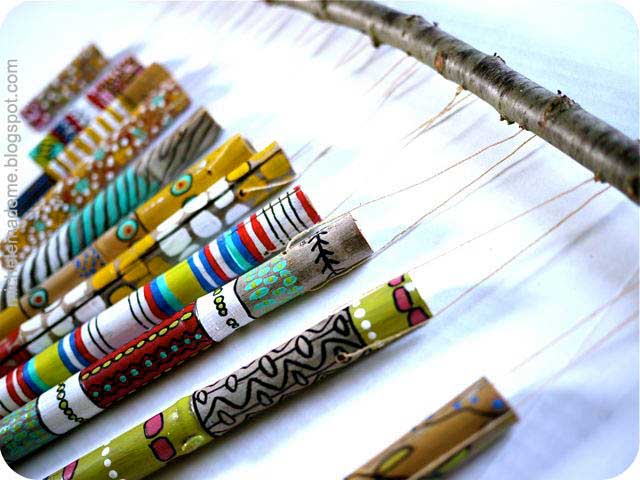 Bamboo pipes create a soft sound that is soothing to the ear and makes a great material for DIY wind chimes. This particular wind chime is made from old bamboo stakes. To give the bamboo tons of style, they were decorated with acrylic paints and a sharpie.
Coastal Wind Chime DIY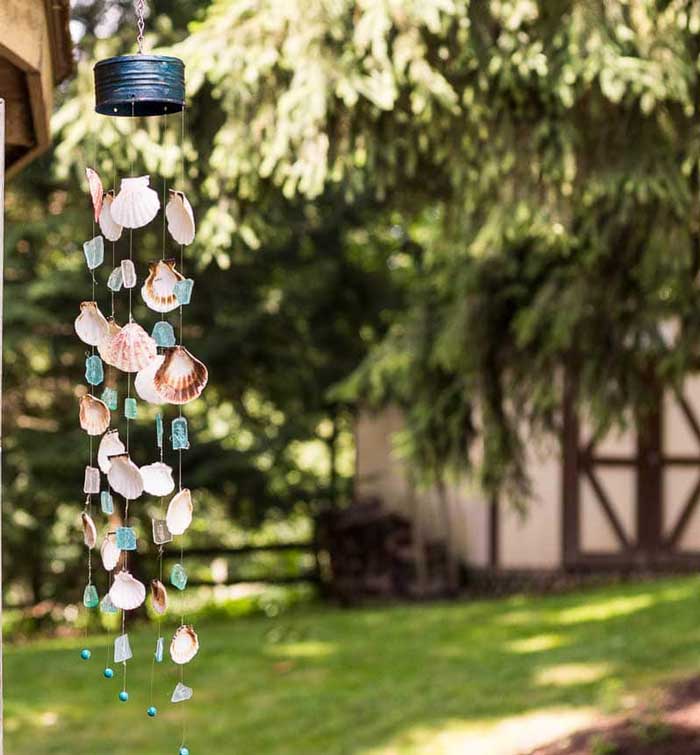 I mentioned earlier that glass was another material that was good for making wind chimes. Sea glass is probably the prettiest glass that you can use. So, the next time you are on vacation, or if you live near an ocean, scour the beach for some hidden sea glass. I felt fortunate enough to collect one piece on a trip to Florida. Not quite enough for a wind chime but enough to decorate a candle holder with sea glass! By combining sea glass with sea shells, you can create a very decorative and pretty sounding wind chime. The coastal look is pretty for summertime no matter where you live.
Hopefully these ideas inspire you to make some of your own DIY wind chimes. Just think about the metal, glass, wood, clay, or nature items that you can come up with and have fun!