Transform any dining room or space into a warm and rustic dining area. Maybe a formal dining room is a little too formal for everyday use. Or, you just want the area you typically eat in to have that down home feel. Either way, there are some easy ways to incorporate some rustic touches into your space. Starting from the floor to the ceiling, these dining areas will inspire your decorating.
Rustic Dining Area Decor
Use one or several of these decorating ideas to transform your dining space.
Add A Rug Under The Table
Regardless of the type of flooring that you have in your eating area, you can really warm things up just by adding a rug. Of course, the styling of the rug plays an important part in adding to that rustic feel. Choose warm or neutral colors and an easy to clean low pile. I had a natural jute rug once that I loved the warm look and texture of. However, I also had a cat who would always to choose to get sick right on the rug. The rug had so many spot cleanings that it ended up looking absolutely terrible. Since natural fiber rugs don't clean well, I wouldn't recommend the if you have a cat or other mess maker.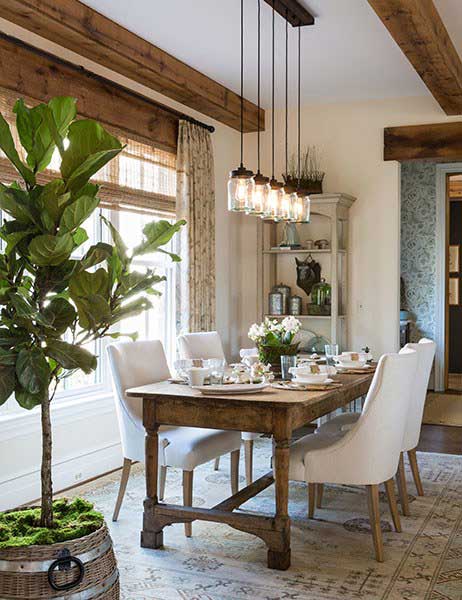 I love the pattern and coloration of this rug to enhance a rustic style. The soft neutrals are a great anchor to the chunky wood table.
Add Warm Wood Accents
Whether incorporating salvaged wood beams, a distressed farm table, wood flooring, or a sliding barn door, all of these will create a warm atmosphere.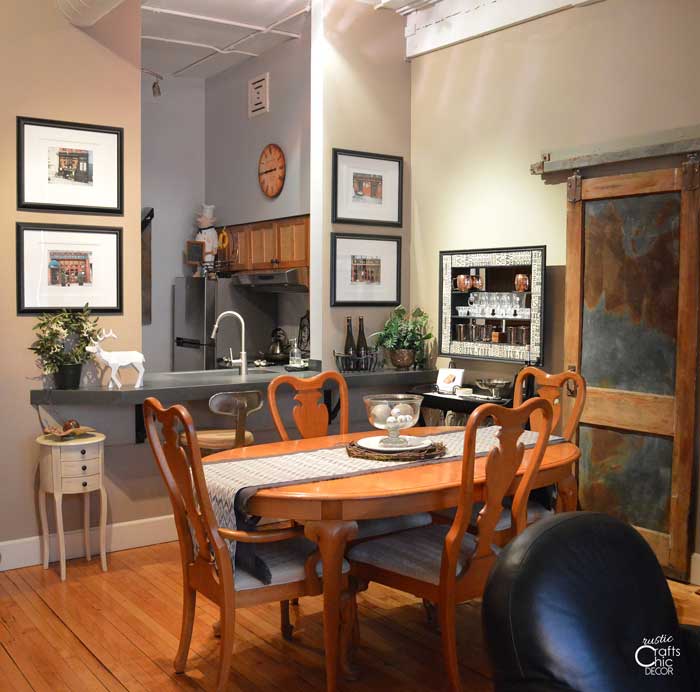 Even if a sliding barn door leads to no where, it can serve as a way to warm up a wall. The door could also slide open to reveal a chalkboard message center.
Use Textured Wall Coverings
Things like wood pallets or rustic brick are great to incorporate into a rustic room. Of course, shiplap is also extremely popular for adding warm texture to the walls. You don't have to cover all of the walls, just choose one focal textured wall for biggest impact.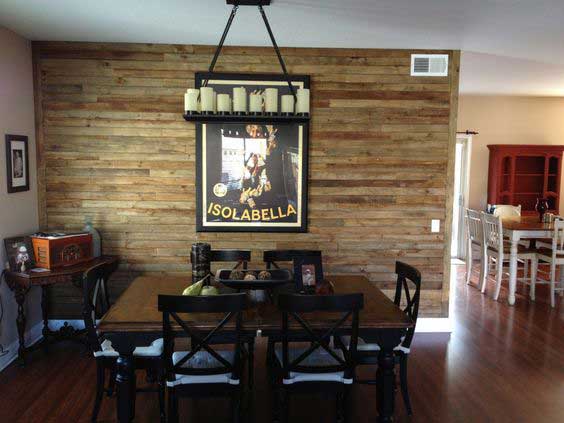 Hang A Rustic Sign
A large rustic sign will add a homey feeling to your dining area. You see these a lot in farmhouse style homes but any rustic style can be enhanced with a sign.