Whether you are planning a bathroom remodel or are looking at a brand new build, pictures offer plenty of inspiration. Before Pinterest, I would keep a notebook of ideas and magazine cutouts. Now with everything online, it's easier than ever to keep track of ideas you like. Today, I am focusing on modern rustic bathroom ideas. There is so much inspiration to choose from. However, I put together a collection of some of my favorite ideas. Hopefully, you will find something to jump start your own bath remodel.
Before I get into all of those inspirational photos, I should define what makes a modern rustic bathroom. Modern rustic in general is combining a simple clean design with a little warmth and character. For instance, you might find a bathroom that is light, airy, and spa like blended with distressed wood, brick, or vintage accents. This makes the room elegant but comfortable. A similar style to this would be shabby chic bathrooms.
Take a look at these unique modern rustic bathroom ideas that you may not have thought of before. There may be an element that you like to tweak your own space just a little. You don't necessarily have to do a full bathroom remodel when you can just incorporate an idea or two!
This post contains recommended product links. If you make a purchase through one of the links, I may earn a small commission at no cost to you.
Add Modern Drama With Black
Black may seem like a risky color to use in a bathroom. However, even a small room can benefit from the drama created with a dark color. Black is sophisticated and elegant, like wearing a black dress to a party. Pairing black with warm wood will keep the room from seeming too formal. The key is adding a little rustic charm to keep the bathroom comfortable.
Painted Black Bathroom Walls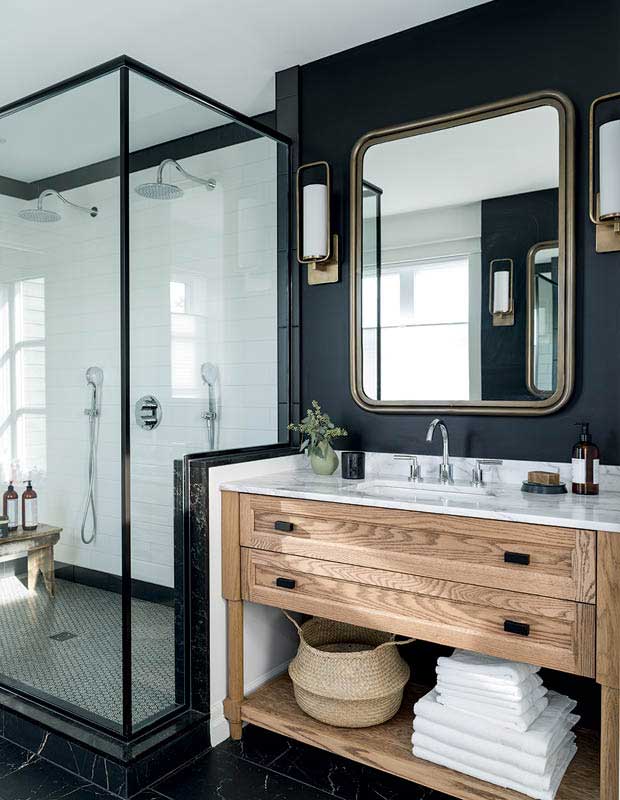 There are lots of options when it comes to adding black walls. The simplest way is to simply paint the walls black. Since even black comes in a wide variety of tones and shades, choose a shade that complements your lighting. It's best to buy a few samples and try them on your wall. See how they look at different times of the day and against other colors in the room. If your bathroom is real small, you may just want to do one black wall as an accent or go half way up.
Another option it to add some matte black tiles to your walls. Whether a short backsplash or up an entire wall, the black tile will add impact. Or if you have visible shower walls, add the tile there.
Besides paint and tile, you can also had black wood planks to the wall. Try either black wood flooring planks or some easy peel and stick planks.
And finally, wallpaper with a black background may be a fun choice. You may be asking yourself, is it really wise to use wallpaper in a bathroom? In most cases, if the wallpaper is not near a shower and you have a good fan, it won't be a problem. However, even if your bathroom is moist, you can still coat your wallpaper with decorators varnish to protect it from damage.
Black Slate Bathroom Floor In A Modern Rustic Bathroom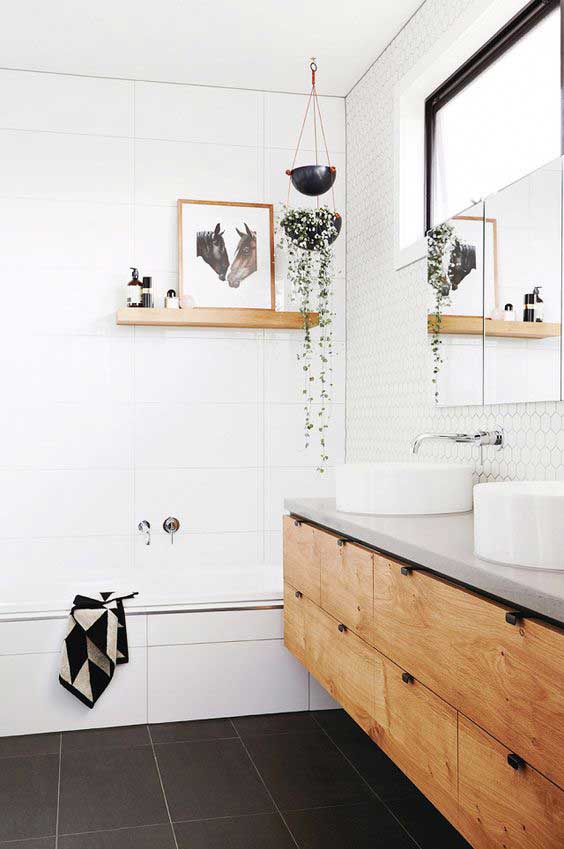 If black on the walls seems a little too intimidating for you, you may want to try black floors instead. You can either install new tile flooring or paint your current floor for an updated look. And, yes you can paint ceramic tiles!
Mix In Concrete For A Modern Rustic Bathroom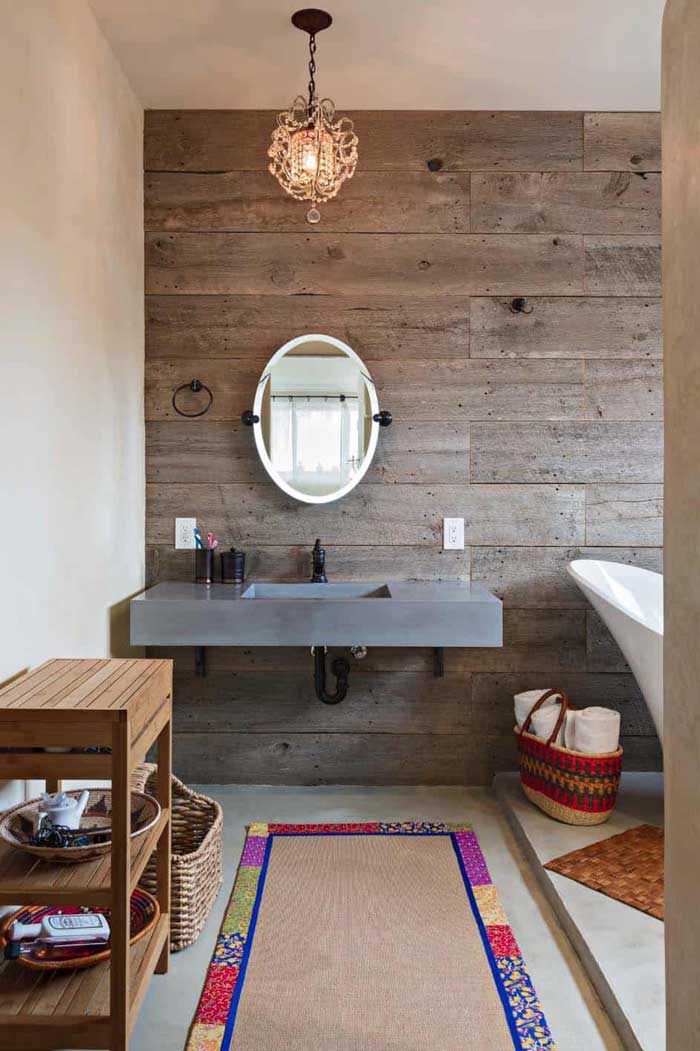 Concrete is a cool modern element that contrasts well with warm wood. While concrete on it's own may seem too cold and stark, it makes a design impact when paired with warm rustic charm.
There are several ways to incorporate concrete into your bathroom. A concrete vanity countertop is one way to go. You can also just install a concrete sink. Or, the counter and sink an be all one piece. If your bathroom is in a basement, you can leave the floor concrete. Otherwise, install concrete floor tiles for a cool look.
If you just want to add something small, check out these cement crafts for modern rustic decor. You can make your own concrete decor accents to complement your bathroom.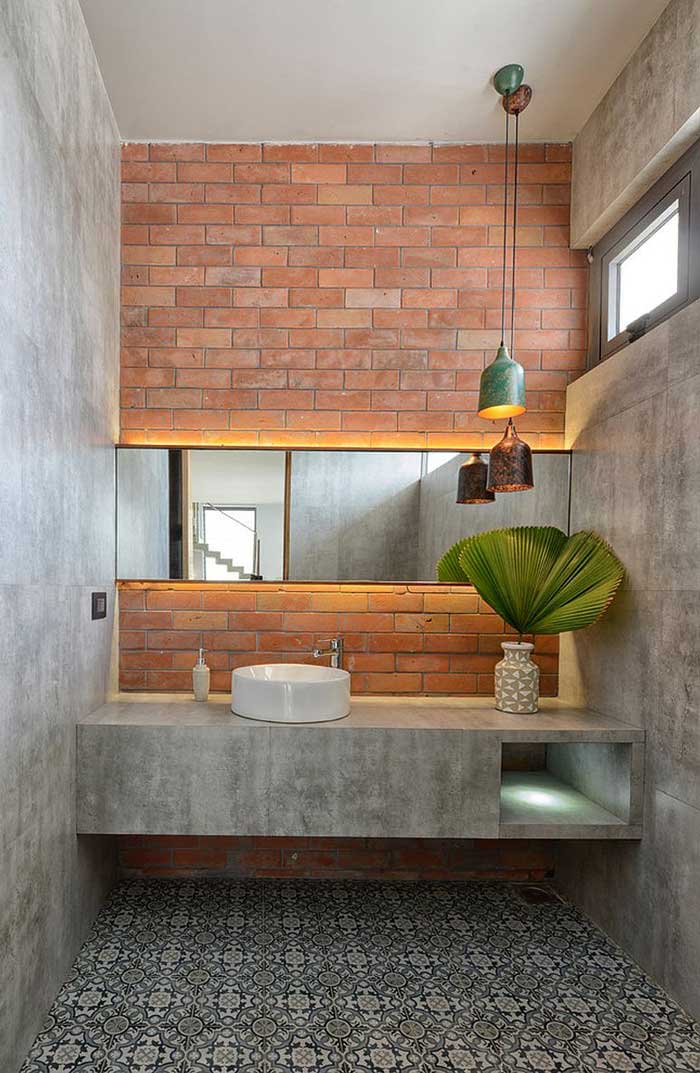 How about those concrete walls? It would look way too cold if all of the walls were concrete! However, the brick accent wall really works to warm things up and create a lot of interest. Another great idea for a basement bathroom.
More Modern Rustic Bathroom Ideas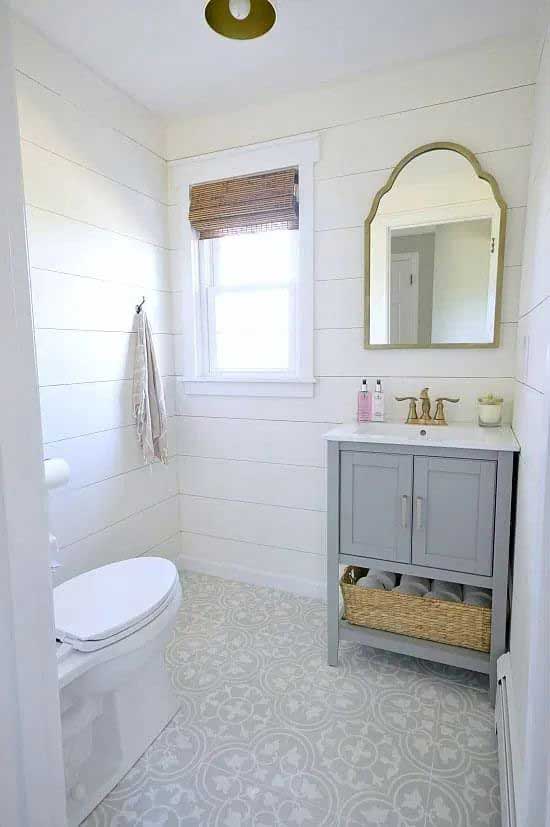 A clean minimal look makes this modern rustic powder room really shine. The charming shiplap walls are accented with a bit of luxury in the gold faucet and mirror.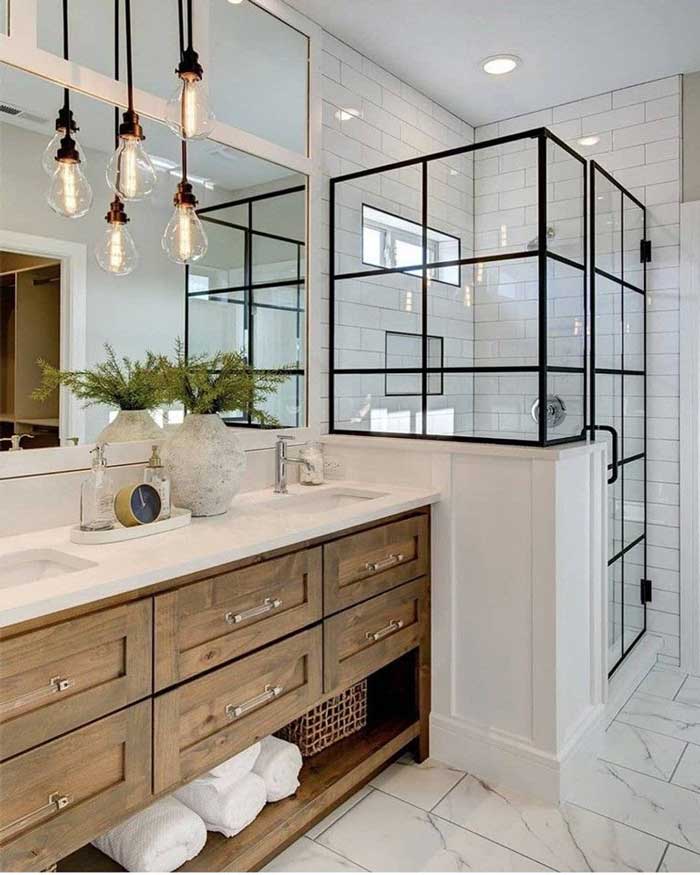 Wood cabinets, vintage inspired lighting, white subway tile, and a black paned shower enclosure all work to create a fantastic modern rustic bathroom design.
Can you see yourself incorporating any of these ideas into your own bathroom? Which ones are your favorite?