For a feminine and pretty decorating style, you will want to check out these shabby chic bathroom ideas. They have just the right balance of elegance and rustic warmth. The type of bathroom that you can feel pampered in and comfortable at the same time. After all, a luxurious bathroom doesn't have to make you feel stuffy. Some of the best spaces have more of a lived in look. Besides all of the decorating inspiration, there are also plenty of DIY bathroom projects that you can do to get the look on a budget.
Besides the kitchen, the bathroom is one of the most popular areas in a home to remodel. Whether you are interested in just redecorating or making some structural changes, these shabby chic bathroom ideas will inspire you to make some changes. Think about combining florals with distressed wood. Or, crisp white walls with darker vintage pieces. The key is to incorporate a little of the old with the new.
Ideas For Shabby Chic Bathroom Decor
There are lots of ways to decorate in a shabby chic style. I'll go over some of the elements to add or blend to give you the look.
Add Texture To Walls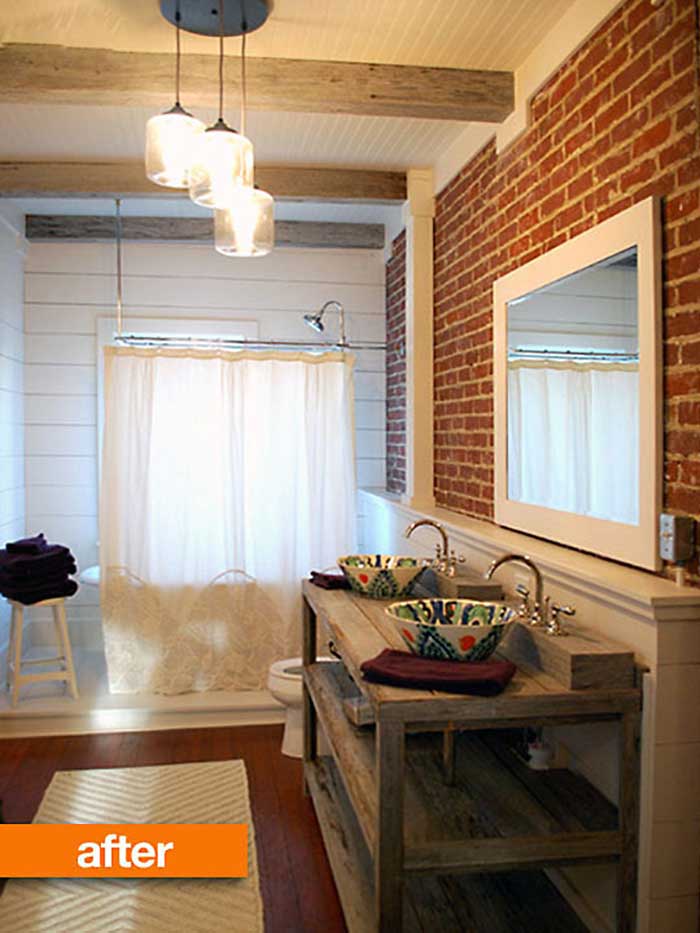 There is something about textured walls that just add that comfort factor instantly. Whether you put wood on the walls, like shiplap, or incorporate some brick, the look helps to add the shabby to the chic. And, it's really not difficult to install an interior brick wall with thin brick. It's one of those projects that have a ton of pay off for the effort. Combining the rustic textured walls with things like a lacy shower curtain or a pretty printed sink add up to a shabby chic bathroom style that you would love.
Go Vintage With Vanities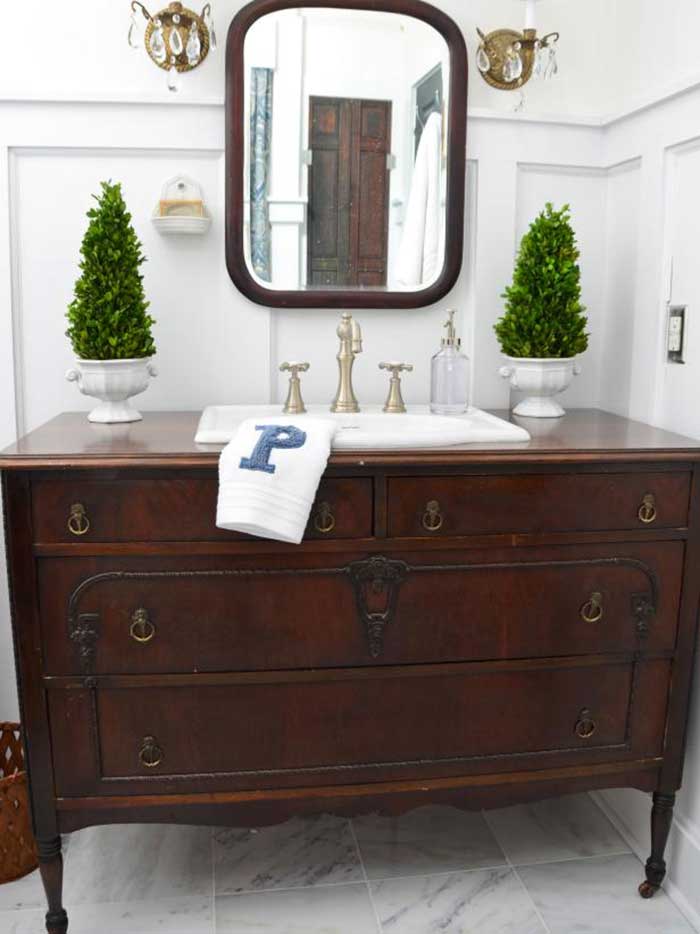 Antique furniture naturally gives the look of elegance in a home. The ornate details are what give it luxury mixed with nostalgia. However, these pieces don't have to be just regulated to the bedroom or kitchen. A vintage dresser, desk, or buffet can all easily be made into a stylish vanity. In fact, it is worth shopping thrift stores just to use one in the bathroom. Not only do you get a chic look but it will most likely cost just a fraction of a traditional vanity. I know firsthand how stylish and affordable this can be. We used an antique desk as a vanity in our cabin. We only had to cut a small hole in the top to set a vessel sink. Because we used a desk, the pipes show underneath. But, that just makes it look more rustic!
Incorporate Charming Storage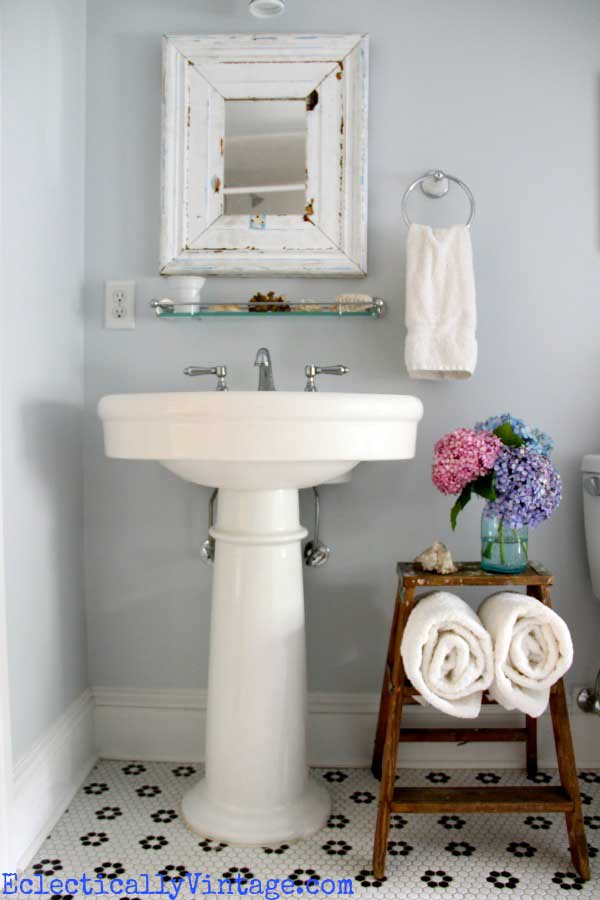 Think outside the box when it comes to charming storage options. You can bring in some shabby with old wood items, vintage wire baskets, mason jars, and so much more. As you can see, this old step ladder works great for storing extra towels while adding to the overall decor. See how I placed an old step ladder next to my tub to hold bath supplies. A long wooden ladder is also useful in the bathroom. Lean it up against a wall and drape towels over the rungs. Crates, vintage suitcases, and metal buckets also work great for storing miscellaneous bathroom accessories. And, even old tea cups and cream and sugar sets are pretty storage containers for small bathroom supplies.
Blend In Some Frills And Florals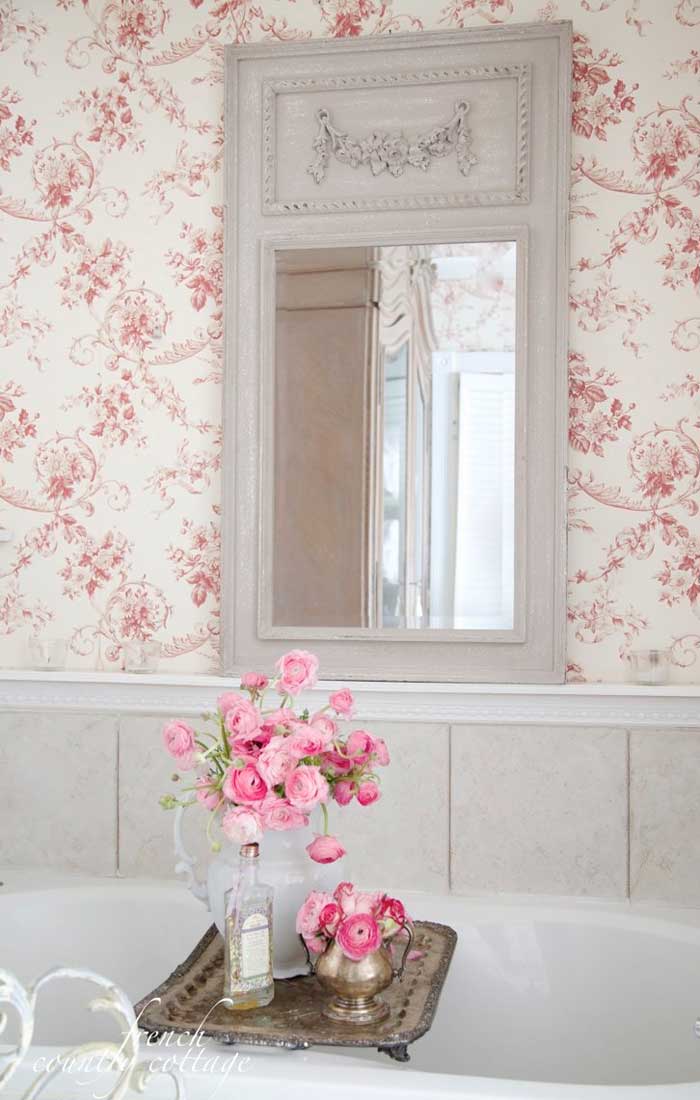 Displaying flowers is an easy way to incorporate some soft and romantic chicness. Besides flowers in vases, there are other ways to add flowers. Wallpaper, window treatments, or a floral shower curtain all are good for displaying flowers. To go along with the flowers, lace and pretty fringe work well for adding a little more frill. When flowers are combined with vintage distressed pieces, like an old silver tray, the look is especially soothing and relaxed. For a more rustic look, see how to make burlap flowers to decorate your bathroom with.
Glitz It Up With Bling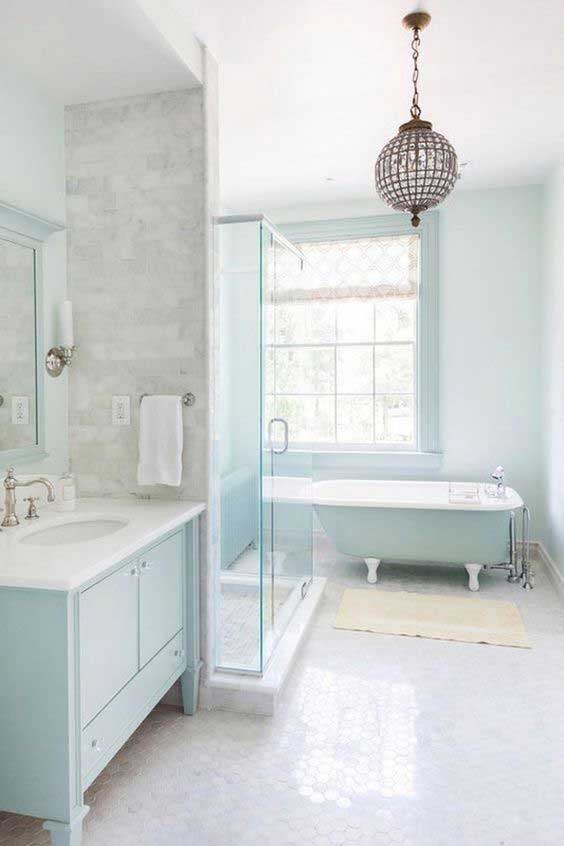 The best way to add elegance and chic to a bathroom is with the right lighting. Because of this, crystal chandeliers are an excellent choice for shabby chic bathrooms. Whether you go full out bling or something a little more toned down, a little crystal gives a big bang for the buck. Another area to add a little bling is cabinet knobs. Crystal or glass knobs add just the right amount of sparkle and shine. It's a great contrast to more earthy or vintage pieces.
Add In Some Architectural Salvage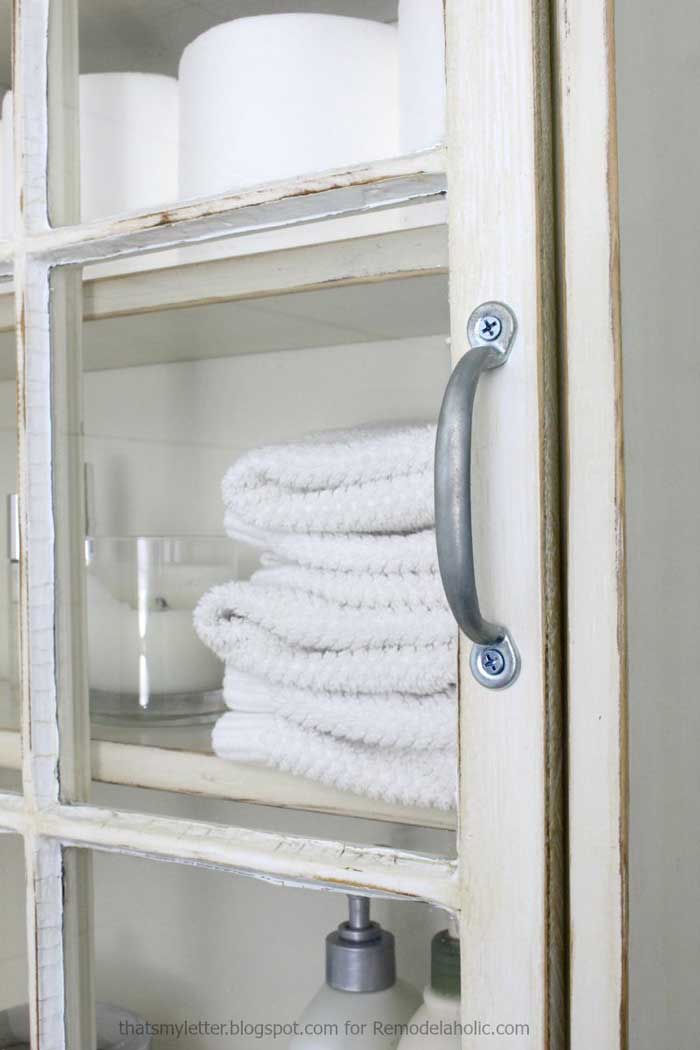 I love using architectural salvage in decorating. Things like old windows and doors provide such unique and charming rustic decor and can be displayed in a variety of ways. Here, a bathroom cabinet is made using an old window as the door. The cabinet adds so much more character than a traditional one. And, it really isn't that difficult to make yourself. So, the next time that you are out shopping a flea market or antique store, pick up a window or two for decorating or making things with.