Decorating a festive table just got easier! Napkin rings can make all the difference and DIY napkin rings offer the most customization. Would you believe that you can make napkin rings out of recycled toilet paper rolls? Just customize the rolls with fabric and you can have some for every season. It's a simple way to set a stylish table that hardly costs a thing.
I think almost everyone has materials on hand to make these easy DIY napkin rings. The base material is of course the toilet paper roll but you can also use wrapping paper tubes or paper towel tubes.
It doesn't take much fabric to cover the tubes so just some scrap leftover from a sewing project would suffice. If you are not a sewer, an old shirt is a great resource for some cool fabric. And, if you love of all of your shirts and have no scraps, you can always go to a fabric store and purchase fabric fat quarters for real cheap.
I like to embellish with beads and especially like the glass leaf beads for a rustic touch. If you were making these for a Christmas table, you might want to use mini rusty jingle bells to embellish with. And, for any dinner party, you could customize the napkin rings with a monogram using a typewriter key or a game letter tile. You can have so much fun with all of the variations.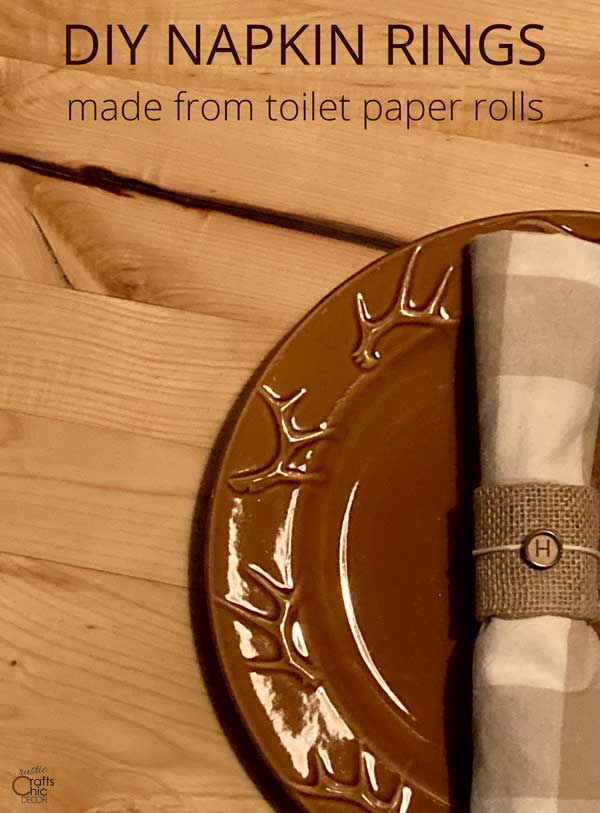 This post contains recommended product links. If you make a purchase through one of the links, I will earn a small commission at no cost to you
How To Make Toilet Paper Roll Napkin Rings
Materials Needed
toilet paper rolls, paper towel rolls or wrapping paper tubes
*optional – beads, typewriter keys, game letter tiles, or other embellishments
tacky glue or fabric glue
hot glue
razor knife or scissors
scissors
DIY Napkin Ring Instructions
Cut Paper Tubes
Measure and cut about two inch lengths of tube with a razor knife or scissors. When you measure, mark dots at various points around the tube and then connect the dots, with a pencil, for a straight even line.
If you are using toilet paper tubes, you can just cut the roll exactly in half. The whole roll measures about four inches. This will get you the size napkin rings that I made. You can adjust this measurement for however wide you want your napkin rings to be.

The razor knife starts the cut easily. You can then continue down your line with the knife or switch to scissors. It's whatever works best for you.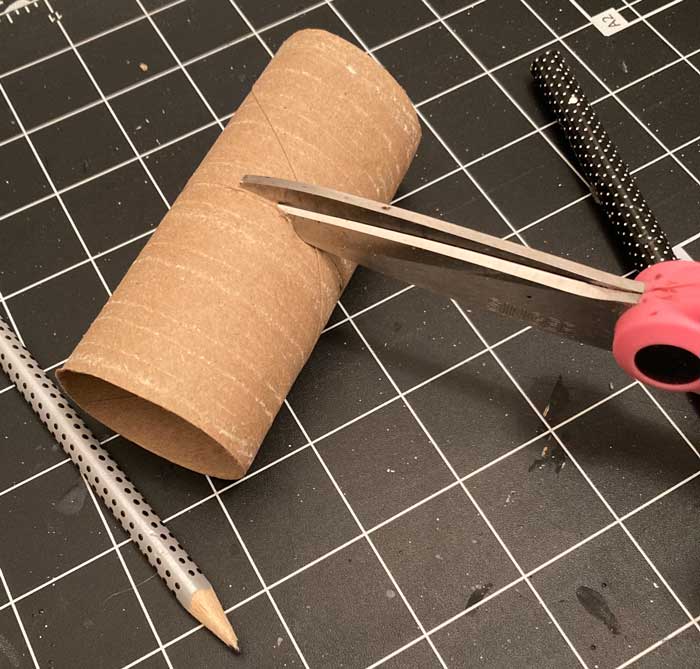 I like to at least start a cut with a razor knife, instead of scissors, so that I don't squish the toilet paper roll out of shape. Once you have a nice slit started, you can then cut insert your scissors into the slit to cut the rest.
My scissors were a little too thick. A finer tip scissors would definitely be easier to work with. Or, just use the razor knife all the way around.
Cut Fabric
Cut out one section of fabric for each two inch tube. It should measure four and 1/4 inches wide by six inches long. This is enough to cover the inside and fold over to the outside plus a little overlap. You may have to adjust the measurements just a little if you are using a paper tube other than a toilet paper roll.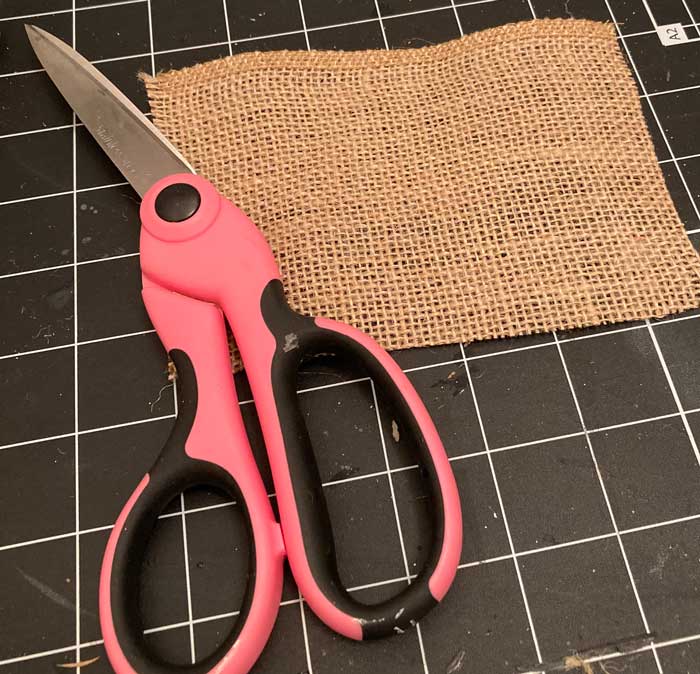 It's up to you if you want to finish the inside of the toilet paper roll with fabric or not. I like having the inside finished. That way, when the napkin is taken out, and you can see the inside of the holder, it looks nice and finished.
*Note: Cotton fabric works really well for this project. The holders that I made from cotton fabric were real easy to glue in place. I also made some using burlap which was a little harder to work with. It wasn't terrible but stiffer fabric is harder to fold over smoothly.
Glue Fabric To Roll
Spread some tacky glue onto the inside of the toilet paper roll. Now roll your fabric width wise and insert it into the toilet paper roll. Starting with the edge, begin gluing the fabric to the roll, unwinding as you go.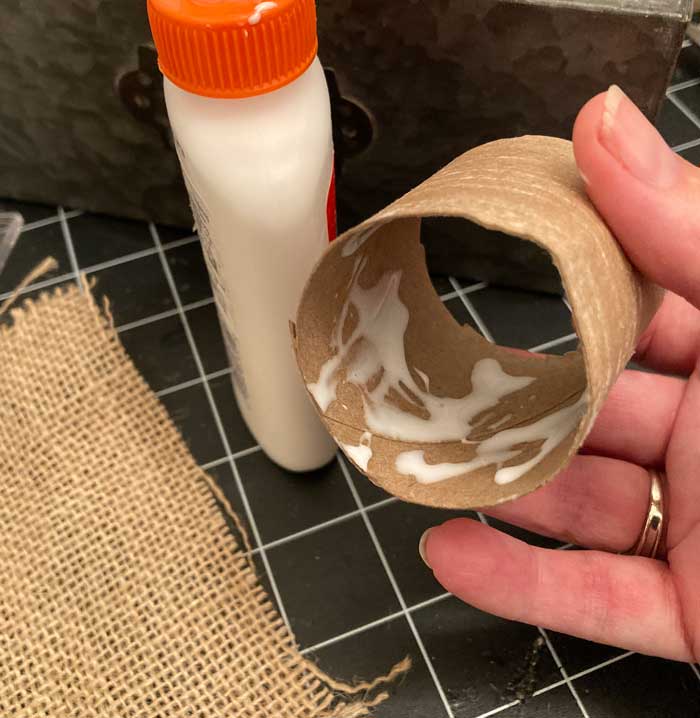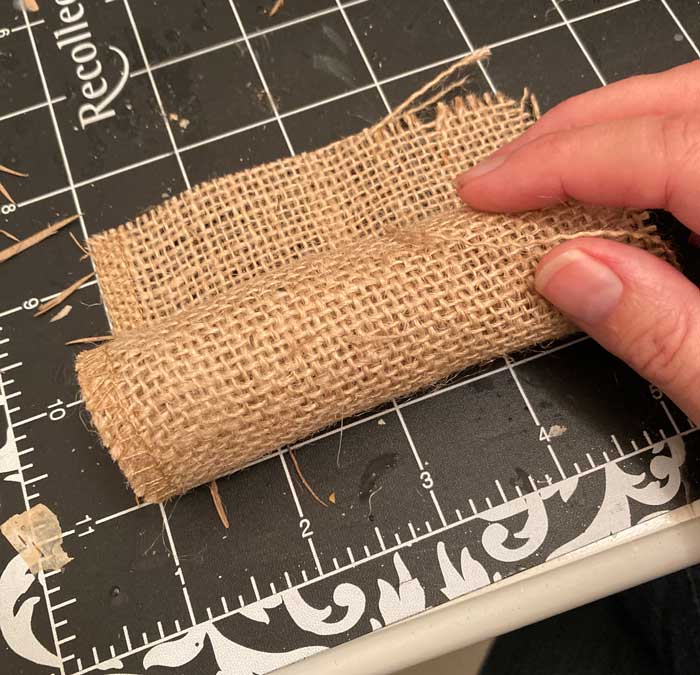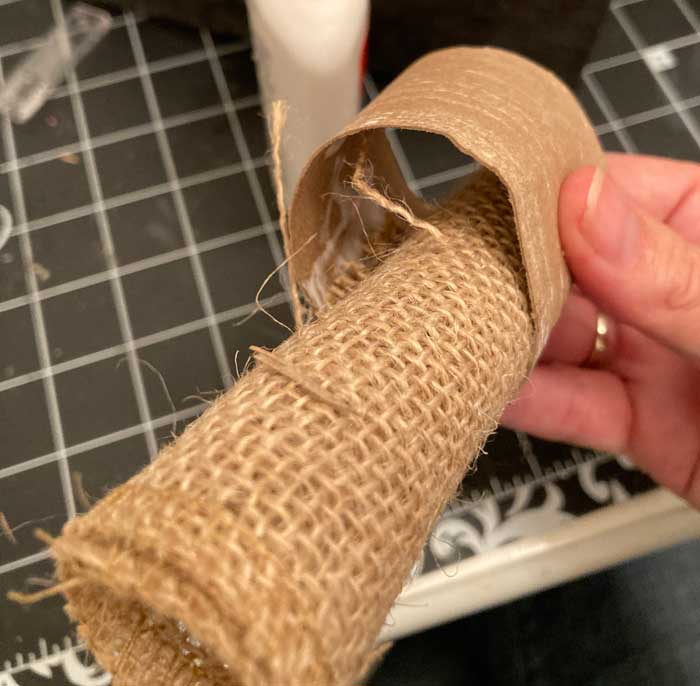 Get the edge started and then keep pressing the fabric onto the cardboard as you unroll.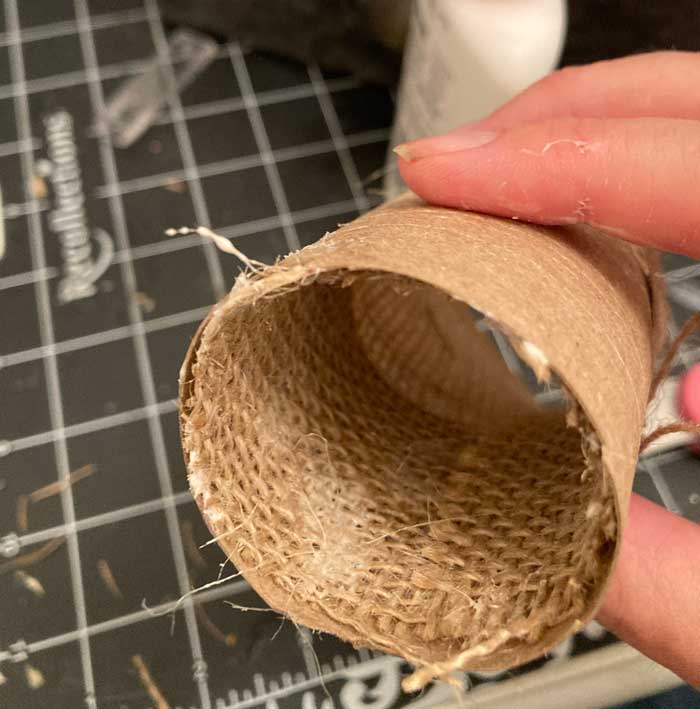 When this is finished, you will need to fold down the remainder of the fabric to cover the outside of the roll.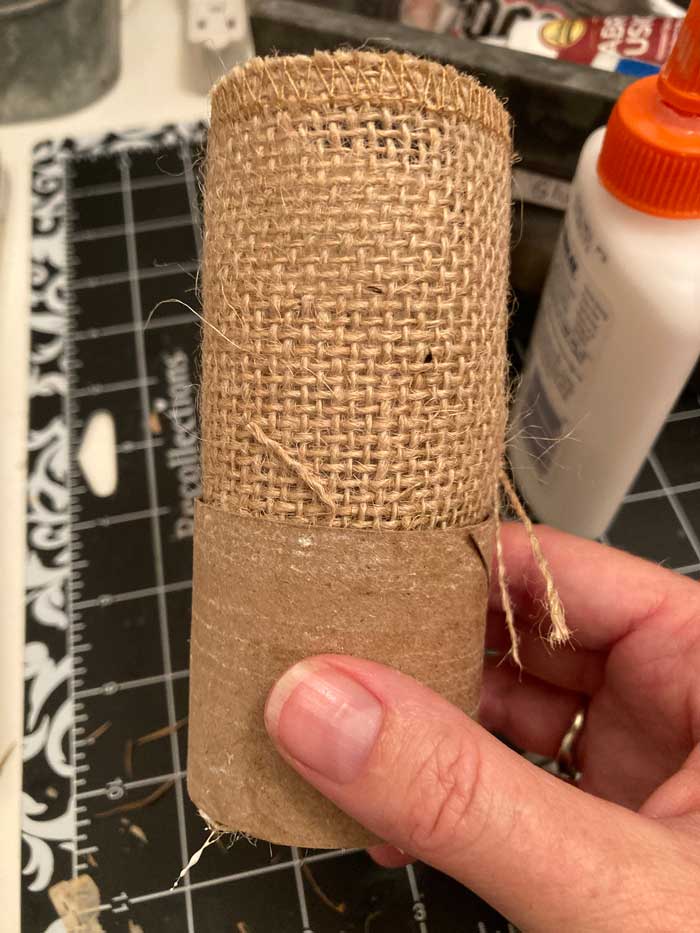 Start by applying glue to the outside of the tube.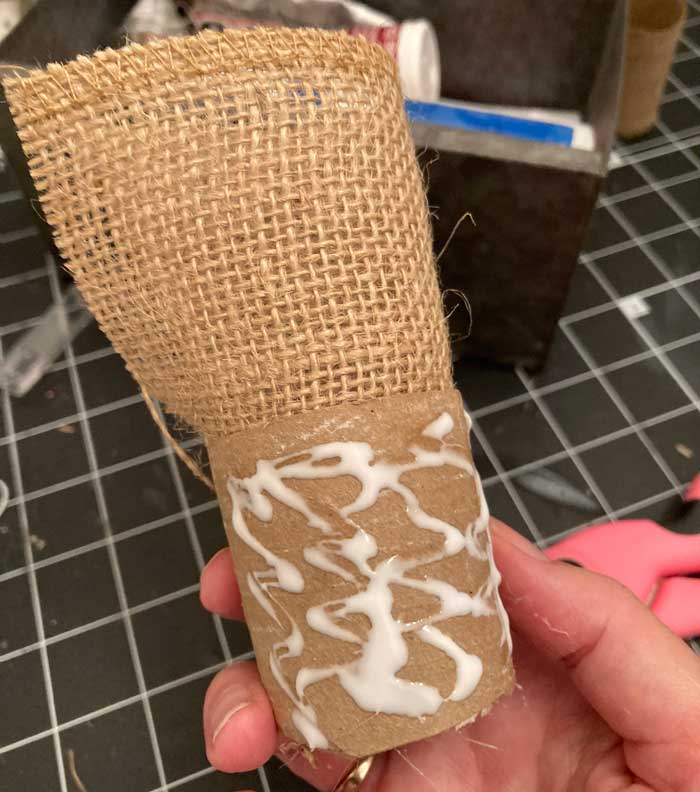 Now, carefully fold the fabric over and onto the outside of the toilet paper roll.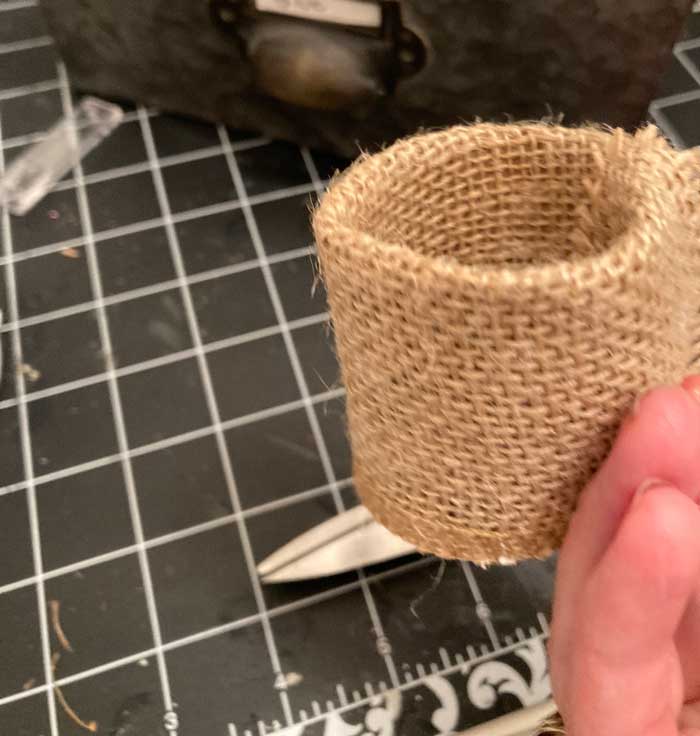 After you get the outside of the toilet paper roll covered with fabric, you will have an overhang of about a quarter inch. Tuck this under and to the inside of the roll and glue in place.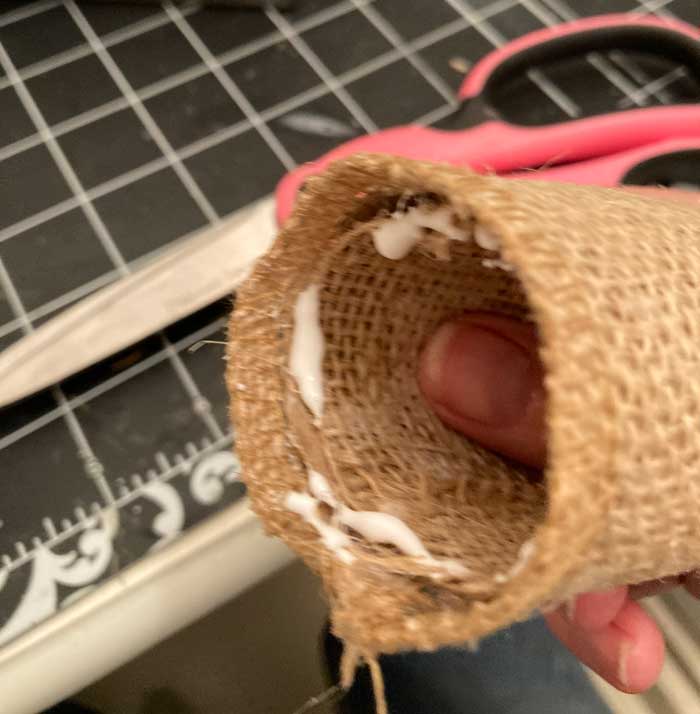 Now the roll with have completely finished edges. This was the part where a thin cotton material would be easier. The small fold over took a little more time with the burlap.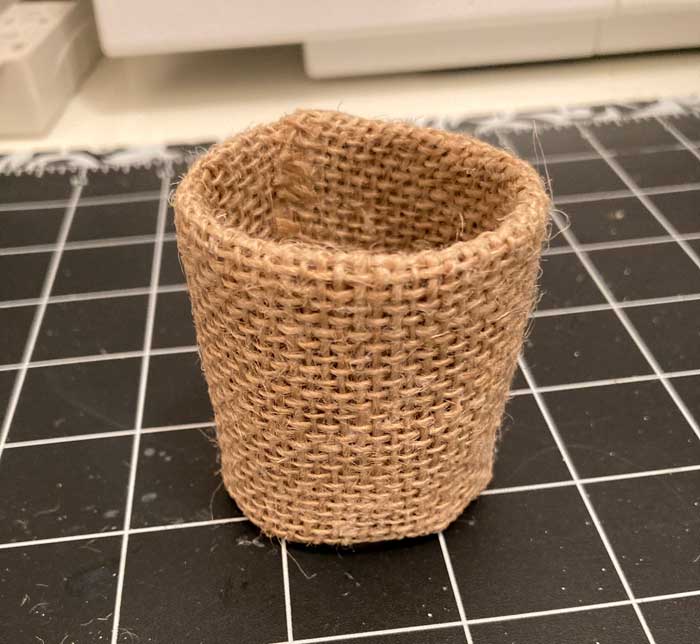 Add Some Embellishments
A little twine is always a nice way to add a little something to the fabric. I just tied a strand around the middle of the napkin holder. You could also first string a bead on the twine before tying it to the holder. Wrap the twine width wise or lengthwise, depending on the look you are going for. I did the twine width wise for the burlap napkin rings and lengthwise for the cotton ones so that you could see the difference.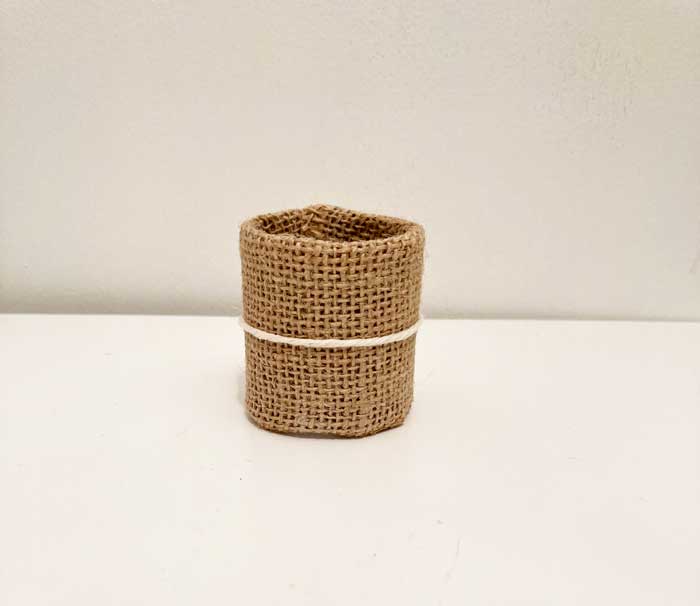 For this set of DIY napkin holders, I thought it would be fun to add monograms. I used vintage typewriter keys to do this. You could also use game letter tiles or beads with letters on them.
If you have several typewriter keys or game tiles with the same letter, you can make a set with the monogram of your last name. Or, create custom napkin holders for all the guests at your dinner party. Then you could let them keep their napkin ring as a little party favor. When you are using toilet paper rolls to make the holders, it doesn't cost a fortune to add this personalized touch.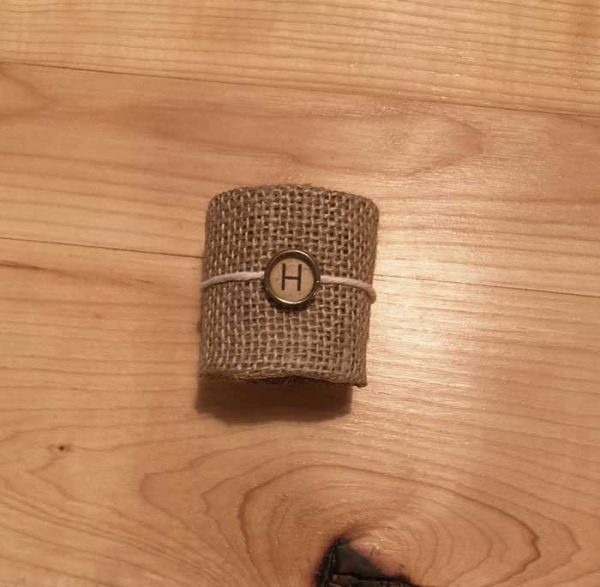 Now invite some guests over for a dinner party! They might just be wowed by your creative napkin rings and enjoy the personal touch.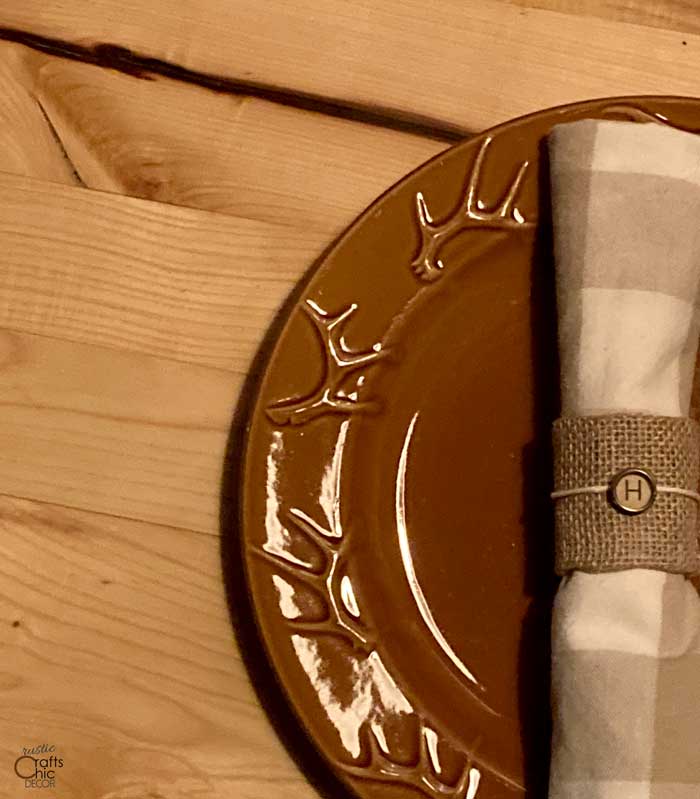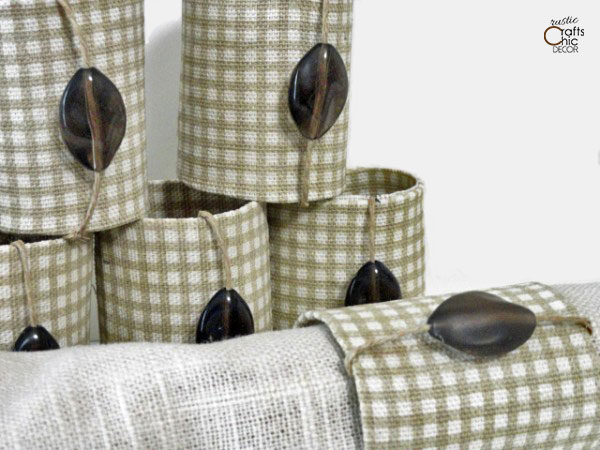 You can get so many different versions of toilet paper roll napkin rings just by using different fabrics and embellishments. I think my next set with be red and black buffalo check for Christmas time.
If you like the idea of using recycled materials to make things, make sure to check out my post on The Most Creative Recycled Crafts To Make. You will find fun ways to use newspaper, wine corks, soda tabs, and more.