Autumn is such a pretty time of year. It's a time when the leaves start changing colors and the apple crops are in full swing. With all of the warm colors outside, it makes sense to do a little change up inside the house. It may start with getting new candles in scents of pumpkin spice or autumn leaves. However, you can do more to add to the Autumn atmosphere inside the home. I have come up with a collection of simple Autumn crafts to make in a matter of minutes. Take a look at all of the inspiration and start decorating today!
This post contains recommended product links. If you make a purchase through one of the links, I may earn a small commission.
Since there are so many Fall crafts for home decor, I am focusing today on the most simple ideas. After all, with our busy schedules, any time savers are a must. Because these Fall crafts are so easy to do, it shouldn't be a problem to whip up two or three to give your home a warm and cozy feel for the season. Besides being simple, most of these crafts are also very affordable to make. Using items from nature or recycled materials help to keep the costs very low, if not free. In fact, you will want to check out my rustic pumpkin using birch bark and a recycled plastic pumpkin!
Easy Fall Crafts To Decorate Your Home
DIY Pine Cone Mason Jar Canisters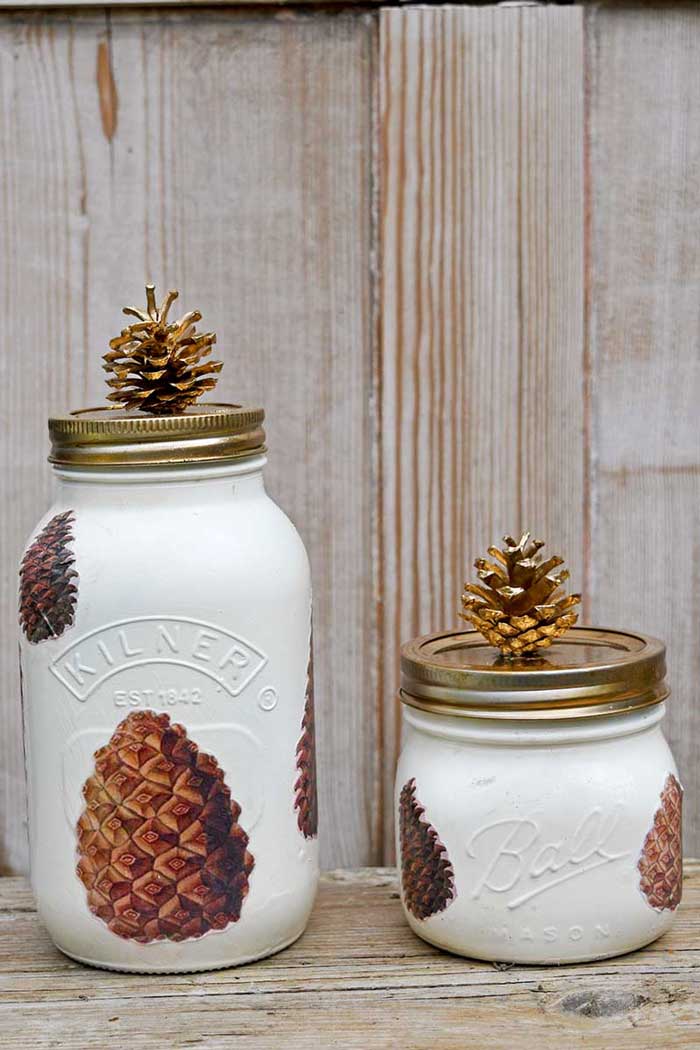 Remember that I said some of the Autumn crafts can be made almost for free? These warm and cozy Fall mason jars are a perfect example. The look it totally rustic with all of the pine cone detail. You can collect pine cones from the yard for the tops of these canisters. And, even the pine cone graphics come from free downloadable images. All you potentially have to purchase are the mason jars and a little paint. However, if you already have some mason jars lying around, just upcycle them into some some fun Autumn decor.
Easy Fall Leaves Wreath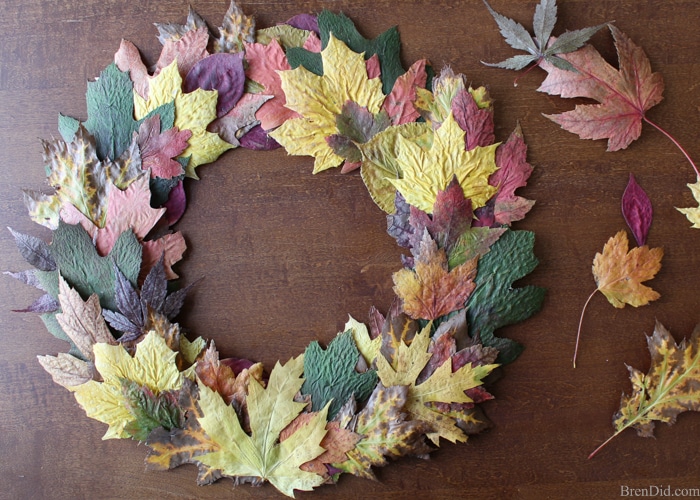 A big part of what makes Autumn so special is the beautiful colors of the changing leaves. You can have fun preserving that beauty by drying your own leaves to create a wreath with. Since fallen leaves are free, you can create some beautiful Autumn decor without spending any money at all. You don't even have to purchase a wreath form because this project simply uses cardboard. At the end of the season, just throw out the wreath and start fresh the following year. If you don't have access to leaves or would prefer not to dry them, you can always purchase a package of faux leaves. Then benefit is that the wreath will last for more than one season.
Pumpkin Barrel Craft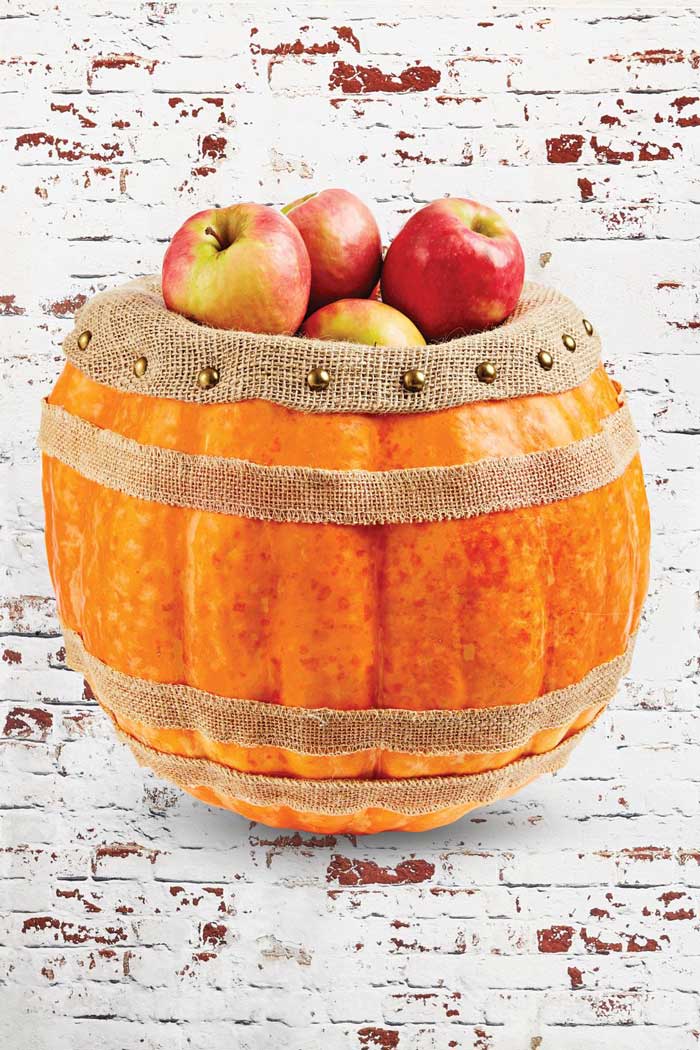 Another simple craft, just for the season, is this adorable pumpkin barrel. All you have to do is scoop out the inside of the pumpkin, add some burlap embellishment, and fill the barrel with apples. This would be a great way to serve up some apples at a festive Halloween party. Nothing says Autumn more than pumpkins and apples!
Mason Jar Lid Pumpkin Platter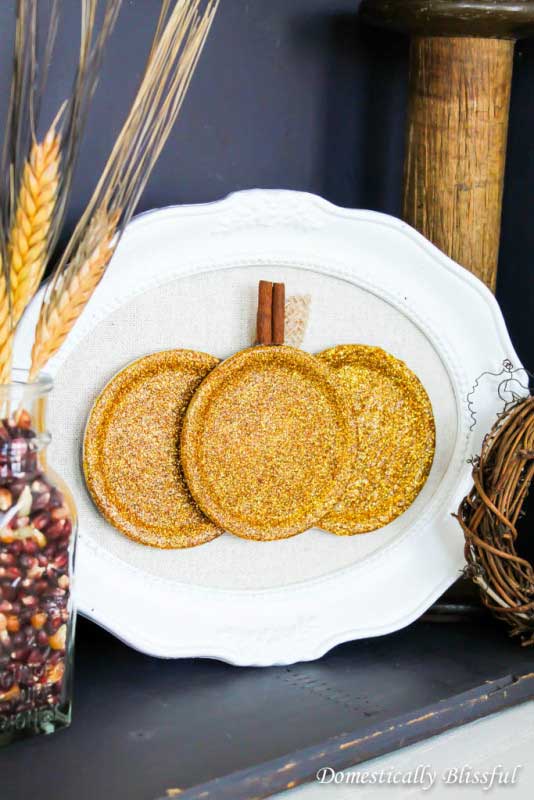 We hear a lot about mason jar crafts, but just the lids….not so much. That is why I love this idea for transforming the lids into decorative pumpkins. This project looks like a decorative platter for the Fall season. However, what looks like a platter is actually a picture frame recycled to fit some festive gold pumpkins. The glitter adds such a warm sparkle to an Autumn display.
Simple Stenciled Autumn Signs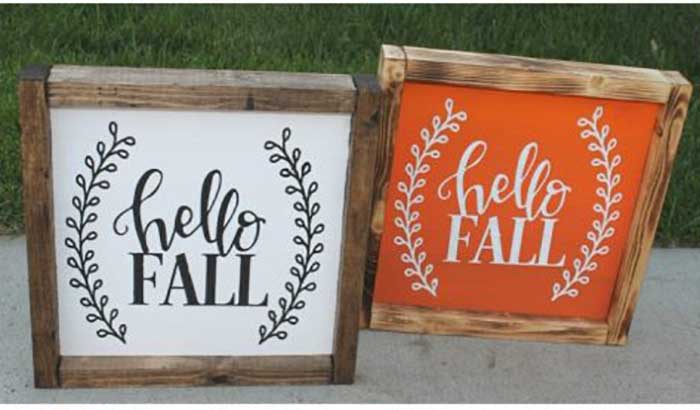 Create some Fall farmhouse wooden signs the easy way. Just use a stencil to paint an autumn design onto some wood. Make your own wood frames easily with wood squares.