With an outdoor fire pit and an indoor wood stove, we end up needing to store a lot of firewood. Luckily, there are some very creative ways to do this, especially if you are a fan of DIY rustic decor projects. I love firewood storage ideas that are also decorative. It doesn't need to take a lot to create an eye pleasing wood storage area. In fact, making a firewood rack can be as simple as standing up an old canoe or incorporating the wood in an outdoor bench.
There are about as many ways to build a firewood rack as there are to design an entire outdoor living space. There are no set rules which means that you can get as creative as you want. Although I am focusing mainly on outdoor firewood storage ideas, I have also included some creative ideas for inside your home.
We designed a window seat box inside our cabin that lifts up to store firewood inside. This is a super functional idea for closed storage. However, there are also lots of creative ideas for open wood storage inside the home.Take a look at all of these creative ideas for DIY firewood storage for both inside and out.
Creative Firewood Storage In A Canoe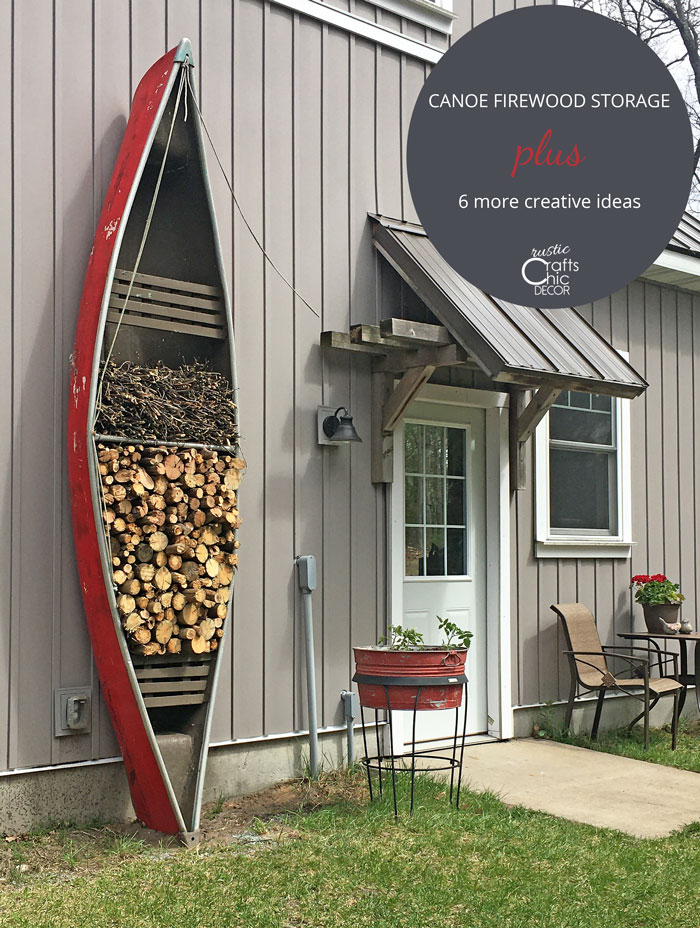 What happens when you have an old unused canoe and a bunch of small logs and kindling that need to be stored? Of course, you repurpose the canoe into some handy firewood storage! I get so much enjoyment out of finding a new use for items we would otherwise have to get rid of.
We have always liked the look of the canoe and were trying to figure out how to use it in a decorative way. My initial thought was to bring it inside, hang it upside down, and incorporate lights. However with a small cabin, that would be a little overwhelming.
Instead, we leaned the canoe up against our garage and secured it through the exterior wall and wood pieces with four screws. Then, my handy husband installed a couple of simple wire mesh shelves for the kindling to lay on. We separated the small logs on one shelf and the kindling on the other.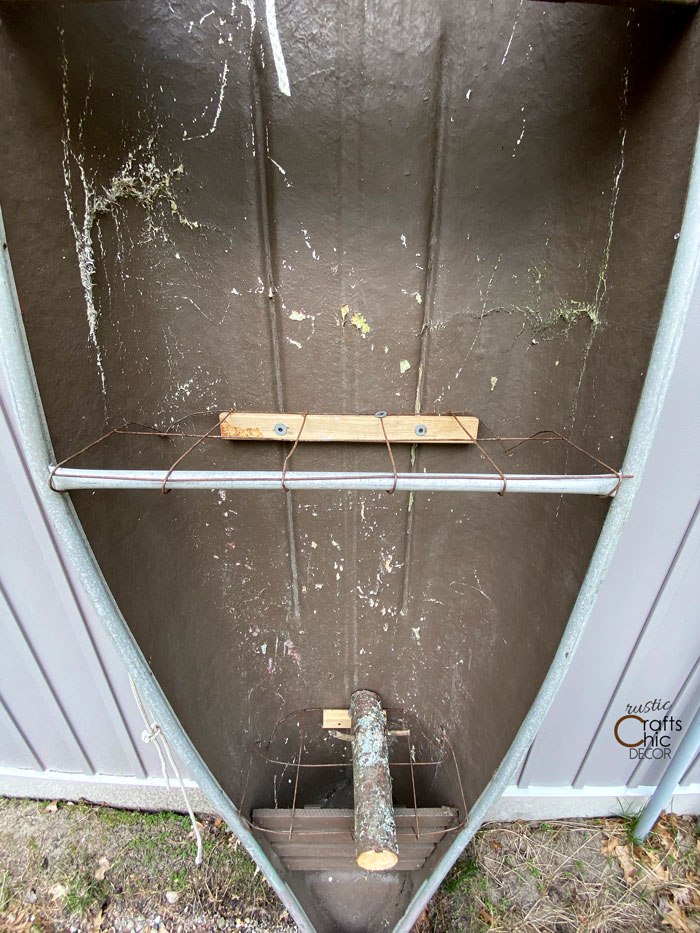 The wire mesh, that we used, is some that we previously picked up from a metal scrap yard. You never know when something like that will come in handy! It was easy to cut to the sizes that we needed.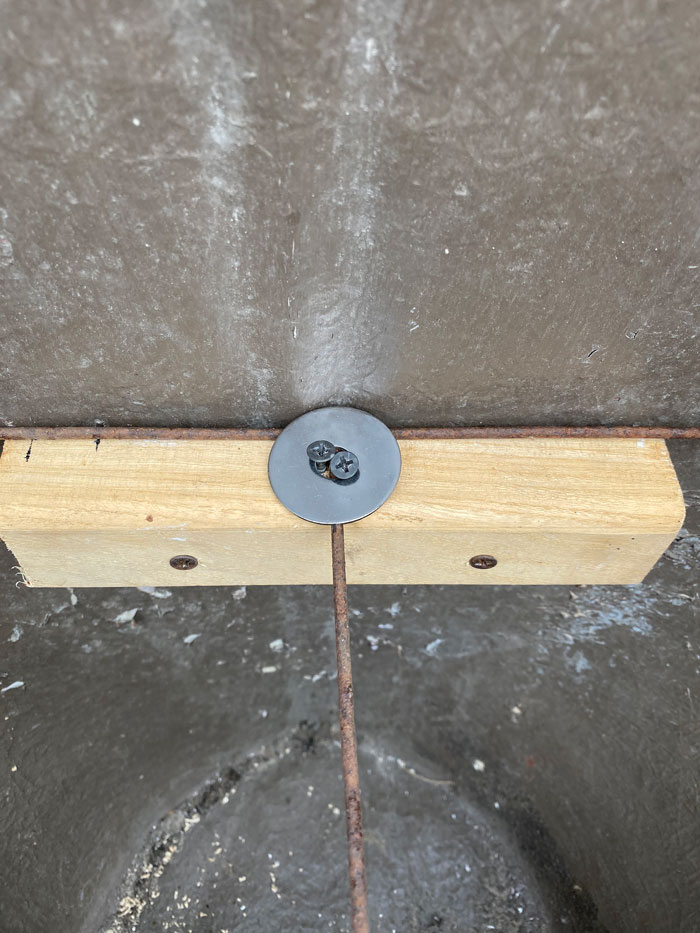 The wire is secured in place by attaching it to the wood with a large washer and a couple of screws.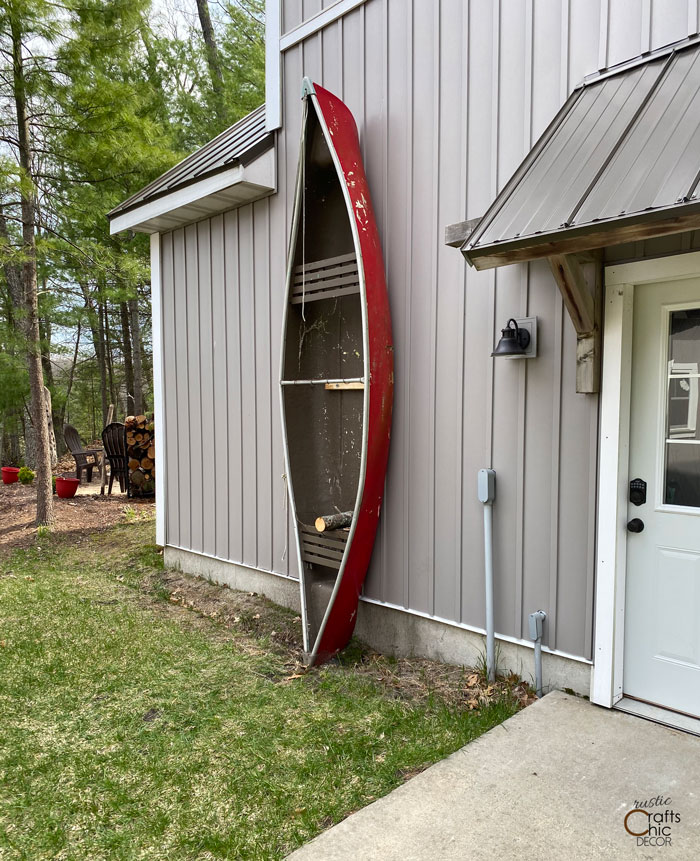 The opening of a canoe really leaves a nice amount of room for wood storage.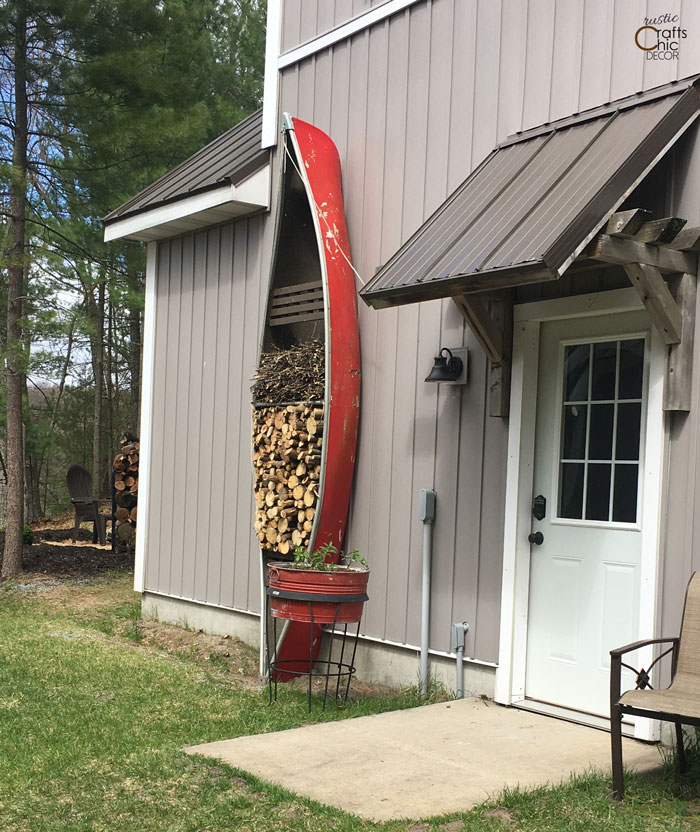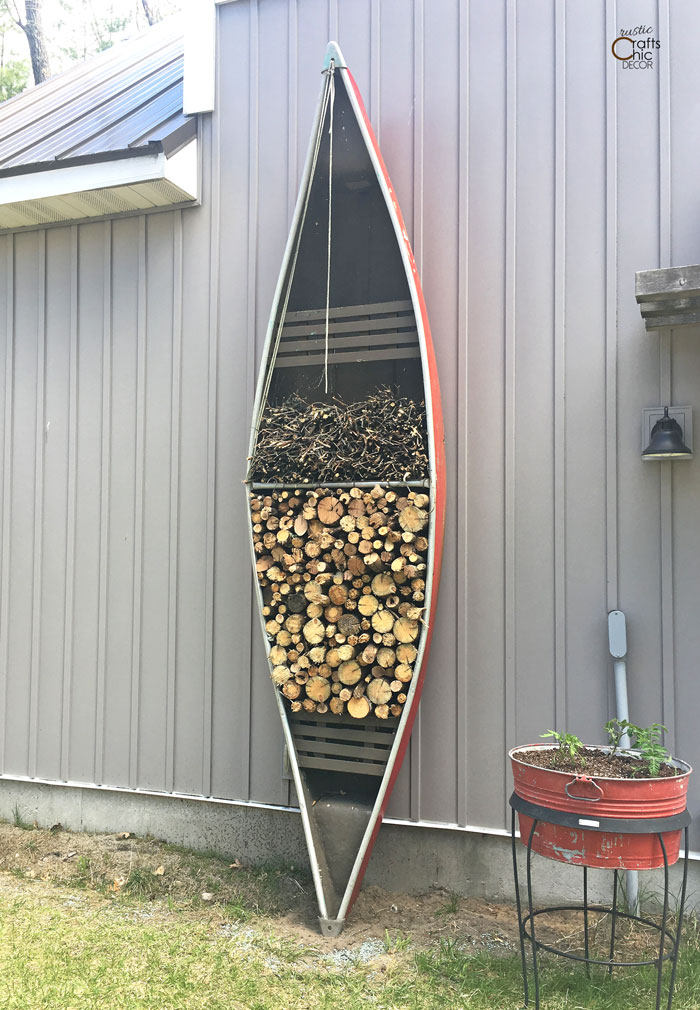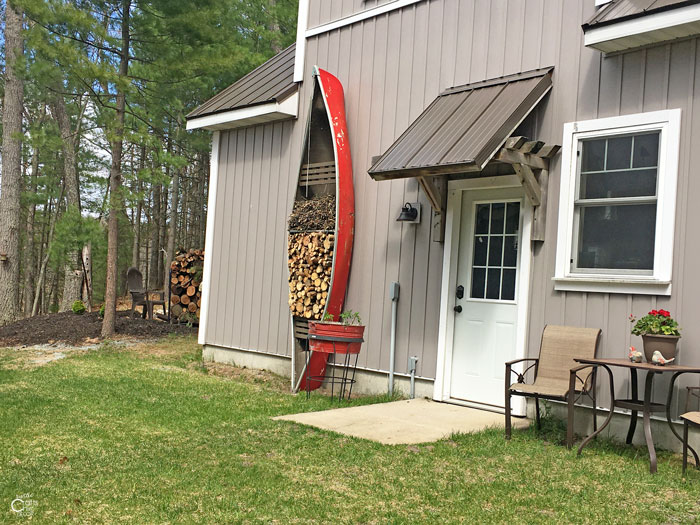 I'm really happy with how this little project turned out. Not only do we have a decorative way to store wood but it also helps to fill in the empty space along the garage wall. Plus, just around the back of the garage is our DIY kayak rack so the canoe fits the theme nicely.
Here are a few more creative firewood storage ideas to think about.
DIY Firewood Storage Bench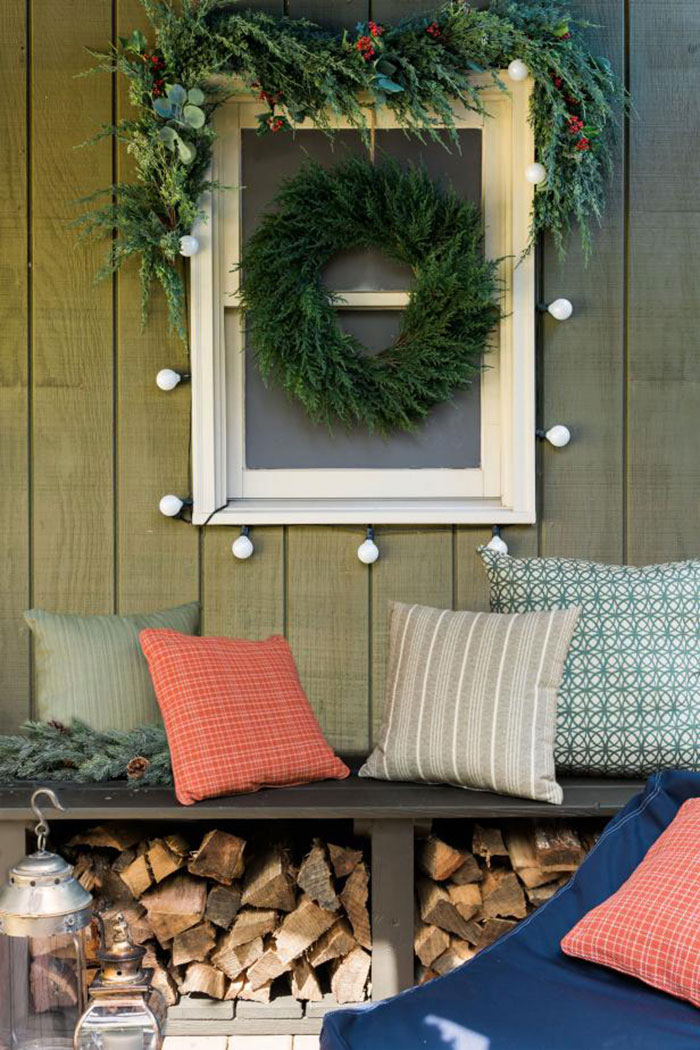 Why not give an outdoor bench a dual purpose by storing wood underneath? It's a cozy look and makes use of otherwise wasted space. If you have a fire pit, you could also build benches like this around the fire pit so the wood is close by.
DIY Rolling Cart Log Storage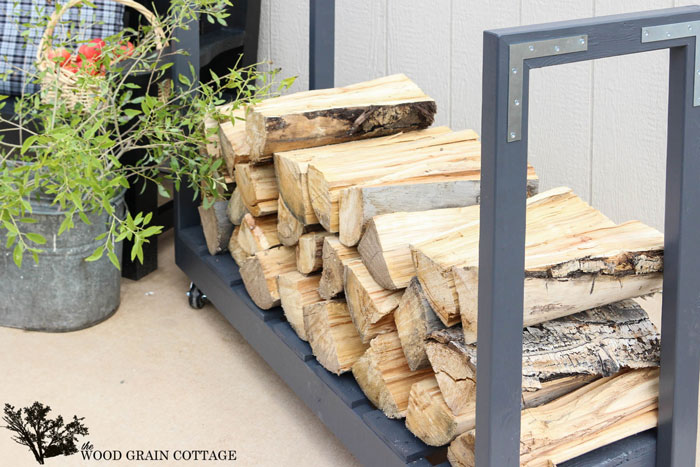 When you need to be able to tote a large amount of wood around, it's best to have a rolling cart. I love this design that is both decorative and functional.
A Rack Built On Cinder Blocks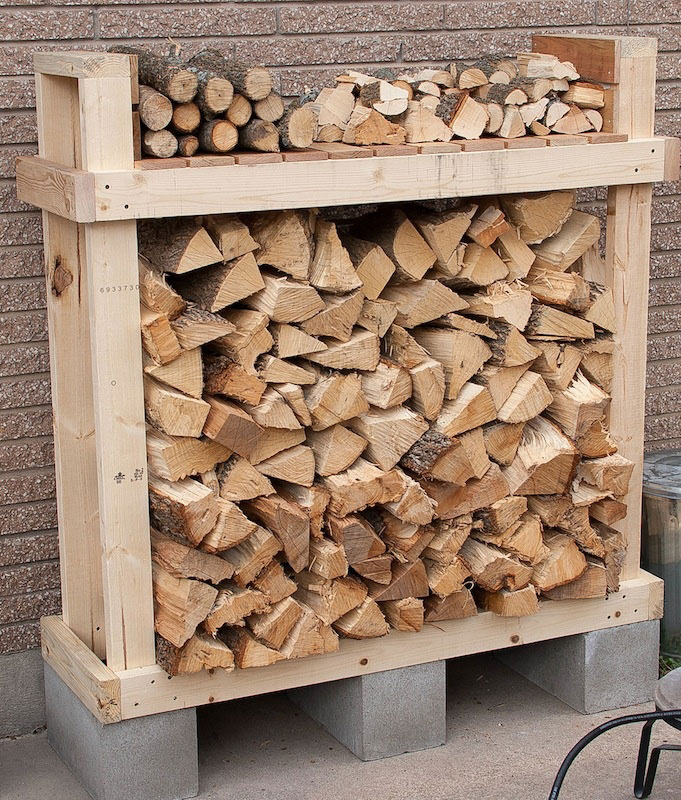 Cinder blocks provide a perfect base for a wood storage rack.They raise up the rack which allows air to flow underneath. The combination of cinder block and wood provides a cool design with lots of contrast.
DIY Fence Picket Storage Rack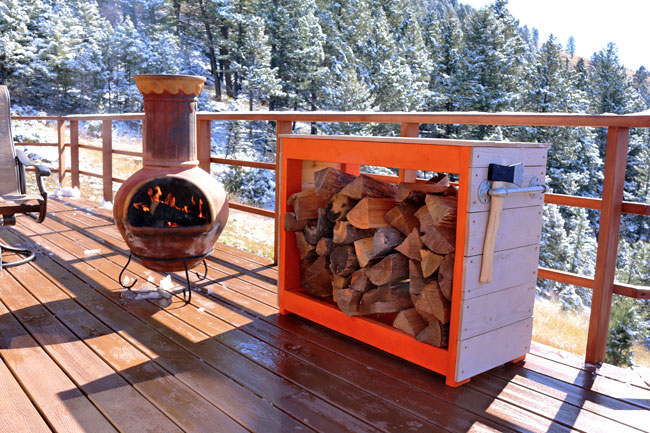 Here is a design that is pretty easy to build and offers a unique look. The use of fence pickets provides a nice finished look to the top and sides. And with the functional side bar, you can even store an axe.
Bookcase Indoor Firewood Storage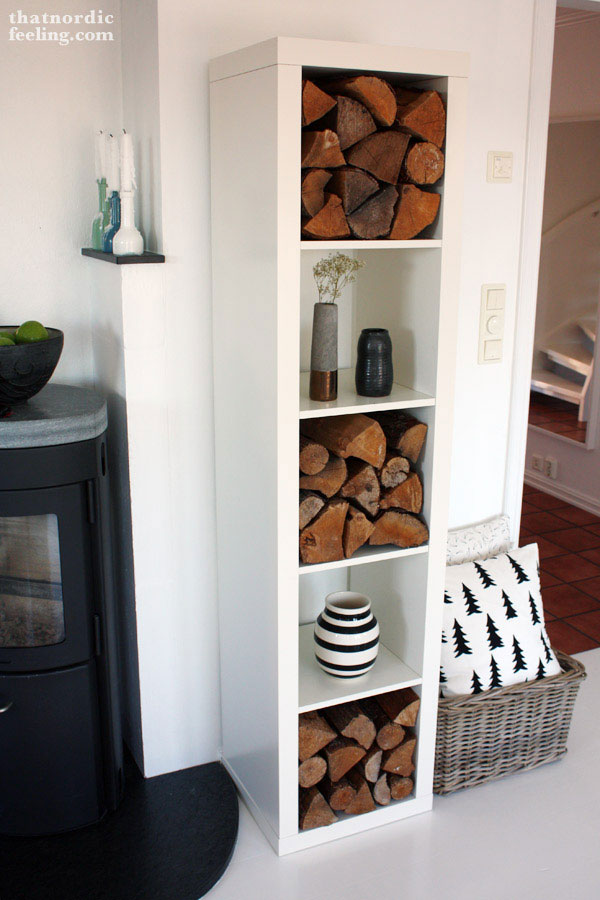 Have you ever wondered how you were going to fill a bookcase or cubby unit? Alternating decorative items with stacks of wood is such a warm and cozy look. On top of that, it serves a useful function! Think about any existing storage units that you have inside the house. Is there anything that would hold some wood? Put it to use for a fun decorative look!
Rolling Plumbers Pipe Rack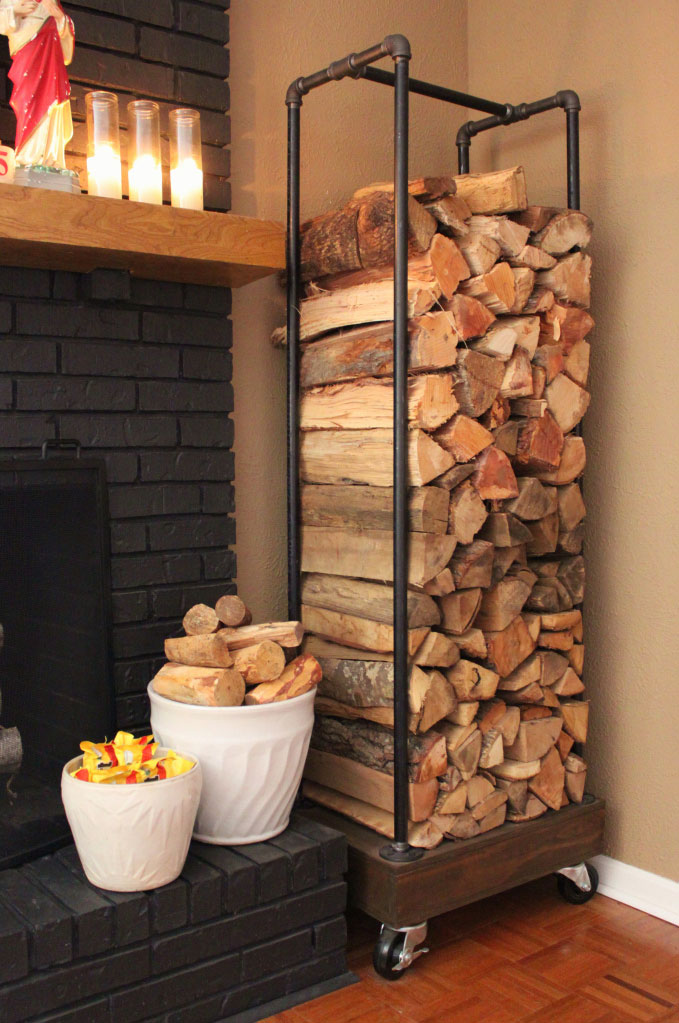 For a rustic industrial look, all you have to do is incorporate some plumbers pipe. Working with plumbers pipe is really easy and you can create some cool designs. I've used it for a rustic bar, table legs, and some open shelving – just to name a few!