Over 30 Cool Ideas For Rustic Outdoor Decor
Summer and warmer weather means much more time spent outdoors.  So now is when we tend to want to spruce up our outdoor living spaces for entertainment and personal enjoyment.  The hardest part can be no knowing where to start.
I have put together a whopping collection of twenty-five cool ideas, for rustic outdoor decor, to help out with some inspiration.  There is a big variety so hopefully something will spark an interest.  You can see more details on any of these by simply clicking on the photo or the corresponding link.
1.  Rustic Chic Party Setting by Flora McFlimsy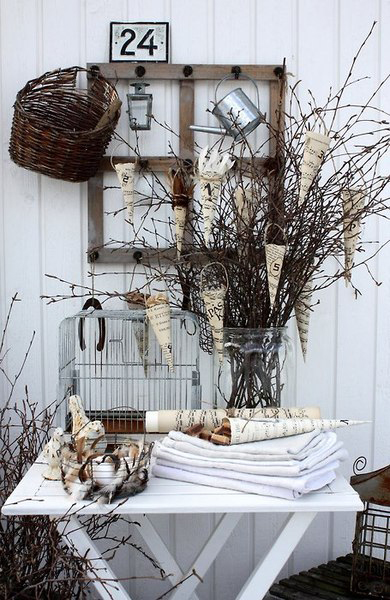 The paper cones, hanging from the vase of branches, look like they are ready to be filled with treats making it fun for an outdoor party or event.
2.  Rustic Fire Pit by Elle Decor
Simple…rustic…and so very cool!
3.  Rustic Outdoor Dining by A Well Traveled Woman
4.  Cool Rustic Table by Outdoor Theme
5.  Birdhouse Table Display via Pinterest
Birdhouses always give me warm fuzzies!  This display, with the pops of yellow, would be so warm and inviting to look out on.
6.  26 More Fantastic Ideas! – found on my clipboard from Hometalk
This has been one of my more popular boards, on Hometalk, and is full of unique and creative ideas for outdoor decorating.  You can follow this board for updated clips.  Just click on the link or photo above.
I hope you have been inspired!  Do you have an idea for rustic outdoor decor that you would like to share?  If so, just leave it in the comments section below!  We would love to hear your ideas.
Happy Decorating!