If you like rustic but prefer a little more clean look for a bathroom, you might want to consider going shabby chic. These shabby chic bathroom accessories have just enough refinement to make them perfect for your space.
Shabby Chic Bathroom
To get a shabby chic look, you would want to use items that are a combination of worn, vintage, rustic and romantic.  Some things will naturally fit that style and others will need to be tweaked just a bit.
Regardless of what you decorate with, you can also take some of these items and repurpose them into a functional accessory to use in your bathroom.
I love this type of two for one DIY project!
For example, I took an old painters ladder, that was layered with many colors of paint, and gave it a fresh coat of white paint and then distressed it.  It now serves as a stool in my bathroom as well as shelving for bath supplies.

You can also see the mirror I made over for this room here.
And, the cream and sugar set used for make-up brushes and other supplies here.
A mason jar soap dispenser also makes a quick and easy diy project for a shabby chic bathroom.

Here are some more shabby chic bathroom accessories that you can make yourself or re-purpose from other items.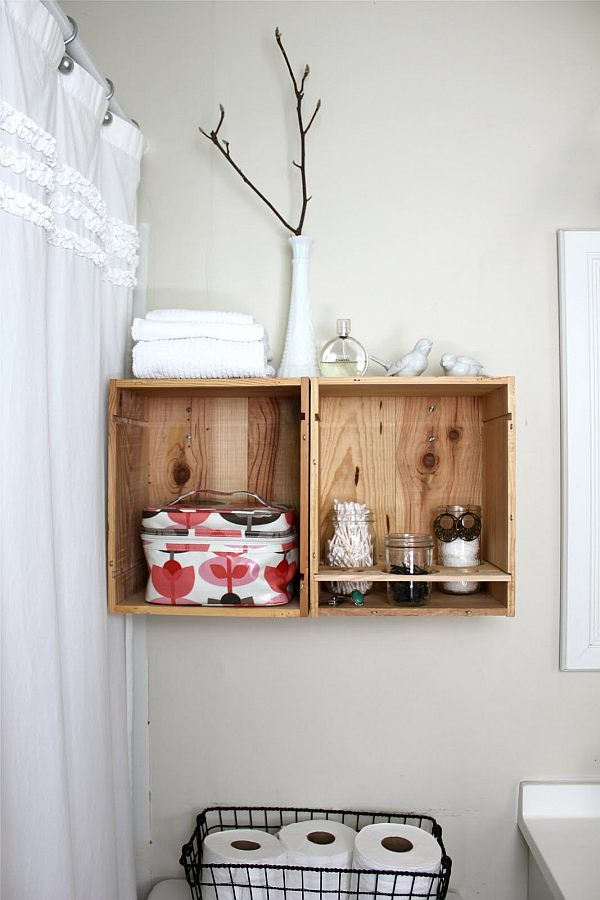 This bathroom shelving unit was made from none other than rustic wine crates!  The simple look is perfect with all of the white accessories.  I love the inserted shelves with holes cut out to fit storage jars.

Instead of hanging a regular mirror above your bathroom sink, hang a vintage medicine cabinet!  Don't worry about painting over the old patina since that is the look that makes it charming.

Why not make a cute towel hanger using an old door knob for a unique shabby chic look?
Have you made any shabby chic bathroom accessories by re-purposing another item?  What have you tried?