Have you ever wanted to just tweak some of the ordinary accessories in your home? Maybe you have the necessities for holding things, that you need in your home, but they are just…ordinary. Shopping in boutique home decor stores may leave you wanting the interesting and artful accessories but not loving the price tags. However, anything that you have in your home can be customized for a unique look. Some of the easy home projects only require minor adjustments to what you have. Other projects could be creating something from scratch, however, still easy. See how to easily update your home without spending a fortune.
Crafts And DIY Decor To Try
The following home projects are geared toward accessories that most of us already use in our homes. However, instead of just using them as utilitarian objects, see how you can turn them into interesting decor pieces.
Upgrade Kitchen Utensils
To start,even your basic kitchen utensils can look fun and artsy when displayed in visible areas like a crock or on hooks. It's not something that you would normally think about when decorating. A wooden spoon is just a wooden spoon…..right? Maybe not. I've seen so many cool looking utensils for sale in artsy home decor stores. They are something that I might be visually drawn to in the store but I stop short when I think about other decor that I could spend my money on than a simple utensil. But, if my eye was drawn to them in the store, why wouldn't get the same feeling displaying them in my home. Luckily, there are ways to get fun and hip utensils by simply tweaking what you have. Here are just a few of the easy ways.
Use A Wood Burning Tool For Fun Designs
When I first bought my wood burning tool, I thought it was the best tool ever…and still do! I have used it to burn a design on a birch lamp, candle holders, and driftwood. However, another obvious wood to burn a design on is wooden kitchen utensils. Create easy designs with dots or lines, or stencil something more extravagant. Either way, it's easy to give your utensils a unique and interesting new look.

The vine design is actually very easy to just draw, with the tool, by hand. For the monogram, you will probably want to use a letter stencil. First draw it on with pencil and then fill it in with the wood burning tool. There are lots of different tips that you can use so it might be a good idea to practice on a scrap piece of wood. You'll quickly find out which tips you like best for a given design.
Add Color To Wooden Utensils
If you've ever felt that your kitchen could use a little pop of color, then painting the ends of your wooden utensils is perfect. You can paint them a variety of solid colors, make stripes, or geometric colorful shapes. Just create a style that suites your needs. Simple craft paints are used to add the color. However, it is important to finish them off with some type of gloss sealer to protect the paint.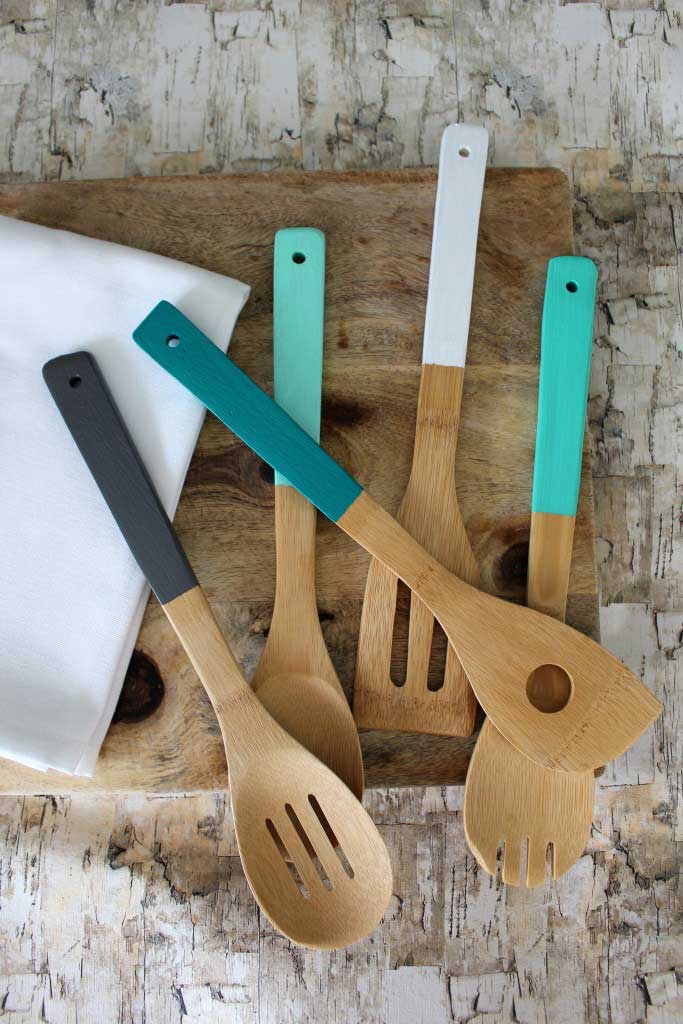 A variety of colors was used for this set of wooden utensils but they all complement each other nicely. Once they are displayed in a container, you get a happy burst of color similar to a bouquet of flowers.
Of course, you can also add a ton of interest by sticking with neutral colors alone or with a pattern.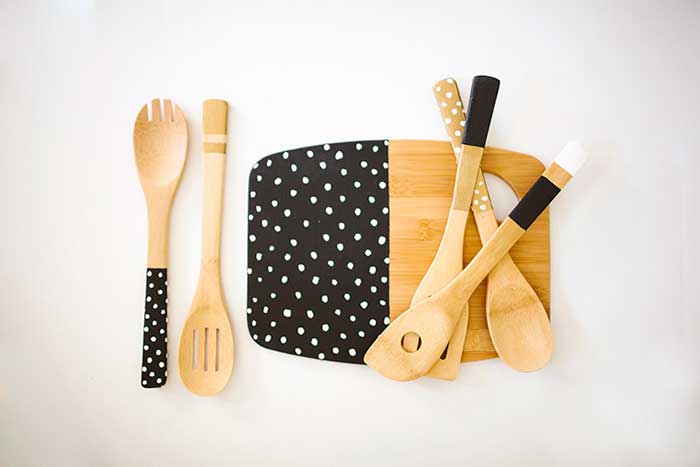 Makeover A Plain Picture Frame
Picture frames have a way of really multiplying over time. I know that I have quite a collection of sizes, shapes and finishes. All of them serve a function but a lot of them no longer fit the style of my home. Again, there are a lot of ways to tweak old frames to match your current style. It's also possible to make a mish mash collection of frames match each other for a cohesive look. These ideas will get you pulling out those old frames!
Cover A Frame With Twigs
One of my favorite ways to update a frame and give it some rustic styling is to simply cover it with twigs. Once all of the twigs are in place, they get a coat of gloss polyurethane to really make them shine and stand out.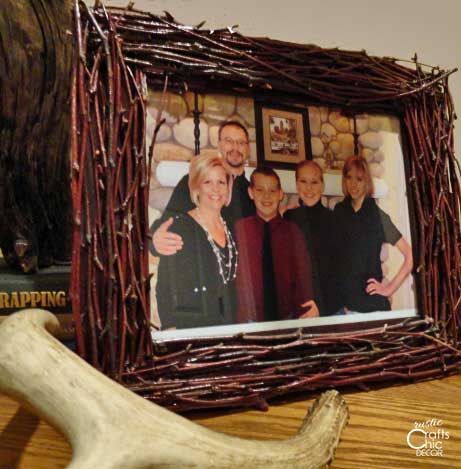 Before, the frame was just a plain stained wood. It served it's purpose but didn't wow me. Because I like all things rustic, covering the frame with twigs gave me the look I wanted. An easy project for a custom look.
Line A Plain White Frame With Colorful Pom Poms
You can always paint a picture frame to add color. However, to add some textural interest, try lining a frame with colorful pom poms. The look is fun and playful as well as sophisticated and artsy.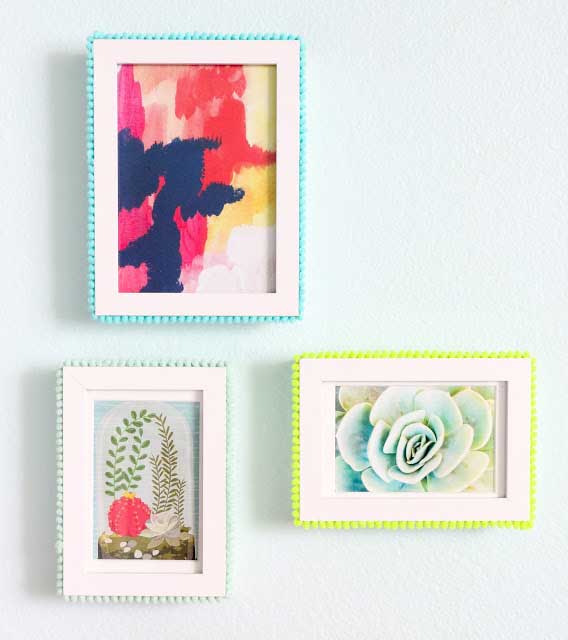 As far as craft projects go, this one is super easy. If you can glue, you can definitely do this! It's also a fun way to highlight a color in an art print.
Add Some Custom Shelving
Interior shelving can have such an impact on a space when it is unique. In fact, I have dedicated a whole post on unique DIY shelving ideas. The ideas include things like a birch branch shelf, belted shelving, and shelves made with crates, pallets, suitcases and drawers. Floating shelves are also great to incorporate into your decor. The look is minimal which is nice especially for small spaces.
Another fun idea is to cut out a mountain range backboard design. This is a super creative idea for a rustic space.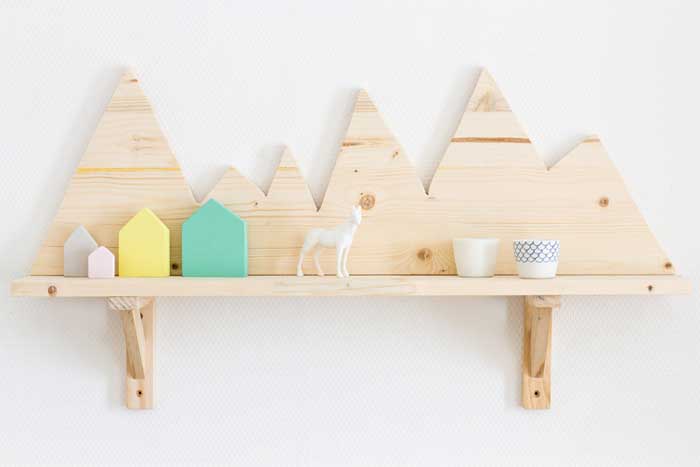 Give Vases A High End Look
Whether your vases are made of ceramic, metal, or glass, you can easily change outdated styles into something more current. Or, something that fits your current decorating style.
Turn Glass Floral Vases Into Great Rustic Accents
I had quite a collection of glass vases leftover from bouquets that I had received. Since I didn't really want to throw them out after the flowers died, I decided to transform them. My favorite transformation was when I added birch bark to one. Then I used the same procedure to make a vase out of a wine bottle.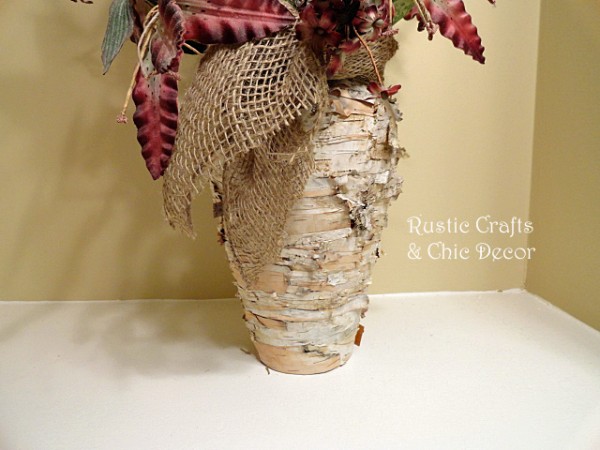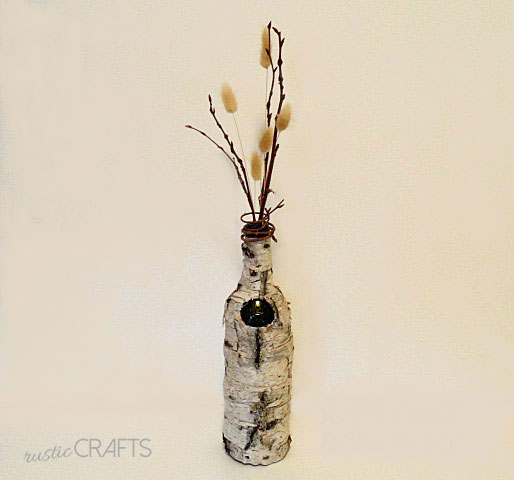 Change The Look Of A Ceramic Vase Using Paint
So it may seem like an obvious choice to paint an old vase to make it more current. However, when you paint and stencil a pattern on a vase, you can really add some chic style. This vase was inspired by a Pottery Barn Vase. It's hard to believe that it started out plain white with pencil scribbles on it. The best part is that the vase was purchased at a thrift store for just a dollar. What a fantastic deal! With a little elbow grease, this vase turned into a work of art.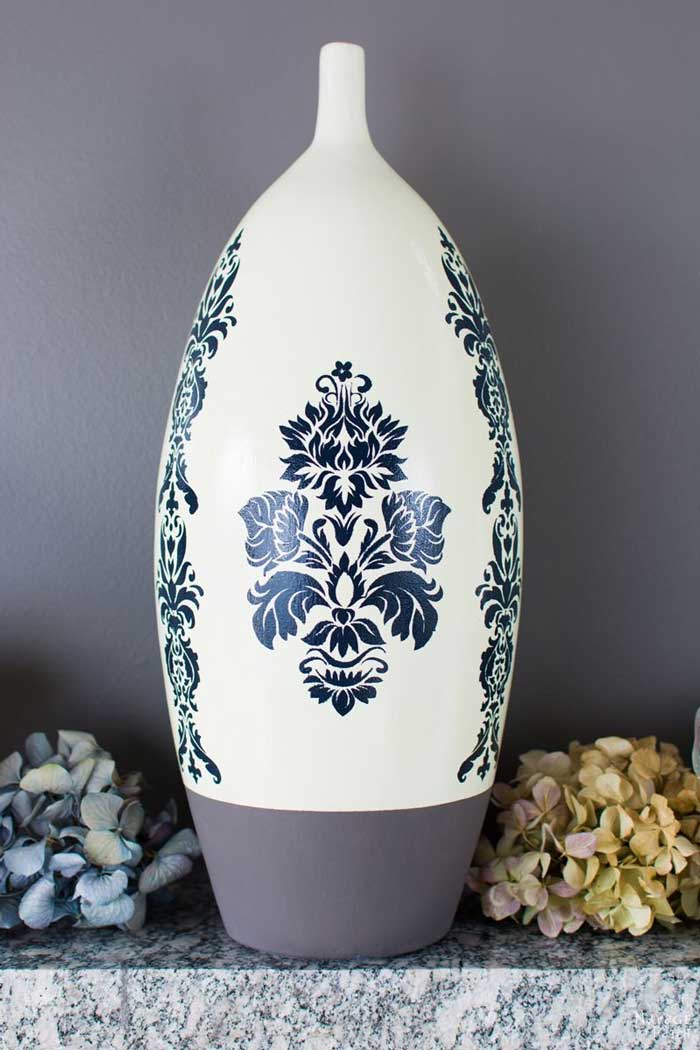 Create Interesting Bookends
Another common accessory to have in your home is a set of bookends. Of course, you could go for an ordinary L bracket metal set but why not step it up a notch? Interesting bookends can be made with just about anything. Here are just a few creative examples.
Turn A Rusty Gear Into An Industrial Bookend
For a while, my husband and I had collected quite a bit of rusty metal from a salvage yard. We especially like gears, pulleys, and other industrial pieces. A fun way to display one of the gears was to make it into a bookend. My husband simply welded it to metal pieces that he had made into an L bracket.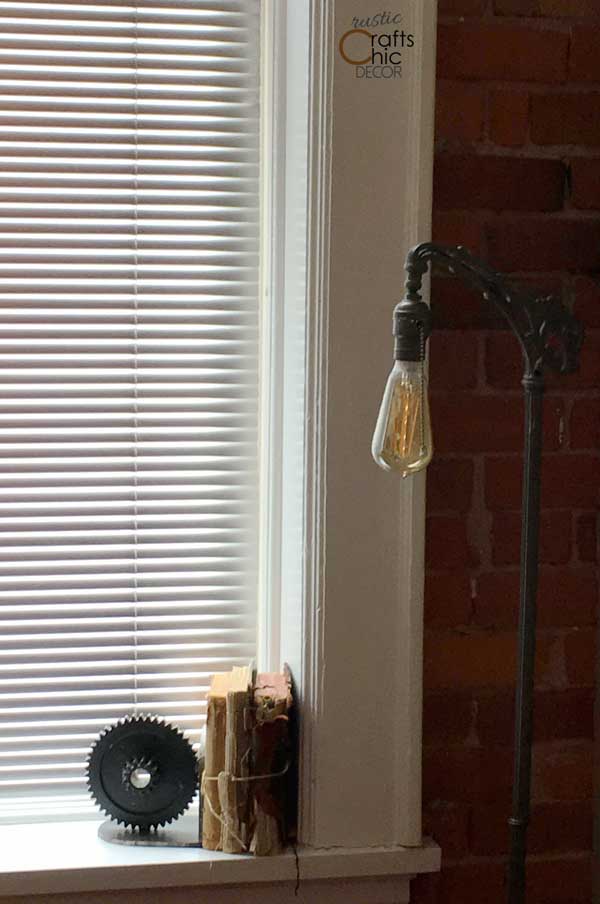 Make Unique Animal And Brick Bookends
Something that you may not have ever considered was to make bookends out of bricks and plastic toys. When I first saw this project, I immediately fell in love.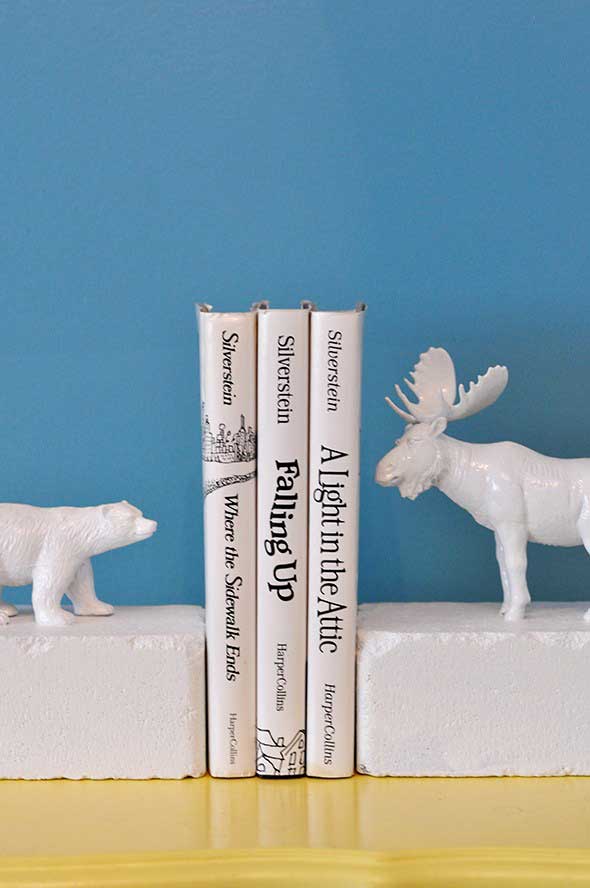 This rustic set is so fun and creative. The plastic toys were simply glued to the bricks. Then, the whole thing was painted in a glossy white. See, I told you that bookends could be made from just about anything! Does this get your thinking cap going?
Craft Bookends To Look Like Books
You can also use a set of bricks to make some bookends that look like actual books. Just stand them on end to hold your real books together.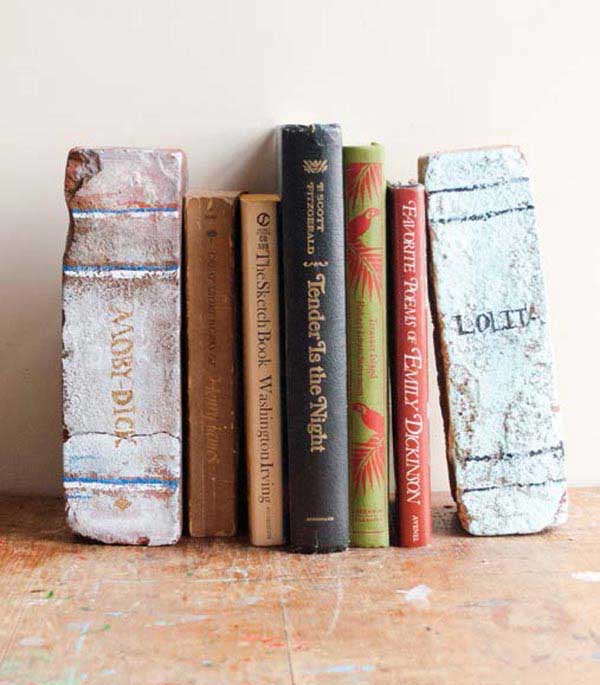 Make A Unique Side Table
Side tables are another thing that you can get extremely creative with. Anything with a flat surface can be made into a table just by attaching legs. Table tops can be things such as salvaged wood, suitcases, game boards, drawers, or old windows. You can find table legs at places like Ikea, thrift stores, or off of an old table that you have. Try one of these ideas for an easy home project.
Make A Rustic Table Out Of A Wood Slice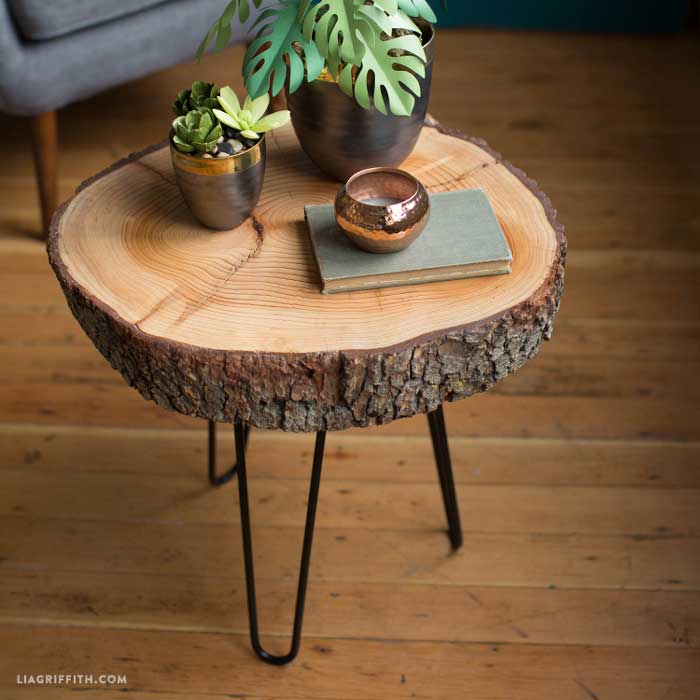 This rustic table is so easy to make and yet adds such a high end rustic modern detail. So, the next time that you have to cut down a tree, think about what you can make before burning the wood!