I am all about a warm and cozy cabin atmosphere. However, that doesn't mean a cabin interior has to be all dark and dreary. Although there are typically a lot of wood finishes in a rustic cabin, there are plenty of ways to brighten things up. Besides varying the wood tones, bringing in pops of cheerful color will keep a cabin from becoming too stuffy.
When it came to building and decorating our own cabin, I had some definite ideas in mind. I do really like rustic decor but my taste is more along the line of rustic chic. I like spaces to look simple, clean, and happy. Luckily, my husband was fine with that. In fact, he has a creative style that hints of the more modern rustic. Together, we came up with ways to keep our cabin light while at the same time showcasing some of his hunting trophies.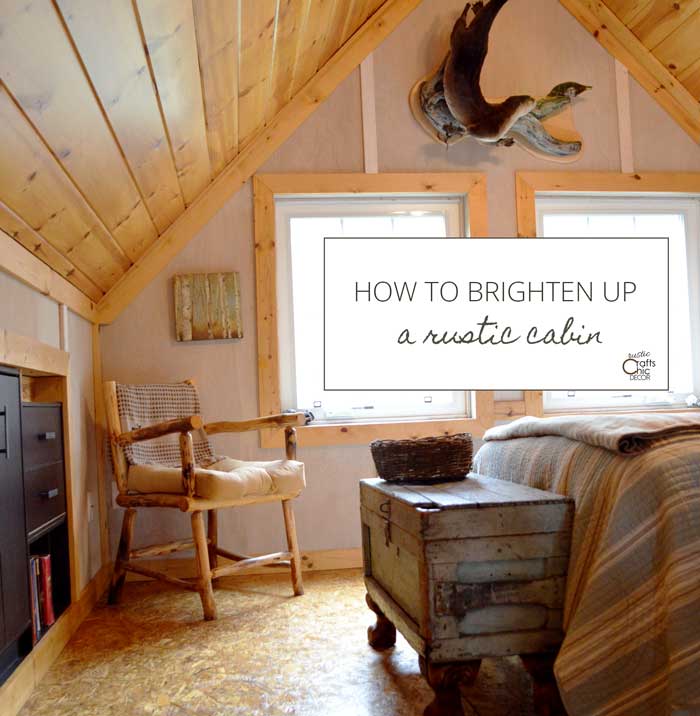 Use Light Wood Stains
When my husband suggested putting plywood on the walls of our cabin, I had to think fast. There was no way that I wanted dark walls that would make me feel closed in.
Because the idea was to have the wood grain show, we didn't consider painting them. They would have to have some kind of stain. That is why I initially pictured doom and gloom.
Luckily, we found a great option with pickling stain. It gives a light white washed look that still allows the grain to show without being overbearing.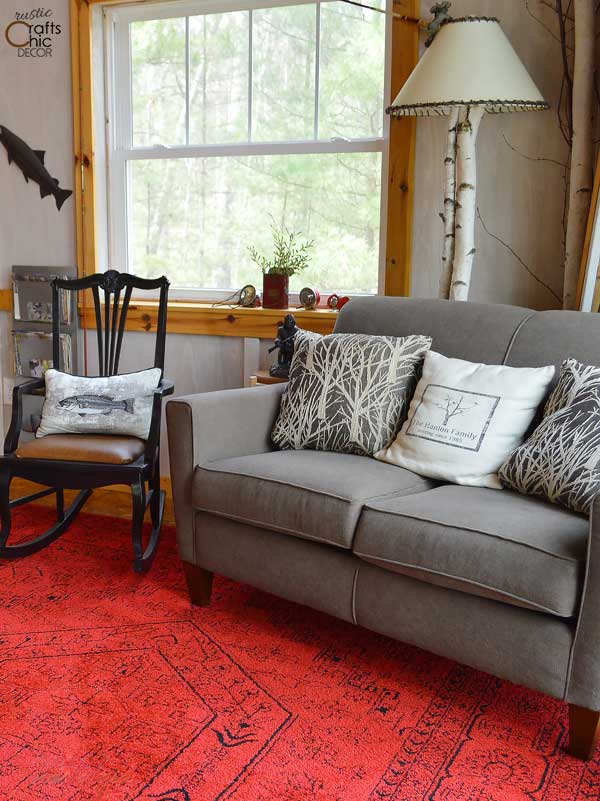 All of the trim throughout our rustic cabin is knotty pine. It is a light wood anyway. So, we used a light golden pine stain to keep it natural looking but warm enough to create a nice contrast with the white washed walls.
Even if the interior walls of your cabin are logs, you can brighten them up a lot by white washing them as well.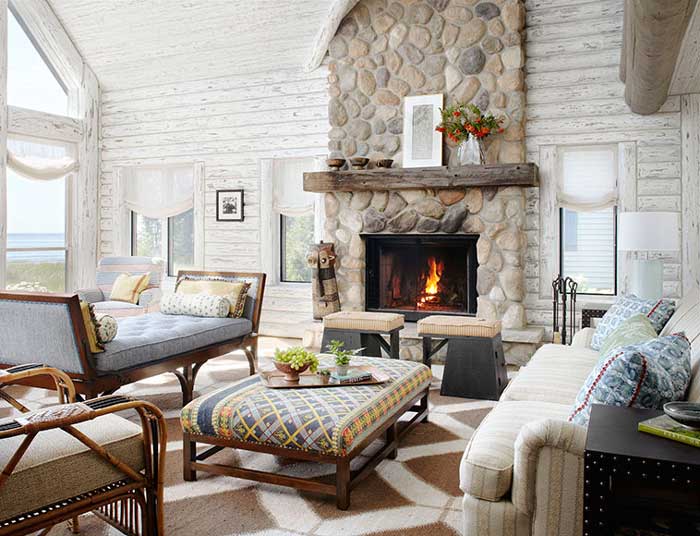 Bring In Natural Light
If you are building a cabin, make sure to include a lot of windows to brighten up the space. After all, you also want to be able to look at the view outside.
Another way to let in more natural light is to keep window coverings to a minimum. If you have to cover the windows, use sheer curtains that still let the light through. You can always install blinds too, which can be left open all day and closed for privacy at night.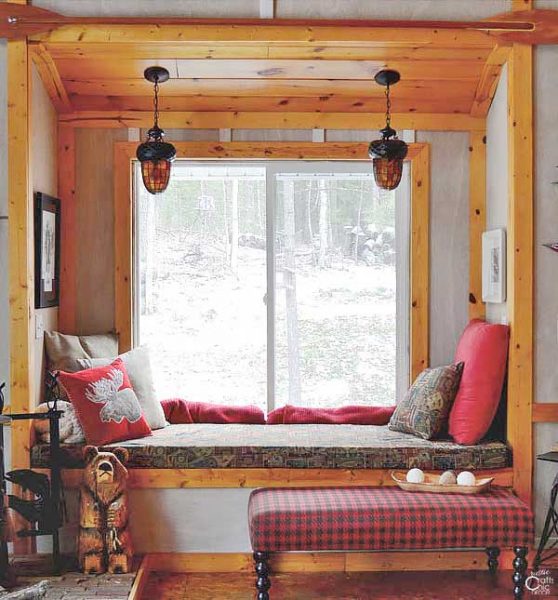 A window seat area is a nice way to enjoy the natural light and the pretty view.
Add Cheerful Color
We have a lot of red accents in our cabin which, to me, adds a happy look. Lighter and brighter colors will brighten up a space even more. In my cabin kitchen, I combined some red accents with lots of white as a contrast.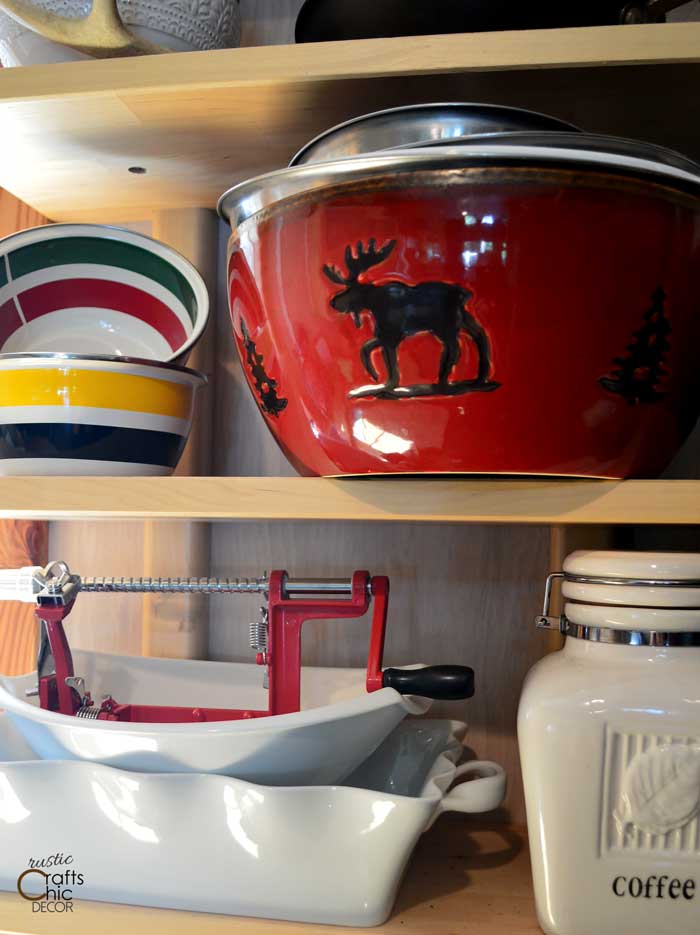 For a softer look, a lighter color will really freshen a room. I used light sea blue accents in our cabin bedroom. It's fun to paint an accent piece of furniture to add in some color.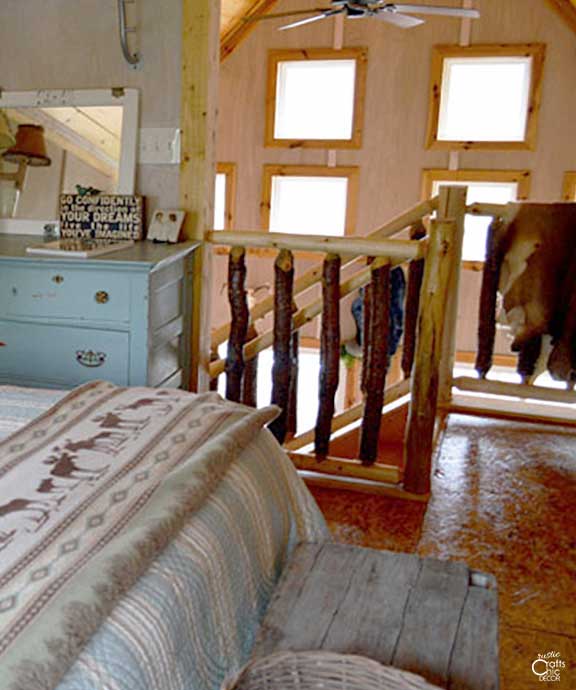 Don't Over Clutter
It always helps to keep spaces organized and clutter free for a brighter look. Too many furnishings or accessories can quickly darken a room.
The best way to remove clutter is to go through each room and take out the accents that have been randomly placed just because you have them. Then, decorate with a purpose and display those items that really enhance the room and have meaning to you.
By doing this, you are more able to appreciate your favorite things. They won't be getting lost in the clutter anymore!