There are some types of crafts that are more relaxing than others. Knitting happens to be one of those that induce a calming effect. Because of this, it's a popular hobby to take up. Once you learn the basic needlework, it's just a matter of counting and repeating. This is something you can do while meditating, talking to friends, or watching TV. And, did you know that knitting projects can consist of more than just scarves and mittens? There are all kinds of knitted homeware projects that are easy to make.
Things like baskets, rugs, pillows, and even ottomans are just a few of the fun things that you can knit. Use soft neutral yarn colors for a chic look in your home. Combine your knitting projects with some rustic accents like branches or salvaged wood for a complete rustic chic style. Here are some knitted home decor projects that you will definitely want to try. For those of you who love the look but want something quicker, see how to recycle old sweaters for home decor.
Knitted Homeware Ideas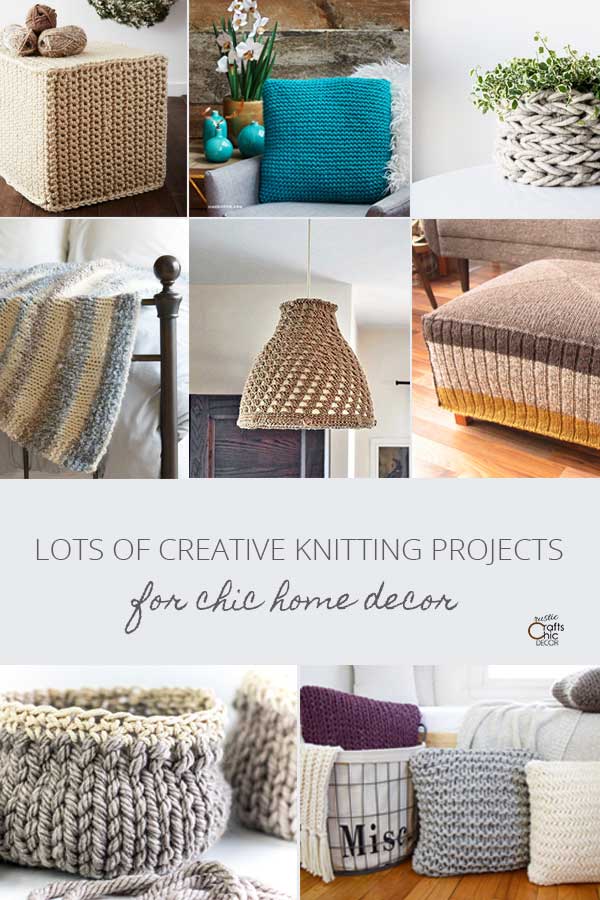 The following knitting projects are both relaxing and rewarding. Home decor that is soft and chic is also warm and welcoming. I'll bet that once you start, you won't want to stop!
Knitted Baskets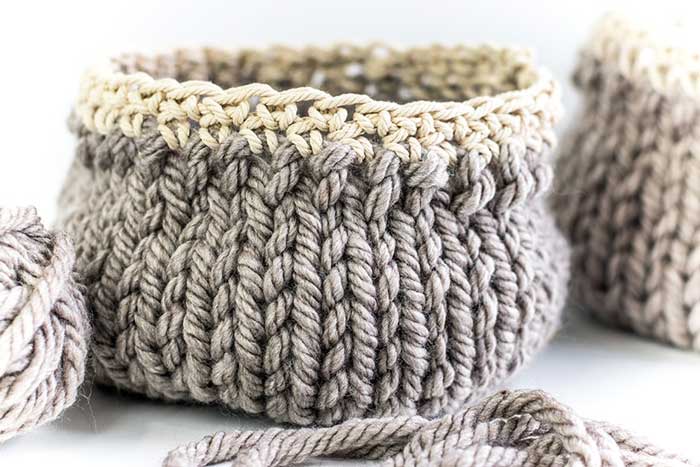 This knitted basket tutorial comes with a free pattern that you can print. The jumbo yarn used for this basket means that it can be knitted in less than an hour. With that kind of time, it would be great to make several at once or even create a set of nesting baskets.
Besides knitting a basket with traditional needles, there is another option. It is called arm knitting. This next basket is an example of what that looks like.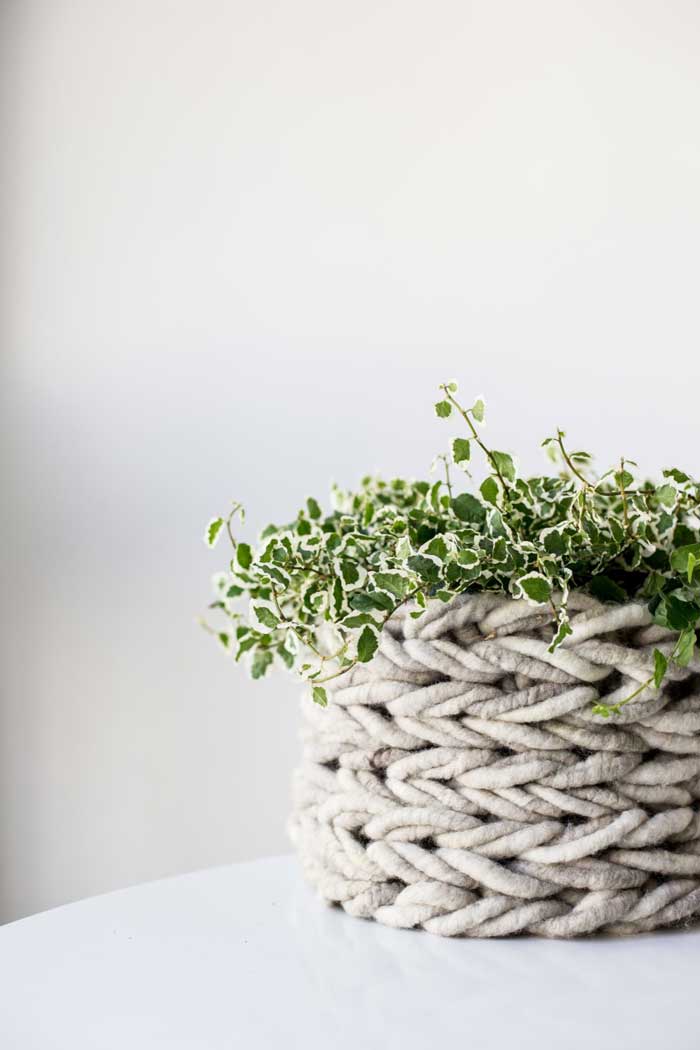 Instead of using needles, you actually wrap the yarn around your arms and work it into a pattern that way. This does tie you up a little bit more, literally. However, the knitting project does go quickly.
Ottoman Cover Knitting Projects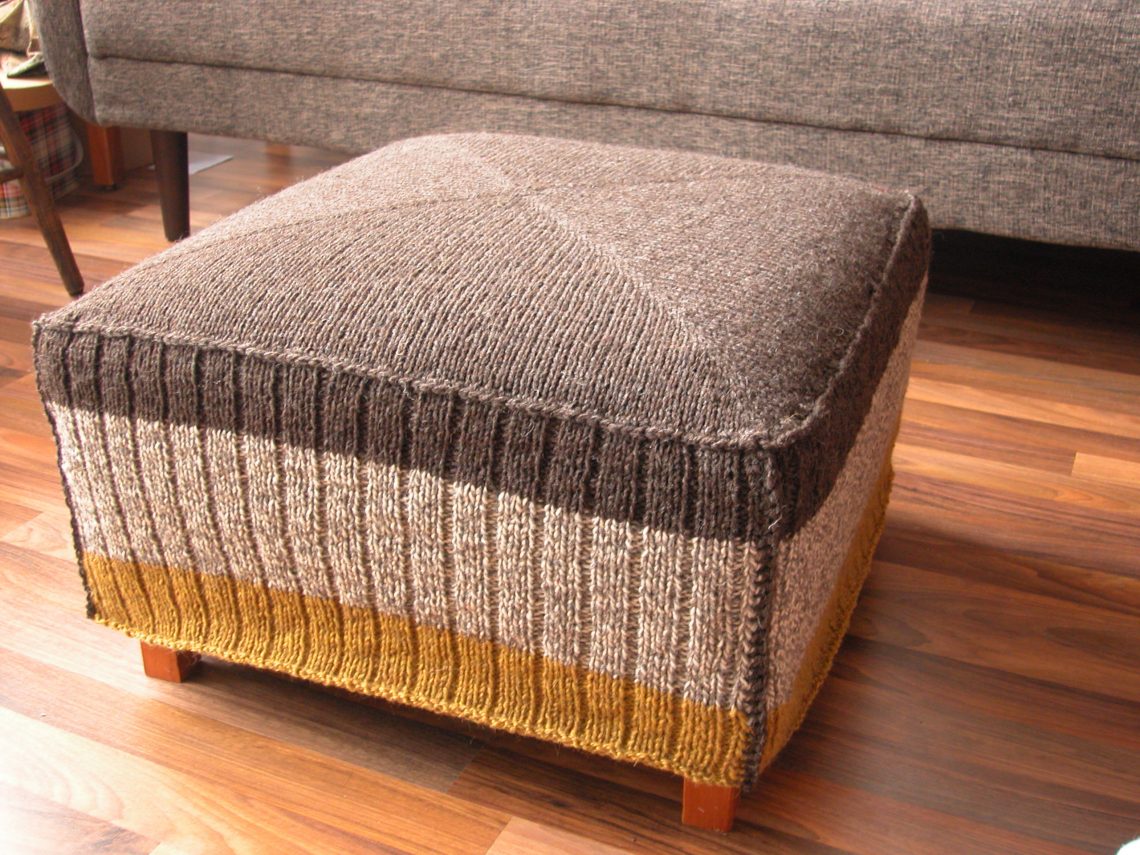 If you have an old ottoman that has seen it's better day, there is still hope. You can simply give it an update by covering it with yarn. A knitted ottoman cover is fun to make. Whether you go for a single color or multiple, the new look for your ottoman will be warm and chic.
If you are just starting out with knitting, a more basic ottoman cover may be a good place to start. This easy cube pattern is available for free download.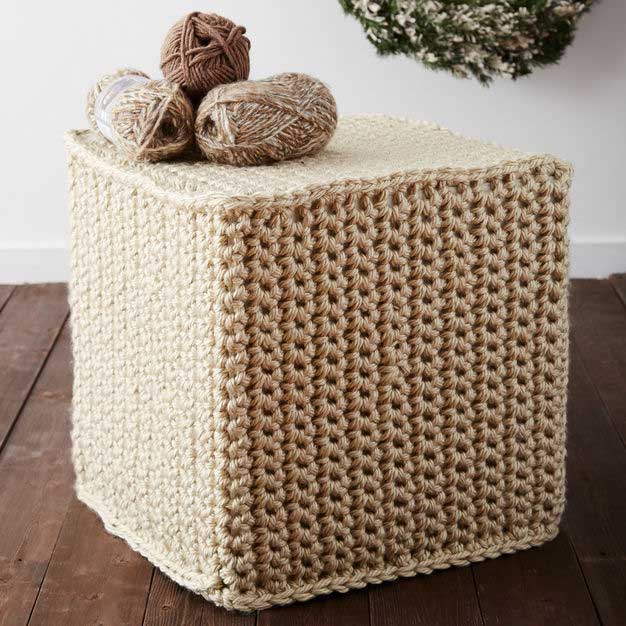 Even if you don't have an old ottoman to update, you can purchase a basic cube ottoman for cheap. Then, give it a stylish upgrade with a little knit work.
Pillows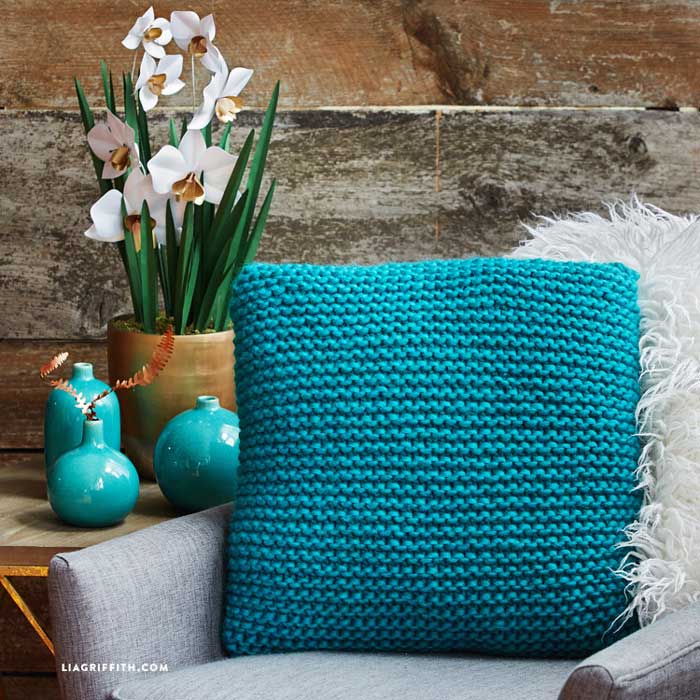 A basic pillow pattern is also a great place to start when you are new to knitting. You may have already been inspired by all of the knitted pillows that you can buy from Pottery Barn and other stores. Unfortunately, those pillows come with a hefty price tag. Knit your own to create a custom look that is both fun to do and affordable. This particular pillow uses an easy garter stitch.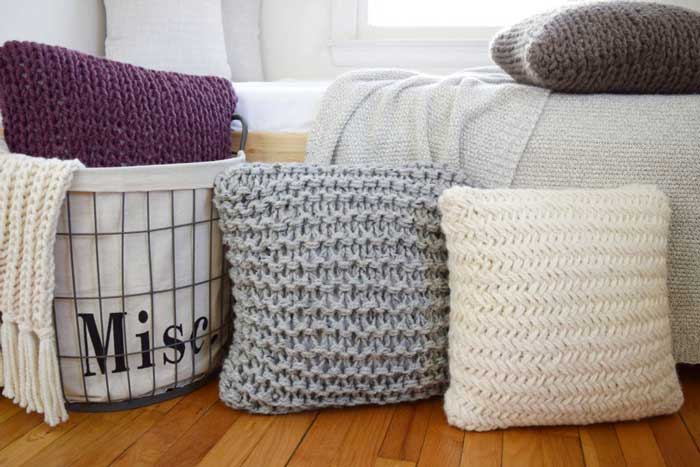 The popular chunky look is also easy to knit. Vary the texture and design of the pillows depending on the stitch that you use. Herringbone, stockinette, and garter stitches all create their own unique look.
Throws And Blankets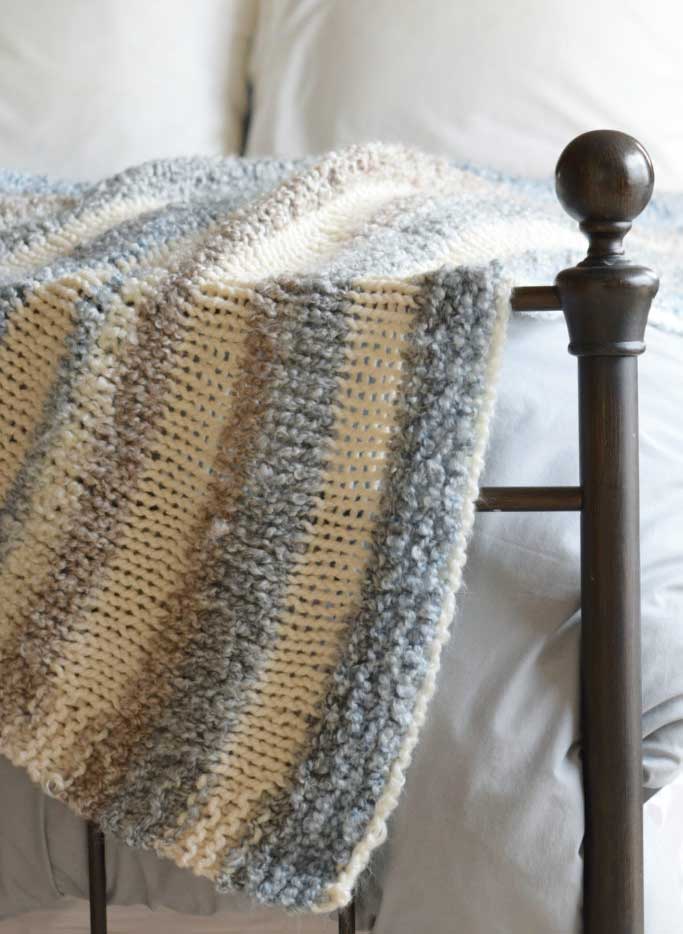 This throw pattern is inspired by some throws that were for sale at Anthropologie. The nice thing about a handmade throw is that it can be customized to the exact colors that you want.
For a quick and easy throw, you can make one using a big and soft stitch. The bigger the yarn and stitch, the faster the knitting project goes.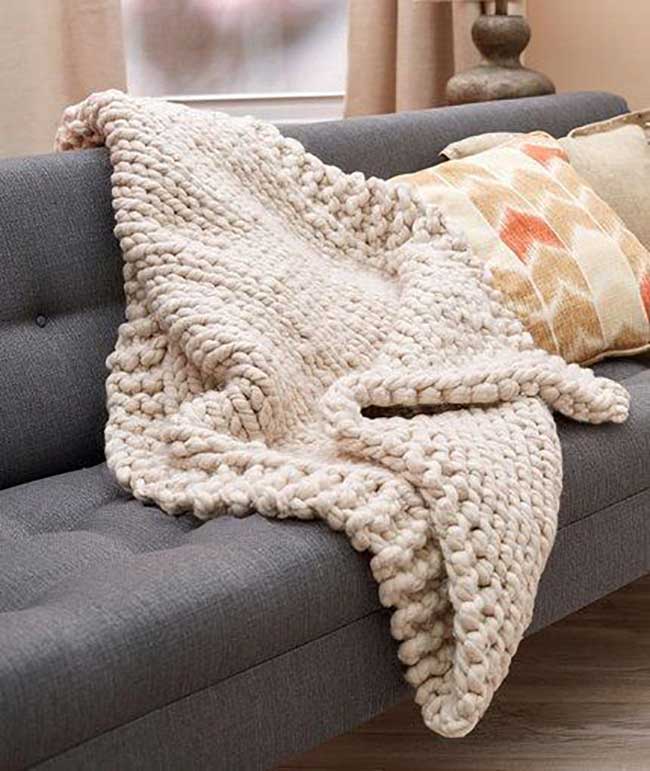 I think that the bigger and chunkier the knit is, the more cozy and comfortable it looks. I would imagine that this throw would be extra soft and warm.
A Knitted Lampshade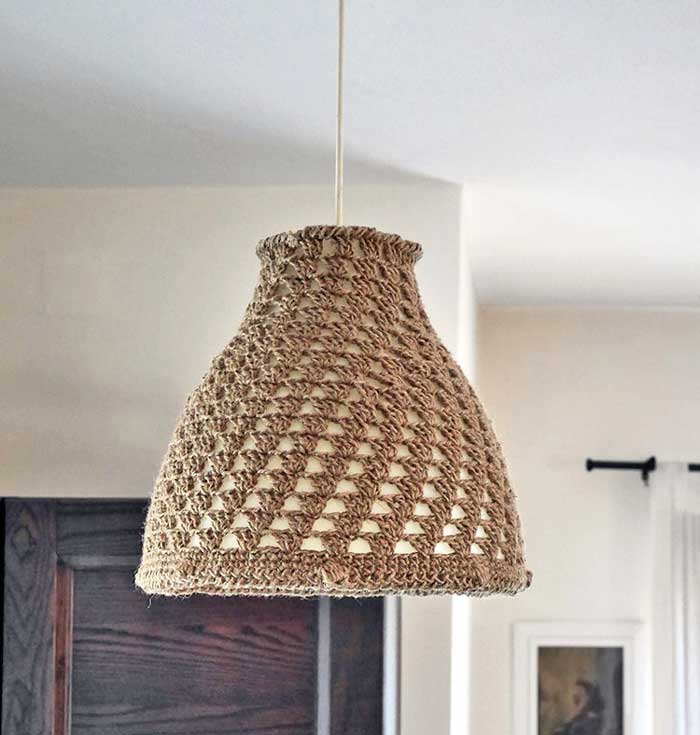 A lampshade cover, like this, definitely seems like a more complicated knitting project. However, if you have been knitting for awhile, this is a fun upgrade to a plain lampshade. I like how this lampshade cover is knitted with jute. The jute gives it a more rustic farmhouse look.
Filler Balls
When you can knit a ball or a sphere, there is so much that you can do with them. I personally like the idea of using them for fillers in bowls or vases. With all of the textures and colors that you can do, you can make the perfect fillers to fit in with your own decor. Of course, knitted balls can also be used as Christmas ornaments or as toys for kids or cats.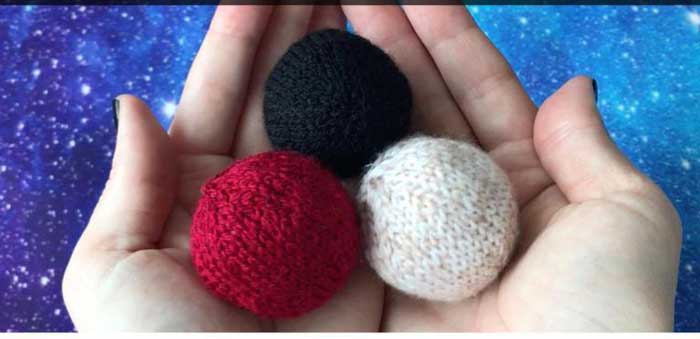 Ruth Haydock gives detailed instructions in both written form and video.
For vase fillers that are similar to knitted balls, check out how I made decorative balls using twine.