Sometimes some of the best storage devices come from reusing items that you already have. As I was working on my sewing room storage, I realized that I could create handy storage from what I already have. I thought I would share some of my ideas along with other inspiration that I have found.
Although I have a sewing box that is meant for storing my bobbins, and all of my other sewing supplies, I just hate throwing everything into one container and calling it good. I end up wasting so much time fishing through my one large storage container that gets so messed up. It is kind of like trying to find something in my purse. Whatever I am looking for always ends up at the bottom.
This is why I like specialized storage instead. For small items that can easily get lost, I like having them as visible as possible. Not only that but also stored in a way where they easily stay in place. All of these sewing room storage ideas work to create a functional sewing space. Check out these creative ideas that will put supplies at your fingertips for hardly any cost at all.
A Repurpose Project For Small Sewing Supplies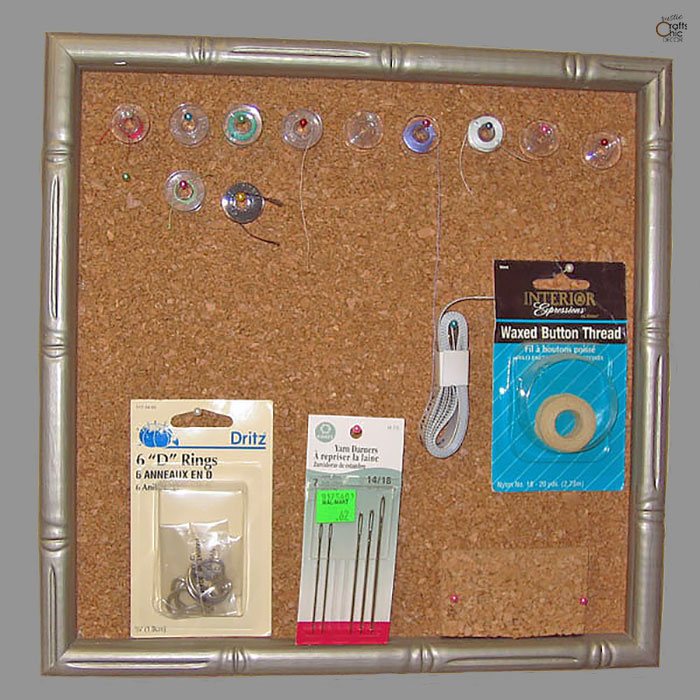 Since I typically have ten to twelve bobbins filled at one time with different colored threads, I don't really want the loose ends getting wound up around each other and tangled into one big knot. This is undoubtedly what happens whenever I throw any kind of string together in one container. It is a recipe for disaster! I needed to come up with a better storage solution.
It seems like I always have old picture frames laying around. For whatever reason, they no longer have a good use…..or maybe they do. I took one frame and painted it to match all of the other storage accessories in my craft room. I then filled the frame with some cork. You can buy cork in rolls to be cut to size or squares. I could have also just bought a regular bulletin board but I like to use what I have and I knew I would end up with a more attractive holder on the wall using my own frame.
To hold the bobbins in place, I simply stuck 1 1/2 inch pins, with the big ball ends, into the cork and hung the bobbins from the pins. These were long enough and strong enough to hold a bobbin securely. Now each bobbin has it's own space, far from becoming tangled up with another bobbin and I can easily see each color right in front of me.
Not only do I keep my bobbins on the cork frame but I also have room to store small packages of needles and other light weight items. It ended up being a great storage item and I recycled a picture frame at the same time.
Sewing Room Storage With A Yardstick, Hooks, And Pails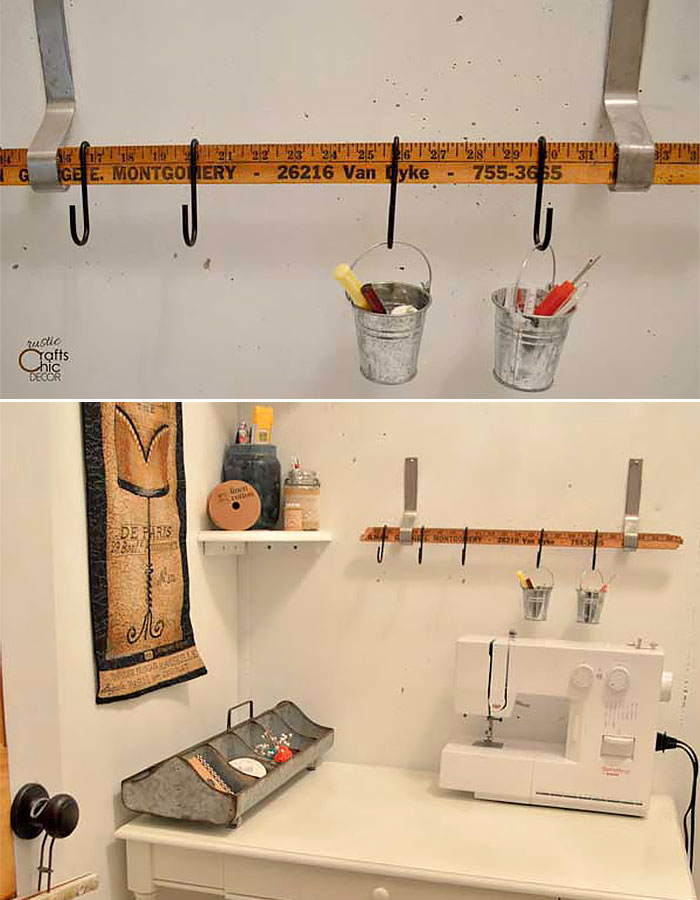 There are certain small sewing tools that I find I need to be easy to grab. Unfortunately my seam ripper is one of them. I wish I never needed it but too often I do. Typically, I am already frustrated at the point I need to rip a seam. I don't need the further frustration of not being able to find my tool. That is why I now keep my small sewing tools right above my sewing machine.
By using a rod, so to speak, and a set of hooks, I can easily hang small buckets to hold small tools and accessories. Since I already had the hooks but didn't have a rod, I repurposed a yard stick to hold the hooks. The small buckets are the perfect size for hanging above my sewing machine. And, the extra hooks are great for hanging scissors!
File Your Fabric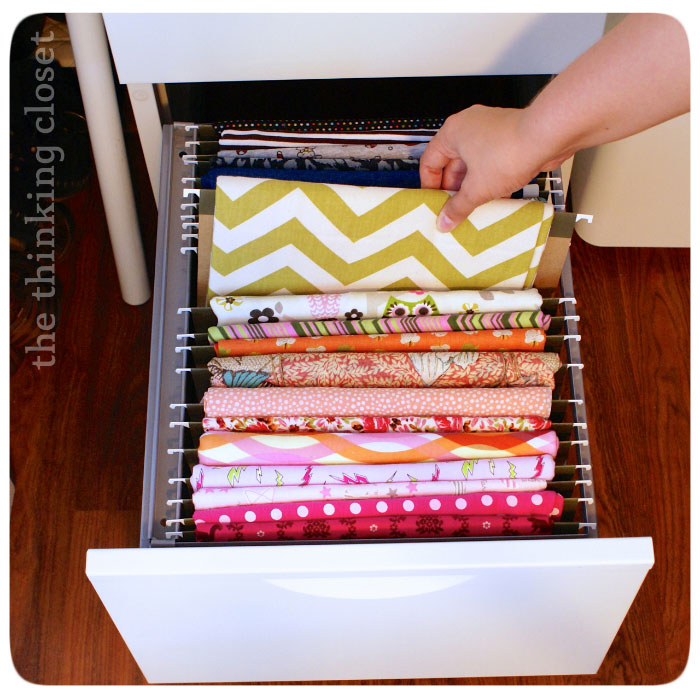 We file our paperwork to keep it handy and organized so why not our fabric! I love this idea for creating highly visible and accessible storage for fabric. This means no more searching through a stack of cloth to find the right color or pattern.
Key Ring Bobbin Holder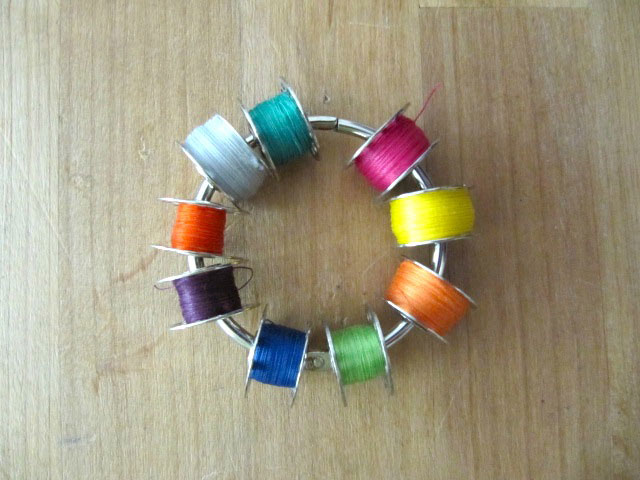 Here is an easy way to store bobbins that keeps them together but easy to see. By threading the bobbins onto a key ring, you keep them in one spot in an organized way. Whether you place the bobbin ring in a drawer or hang it from a hook, you won't be losing any stray roll aways.
These are some simple solutions to craft room storage problems that anyone can do.  The more that you can organize, the less time you need to spend searching for your materials which means you have more time to work on your projects.  I have many more craft room storage tips that can help you to get and stay organized.
What craft room storage tips do you have?  I am always looking for some new ideas.  Leave me your comments below!