It's a brand new year and a perfect time to get your craft room organized and ready for all of your new projects.  A well organized space doesn't have to cost a lot of money though, especially when you can make most of the storage units yourself from recycled materials.  Organizing in this way serves a double purpose too since you will also be cleaning up that recycle bin or storage room that is chucked full of odds and ends that can be re-purposed into useful storage solutions.
To start with, I am going to give a recap of some of the projects that I have done in my own craft room that have made good storage sense at little to no cost.  I have also found some other great ideas that will help to inspire you further to get organized and start the year out fresh.
The first project is a paper holder that I had actually made for my home office.  However, this would also be great to use in a craft room for decorative craft papers or sticker sheets.  The best part is that you can make it for practically free.  All you need is a cereal box, some newspaper and maybe an embellishment or two.  See the tutorial for the easy instructions.
The next storage project uses another cost effective material that everyone should have on hand.  These tin can storage caddies are so handy for pencils, paint brushes, markers or any small tools: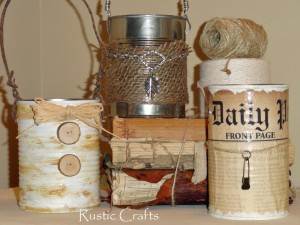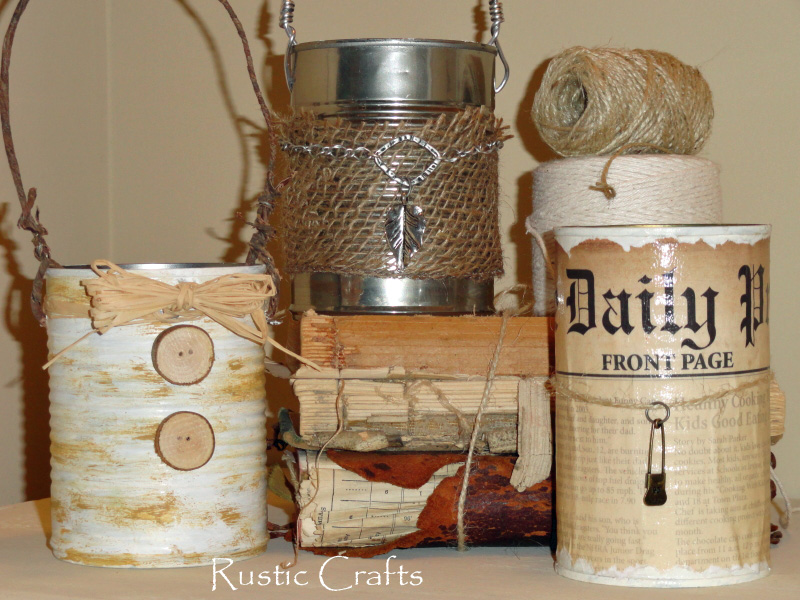 You can make these with or without handles and use a variety of finish materials to give each one a unique look.  The tutorials for each one are super easy to complete.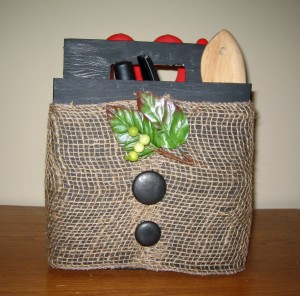 A six pack container makes a terrific storage container with six natural sections for easy storing of a variety of materials.  See the variety of different caddies that I made using different materials and embelllishments to cover the cardboard.
The Quilted Turtle made use of an old wine rack and some mason jars to make some very handy button storage.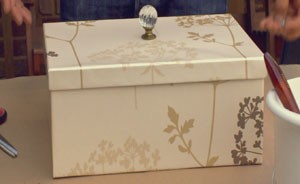 This pretty storage box was made from a shoe box and some leftover wallpaper.  A glitzy knob adds some high fashion to the storage unit making it beautiful to display and hide any unsightly contents.  The design was put together by UKTV home and their tutorial is easy to follow.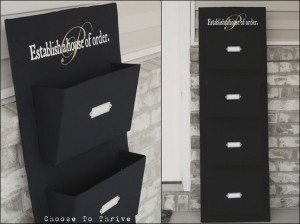 Can you believe that this great wall storage unit was made from lots of scrap cardboard and fabric?   Choose To Thrive shows you how to make this at zero to little cost depending on the materials that you have on hand.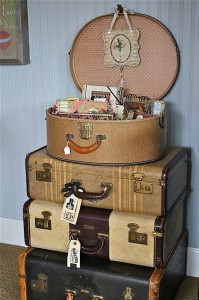 Finally, I absolutely love the look of vintage suitcases and this storage solution by 2 Gypsy Girls is a perfect idea.  I think it would also be cute to use old luggage tags as labels for what is inside.
I hope you have been inspired with some unique ideas for organizing your craft room.  There are so many items that can be re-purposed into storage containers and therefore given a new and useful life.  Start looking at some of your "junk" with a new eye and see what you can come up with.  Think about how you can give items a new and fun look with just a little effort.
Happy Organizing!