It's hard to get anything in life for free but when it comes to shabby chic or rustic decorating you can get lots of great accessories at no cost to you. All it takes is an open mind, a little searching and some creative display. There are plenty of ways to decorate without spending any money at all!
I'm not talking about any of the great vintage items that may have been passed down or given to you from family either. These of course are great to have and decorate with but I want to show you things that anyone can have access to.
Keep in mind, that on their own some of these items may simply look like useless discards. Remember the open mind? You definitely have to think outside the box with some of these things. However, seeing how they are displayed should give you some inspiration and an idea for what to look for.
Ways To Decorate Without Spending Money
Use Salvaged Wood Creatively

A great example is this section of wood from some kind of pallet. My husband brought this home from work. I think to use it to put behind a trailer wheel to keep it from rolling. Anyway, it was sitting in the garage and I happened to spy it with all of those great numbers stamped across it. A perfectly normal thought was to bring it in the house to use for some decorating. Okay maybe not so normal but I did clean it up first. I think it added some rustic interest in my kitchen. It also gave me an anchor or storage display for my china tea cups. The two together have a rustic chic look that I wouldn't get with the cups stored somewhere else. Check out more unique storage ideas for small spaces.
Besides simply displaying a section of salvaged wood, you can also make plenty of decor items from it. Pallets are quite easy to get a hold of for free and there are an endless amount of projects that you can do with them. Just check out a couple of posts that I dedicated to pallets. See pallet decor ideas and amazing ideas for pallets.
If you have a variety of scrap wood, you can piece together your own decorative wall art.

SOURCE: Beyond The Picket Fence
Using a variety of wood sizes, thicknesses, and even color, you can create a cool modern rustic design. Use different stains or paints to give each piece it's own character.
Architectural Salvage
Often times, you can also get a hold of cool architectural salvage such as old doors and windows. When we renovated an old home, we were able to use and give away lots of windows, doors, and hardware.

SOURCE: HGTV
This shabby chic display uses plenty of old and possibly free stuff. Check the free section of Ebay and Craigslist for old doors and windows. Another good source is Freecycle. You can join this organization in your area and have access to all kinds of free material. Since there isn't any shipping involved, you will need to be able to pick up anything that you are interested in.
Along with architectural salvage, salvaged metal is also great to use in decorating for a rustic industrial look. A great place to look for salvaged metal is at a metal scrapyard. Although, you usually have to pay a price per weight, the cost of some things could literally be pennies. Even heavier items could amount to no more than a few dollars. Of course, dumpster diving is always an option for finding free stuff. The dump station near our cabin is always full of potential for the discerning eye!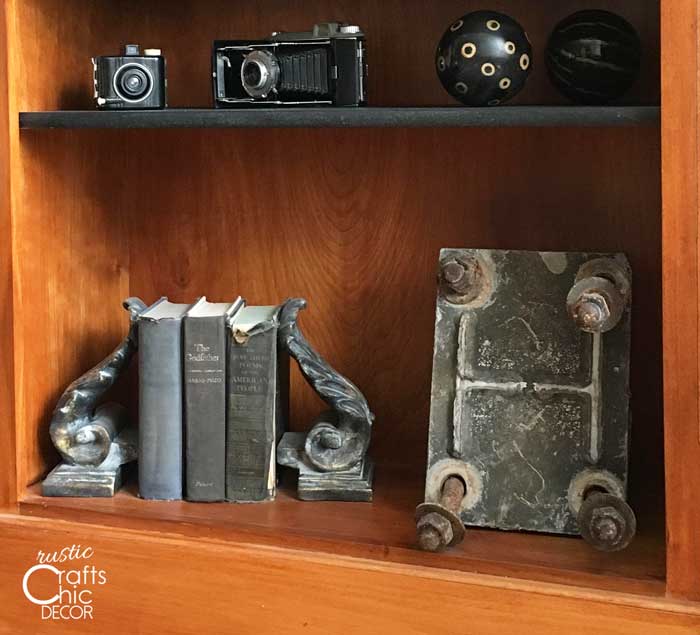 The funky metal art, that looks like an H, is an old industrial footing. We picked it up from a metal scrapyard for a few dollars but it is something that could also be found for free.
Nature Is Always Free

SOURCE: Tomfo
Why not make art out of a dead tree? All you need to do is set the tree or trees in concrete and display it in your home. If you don't to use concrete, you can also place the tree in a pot filled with rocks. The minimalist look can be quite striking.
Recycle Common Household Trash Items
There is also so much that you can do with recycling common household items. Things like cans, cereal boxes, bottle caps, and wine corks are just a few examples of things you can create with. Since you can create lots of free shabby chic accessories with what you already have in your house, decorating doesn't have to cost a fortune.
Here is just one fun example of recycling a cereal box into decorative office storage.

TUTORIAL: How To Make A Paper Holder Out Of A Cereal Box
This paper holder is made simply with a recycled cereal box and some newspaper. You can embellish it with other trinkets that you have around the house!
Hopefully some of these ideas will have you thinking outside the box when it comes to decorating. You can now see how to decorate without spending money and still get artsy looking decor.