Making things from small pieces of a wood is a great way to get some easy rustic decor. Whether you use scrap wood, branches, or driftwood, any type of wood is an option to use. I came up with this collection of wood crafts based on their rustic appeal. Since all of the designs are simple, these crafts are quick and easy to make.
Ideas For Small Wood Crafts
Scrap Wood Wreath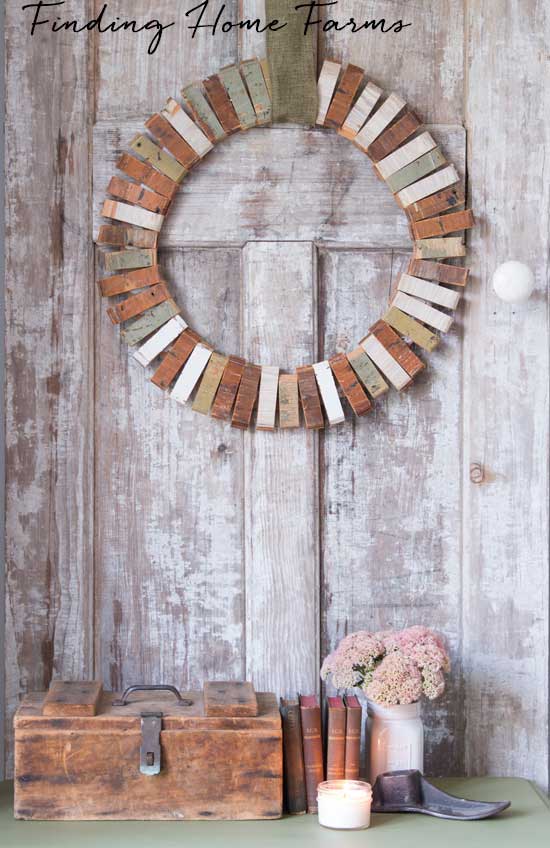 I have seen wreaths made from several different things. However, a scrap wood wreath has to be one of the most creative and unique. I love the variety of colors in the wood used. It makes the perfect accessory for a farmhouse or rustic home.
Small Wooden Birdhouse Craft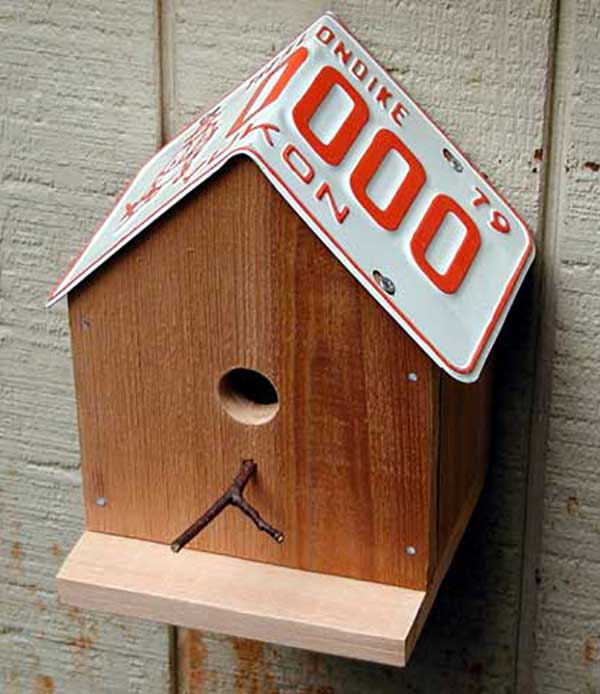 If you have some scrap pieces of wood, why not turn them into a cute birdhouse? This simple design is made extra special with a license plate roof and branch perch. For a similar idea, see how I made a decorative birdhouse with a birch log and a rusty metal sign.
Wood Slice Clips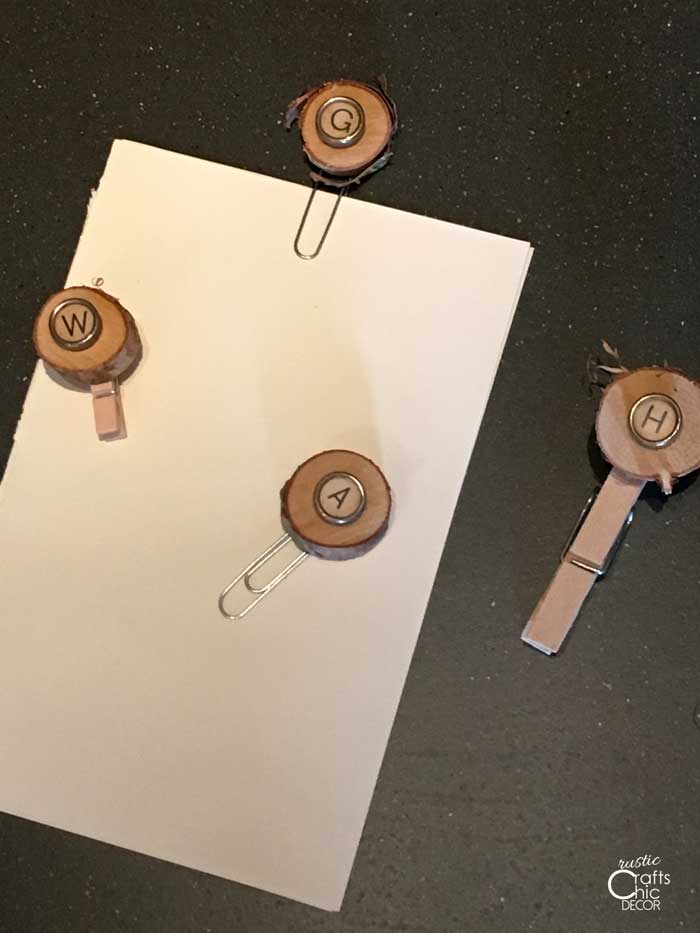 Sometimes all it takes for a wood craft are some small tree branch slices. I made these wood slices into rustic clips but they would also work well for small magnets. It all depends on what you glue to the back of the wood slice.
Wooden Arrows Craft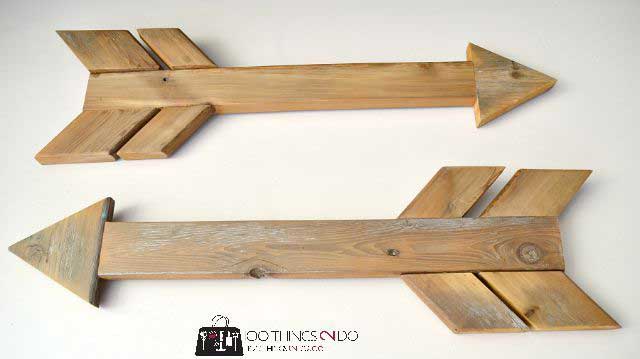 Lately, a popular decor item in rustic homes are decorative arrows. I see them all over Pinterest and Instagram. Use them on a wall on their own or combine them with photos and other wall decor. This is another easy project to use up some of your scrap wood.
Small Wood Craft Bookends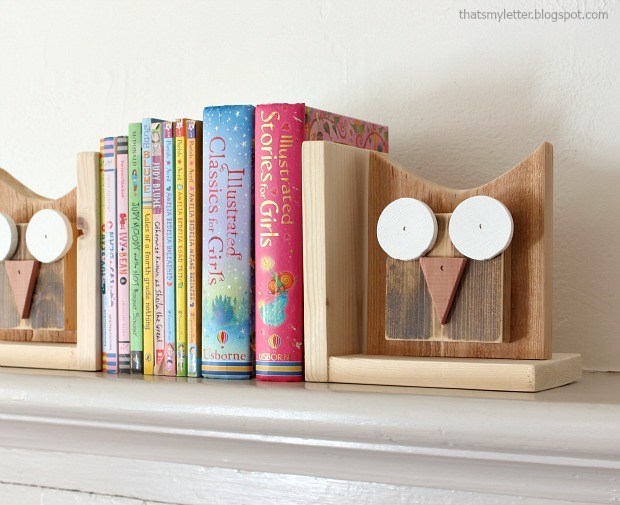 I am loving these adorable owl bookends made from scrap wood. It's just a matter of cutting a few different basic shapes. These are perfect for a kids bedroom or playroom.
Rustic Wooden Spools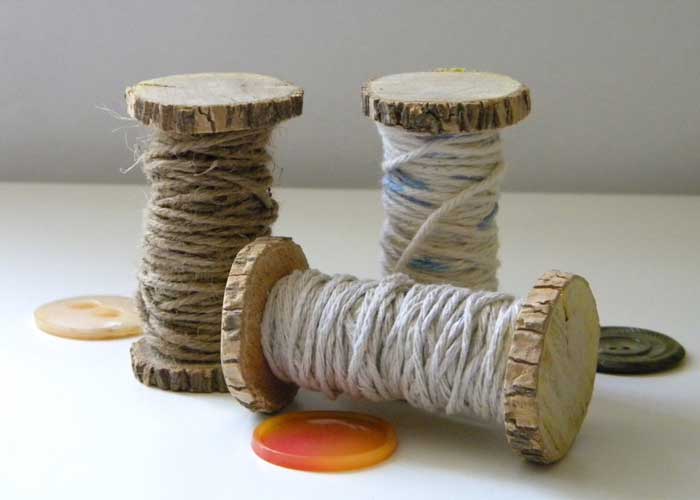 Although I love vintage wooden spools. these handmade rustic spools really caught my eye. All you need are some thin wood slices and a section of wooden dowel to put these together. They make such a decorative way to store all of your string and twine in the craft room.
Rustic Industrial Wooden Box Planter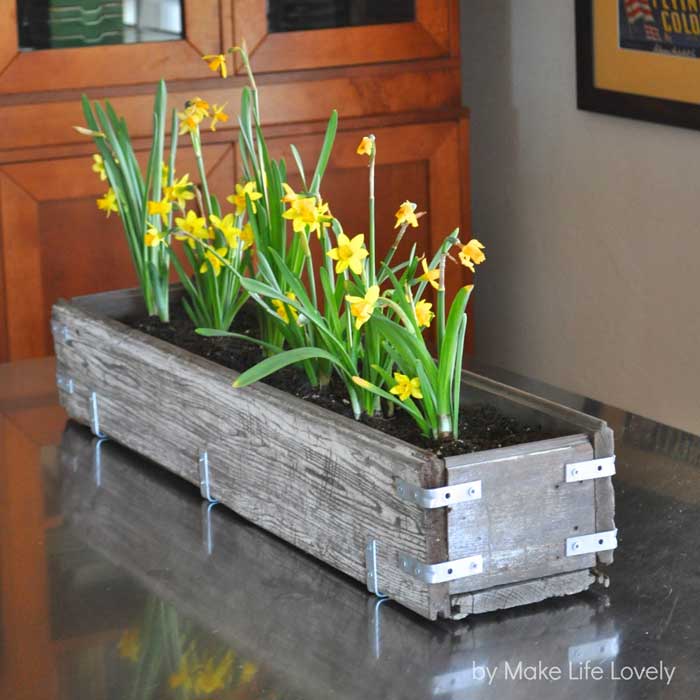 To get the most appeal, use weathered salvaged wood for this craft. Boxes are pretty easy to build and when you use L brackets, it's even easier. Not only do the brackets aid in putting together the box, but they also add a nice industrial element to the design.
Wood Box And Branch Coat Rack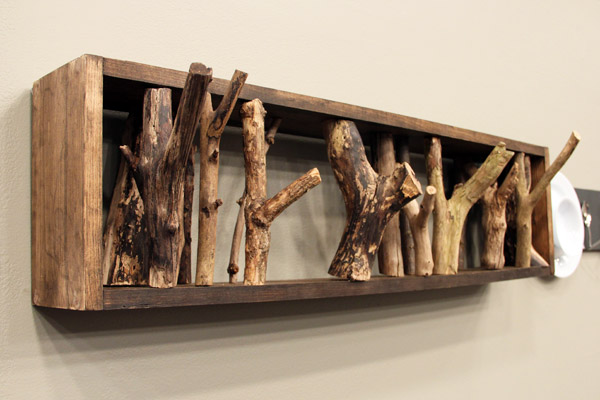 Here is such a creative look for a coat rack. Just build a simple box and insert forked branches. There are plenty of "hooks" available for hanging jackets or hats. Whether you use this as a coat rack or simply a decorative accessory, this accent will add rustic character and charm to your wall.
Scrap Wood Coasters Craft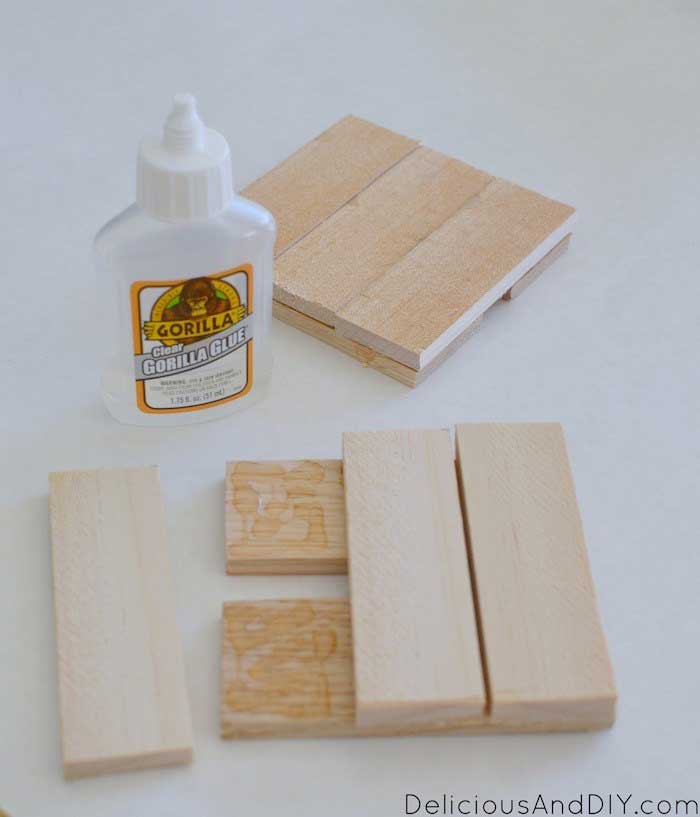 Coasters are always a great craft to make. Everyone can use coasters in their home and if not they make a great gift item. This is another way to use up some of your scrap wood. They end up looking almost like mini pallets. Once they are assembled, just paint or stain them to match your decor.
Pallet Wood Sign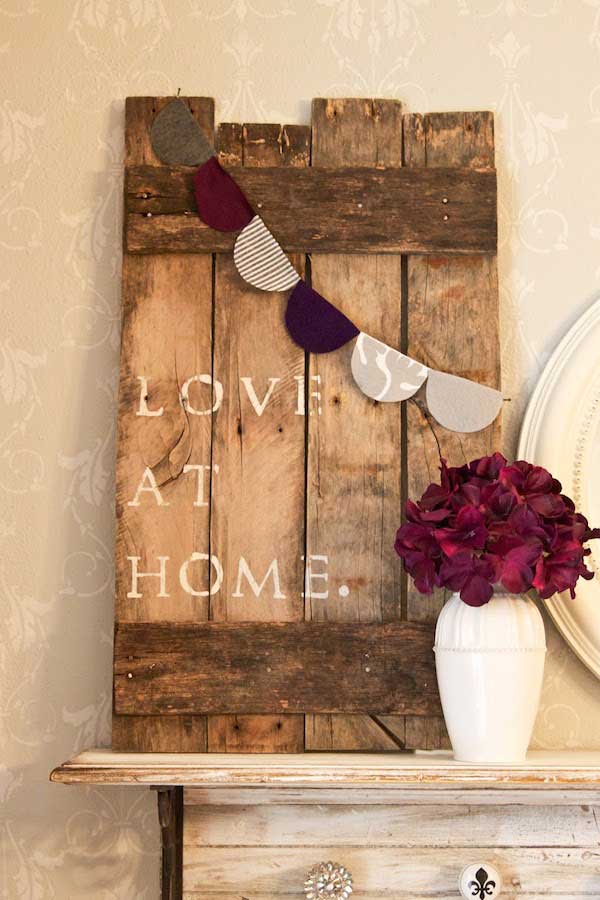 Although this pallet wood sign is somewhat large, I still wanted to include it with these small wood crafts. Because the sign is relatively simple to put together, it can be done quickly. All you need is pallet wood and letter stencils to create this rustic decor. I also love how the sign is draped with a fun garland. For more ideas on creative garlands, see my post on DIY garland ideas.
Pallet Wood Silverware Storage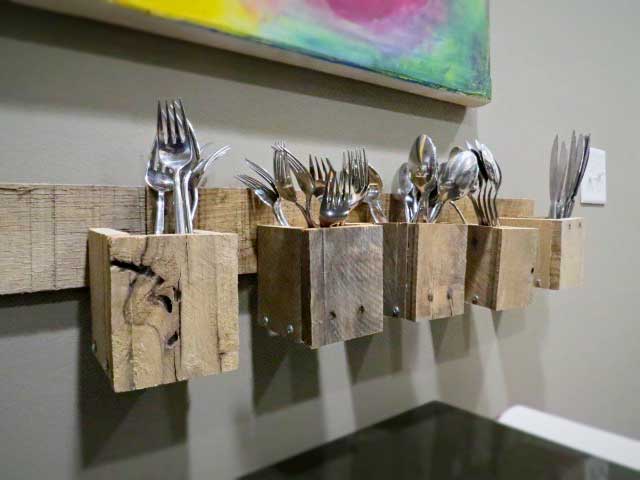 You can do more with pallet wood than you might think. Just use and cut up the wood like any wood boards. The fact that it comes from an old pallet just makes it more rustic. Here is a creative idea for building a wall mounted silverware holder. This same design would also be great for a small herb garden.
Carved Out Tree Craft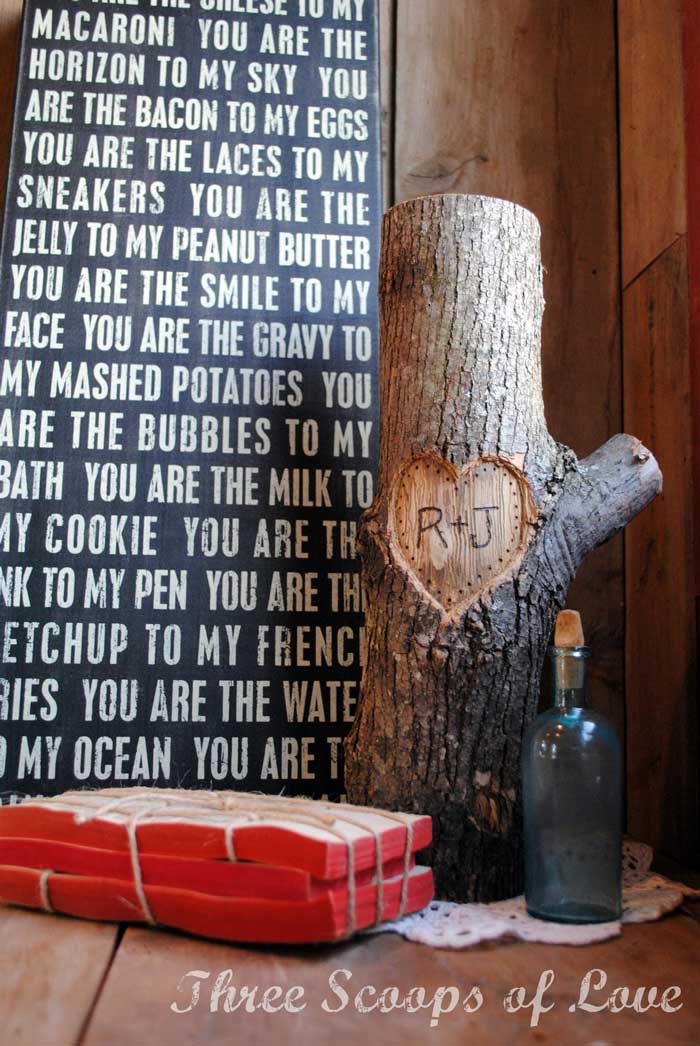 Here is a fun and creative wood craft from nature. Just go out and find a section of tree. I know that is harder than it sounds. However, if you live near a woods, chances are you can find a fallen tree. Or, if you need to trim some trees, make sure to save some sections! Once you have your tree section, then you only need a utility knife and a wood burning tool to complete this project.