I'm not sure when I first became interested in rustic decorating but I do know that it's been over a decade. The fact that my husband is an avid hunter may have something to do with it. Since I had to incorporate hunting trophies into our decor, I had to find ways to do this tastefully. I did limit the amount of rooms that could have hunting trophies displayed. However, the rustic decorating eventually spilled out to every room. Since I didn't want to purchase a lot of expensive rustic accents, I became a rustic decor DIY buff.
Rustic Decor DIY By Room
DIY Living Room Decor
DIY lamps:
 The very first DIY project that my husband and I did together were birch lamps. We had actually seen some for sale at an expensive rustic furniture store and figured they would be fairly easy to make ourselves.

We made floor lamps, table lamps and wall sconces. Take a look at the DIY Lamp instructions to see how easy this project actually is.
homemade candle holders:
At the same time we were making lamps, we were also using birch logs to make candle holders. We would cut a section of log and then drill a hole going about an inch down the center with a drill press and circular blade. The drilled out center would fit a glass tea light holder perfectly.
Later, our candle holder ideas branched out to using architectural salvage materials, twigs, and salvaged metal.

For details on these projects, check out all of the fun and creative DIY candle holders.
antler decor:
Decorating with antlers can be a creative way to get some rustic decor into your space. Whether you use them plain or decorate them with paint for a more artsy look, antlers can definitely make a statement.

Originally, these elk antlers looked more traditional with a dark wood backing and the base covered in leather. To make them a little more chic, I simply painted the base and backing white. I considered painting the antlers as well but ultimately liked the natural look. For more ideas for using plain or painted antlers in decor, check out my post on decorating with antlers.
DIY Kitchen Decor
A rustic or farmhouse kitchen can be achieved with some simple DIY projects. Check out some of my favorite at my post, rustic DIY to try for a farmhouse kitchen.
DIY light fixtures: 
The right light fixtures can really set off the style of a room. If you make your own, there is no end to the creative possibilities!

This industrial style light fixture was made with a vintage kitchen sifter. We just ran the pendant light parts through a hole in the top. Easy peasy and much cheaper than buying a new industrial pendant light. For more creative ideas, see DIY lighting using just about anything.
interior brick wall DIY:
What better way to create a rustic atmosphere than installing a brick wall in the kitchen. This wall in our cabin kitchen is the first brick wall I ever installed. It was easier than you may think. Learn how to install an interior brick wall for your next project!
DIY placemats:
A decorative placemat is a great way to add some style to your kitchen table.

See all the fun ways to make your own placemats using a variety of fun materials.
DIY cabinet knobs:

Kitchen cabinet knobs can be very expensive to purchase. However, if you make your own, you can get a unique design for a fraction of the cost. Get inspired by all of these DIY cabinet ideas.
DIY Bathroom Decor
DIY Tissue Box Covers: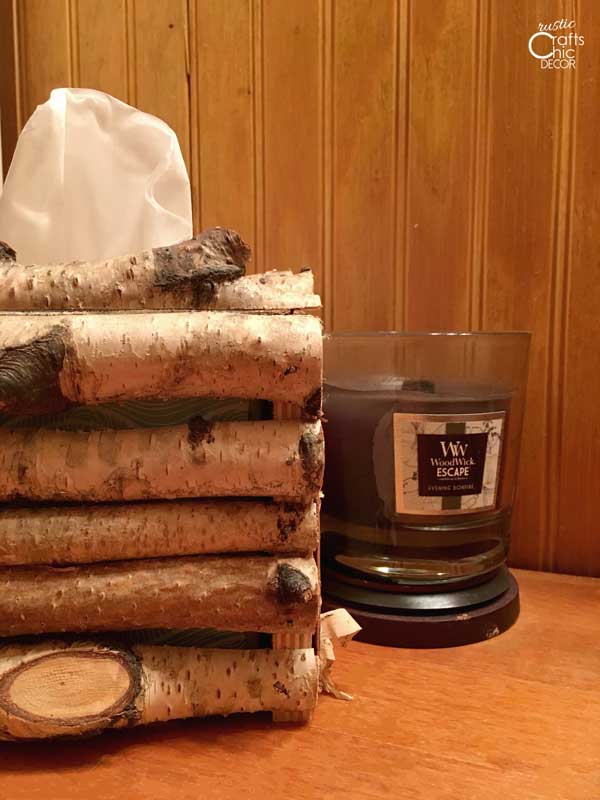 Using birch logs is just one way to get a decorative tissue box holder. See all of the ideas for unique DIY tissue box holders.
DIY Rustic Toothbrush Holder:

This toothbrush holder craft can be made with a birch log that has some holes drilled through. However, this toothbrush holder is actually made with the thick bark tube that separated from the inner log.
DIY soap dispenser:
Soap dispensers are another easy item to make.

Although the mason jar is rustic, the dried flower adds a little chicness. Find more rustic decor DIY at DIY shabby chic bathroom accessories.
If you want to make some of your own furniture, you need to check out Ana White's rustic furniture plans.