If you've ever been inside an old farmhouse, you know how comfortable and cozy they are. Popular farmhouse relics include things like practical furnishings, shiplap, simple kitchen accessories, solid wood doors and more. These vintage pieces are full of distressed rustic styling. The modern farmhouse takes this style and cleans it up a bit. By combining vintage charm with modern amenities and sleek styling, you get a space that is comfortably chic. The following decor ideas are great examples of the modern farmhouse style.
For the most part, I am all for rustic decorating. I love the warmth and character that a rustic home provides. However, it's also nice to incorporate some elegant sophistication. It just feels good to have a little luxury here and there. You can easily do that without losing character or comfort.
Tips For The New Farmhouse Style
Although the typical old farmhouse was full of charm and character, the original style could get a little cluttered and dark. Spaces were a bit more chopped up and floral wallpapers were often used. To get a more spacious feel, the following tips will help.
Keep Things Simple
A couple of vintage furnishings in a more minimal setting, creates just the right aesthetic for a modern farmhouse. Instead of filling up every little nook and cranny, allow some space to focus on things that you would like to highlight. Otherwise, it's easy to get your favorite decor lost in the masses.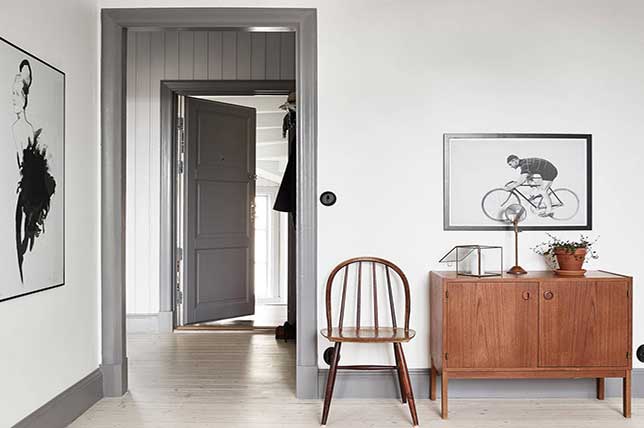 You can see how you can really focus in on the decor pieces with this simple styling. The vintage wooden furnishings really stand out against all of the black and white. Also, the modern wall art doesn't look too cold when paired with warm vintage pieces.
Well organized and simplified spaces also tend to give off a feeling of calmness. While cluttered feels chaotic, minimal feels orderly. And, orderly with rustic warmth creates ultimate comfort.
Contrast The Old With The New
It's important in today's farmhouse style to create a good balance between vintage accessories and brand new pieces. This mix is what gives a farmhouse style modern appeal. Too much of one or the other and the style is lost. An eclectic mix is both unique and interesting.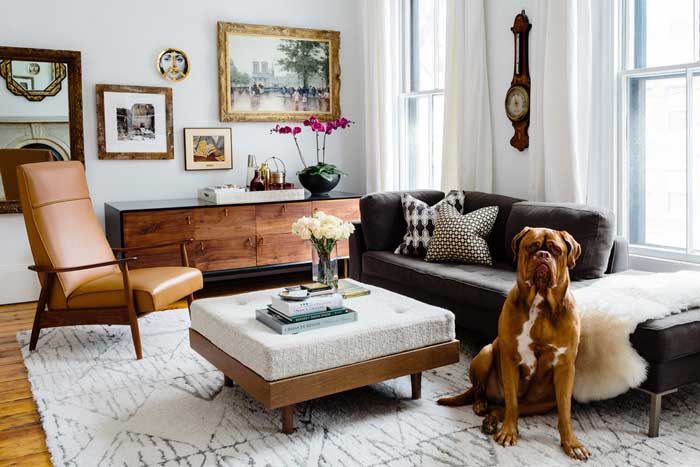 Notice how comfortable this space still looks with all of the modern furnishings. By accenting with vintage accessories like the ottoman, wall art, and clock, the room is warmed up. Nothing matches exactly which helps to create an interesting space. Because everything is displayed with a purpose, the look is not overdone. You can tell that special care was taken when planning where to display the accessories. If everything was just set about willy nilly, the room would quickly turn chaotic. Also, not everything that you have collected needs to be displayed. Choose those items that you particularly love and give them the right focus.
Add In Some Sleek Metallic Accents
Another way to modernize a rustic farmhouse is to add in some cool metal accents. Whatever metal that you add will help to cool down all of the rustic warmth. Modern appliances, metal stools, or industrial light fixtures will all add some sleek shine and sophistication.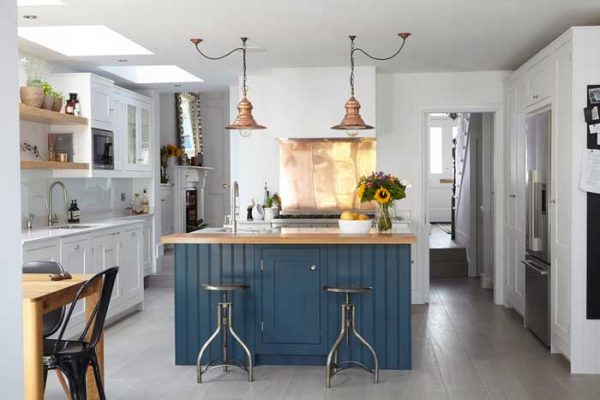 I'm loving all of the fun metallics in this kitchen. Copper light fixtures, stainless steel appliances and stools, and black metal chairs all work together to create an interesting modern farmhouse kitchen. Although all of the metallic accessories are new, they are very much vintage inspired and cozy.
Choose The Right Colors
Although color in the home can add personality, too much color can be overwhelming. For a fresh and clean look, it's usually best to stick with neutrals on the walls. White is the cleanest of neutrals but warm neutrals like grays or beiges aren't quite as stark. Use bolder colors for accent pieces, to really make a statement.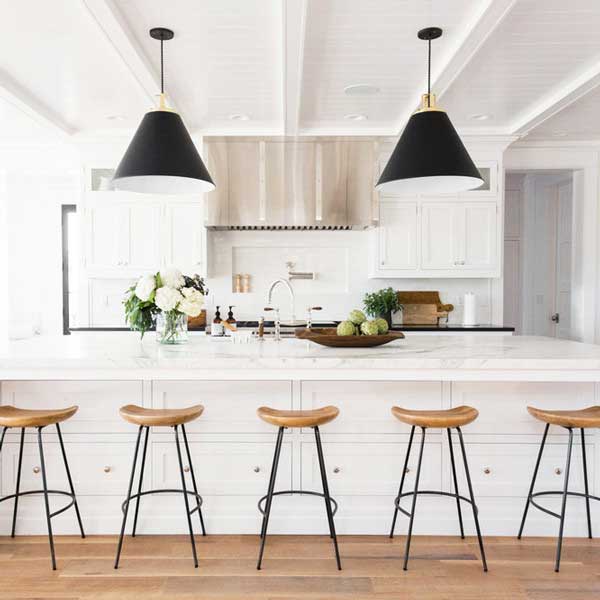 White is a popular choice that offers a lot of versatility. What keeps it from becoming too stark is the pairing with rustic wood and a vibrant accent color. Here, the fresh greens pop against all of the neutral wood and white. Another way to keep white interesting is to incorporate texture. The ceiling looks much more relaxed with the beams and wood slats than it would as solid drywall. The wood floors are also key to warming up a this space.
If you want to break up all of the white walls in a room, you may want to consider installing a partial brick wall. For instance, some brick surrounding a modern range, will really warm up that area. Or, use tile or wood to warm up a section of wall.
For more inspiration for the modern farmhouse style, check out the following posts.