Are you in need of a little update to your living space? Sometimes just a couple of simple changes can be enough to give your space the boost that it needs. Luckily, there are some DIY projects that are super easy and may be just the ticket to go from bland to grand. All of these decoration ideas are fun, unique and perfect for your rustic home. Whether you are looking for just a little tweak with homemade decor or something bigger like painted cabinets, there are plenty of ways to get the look you want.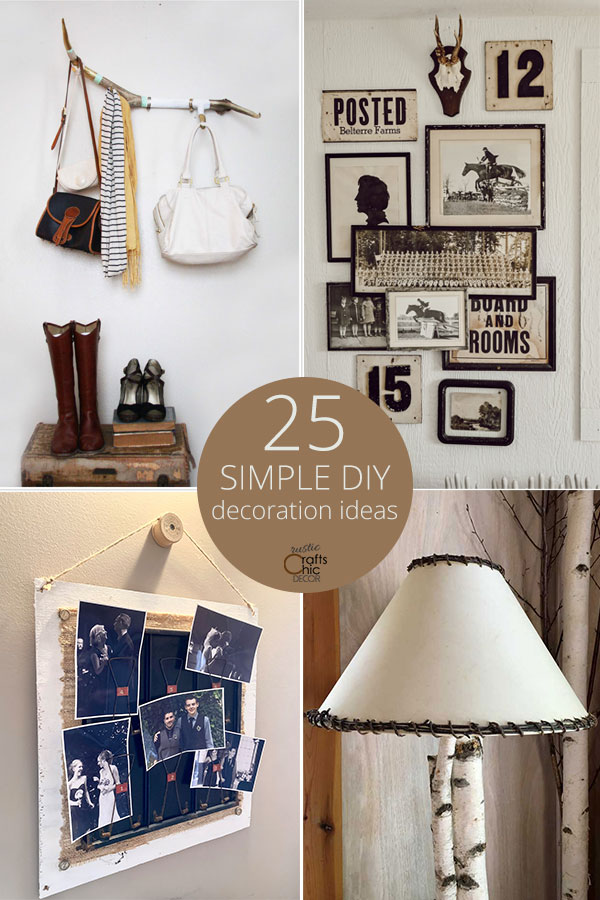 The best part about most of these DIY decoration ideas is that they are also very affordable. By using vintage treasures, natural materials, and proper arrangement, you can upgrade a room for very little cost. Not only that, but you get a customized look that you won't find in stores.
1. Update Old Furniture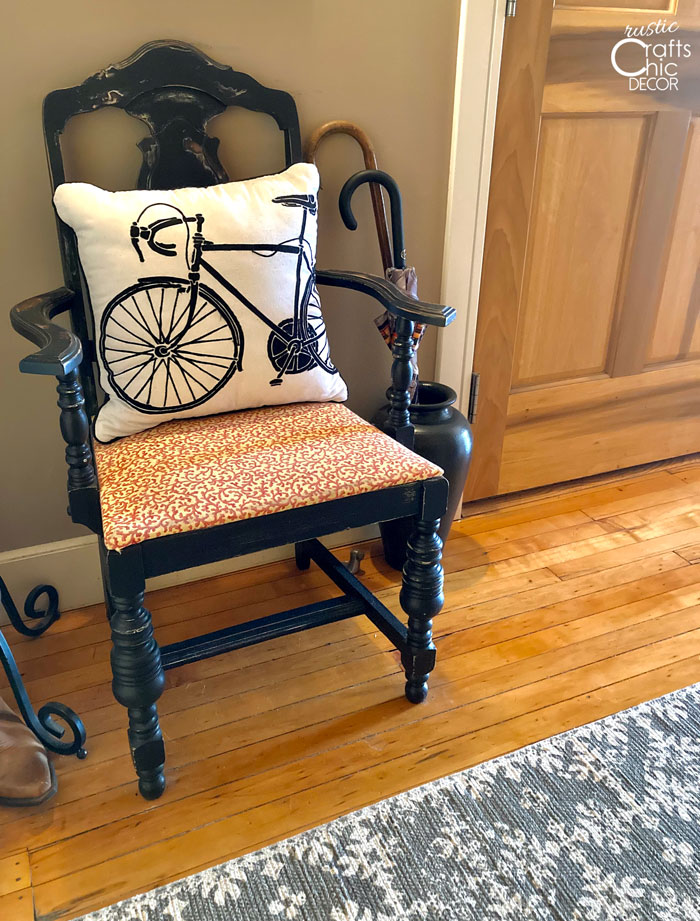 It's not always necessary to purchase new furniture to fit your space. Just look around your home for those furniture pieces that are hidden away because they have become outdated and blah. With a little bit of paint or fabric you can change the look tremendously. If you still want some character that old furniture provides, just distress the finish a bit to get the right amount of charm.
2. Display Photos In Unique Ways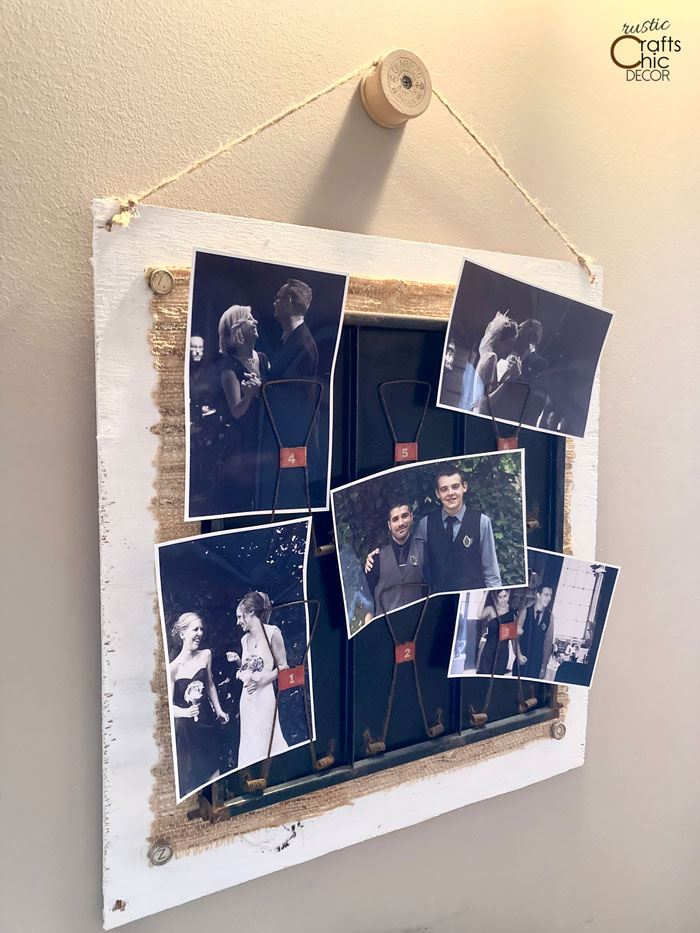 It's always nice to have special photos displayed inside the home. However, this doesn't mean that you are limited to just traditional picture frames. Maybe you want to add some character to a picture display that is a little out of the ordinary. Just take a look at antique stores or maybe things you already have. Are there easy ways to attach photos to the item? An old wheel is a good example. Photos can be clipped to the spokes with mini clothespins.
3. Make A Simple Table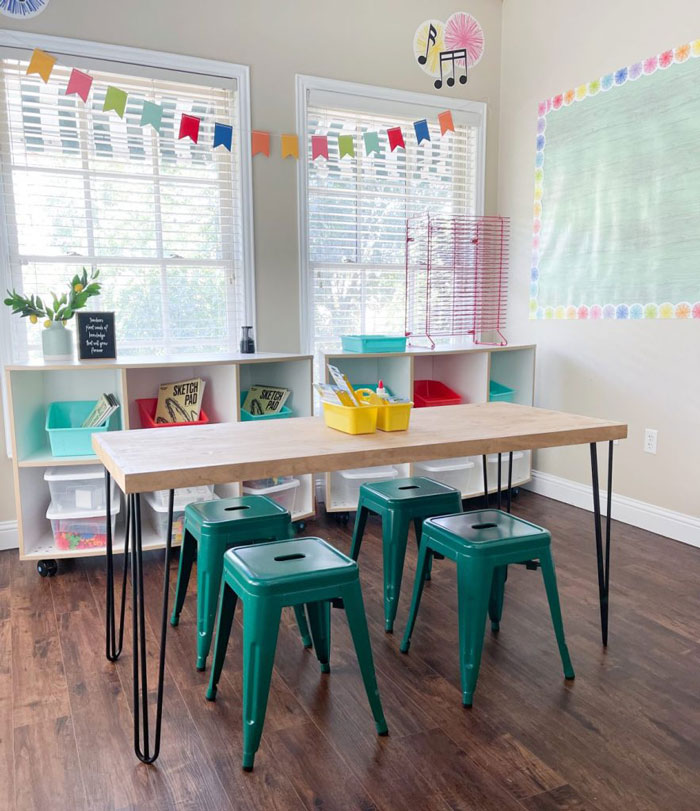 Another option to buying new furniture is to make your own with a simple DIY plan. You could construct a table top yourself and then attach various items to the corners for legs. Some easy ideas are plumbers pipe, 4×4 posts, logs, or hairpin legs.
4. Add Style To A Bookcase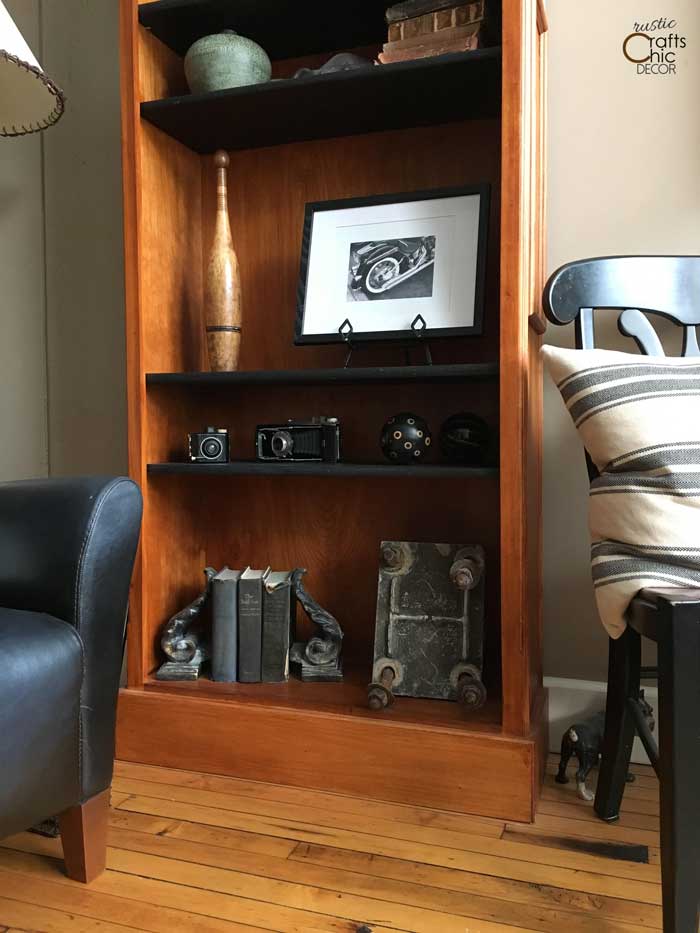 An empty bookcase can look daunting when it comes to styling it. Whether you use part of it for actual books or leave all of the shelves for decor items, it can seem intimidating to fill it. Start by picking a few items with special meaning and add complementing decor to make it all look cohesive. Keep a good balance with different sizes which might mean layering small objects on a stack of books or other decor to fill in the gaps.
5. Make Your Own Light Fixtures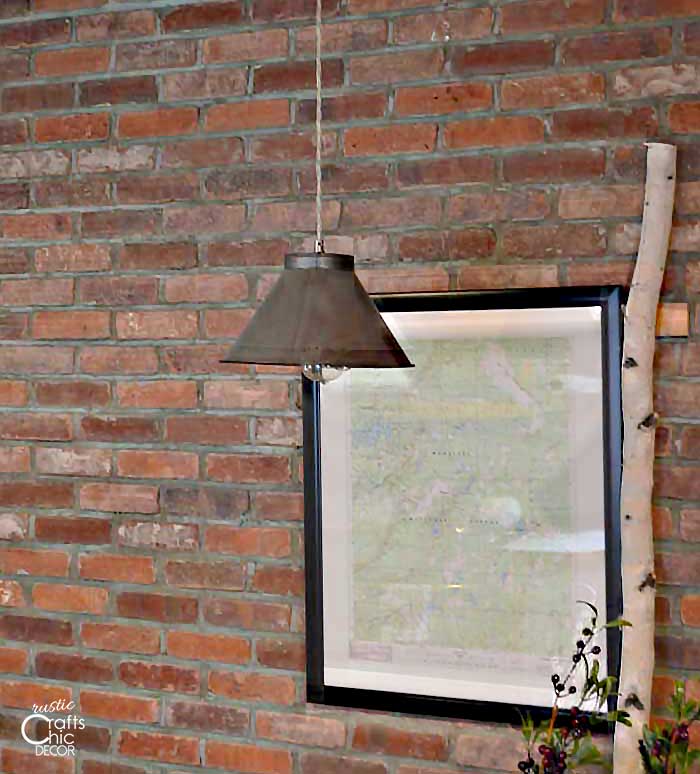 New light fixtures can be expensive to buy, especially for trendy styles. Instead of purchasing new, make your own with a light kit and objects that work good for a shade. In this case, an old kitchen sifter was used. Other ideas are baskets, bowls, globe halves, or mason jars.
6. Spruce Up Wall Plates & Switchplates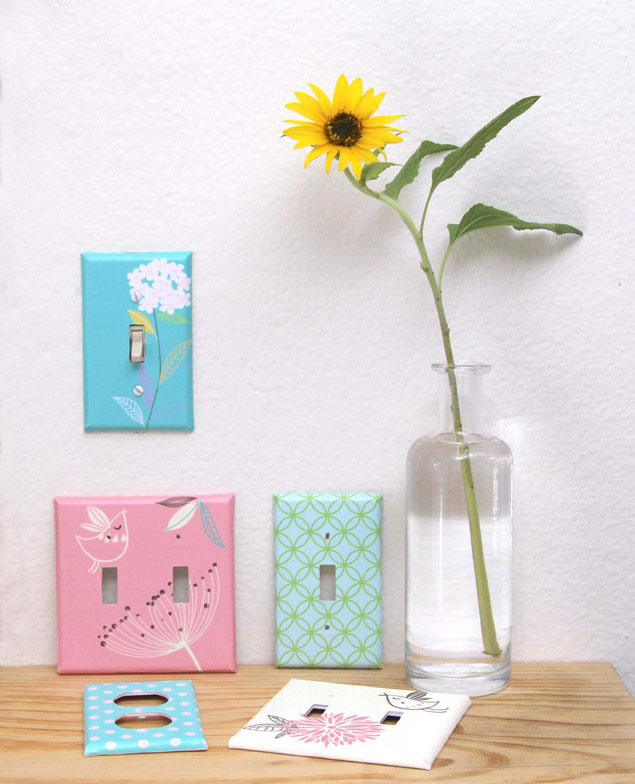 Even an ordinary switchplate can be upgraded for a unique and stylish look. All it takes it some decorative paper and a little Mod Podge. There is no end to the amount of styles you can come up with. For a rustic look, you may want to use paper that looks like birch bark.
7. Create A Welcoming Entryway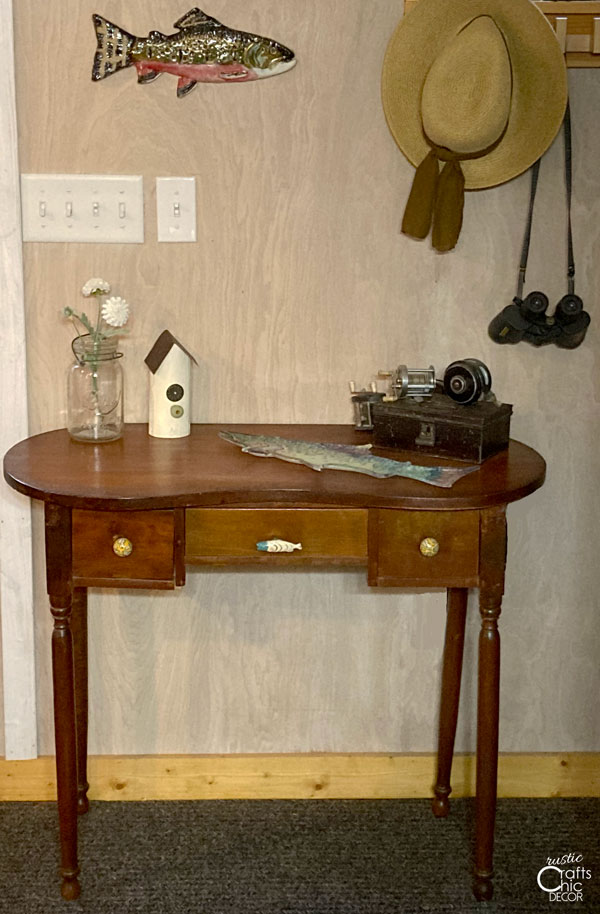 You can either walk into a home with a pile of shoes at the door or use the entry as another spot for welcoming decor. A small table or bench and hooks make a nice focal point for other decor. It also helps to keep things organized when you have furnishings to hold your essentials.
8. Decorate Under A Window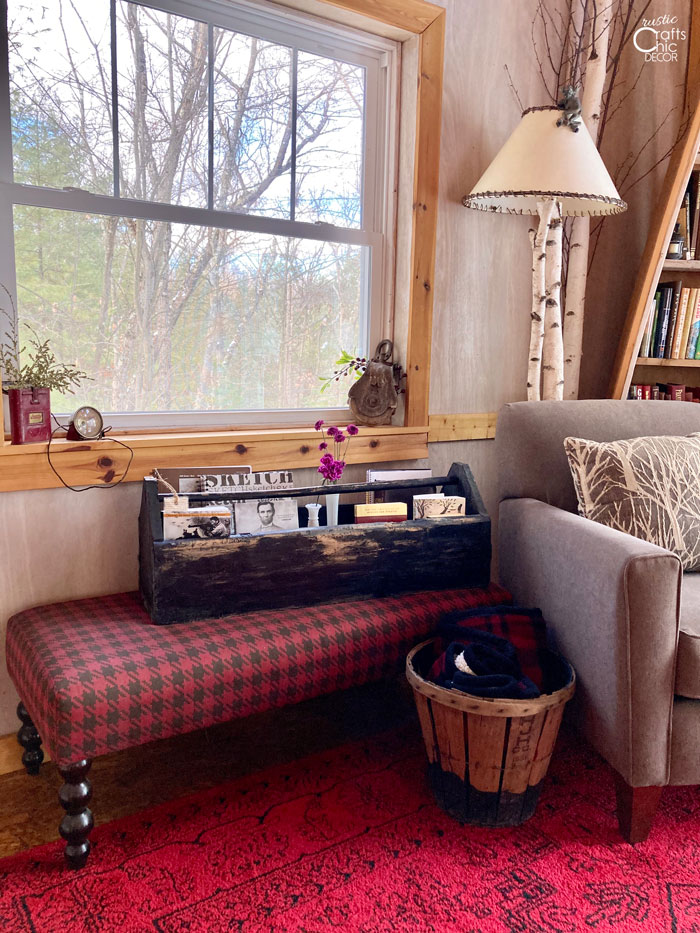 You can warm up a spot under a window by adding a small bench or foot stool for extra seating. Add in a throw and some books and you have a cozy little reading nook.
9. Paint Some Antlers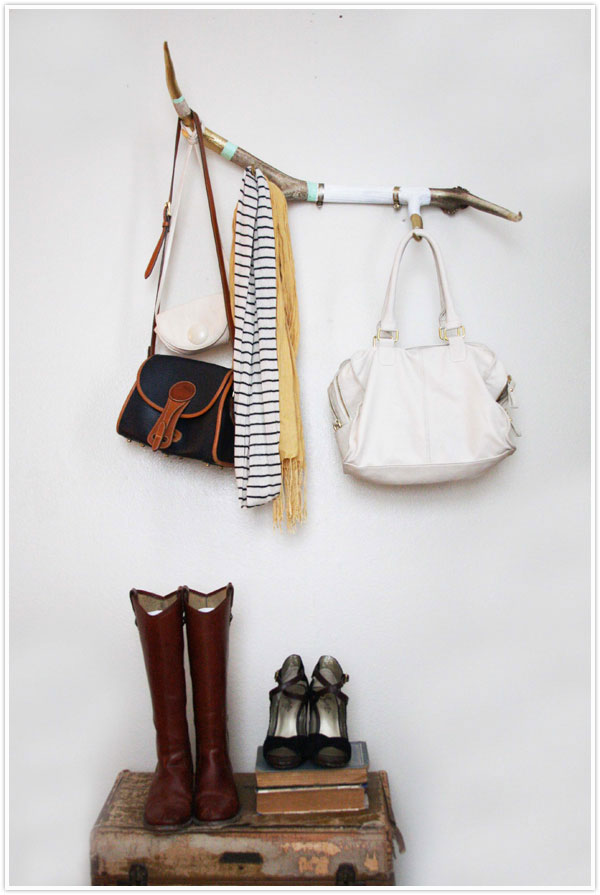 Rustic antlers can also be styled with paint for an interesting decorating idea. Place the painted antlers on a coffee table for a modern rustic look or hang them on a wall as hooks.
10. Create A Breakfast Nook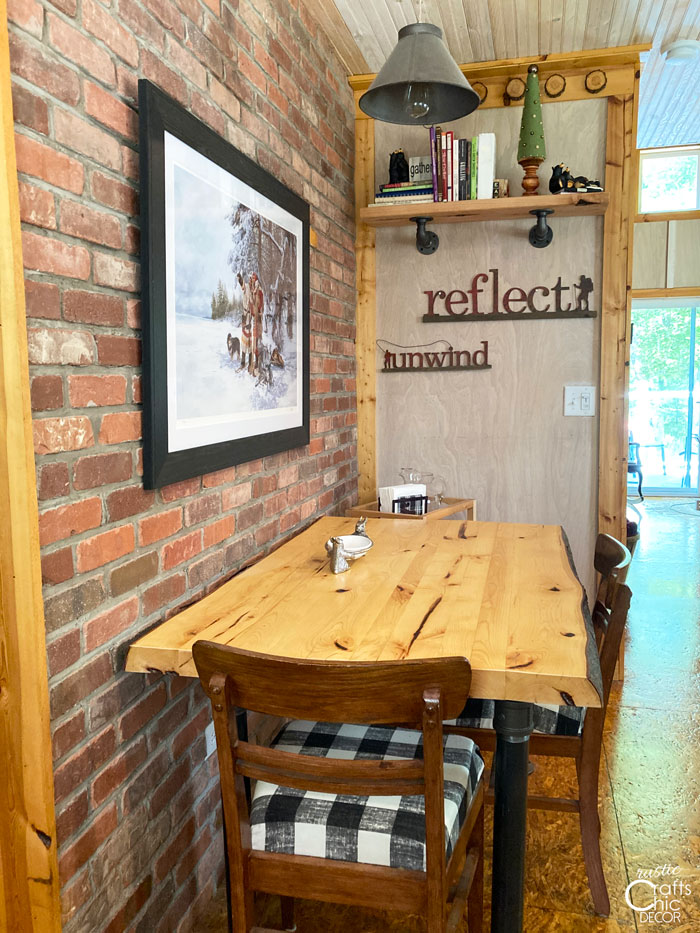 Even the smallest spaces can become a cozy breakfast nook. A thin brick wall adds nice texture and detail to the eating area.
11. Faux Galvanize Metal Accessories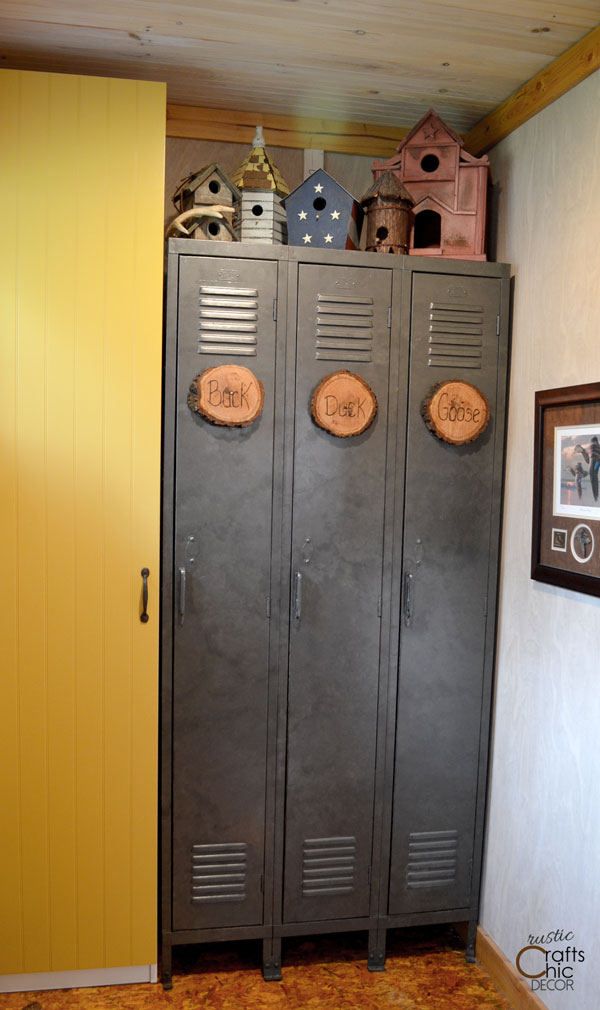 It's easy to get an industrial look when you paint metal to look like it is galvanized. The process is super simple and makes a big impact.
12. Create A Gallery Wall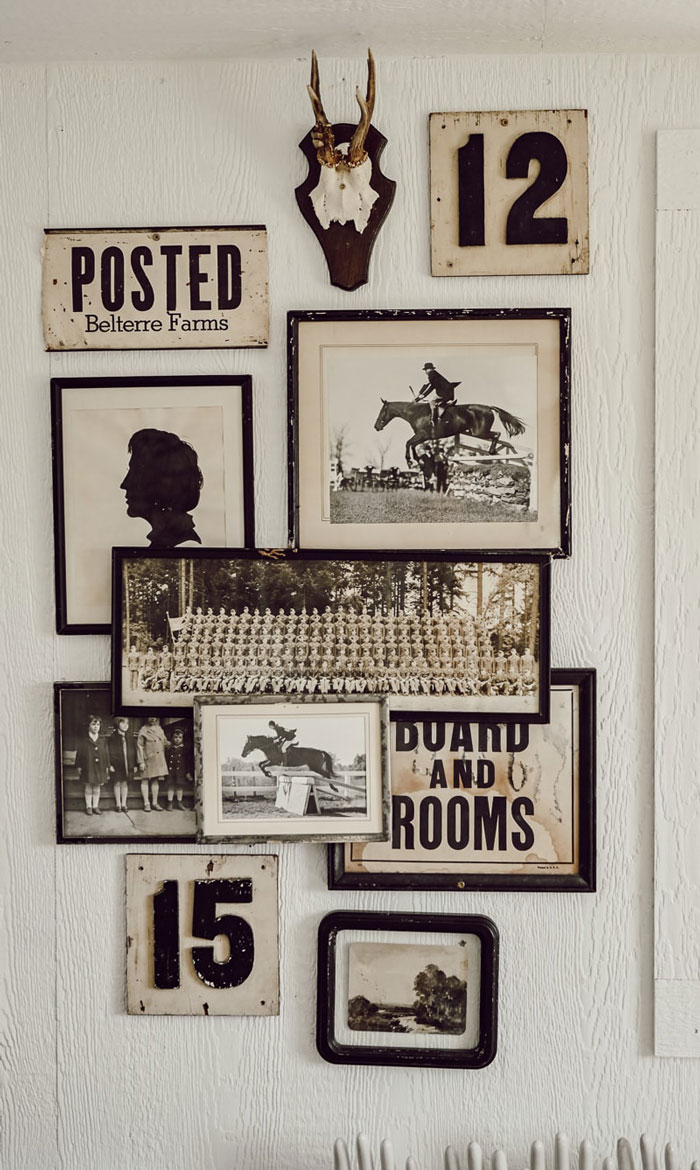 Gallery walls are such a nice way to fill up a big blank wall. Go monochromatic for a soothing and cohesive look.
13. Get Creative With Stairs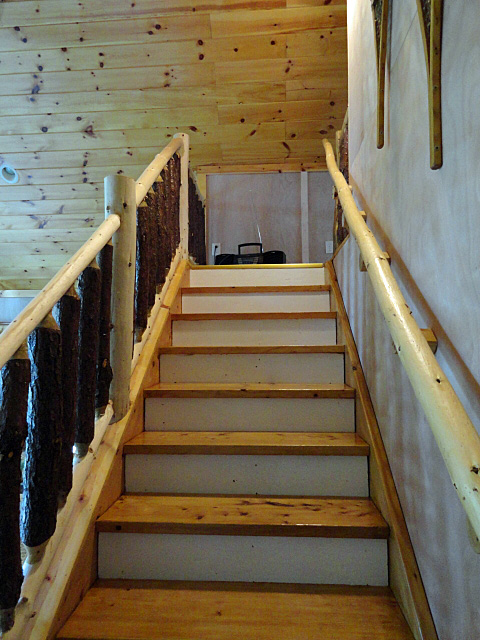 There is a lot you can do with stair banisters and hand rails. In this case, the whole banister is made up of logs. If that is a more tedius job than what you have time for, just a log handrail can add some unique rustic flair.
14. Decorate A Lampshade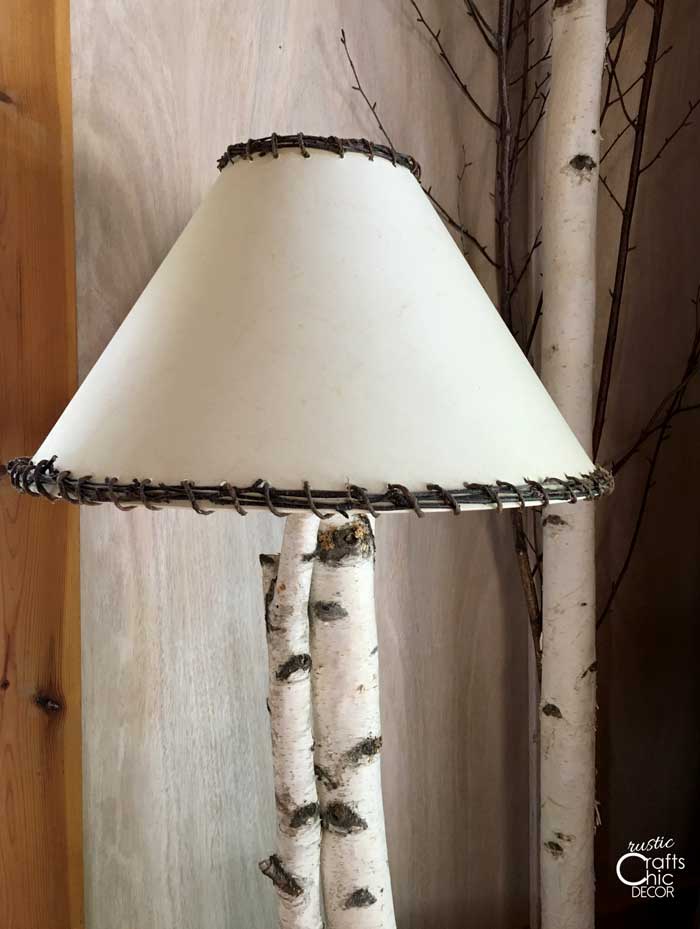 Another simple DIY decoration idea is to embellish a plain lampshade. Besides using branches, other ideas include stencil painting and adding fabric or paint.
15. Accessorize With Buttons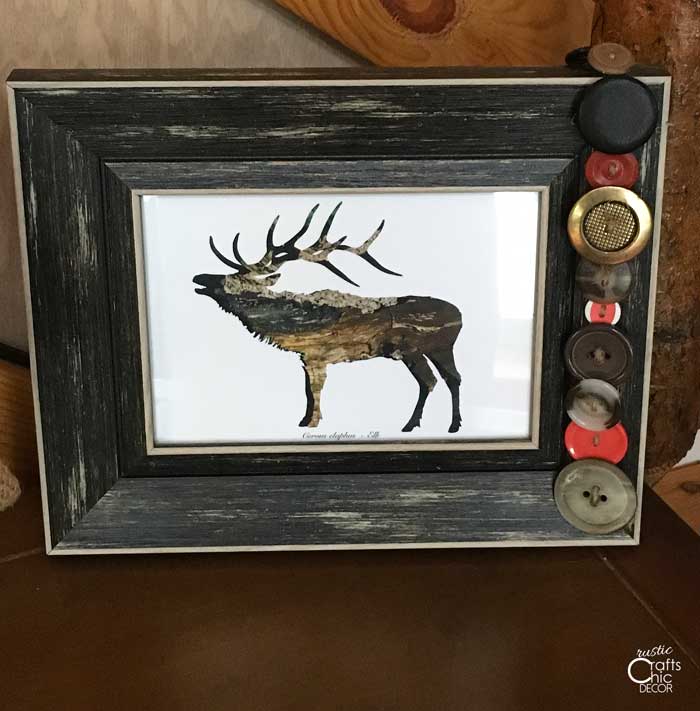 Talk about simple DIY decoration ideas! A fun button garland works to embellish picture frames and other accessories that need a little extra something.
16. Paint Your Upholstery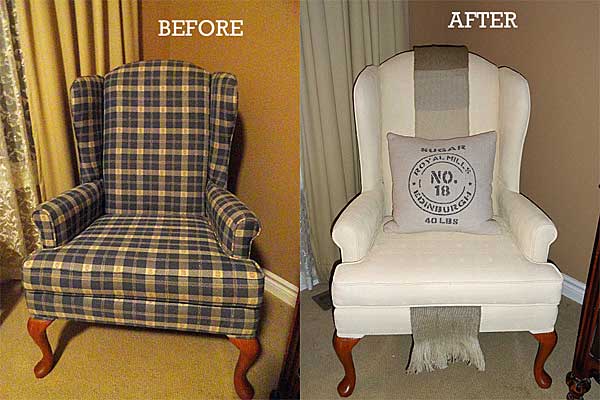 You may be surprised that you can also update upholstered furniture without reupholstering. Using fabric paint, you can get a whole new look that in much less expensive than new fabric.
17. Make Simple Chalkboard Signs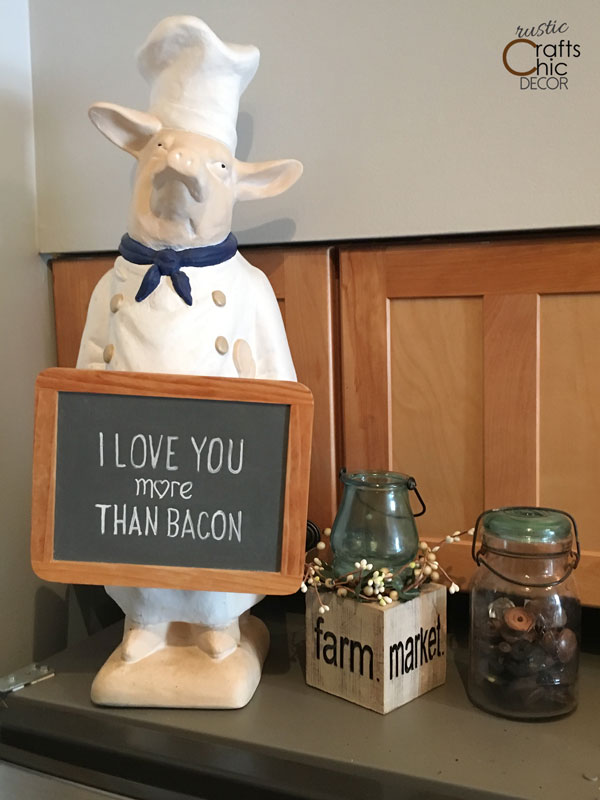 If you love the look of chalkboard signs but find hand lettering a challenge, there is a way that anyone can do it. Check out the tutorial to see how to easily transfer a design onto a chalkboard.
18. Upcycle What You Have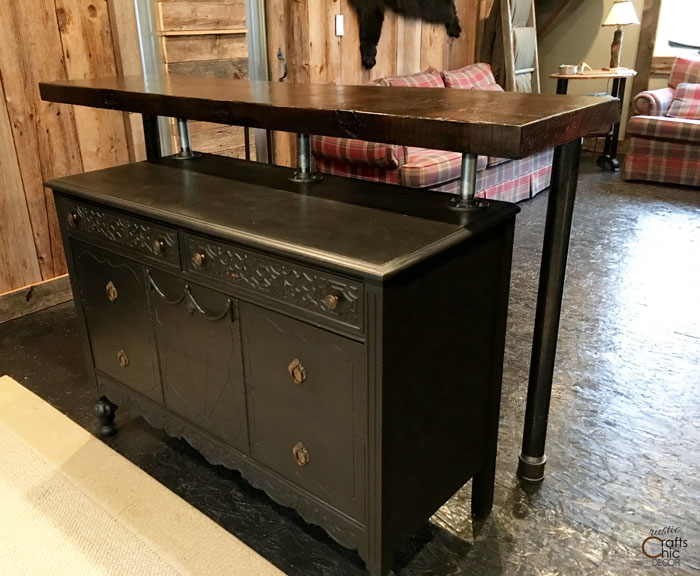 Before throwing anything out, think about how it may potentially be used for another purpose. Who would have thought that an old dresser could be made into a functional home bar?
19. Reuse Ladders In Unique Ways

By now, you have probably seen a lot of old ladders used in home decorating for holding throws or towels. However, even smaller step ladders can be handy for a different purpose. Use one as a stool and storage next to the tub or as a small end table next to a couch.
20. Paint Your Floor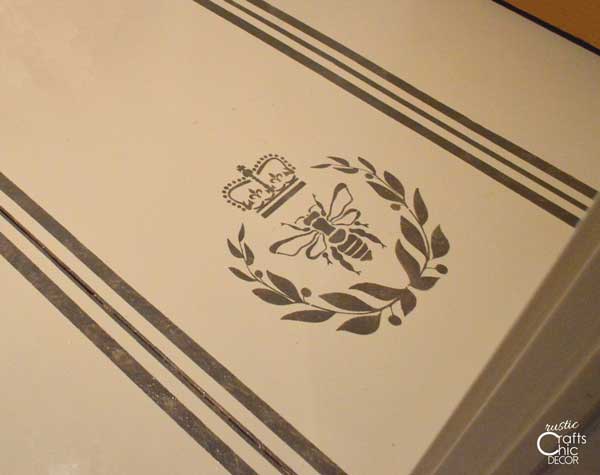 You don't always need to purchase new flooring when you need an upgrade. Once again, paint works wonders even on floors. Apply solid paint or add a stencil to concrete, wood, or vinyl. This painted and stenciled design was done on a basement concrete floor.
More Simple DIY Decoration Ideas
Rearrange your furniture – Sometimes all that is needed for a fresh look is a new perspective.
Swap out throw pillows – It's fun and fairly inexpensive to change out your throw pillows for the different seasons and holidays.
Clean out the clutter – Give special decor pieces a prominent spot by clearing out the clutter.
Set out some fresh flower arrangements – Flowers always and a bit of color and cheer.
Add or change a rug