The Christmas holiday season can be the most expensive time of the year. With gifts to buy, treats to make, and cards to send out, the expenses add up fast. One way to keep a reign on all of that spending is to make your own Christmas decorations. Not only will you spend less but you also have decorations that are both unique and nostalgic. These easy DIY Christmas decorations don't take a lot of time which leaves plenty of time for shopping!
Ideas For Christmas Decorations That You Can Make

This post contains recommended product links. If you make a purchase through one of the links, I will earn a small commission.
Make A Rustic Pine Cone Christmas Tree

TUTORIAL: How To Make A Pinecone Christmas Tree Topiary
This Christmas tree topiary is easy to make with mini pine cones. Because you can use pinecones found in your backyard, this craft is super affordable to make. Even if you have to purchase the pinecones from a craft store, it is still less expensive to make than purchase finished, especially if you have a coupon or the pinecones are on sale.
Create A Rustic Snowman Using Birch Bark

TUTORIAL: How To Make A Birch Bark Snowman
A birch bark covered snowman is a perfect way to get some rustic Christmas decor. And, once again, this is a project that uses a lot of natural materials. Birch bark can be a little harder to find naturally. However, there are plenty of places that sell bark as well.
Craft A Twine Ball Ornament

TUTORIAL: How To Make Christmas Twine Balls
I love the simple rustic look of the twine Christmas balls. The best part is that they are so easy to make! Make a bunch to hang on the tree or use them to decorate packages instead of bows.
Christmas Sign Craft

TUTORIAL: DIY Christmas Sign Decoration
Other than a wood burning tool, this DIY Christmas decoration can be made for free. Just use scrap wood, branches and twigs to create a festive little sign. If you don't want to burn the letters into the wood, you could also use a sharpie or some paint.
DIY Rustic Candy Cane

TUTORIAL: How To Make A Rustic Candy Cane
I like to recycle old wire clothes hangers to make rustic candy canes. This craft is super easy and fun to make. All you have to do is wrap bark covered wire around a hanger and then tie off with a festive bow.
Decorate Mason Jars For Winter Candle Holders

TUTORIAL: The Inspired Room
A decorated mason jar is a perfect container to hold a candle and light up the holiday. I love the design of this one with the bells and Epsom salt snow. If you would like to see more ideas using mason jars, check out these top 10 mason jar Christmas crafts.
Rustic Candy Cane Candle Holder

TUTORIAL: DIY Rustic Candy Cane Candle Holder
Turn a small log into a festive Christmas decoration with a little paint and twine. It doesn't take much to make a log look like a candy cane stick!
Make A Pine Cone Garland

TUTORIAL: Twig And Thistle
Another nature craft – which just happens to be my favorite! Pine cone garland is perfect for Christmas and is inexpensive to make, especially if you can collect your own pine cones. For more DIY garland inspirations, check out these homemade garland ideas.
Transform With Washi Tape

TUTORIAL: Instant Christmas Decor With Washi Tape
If you're familiar with Washi tape, you already know how fun it is to play with. There is a wide variety of tape patterns to choose from, including several just for Christmas. Using the tape, you can instantly transform ordinary objects into festive Christmas decorations.
Make A Unique Photo Wreath

DIY Photo Wreath by Country Living
Instead of a traditional wreath, why not create something a little more personal like a photo wreath? Use all black and white or sepia finish photos for a clean look that will blend with the rest of your decor. For more creative wreath ideas, see how to dress up an artificial Christmas wreath.
Make Your Own Christmas Coasters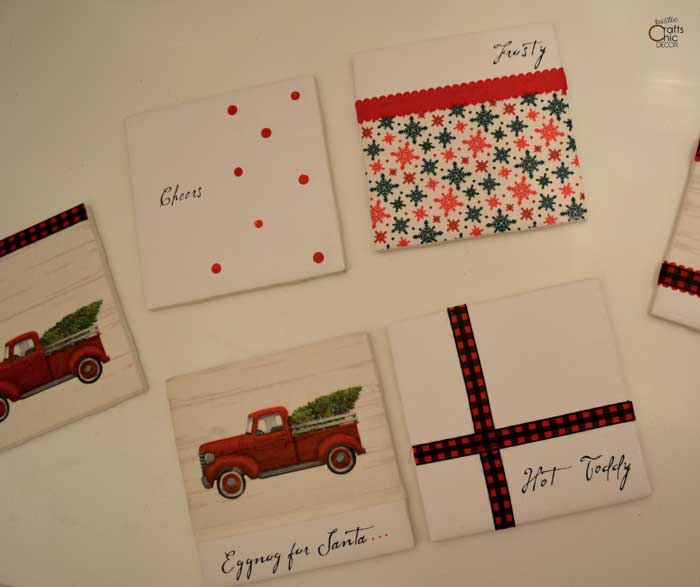 A cup of eggnog or a festive hot toddy deserves a decorative place to set. These cheery coasters are affordably made with simple square tiles and decoupage. Use whatever Christmas embellishments that you have on hand to decoupage to the tiles. Think Christmas napkins, leftover wrapping paper, or scrap ribbon.
Bottle Brush Christmas Trees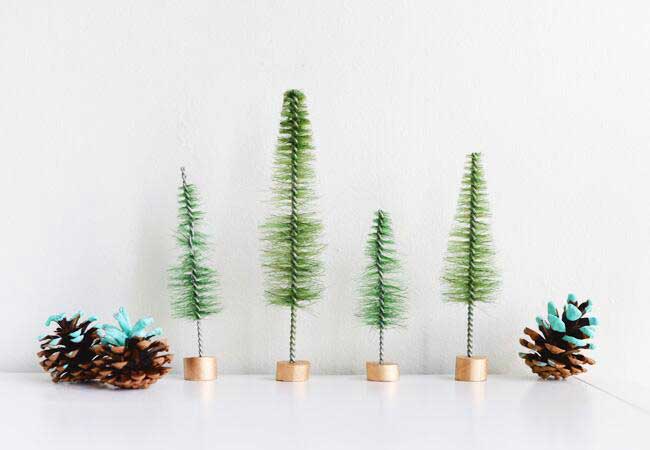 It seems like any store that you look in sells these whispy Christmas trees. However, it is easy to make your own with bottle brushes. Create the size, shape, and color to fit the area that you are decorating. The nice thing about DIY Christmas decorations is that you can customize the decor to fit your own style.
Make A Cone Christmas Tree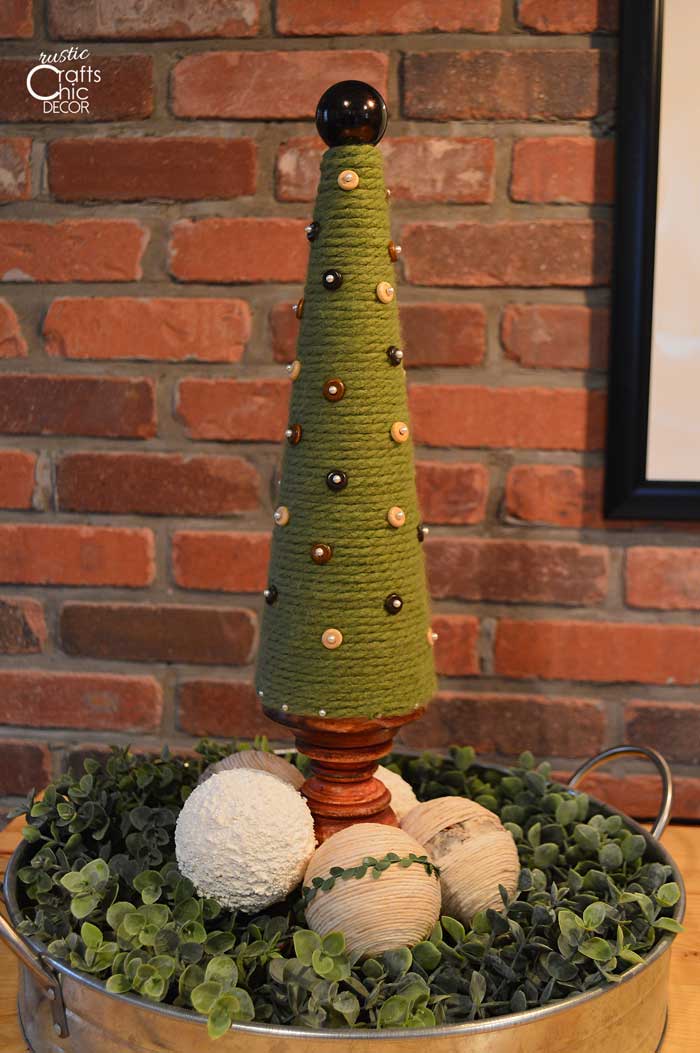 Craft stores are full of Styrofoam shapes. How many times have you looked at a Styrofoam cone and envisioned a tree? Decorate a cone with whatever you have on hand to create festive table top trees.
Star Garland And Ornaments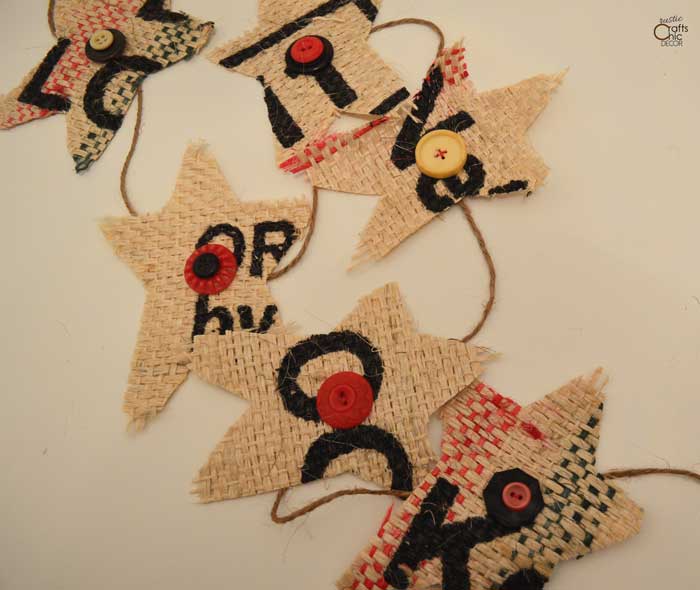 Garlands are fun to make for the Christmas tree or fireplace mantel. These rustic stars are made from a vintage coffee sack and are strung together with twine.