Decorating a home can get really expensive if not kept in check. However, there are definite ways to keep costs under control and still have a very stylish home. I'll run through some tips for decorating on a budget that are easy to employ.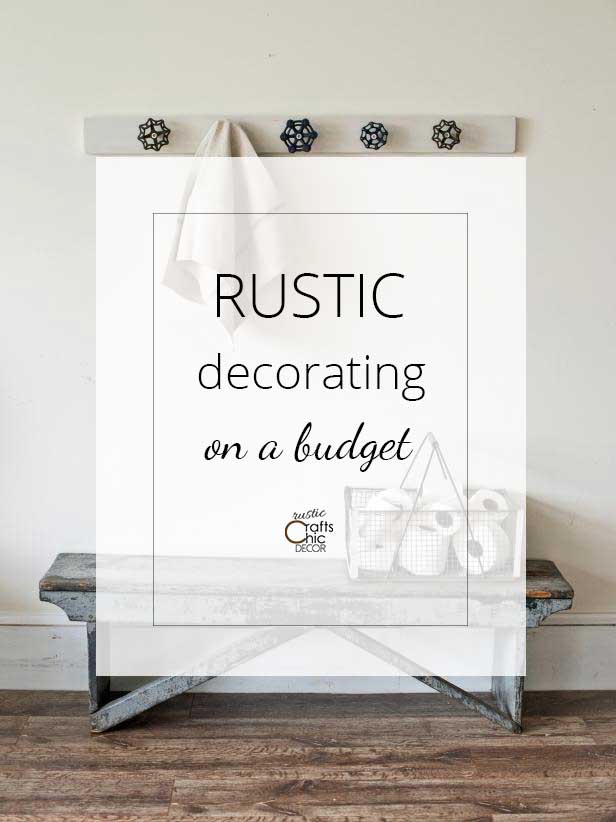 Best Ways To Decorate On a Budget
Purchase Used Furniture And Make It Over
Although not all furniture is ideal to purchase used, any type of wood furniture has beautiful possibilities. Things like dressers, tables, benches, wooden chairs, and desks can easily be made over. To get the most bang for your buck, purchase solid wood versus laminate. When a piece is structurally sound and then made over, it can look as nice as an expensive new piece. Here are a couple of examples of better than new wood furniture makeovers.
Piece Together Furniture For A Brand New Look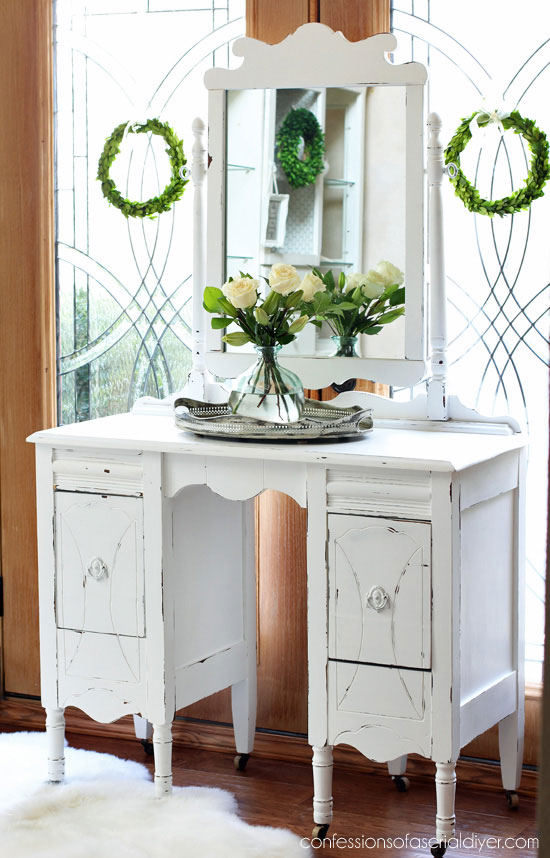 This pretty dressing table is such a great example of how you can save money with thrift store furniture. To start, the table and the mirror came from two separate places and had different finishes from each other. Would you believe that the table came from a Habitat Restore for just $75? And better yet, the mirror was purchased from a thrift store for only $4.25. In order to get the two pieces to look cohesive, they were simple painted in the same fresh white paint. Then, to give the set character, the whole thing was distressed by sanding. You would never know that this wasn't originally one furniture piece.
Use Old Furniture In A Different Way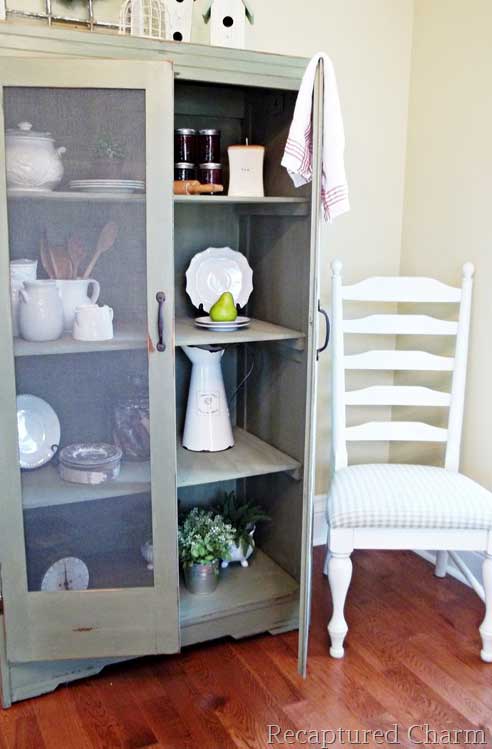 You don't have to use an old piece of furniture for it's original purpose either. This rustic kitchen pantry unit used to be a mirrored armoire. It had a heavy dark stain and an outdated look. This new look is fresh and light. It now looks like something that anyone would want to purchase brand new. So, put on your thinking cap when you get handed down furniture or go to look for used furniture. It just shows that when you decorate on a budget, you can still get very nice furniture pieces. You just have to be willing to put a little elbow grease into it.
Upcycle Ordinary Items
Sometimes what you need for decorating is right under your nose. When you're decorating on a budget, it's best to look at your old stuff with a new eye before heading out to shop. Things like vintage kitchen accessories, old drawers, ladders and books are just a few ideas. There are so many upcycling ideas for home decor.
An Old Toolbox Becomes A Handy Pot Rack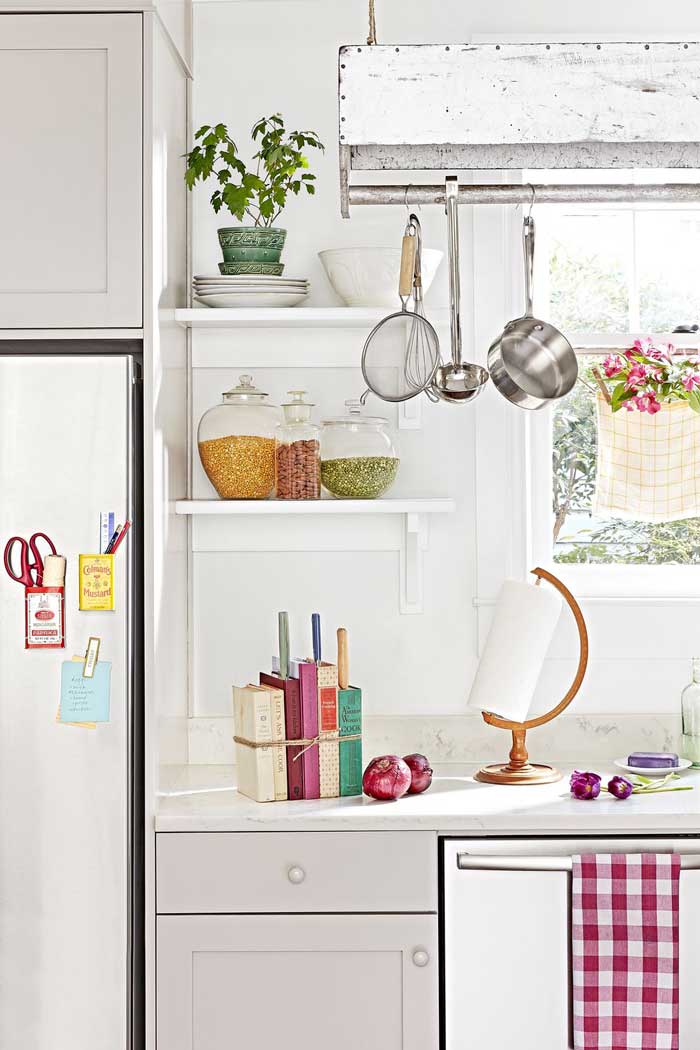 When you see an old wooden tool box, your first thought is probably not a kitchen pot rack. However, thinking outside the box, just might provide you with a decorative and useful new item. I love how the old toolbox was given a nice coat of metallic paint and hung upside down. The handle now makes the perfect rod for hanging pots and other kitchen accessories. Did you also notice, in this picture, that a bundle of books is being used as a clever and decorative knife holder?
Use Vintage Faucet Handles For A Coat Rack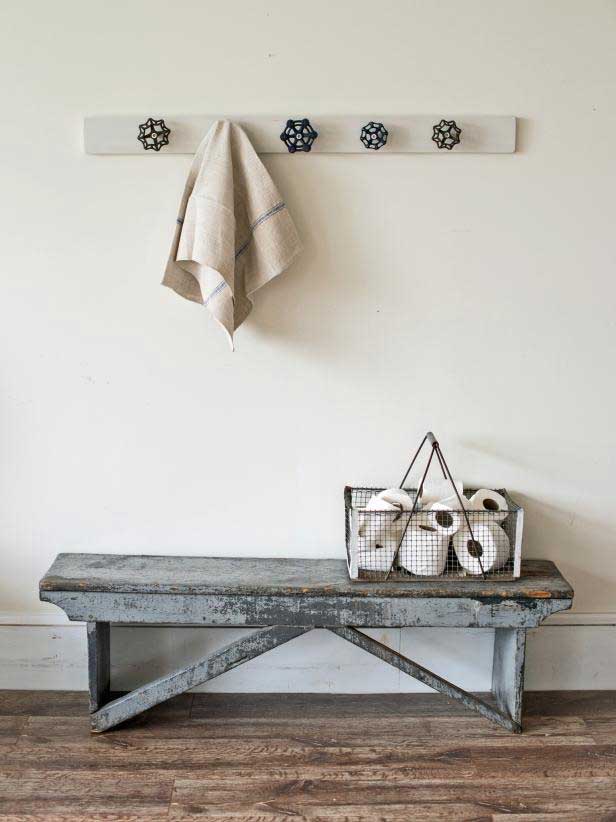 A collection of old faucet handles can easily be made into a decorative coat rack. If you found a look like this in a store, it would most likely have a high price tag on it. The look is unique, rustic and fun. Plus, it's so easy to put something like this together yourself. Think about other items that you could use for a unique coat rack. Dresser knobs, door knobs, or game pieces are just a few more ideas to think about for hooks.
Easy DIYs
Some home decor accessories are really quite easy to make yourself. For instance, a small concrete sink is something that can be made for just a fraction of the cost of buying new. Here are a couple of other ideas.
Make Your Own Decorative Storage Pegboard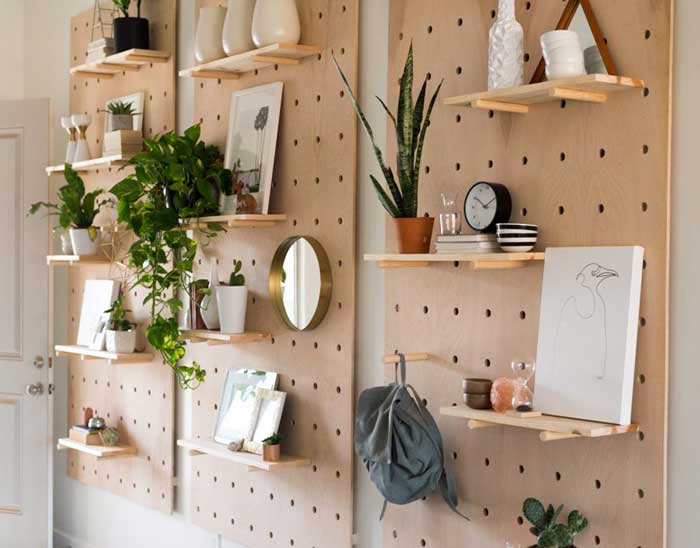 Pegboards aren't just for garages and you can make your own boards that look super decorative. Then, just insert dowels into the holes to hold shelves for decorative items.
Make A Rustic Wood Storage Ladder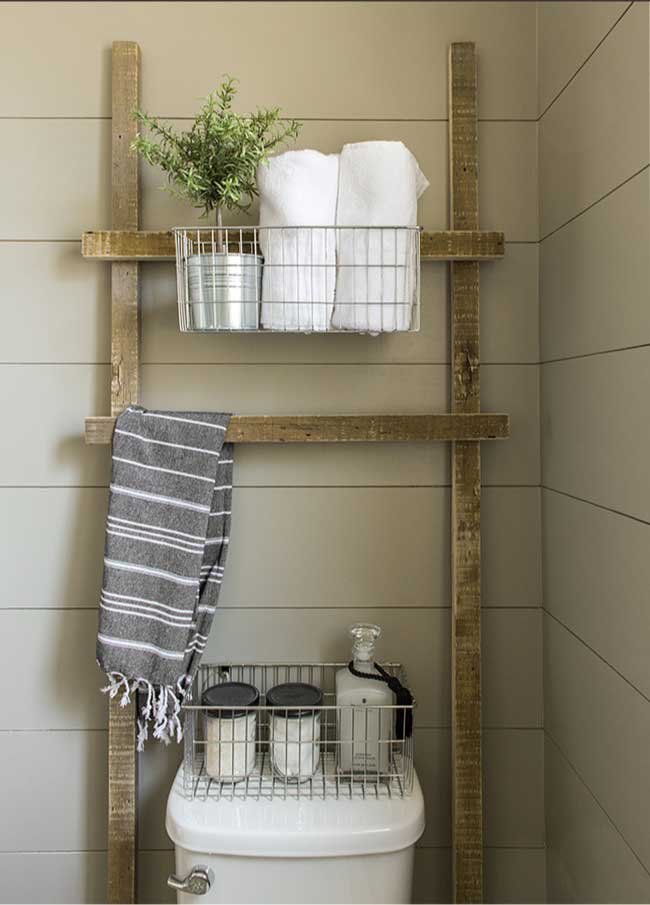 A hanging ladder like this can be whipped up in no time. It gets really decorative when you hang wire baskets from it. The cost of the wood is minimal and if you're able to use scrap wood, all the better! It can be hard to style the area above the toilet but this inexpensive idea makes it easy.
Make Your Accessories From Nature
I am all about making your own rustic home decor using items from nature. Lamps and candles are easy to make with birch logs. Rustic flower decor is easy to make with your own pinecones. Branches can be used for picture frames, centerpieces, or even curtain rods.
A Creative Fireplace Screen Made With Log Slices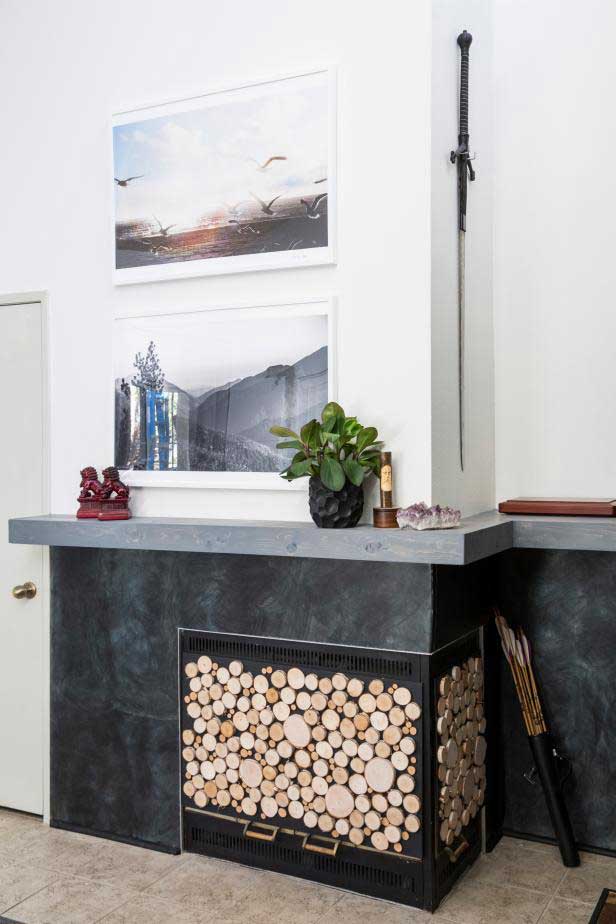 There really is nothing prettier than those items that come directly from nature. This creative fireplace screen looks very artsy and modern rustic. It looks so high end that it's hard to believe that you can make it for practically free.
Hang Nature On The Wall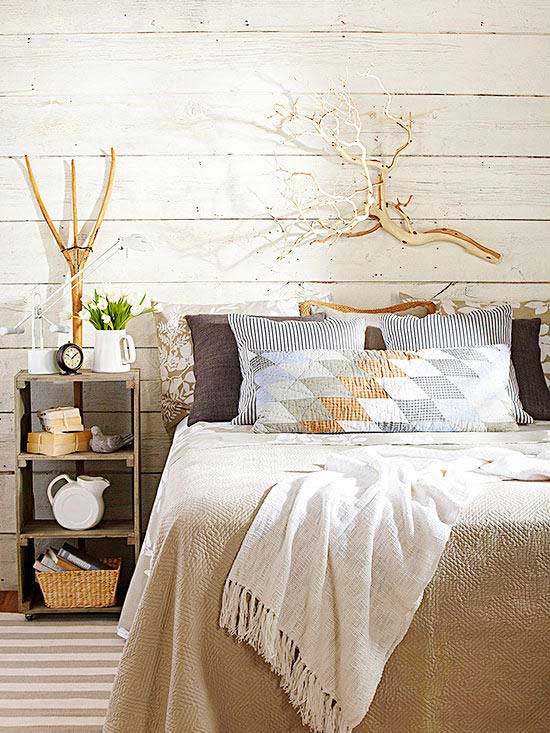 Nothing can be simpler than hanging interesting branches or other natural elements to the wall. To make the display even more interesting, use paint and stains to vary the color of your branches.
Decorate With Throw Away Items
Think twice before you throw away any of your trash. I have made decor from wine corks, bottle caps, cans, wine bottles, and more. These examples might inspire you to start saving your trash!
Wine Corks Can Make A Uniquely Rustic Boot Mat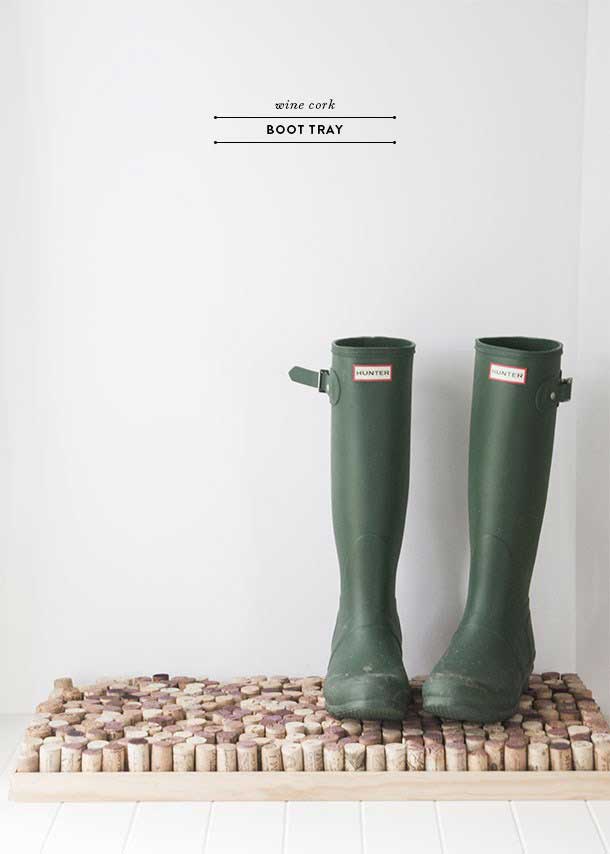 Start saving all of those wine corks to make a fun rustic boot mat. The variations of colors from the wine make it especially fun.