When it comes to Spring decorating, there are probably more ways than you realize to give your decor a rustic flair. All of the same elements that you use for everyday rustic decor can be incorporated into some fresh Spring pieces. Things like burlap, twine, book pages, nature, antiques, and metal can all be used in a light and chic way. I've done quite a bit of DIY projects for rustic Spring decor and thought I would compile them in this collection for inspiration.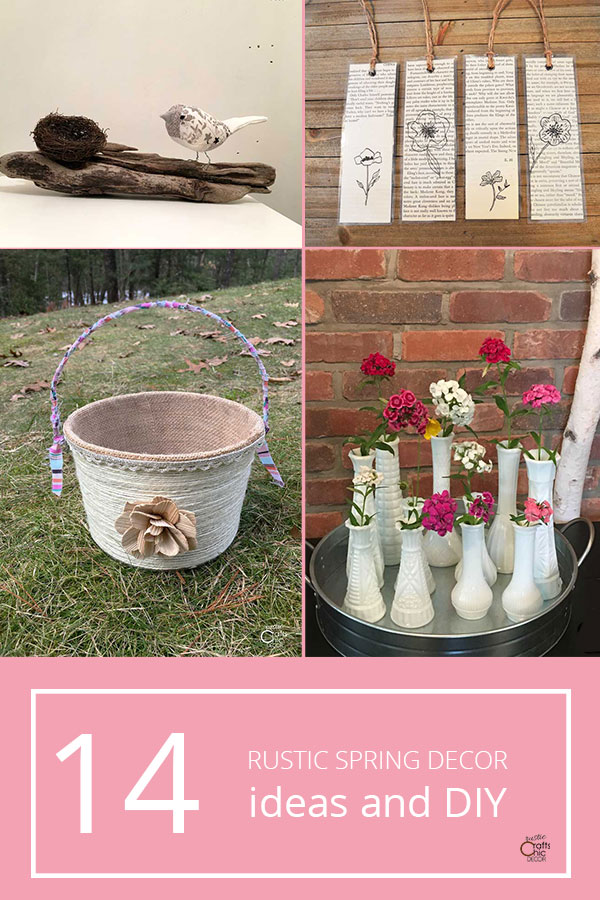 Flowers And Rustic Flower Crafts
The first thing that I think of when the Spring season hits is flowers. New growth and colorful blooms are what makes the season so special. For rustic spring decorating, it just makes sense to incorporate flowers in some way. Whether they are fresh or handmade, flowers bring a cheerful feel.
Wildflowers In Vintage Milk Glass Vases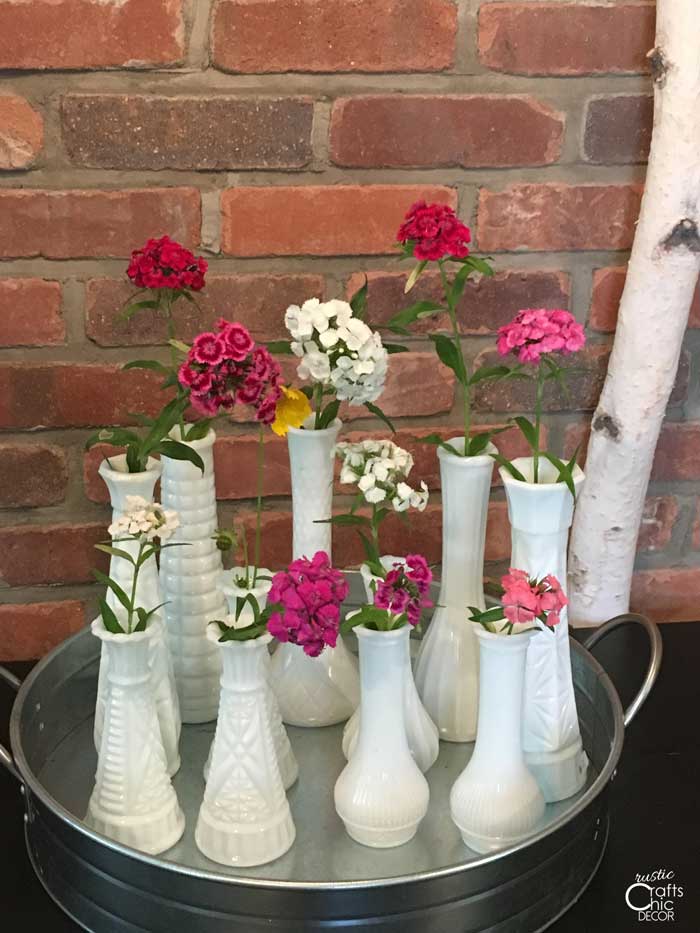 I love to bring fresh cut wildflowers inside to display in my collection of vintage milk glass vases. Decorating with milk glass is especially popular in a farmhouse style home. The warm and nostalgic feel of the glass is what we are after in rustic decorating.
Besides milk glass, you can also display fresh flowers in metal buckets, vintage watering cans, or even recycled tin cans. The contrast of the metal with the soft flowers is so rustic chic. This is probably the simplest way to create some rustic Spring decor.
A Rustic Crate Flower Planter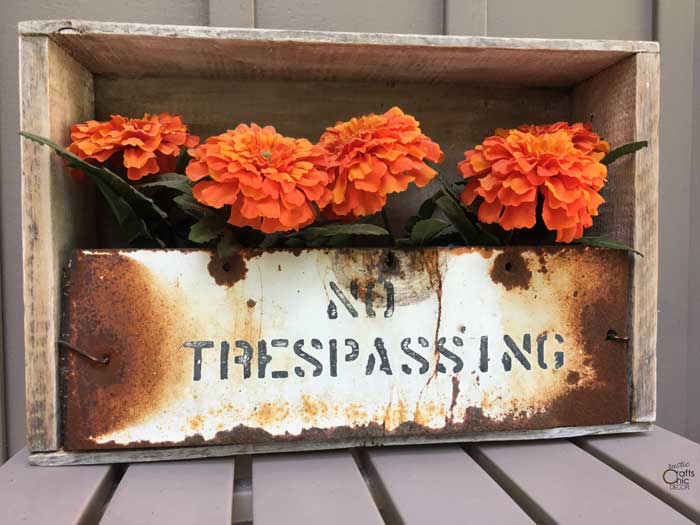 Rustic flower boxes or crates are another great way to display Spring flowers. I made this planter box using an old crate and a rusty sign. It's a little bit unusual but makes a fun contrast.
You could also use a narrow crate or an old drawer to hold a row of small flower pots. Or instead of flower pots, fill the crate with glass mason jars as vases for fresh cut flowers.
Pine Cone Flowers For A Rustic Spring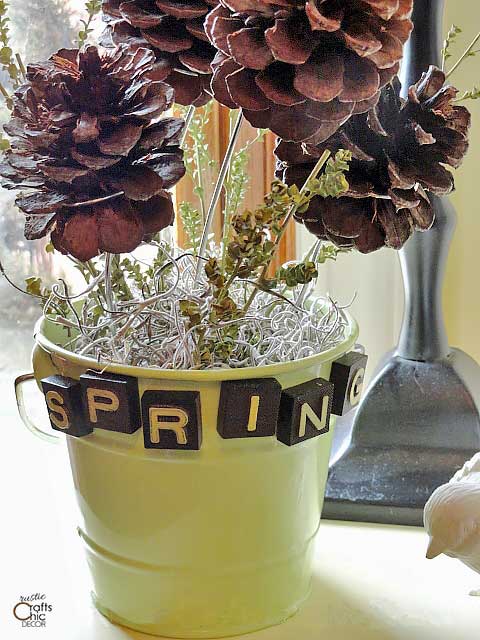 In the early Spring, it is hard to find fresh flowers. You can still create a spring flower pot by making your own flowers. For this display, I made my "flowers" out of pine cones and used the pail to bring in the Spring color. And, just in case that wasn't springy enough, I also spelled it out!
Pop Of Spring With Yarn Pom Poms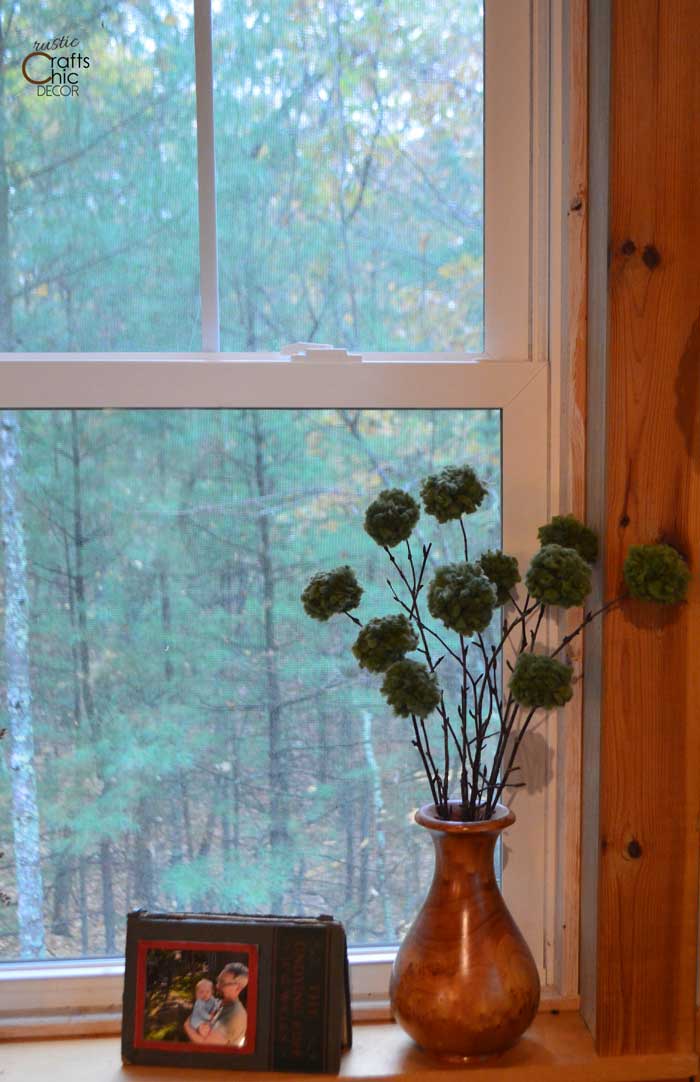 For a simple rustic centerpiece, I like to display a small bunch of birch branches in a vase. To give the branches a fresh Spring look, I simply made some pom poms out of yarn to attach to the ends of the branches. You could use a brighter color, like yellow, or a variety of colors for a little more cheer.
Industrial Flower Idea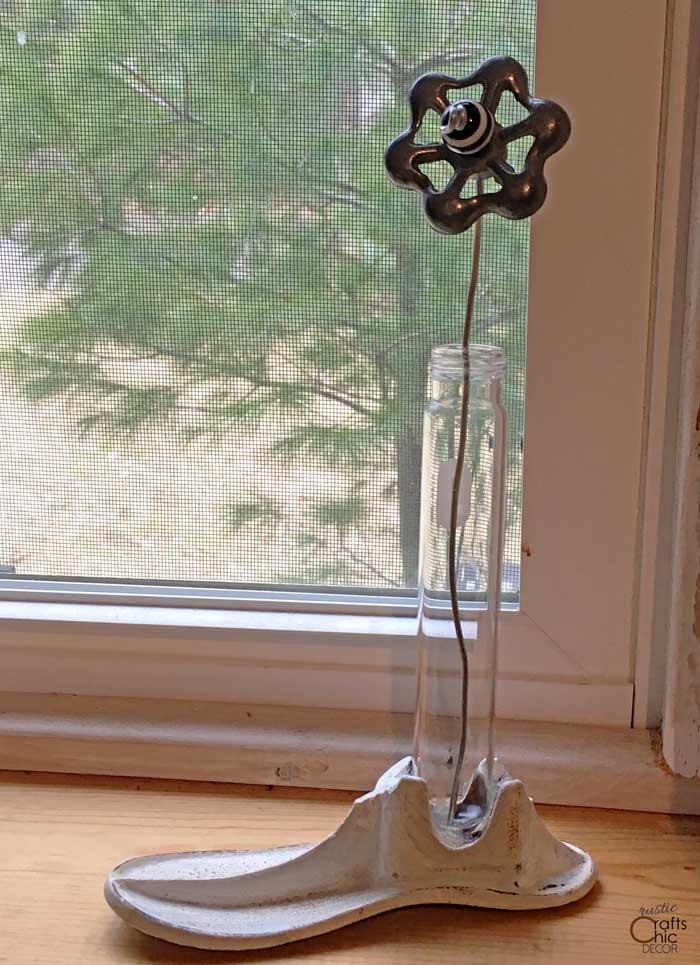 If you love an industrial look, you can even make your own flowers out of faucet handles. It's a fun and whimsical idea to bring about the idea of Spring. Create a whole bouquet of industrial flowers with faucet handles in various sizes and colors.
Flowers Made From Wood Slices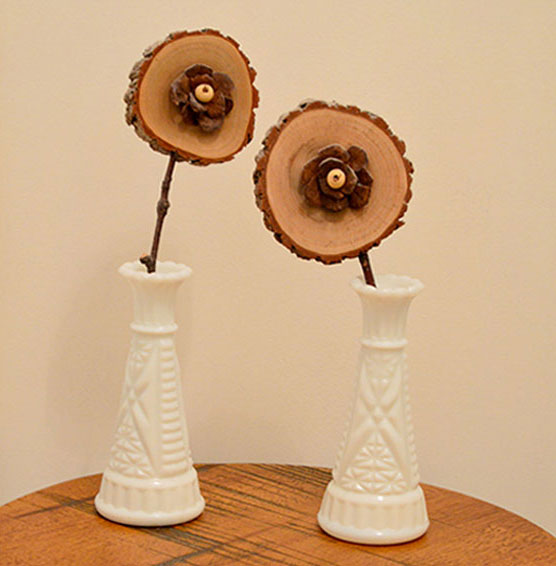 Wood slices can even look cheerful when they are made into rustic flowers. I used small wood slices, pine cone petals, and birch branches to create the look of a flower. The centers are simply wood beads. For a more colorful arrangement, you could paint the wood slice or use colorful beads at the center.
Burlap Flower Embellishments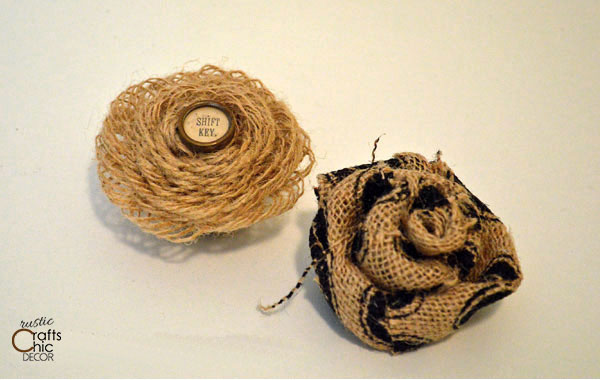 Embellish any of your rustic decor with burlap flowers that are easy to make. There are a couple of different methods that you can use depending on the look you want for your flower.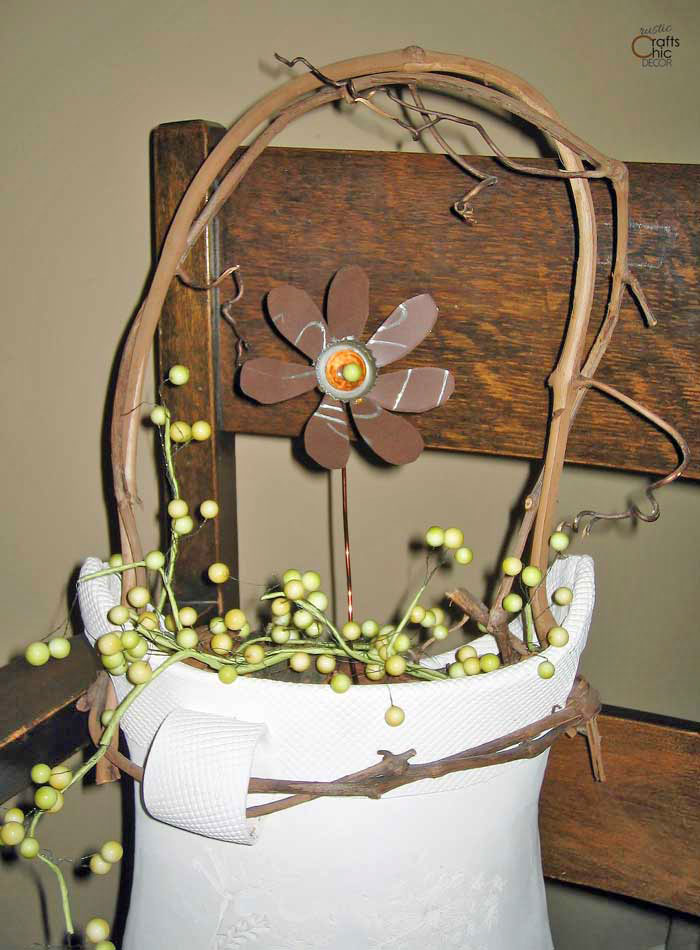 A square of rusty craft metal, a bottle cap, and some beads can also be turned into a flower for a Spring display.
Bird Related Rustic Spring Decor
Besides flowers, what I see or hear most in the Spring are song birds. I love all of the cheerful chirping and just have to smile when I think of birds. Here are some fun ways to create some bird themed Spring decor.
Spring Bird And Nest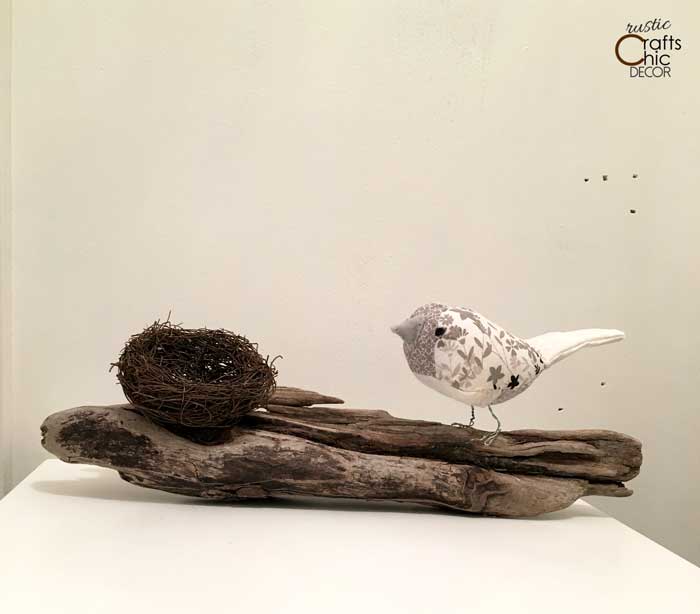 Fabric birds are fun to make and create such fun Spring decor. It's easy to make a rustic display with a piece of weathered driftwood and a small nest.
Songbird Pebble Art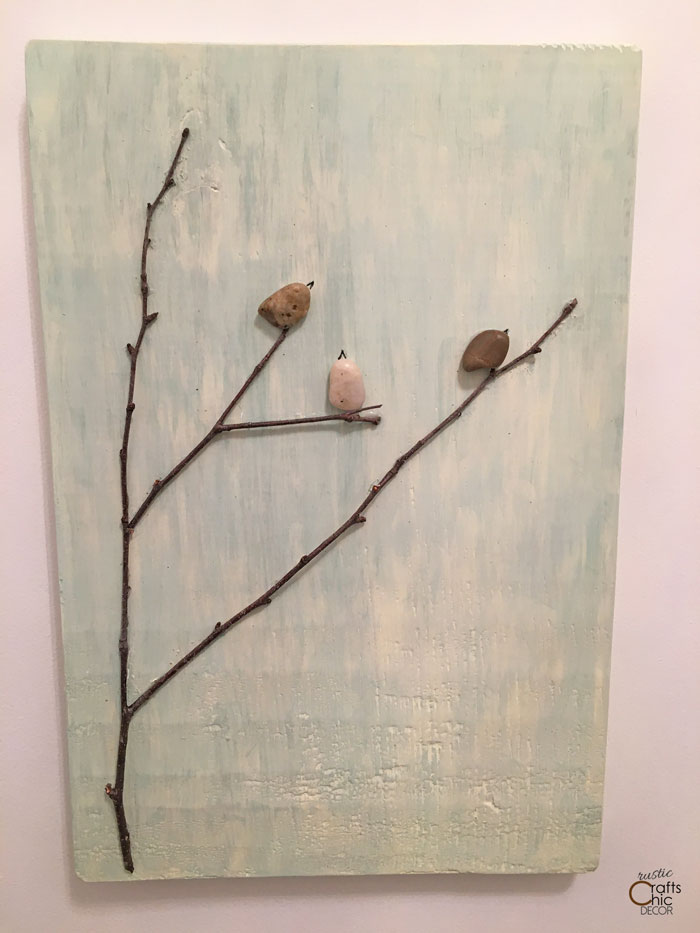 Create your own Spring wall art by using just pebbles and a couple of branches. There are so many little stones that resemble a bird's body. Just add a small beak with a sharpie and there is not question what the pebbles are.
Birdhouses From Logs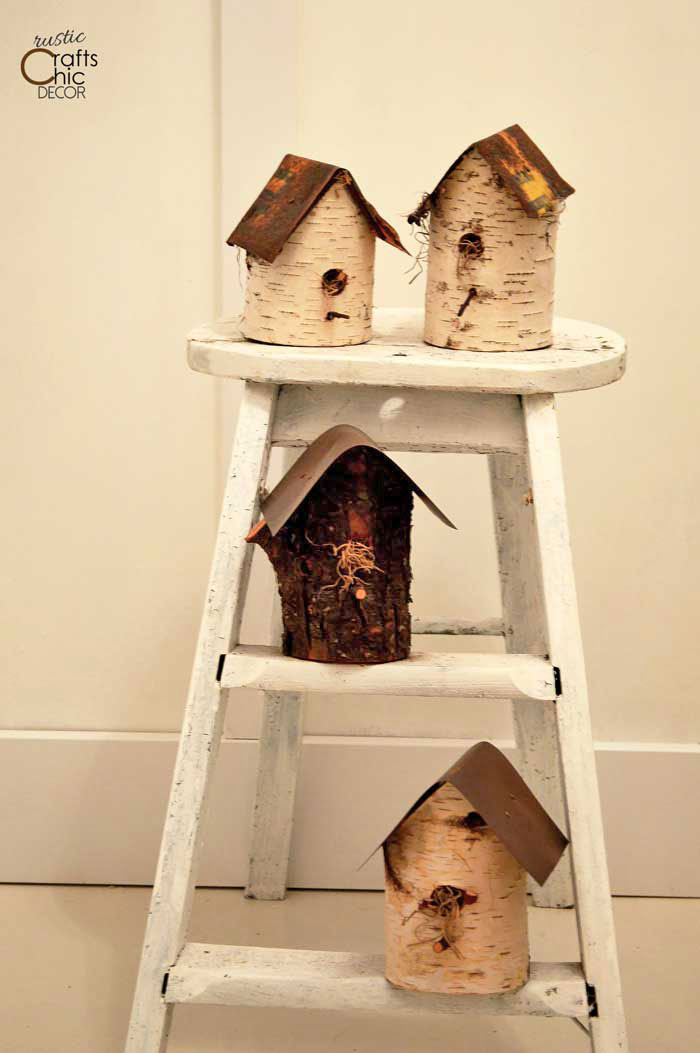 Decorative bird houses from logs also make great rustic Spring decor. They are simple to make and fun to display.
More Rustic Spring Decor Ideas
Burlap And Twine Easter Basket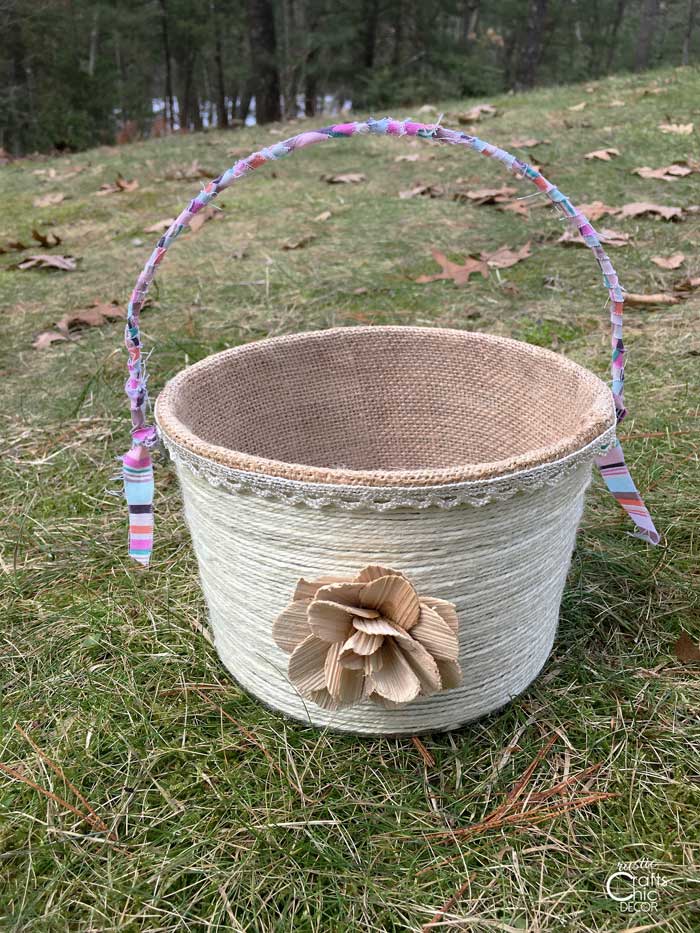 A popular craft project to do in the Spring is to make your own Easter baskets. When you use burlap and twine, the basket takes on a warm and rustic look. This particular basket was actually made from an old paint pail!
Mason Jar Rustic Spring Display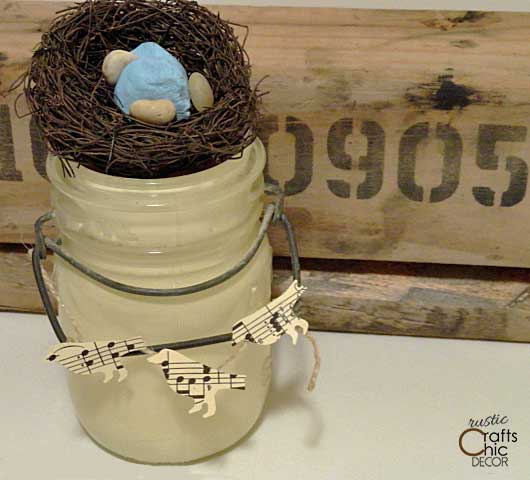 Everybody loves a mason jar craft! By adding some cut out birds from song sheets and a little nest, you get a rustic display perfect for Spring.
Bookmarks As Rustic Spring Decor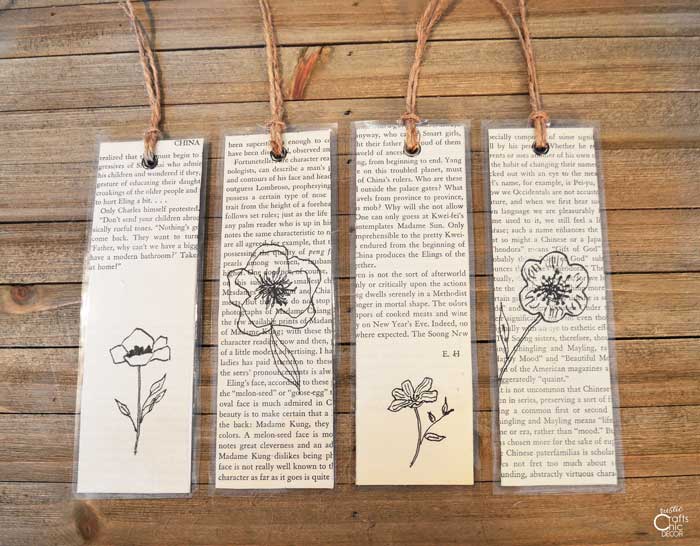 If you love to read, you will enjoy making your own bookmarks that are fresh and feminine looking. By using old book pages, you get a warm look as a base for some hand drawn flowers.