25 Rustic Crafts For Home Decor
I love a good rustic craft project, especially if I can use it in my home or cabin for a decorative accent.  Over the last couple of years, I have done quite a few rustic crafts and thought that I would highlight some of my favorite ones all in one post.
Along with my own projects, I have also found several others that I wanted to include here for a big round up of ideas for diy rustic decor.  I think you will find all of these ideas to be unique, creative and full of style for your home.
So, here is my list of twenty five rustic crafts: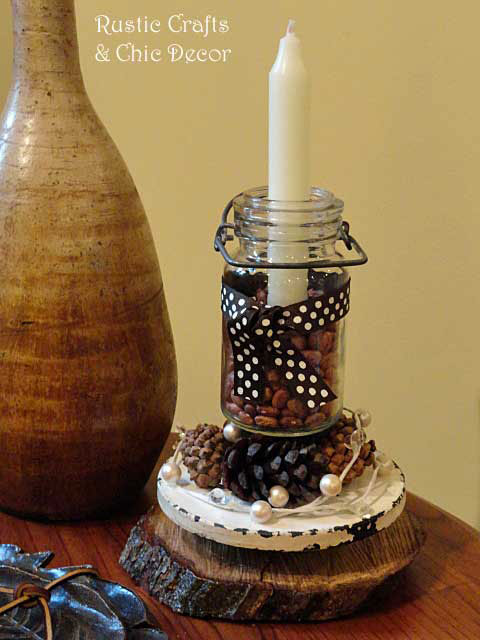 I used a combination of natural elements, salvaged metal and a vintage mason jar to make up this funky little candle holder.  I used dried beans to act as a filler for the jar.  Oh, and to add a little chic, I tossed in a glitzy little garland and a whimsical ribbon.
2.  Rustic Wood Clock Craft by Design Sponge
I love the simplistic styling of this rustic wall clock.  The red hands add a nice pop of color.
3.  Rustic Grainsack Vase Craft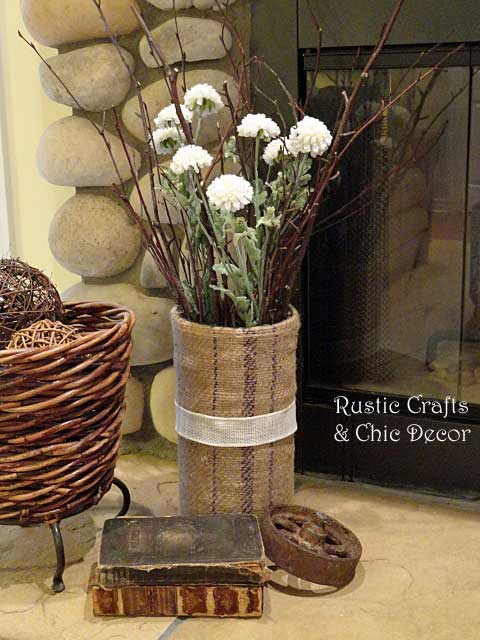 Burlap or grainsacks are a nice rustic element and it was easy for me to just cover a plain glass vase with a section from a grainsack.  Then, adding birch twigs and white carnations makes the perfect centerpiece.
4. Rustic Wood Slice Wreath by East Coast Creative Blog
Here is a fun rustic and non traditional wreath idea using a wood log slice.
5.  Rustic Branch Candle Holder Craft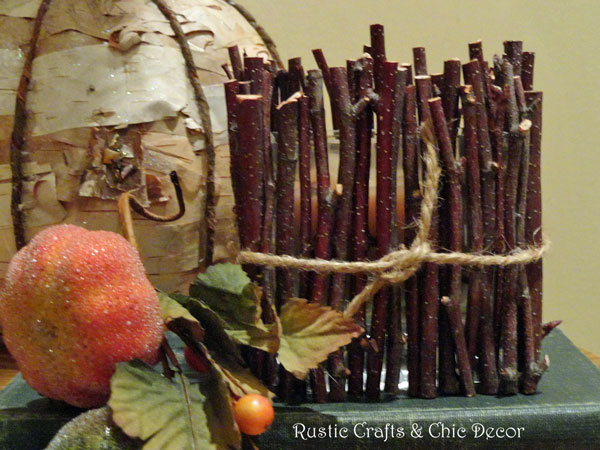 I embellished a plain glass candle holder with small birch twigs to give it a rustic touch.
6.  Branch Towel Bar by Pretty Handy Girl
I love the idea of incorporating branches into handy bathroom accessories like this sleek towel bar.
7. Birch Bark Wine Bottle Vase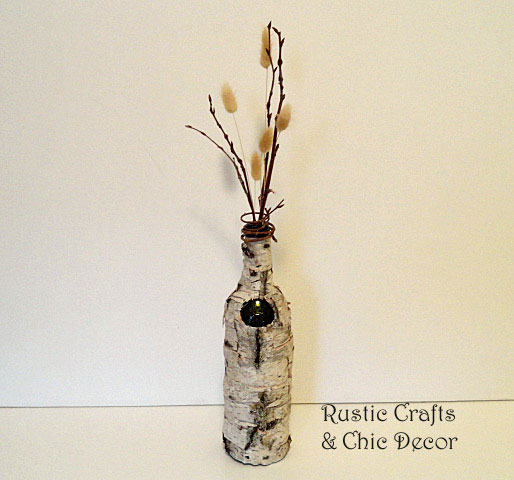 A great way to recycled wine bottles and get some rustic decor is to cover the wine bottle in birch bark!
8.  Antler Craft by Lil Fish Studios
This is a cute idea for incorporating an antler into your decor.  Use it to hang a sack for a plant!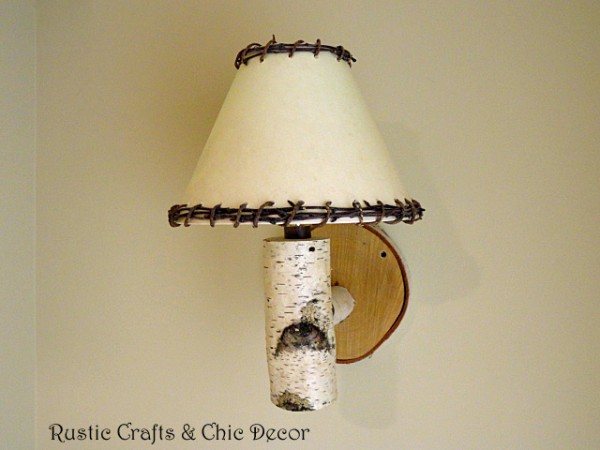 My favorite rustic craft is making birch sconces or lamps.  It is easy to do and they add such a rustic touch.  We have them all over our house and cabin!
10.  DIY Rustic Cake Stands by Simply Natural Events
For entertaining, these rustic cake stands are fantastic!
11.  Rustic "Cheers" Sign Craft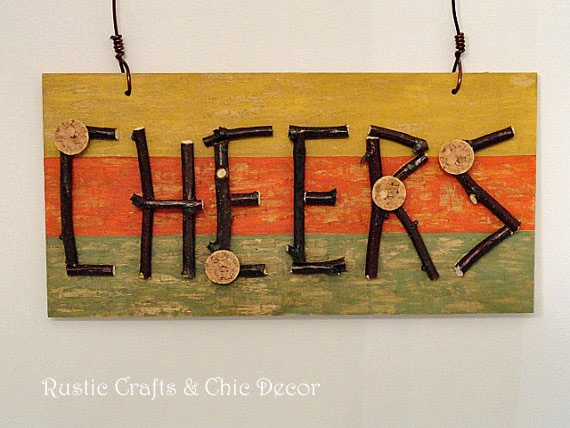 It is quick and easy to make a rustic sign from branches.
12. Pebble Sphere Craft by Styro-foam Crafts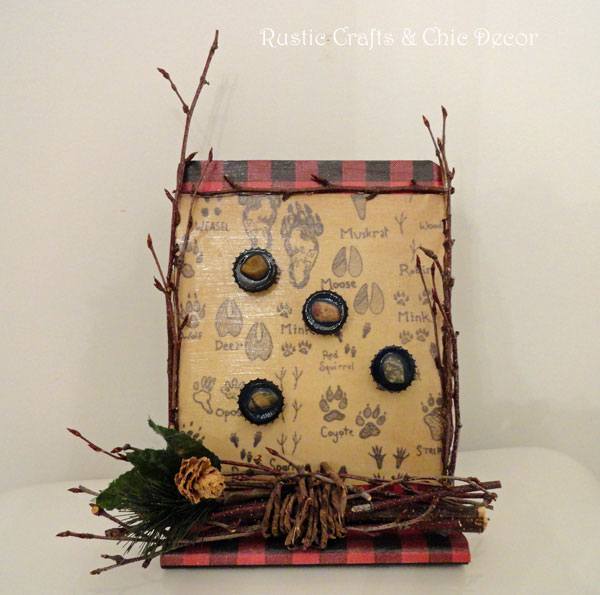 14.  Framed Branches by Cleverly Inspired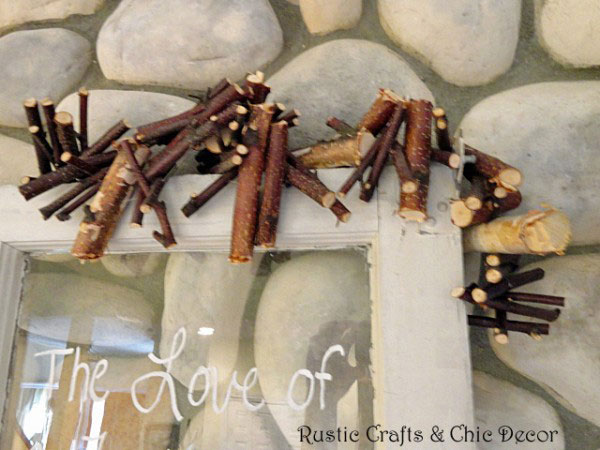 Branch garland is made by stringing small sections of branches together on either twine, strong elastic string, or dental floss.  I use them on fireplace mantels, Christmas trees or over picture frames.
16.  Rustic Candle Holder Craft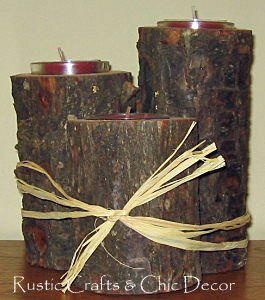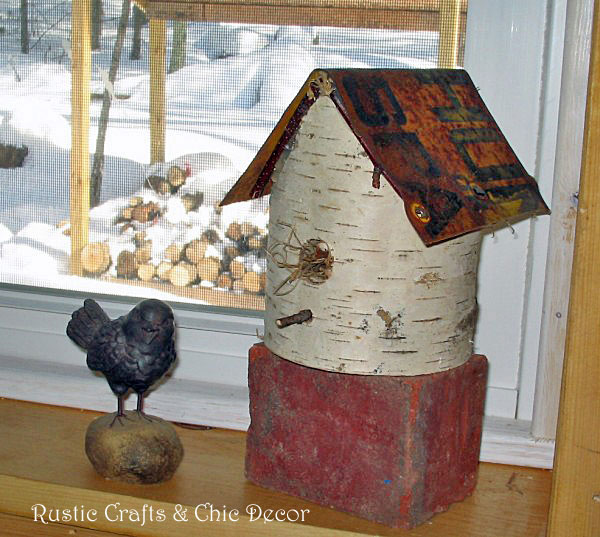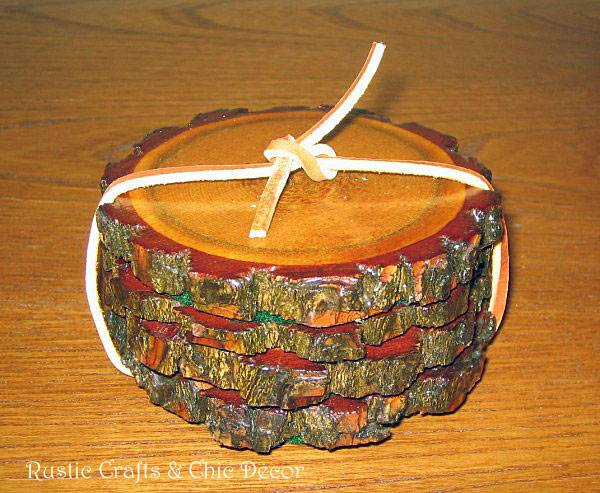 19. Twig Photo Display by The Bird's Papaya
This is such a fun and unique idea for hanging photos!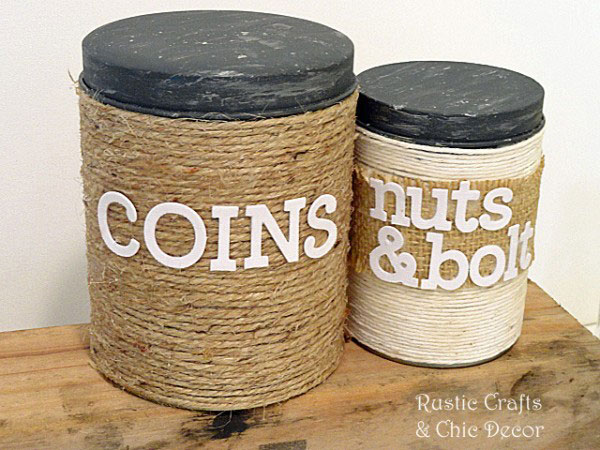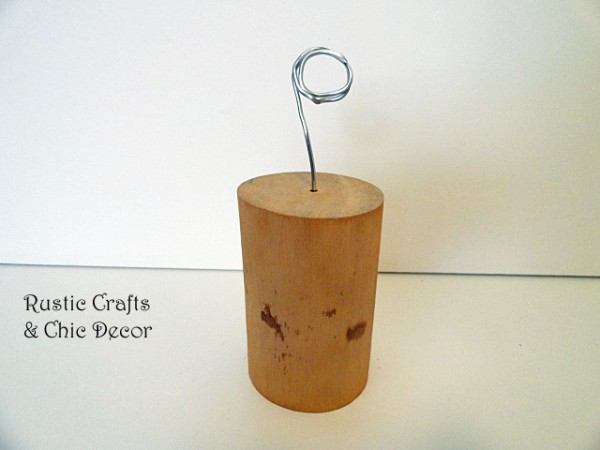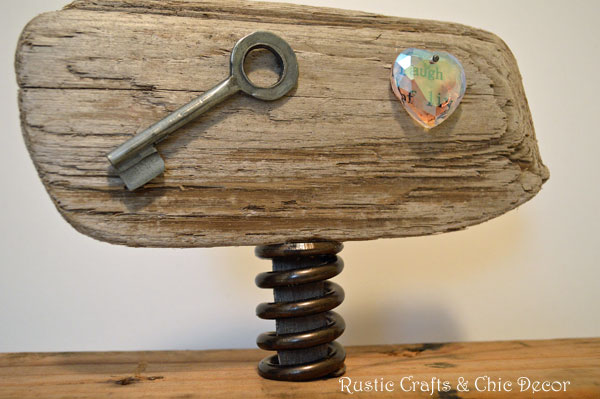 23.  Rustic Owl Craft by The Enchanted Tree
24.   Twig Push Pins Craft by Design Sponge
25. Birch Branch Picture Frame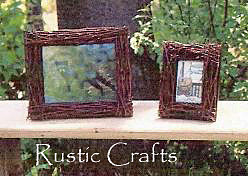 I hope you have been inspired!  If you are looking for more rustic craft ideas, you can check out and follow my Pinterest board at Rustic Crafts Board.
Also, check out theses DIY Bathroom Accessories For Your Rustic Bathroom.
Happy Crafting!