Rustic chic decorating is such a perfect blend of his and her that it is no wonder it has become so popular. It is similar to the cottage core decorating trend or a shabby chic style. The ruggedness of distressed woods and rusty metals mixed with soft fabrics and a touch of bling is almost irresistible. Pairing the two in simple and uncluttered ways is key. Whether decorating a farmhouse or city bungalow, these comfortable rustic chic decor ideas will create the perfect balance of warm and clean.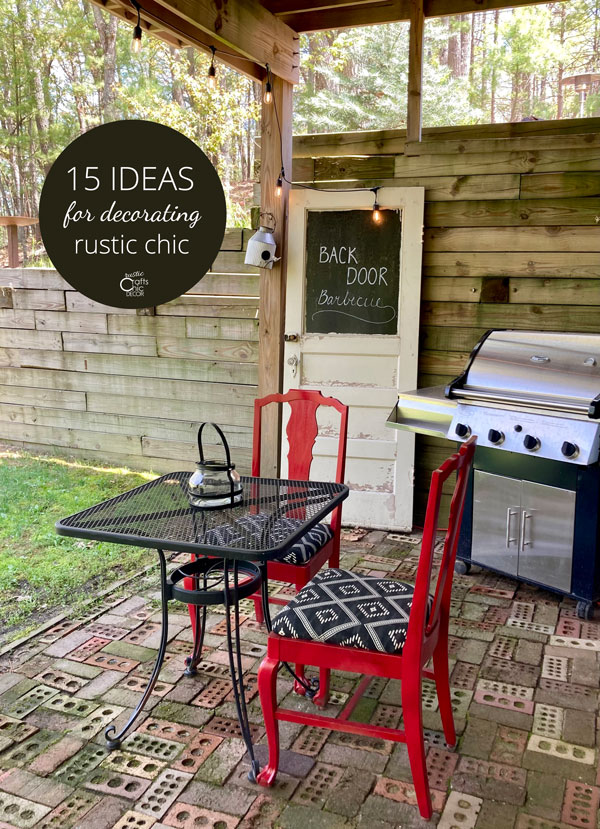 How To Create A Rustic Chic Style
There are some key things to think about when putting together a rustic chic design. You'll need some items that are old, distressed, and worn. Then, to soften things up, add in some neutral fabrics and accessories that are either modern and classic or soft and romantic.
When I gave my patio a makeover, I created the style by incorporating an old door, repurposed vintage chairs, simple modern fabric, and hanging lights. Usually I think of neutral colors when going rustic chic. However, sometimes a pop of fun color adds to the chicness. I would just stick to two or three colors to keep things simple and uncluttered.
Items To Include On The Rustic Side
vintage items – old windows, doors, furniture, repurposed items, and accessories
salvaged wood – barn wood, pallets, and reclaimed wood
distressed metal – anything rusty, chipped or industrial
natural wood – logs, branches, driftwood, and live edge boards
stone, concrete or bricks
textiles – burlap, twine, and leather
Must Have Chic Items
romantic lighting – chandeliers, string lights, and decorated lampshades
soft neutral fabrics – cotton, linen, grain sack, or ruffled
bling – embellishments that sparkle or shine like beads or buttons
white accessories
clean modern accessories – appliances, glass, geometrics, and simple lines
If you are either completely sold or are just beginning to embrace the idea and are looking for some inspiration, I have some fantastic room designs and vignettes to share with you.
Rustic Chic Vignettes
Vintage + Inspirational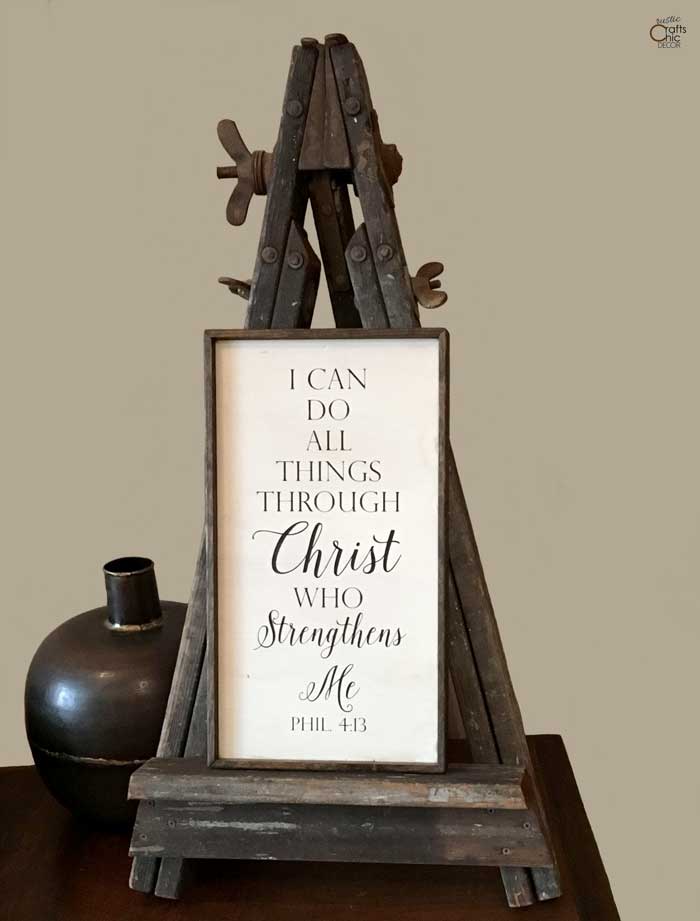 I love to incorporate vintage pieces into my decorating, especially when they are paired with more modern or chic pieces. I'm not even sure what this piece was originally used for but it makes a perfect easel for displaying signs or photos.
Weathered + Bling

This rustic chic bedroom has a nice blend of rustic and romantic. All of the weathered and vintage pieces provide a good contrast to the ruffles and bling on the pillow.
Repurposed + Flowers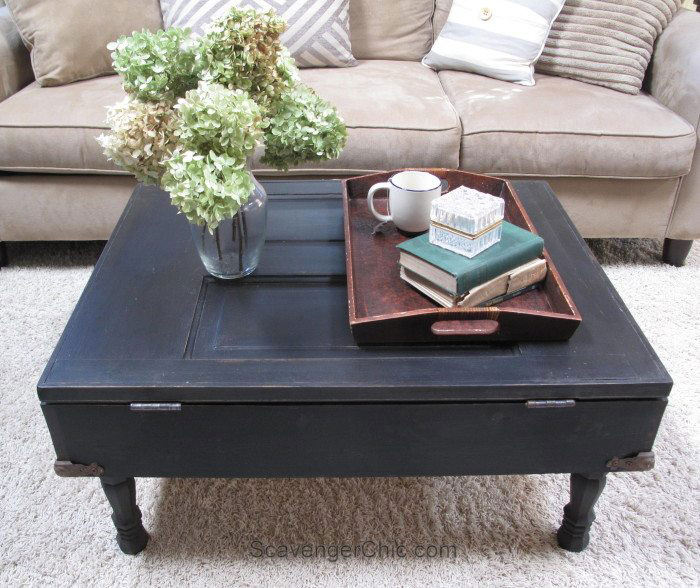 I mentioned that vintage items are good to add to the rustic side of things. Sometimes that vintage item may be as simple as an antique coffee table or other piece of furniture. Other times, however, you may find yourself building something new out of something old. For instance, this coffee table was pieced together with an old door, a rusty bracket detail, and vintage style table legs.
Distressed + White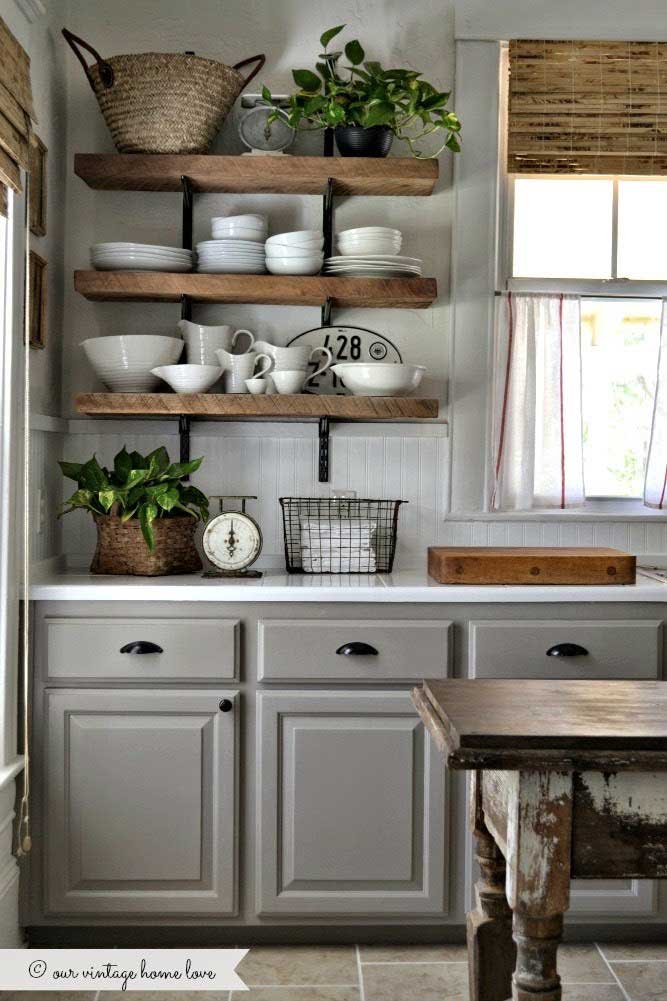 You can really see the mix of design elements in this rustic chic kitchen. Notice how the creamy white dishes add a feminine quality to the rustic wood open shelving. A vintage kitchen scale complements a basket of fresh greenery. And finally, the sleek modern cabinetry and counters are made warm and comfortable with the distressed island complementing them.
Feminine + Masculine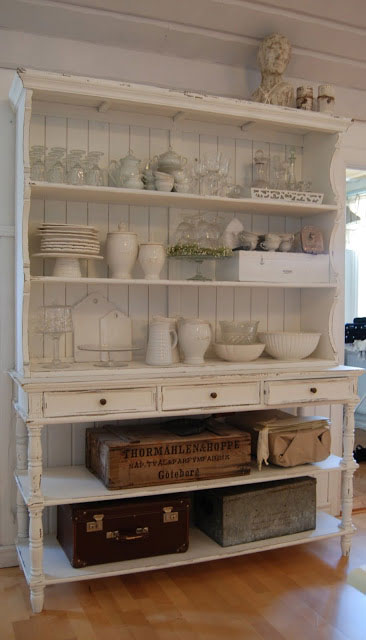 Notice all of the soft feminine touches at the top of this hutch. The creamy white dishes and delicate glass accessories provide a striking contrast to the vintage crate and cases. This whole ensemble is very warm and pleasing to the eye.
Rustic Chic Room Ideas
Warm And Elegant Sitting Area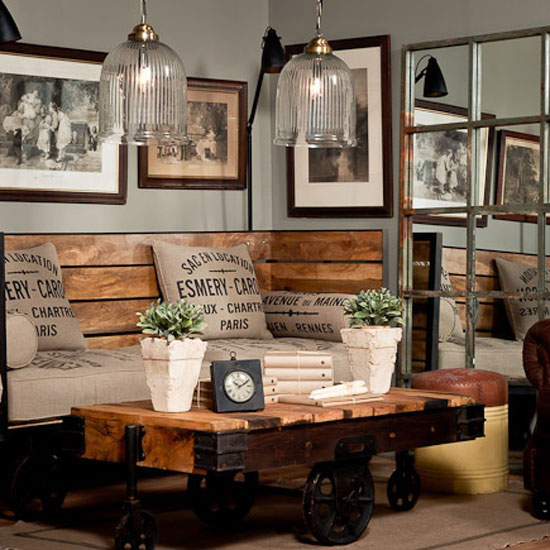 This room really embodies both the elegant and the rugged. There is nothing intimidating about this classy sitting area. The warm and distressed finishes make it a comfortable place to be.
Living Room With Wood And Light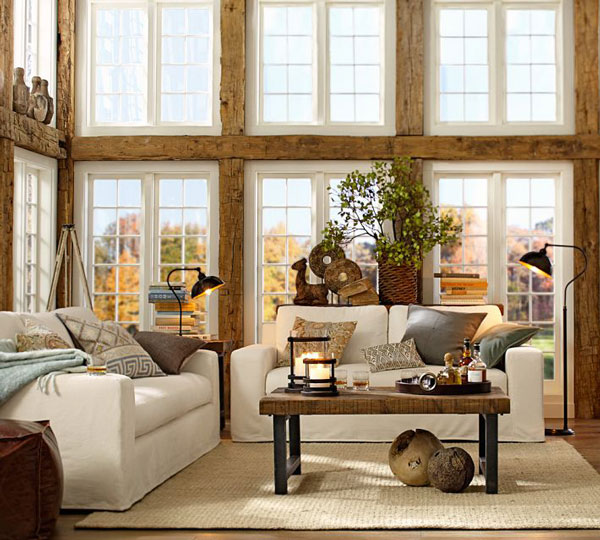 When you have a lot of warm wood features, you will also want to add enough light with white accessories and windows to keep the space rustic chic. Although this room has a lot of warmth, it's definitely not enough to be gloomy.
Elegance Marries Rugged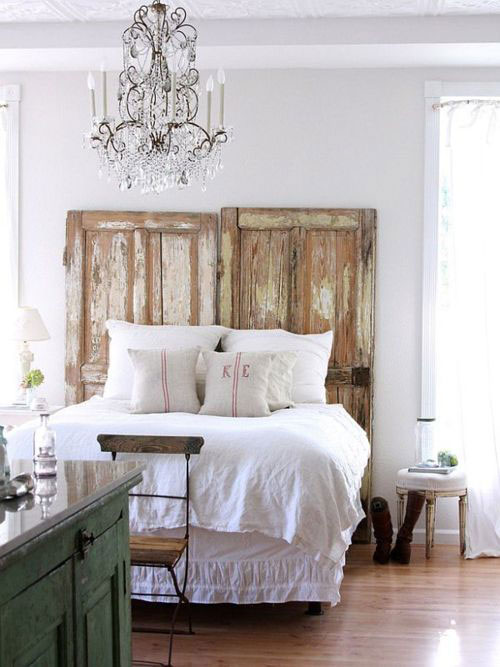 Crystal chandeliers are so chic and elegant. The formality of the lighting is made cozy with the distressed wooden door headboard and other furnishings. Everything is made simple and clean with the white bedding and walls.
A Bathroom With An Eclectic Mix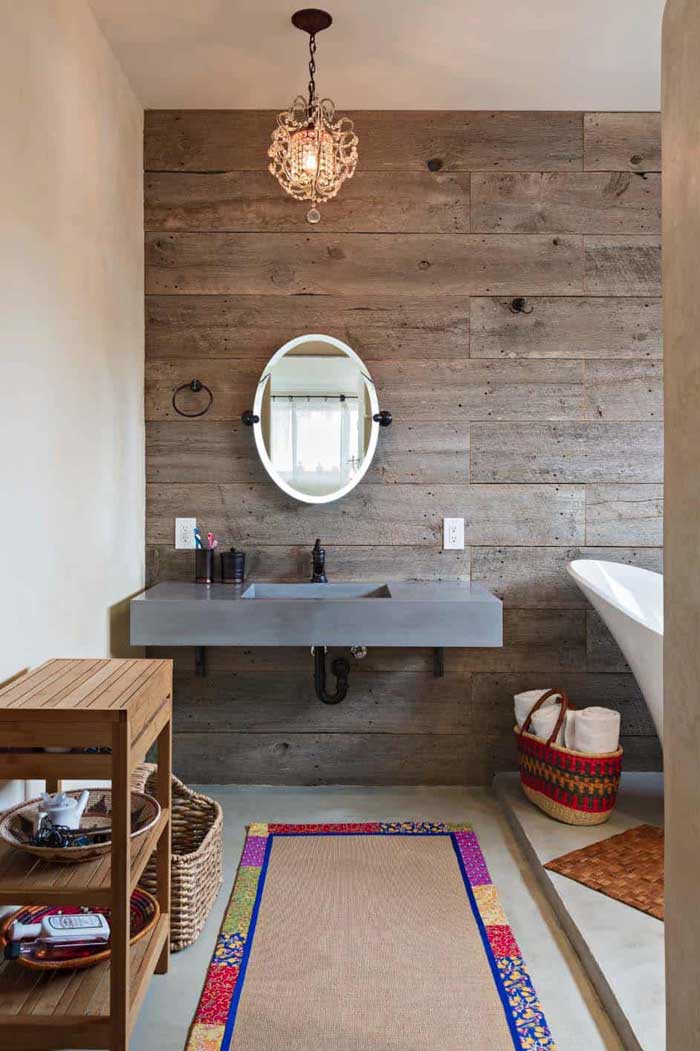 Smooth concrete may seem like too much of a modern element for rustic chic. However, when mixed with a salvaged wood wall and plenty of warm texture, the space is comfortably chic.
Important Tips For Decorating Rustic Chic
Add A Touch Of Color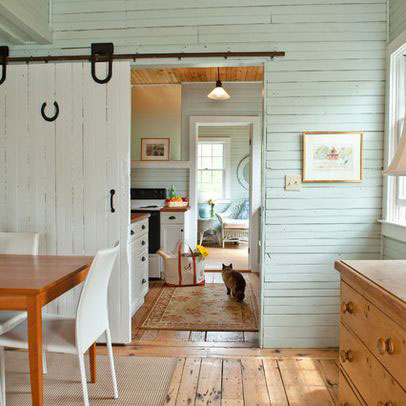 When you have a lot of light neutrals, a touch of soft color is a great way to add a little chic warmth. The light aqua painted walls add a ton of interest without being overwhelming. Color works with this style when kept simple.
Don't Over Clutter A Space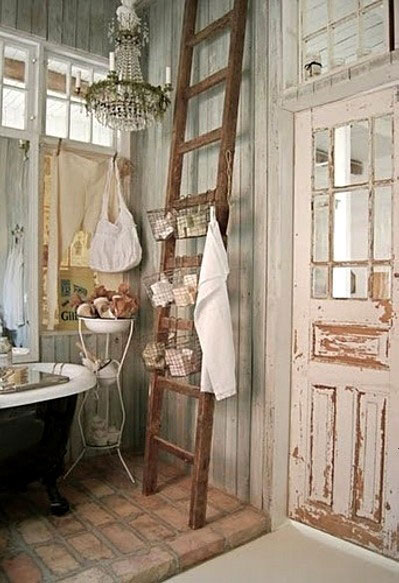 There are so many rustic elements in this room that it tends to get a little cluttered for rustic chic. However, if you take away a little of the detail it's all the room needs. By removing just the clip on window treatments and hanging sack, you get a cleaner look. Then, the pretty chandelier and neutral walls will really pop.
Combine Coordinating Textures And Patterns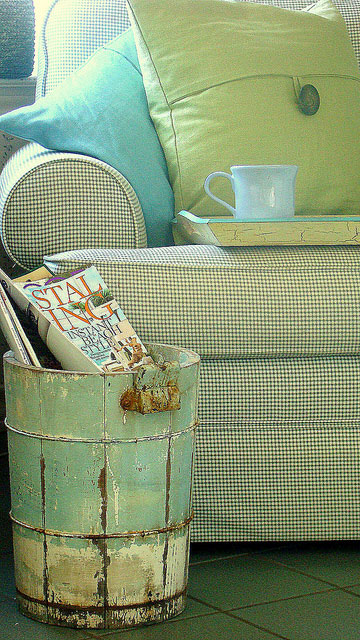 When you stick with a limited color scheme, use textures and pattern to add depth and character.
Bring Some Of The Outdoors In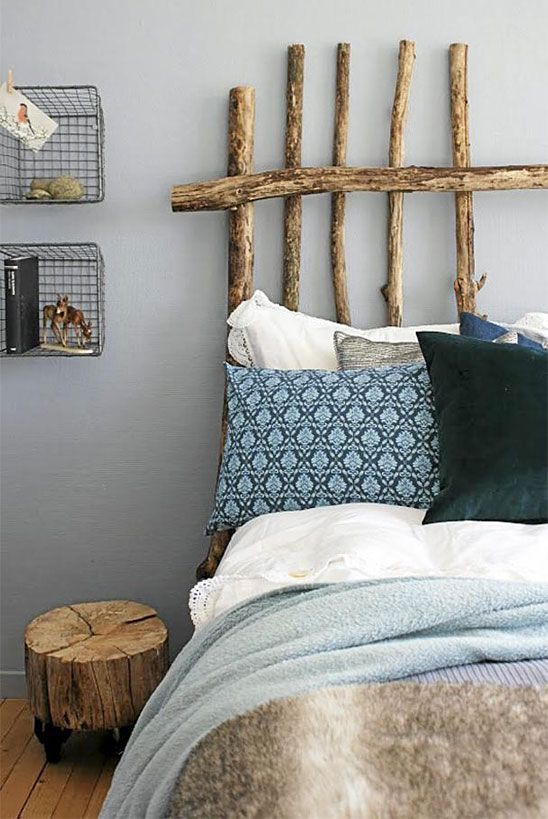 It's amazing how elegant logs and branches can look when they are combined with chic elements like pretty fabrics and faux fur. And, for the most part nature is free. Check out all of these things to make with branches for more ideas.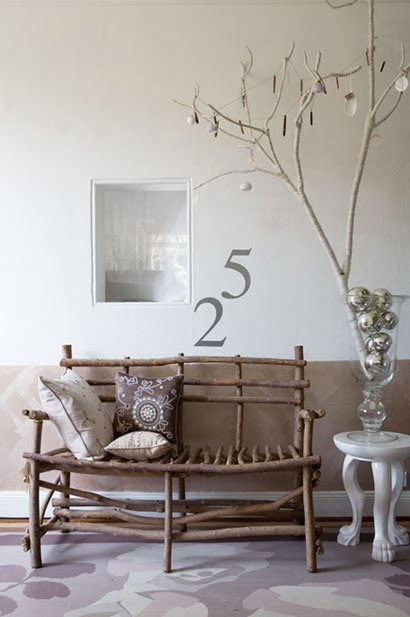 A log bench with a chic clawfoot table is a perfect example of rustic chic for anytime of the year. Add in branches with ornaments to decorate for the holidays.
Add Items That Bring You Joy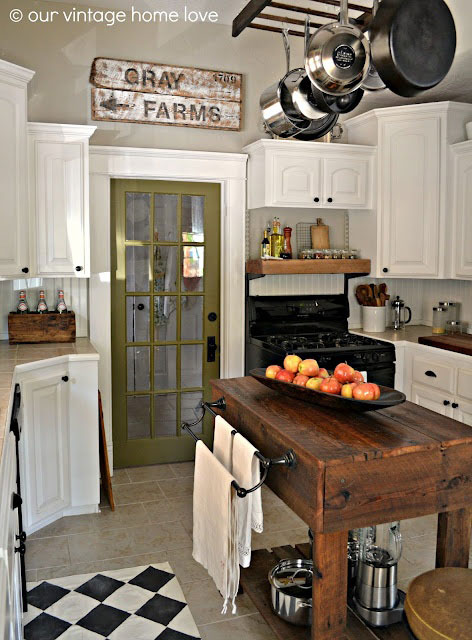 A fun rug with a cheerful pattern, a distressed sign, and a tray of apples all blend with the warm woods and neutral whites to create a happy space that is so rustic chic.
Incorporate Some Plants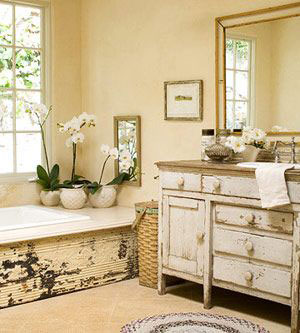 There is nothing that adds simple freshness better than potted flowers or greenery.
If you love these ideas and are wanting more, make sure to check out my DIY projects in a rustic chic style.