With all of the different designs, colors, ages and textures available, paper is a great material to use in crafting. In fact, it is probably one of the most versatile craft supplies. Not only can you get a variety of looks, but paper is also very easy to work with. Today's focus is on paper crafts that are specific to Christmas. You may be surprised at the amount of simple Christmas decorations, gifts, and packaging ideas that can be made with paper.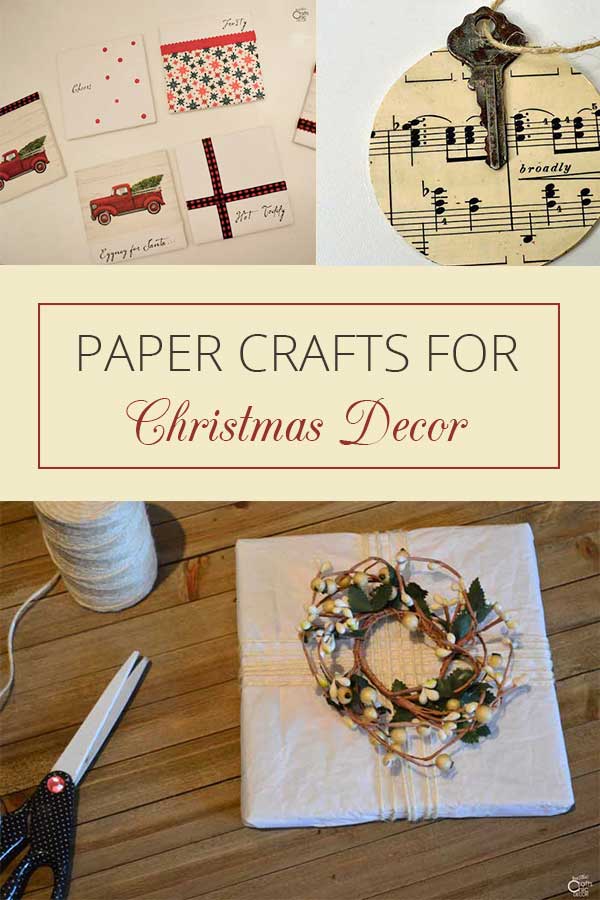 Unlike craft materials that require special tools to manipulate. Craft paper is easy to fold, rip, cut, or adhere. Usually, the only tool required may be a sharp pair of scissors.
Christmas Decoration Ideas Using Paper
Although an obvious way to use paper in Christmas crafts is with homemade Christmas cards, these ideas use paper in other ways. All of these Christmas decorations use paper, of some kind, to give them a unique pattern or design.
Mod Podge Paper Scraps To A Styrofoam Ball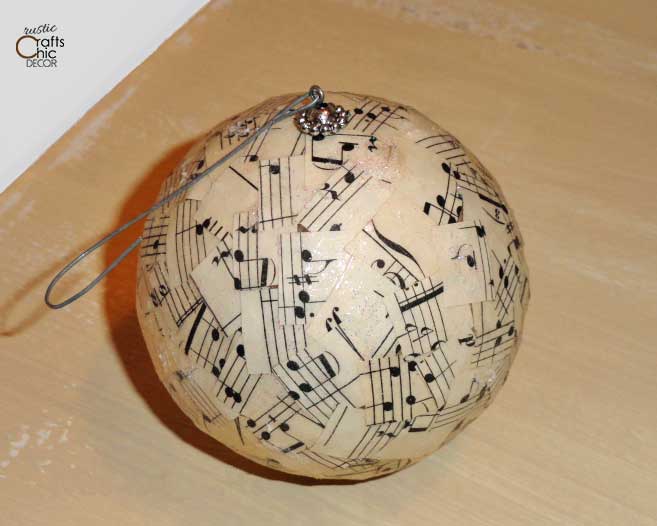 Create a fun mosaic design by decoupaging small pieces of paper to a styrofoam ball. In my case, I used a vintage songsheet. I thought the musical notes were especially joyful for the occasion. Plus, the look of the aged paper adds a bit of warmth and nostalgia. Determine the right paper for your own project by the look you are going for. For example, if you want lots of sparkle or shine, maybe you go for a foil or glittery leftover wrapping paper.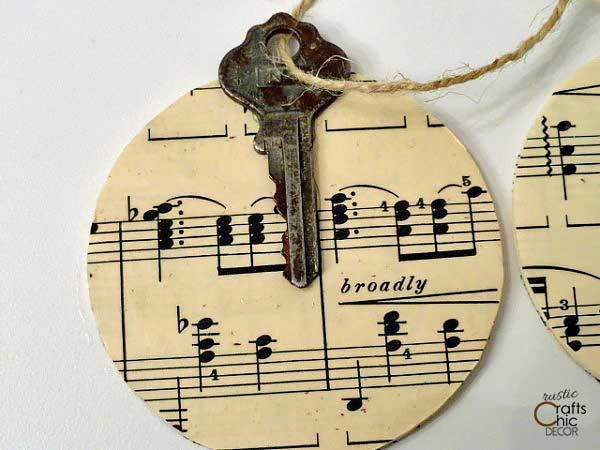 A flat object works just as well as a Styrofoam ball for making a Christmas ornament. In this case, you may want to use one piece of paper instead of making a mosaic. It was easy for me to apply one piece of my vintage songsheet to a flat round wooden disc. All I did was apply one piece to each side of the wood and overlapped the edges going around the diameter.
Create Coasters With Paper and Ceramic Tiles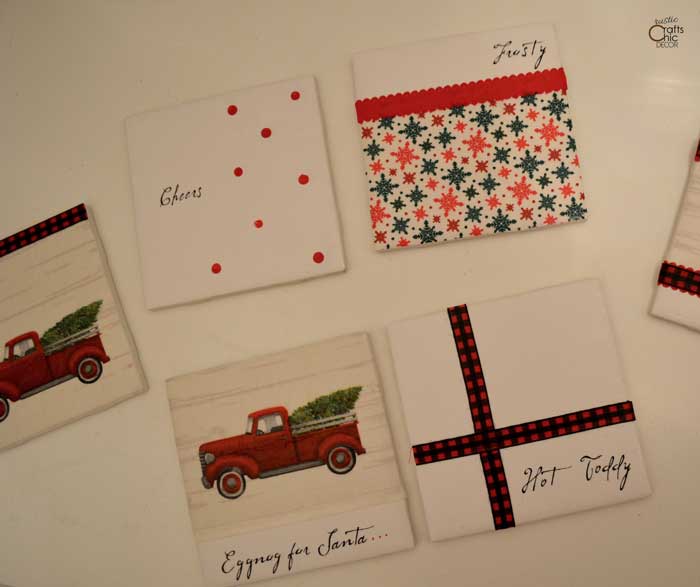 Another idea, using Mod Podge for application, is to apply festive papers onto plain ceramic tiles. This is a great way to make fun holiday coasters to use yourself or to give out as gifts. Any kind of paper works well for this. However, I find that the thin paper applies a little easier. Because of that, I like to use decorative napkins as my paper source. Not only do they apply well but the size of a cocktail napkin is perfect for a square tile.
Unique Gift Wrap With Paper Bags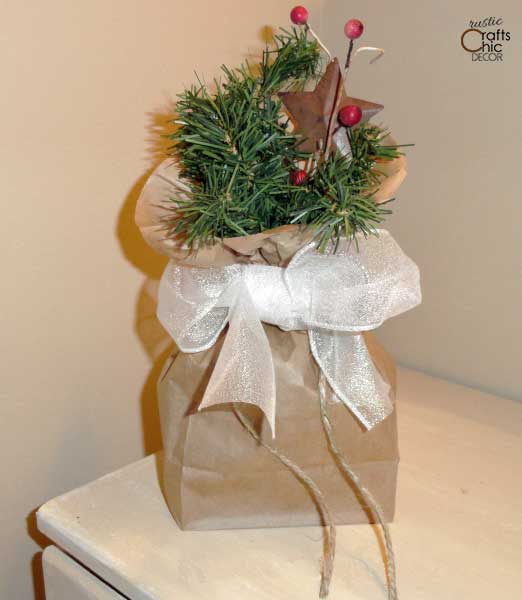 Gift wrap doesn't have to be the traditional store bought kind. Instead, create some unique packaging with bags you may already have in the house. A common lunch bag can be made into decorative packaging for a small gift. Large grocery bags are great to cut and use as wrapping paper. Then, just embellish the neutral package with other decorative items such as personalized gift tags or burlap flowers.
Wrap A Gift In Tissue Paper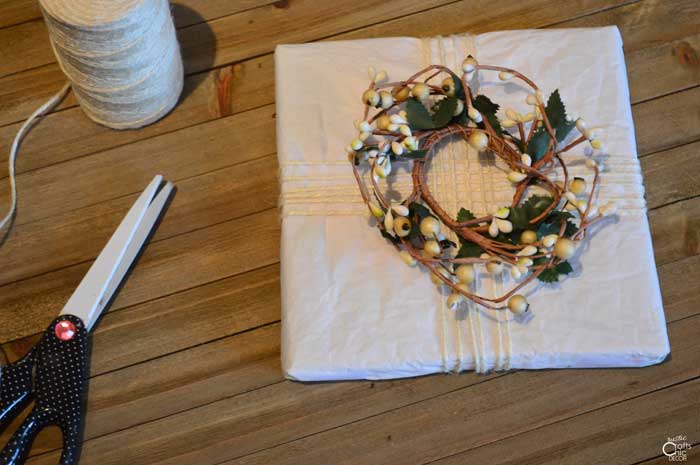 Another inexpensive way to wrap Christmas gifts is with tissue paper. It can then be easily dressed up with twine and other decorative items that you have on hand. My favorite tissue paper to use simply the plain white. I love the chic and simple look and it makes a great base for some rustic embellishments.
Patterned Paper Homemade Gift Tags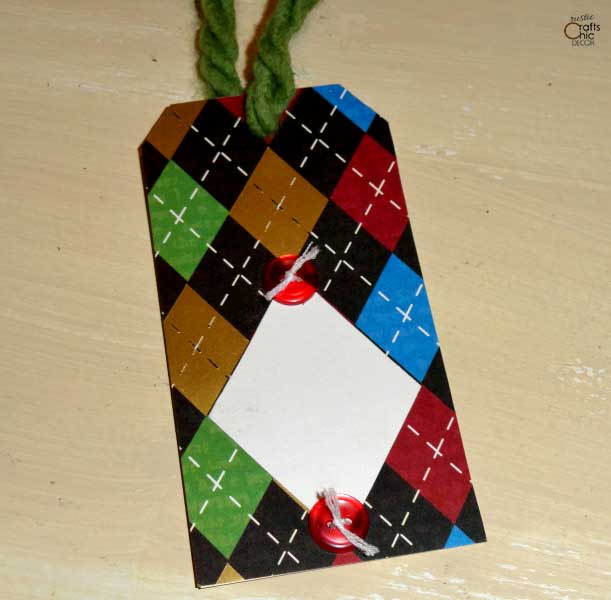 Plain manila tags are inexpensive to buy and make the perfect base for a decorative gift tag. Just use patterned craft paper or any favorite paper to dress them up for gift giving.
Easy Christmas Paper Crafts For Gift Giving
Decorative Bookpage Bookmarks – A bookmark makes a great stuffing stuffer. I used vintage book pages and flower drawings to make mine with a shabby chic look.
Trendy Newspaper Magazine Holder – Personalize a magazine or paper holder for someone on your list. Newspaper creates a fun look as a base for the design.
For more Christmas paper craft ideas, check out how to recycle your old Christmas cards into festive decor.