With Halloween just around the corner, I thought I would bring back a few of my favorite Halloween projects. I will also share some new ideas that will put you in the holiday spirit.
My DIY Halloween Decorating Ideas:
When I think spooky, I tend to think more in the lines of Edgar Allen Poe. Because of this, I came up with a slightly spooky, slightly chic idea for some shelf or mantel decor with this framed poem art.

I made the poem to look like a page out of an old book and placed it on a burlap background for a shabby touch.  You can see the full tutorial at my Edgar Allen Poe craft page.
Another one of my favorite ways to decorate for Halloween, is with candy corn.  Simply filling fun jars or a vase with the colorful corn makes a fun and festive decoration.

I made this candy dish, for holding candy corn, out of a homemade pine coaster, a vintage hose nozzle, and a vintage small candy dish.  See this and more ideas at the candy dish craft post.
Of course pumpkin crafts are always extremely popular and I have done a variety of those to decorate my home for Halloween and the entire Fall season.
You can see the tutorials for all of these plus ideas for many more at my post, A Variety Of Pumpkin Crafts.
More Halloween Decorating Ideas:
1.  Floor ghosts by Country Living.

These cuties are made from tissue paper bells.  A quick and easy project!
2.  Temporary spooky mirror project by All Things Thrifty.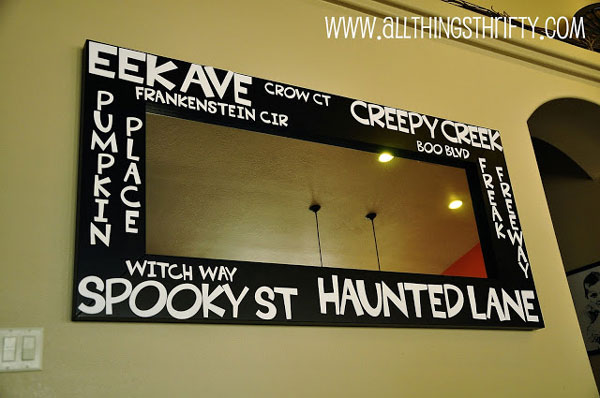 I love this chic subway looking mirror that can easily be switched back to normal after Halloween.  It's a fun way to add a little festivity without breaking the budget.
And, in case you missed it, make sure you check out the post Ten Creative Halloween Crafts.  It is full of unique ideas for decor that you can easily make yourself to celebrate the holiday.
I hope you have been inspired!