Besides collecting twigs for a fire pit fire, there is another great reason to start a twig collection. Twigs are basically a staple for so many rustic craft projects. I especially like to use birch twigs in most of my twig crafts. They are flexible, have nice coloring, and can be found in a variety of diameters. Over the years, I have done quite a variety of projects using twigs to decorate my home with. They are easy to work with and give just the right rustic touch. Here are 25 twig crafts that I hope you will enjoy.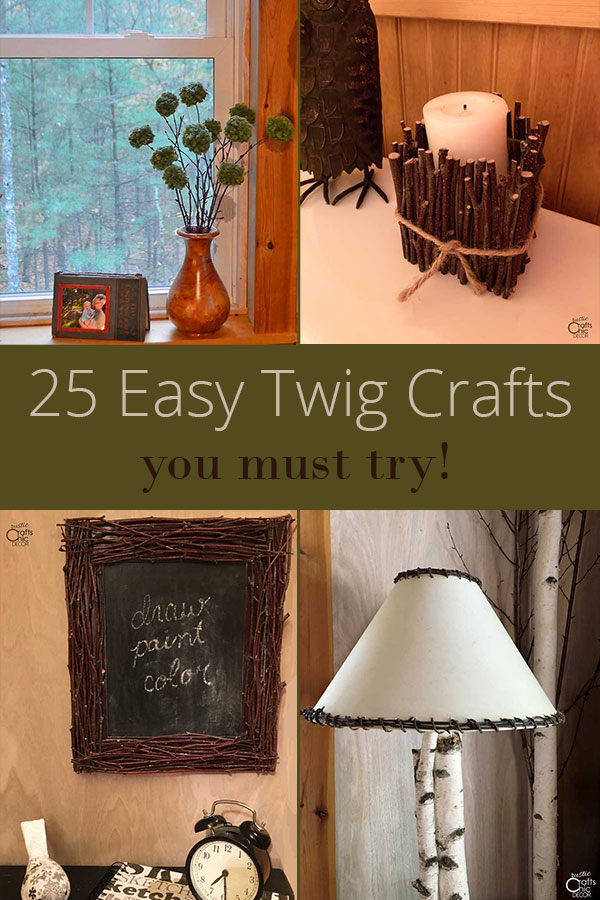 This post contains recommended product links. If you make a purchase through one of the links, I will earn a small commission at no extra cost to you.
For details on all of these twig craft tutorials, check out the links provided at the bottom of each of the photos.
1. Pom Pom Twig Bouquet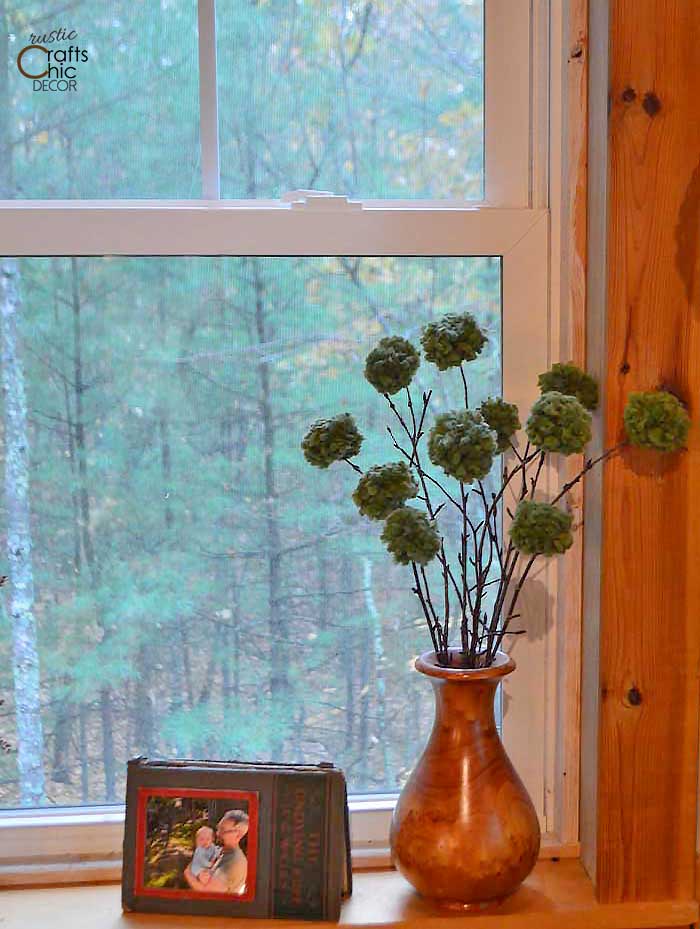 One of my favorite ways to use twigs is in vases. They are perfect to use as stems for homemade flowers. For this bouquet, I made little pom pom balls out of wool yarn. It was super easy to then insert my twigs into the center of the yarn balls to create a fun and whimsical bouquet. I didn't even have to use glue!
2. DIY Twig Candle Holder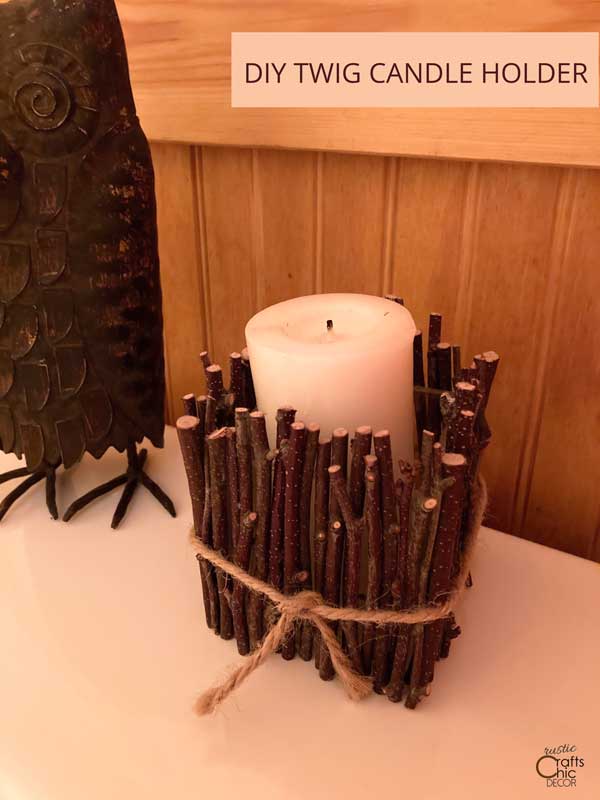 When you have a lot of plain glass candle holders, it's fun to give a couple a rustic makeover using twigs cut to size. All you need to do is glue the twigs around the perimeter of the glass. This would be a fun way to dress up a planter or vase as well.
SHOP SQUARE GLASS CANDLE HOLDERS
3. Twig Tree Sign DIY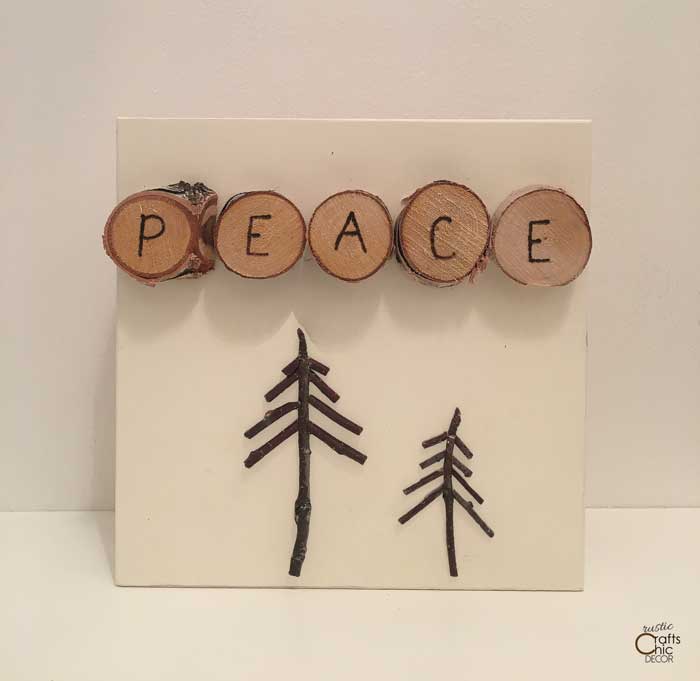 I love to create pictures using small twigs. Pine trees are super easy to make. It's just a matter of cutting the twigs to the sizes you need and then gluing them to a base to create your art. Besides trees, you can easily make shapes or letters.
4. Wrapped Birch Twig Lamp Shade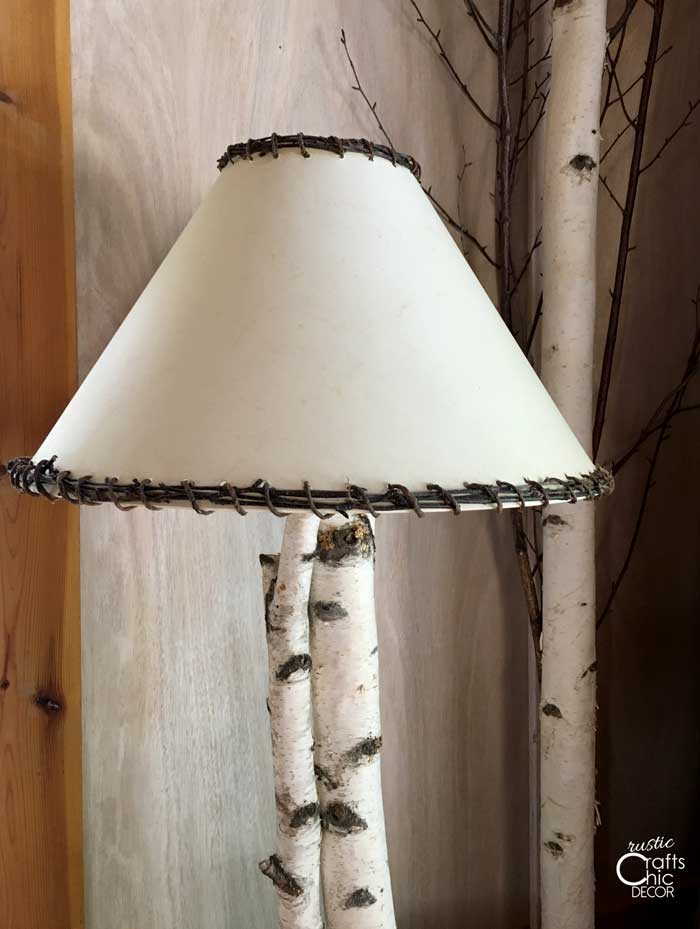 When we first started making birch lamps, I wanted lampshades that also had a rustic touch. So, I gathered up some twigs and then attached them to the tops and bottoms of my shades. Bark covered wire worked perfectly for securing the branches in place.
5. Rustic Chic Twig Lampshade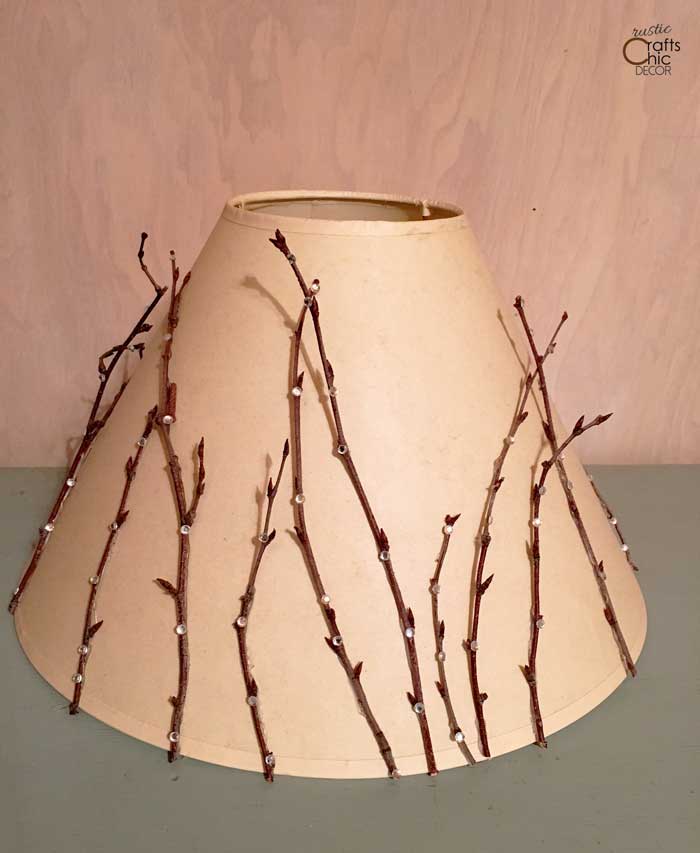 Another way to get twigs onto a lampshade is to simply glue them directly to the shade. For this shade, I added sparkly sequins to give it a more rustic chic look.
6. Easy DIY Chalkboard With Twig Frame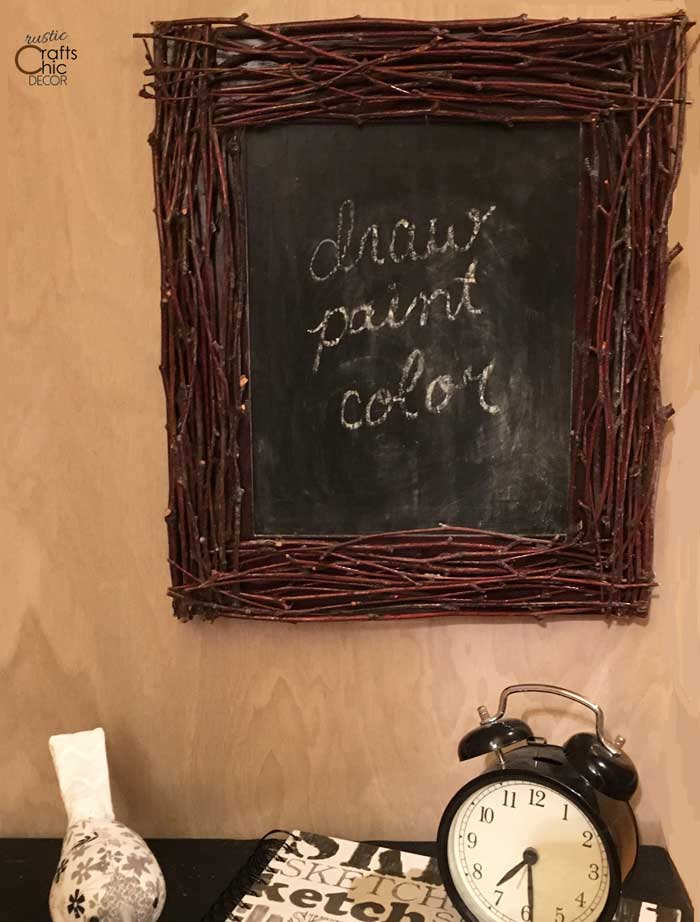 It's also a lot of fun to dress up a basic picture frame. I like to take a flat wooden frame and make it rustic by adding lots of twigs. You can then either display pictures in the frames or make the frame into a chalkboard instead.
7. DIY Birch Branch And Twig Garland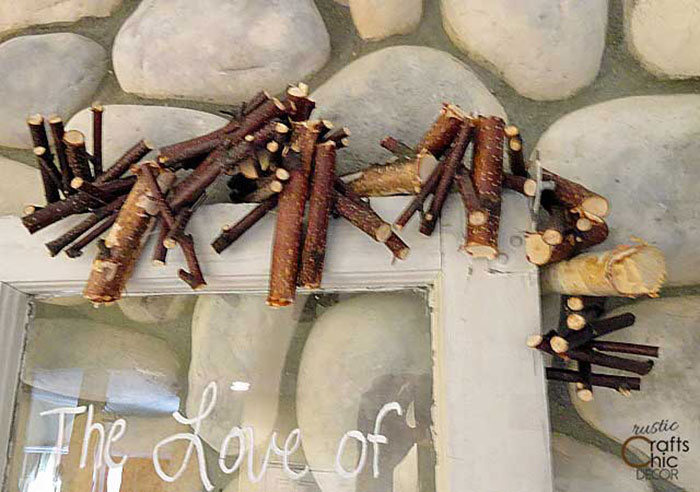 Branch garlands are fun to make to display on tables, shelves, mantels, or over a frame. I like the variety of using thicker branches along with thinner twigs to give a lot of texture and color.
8. Make Twig Letters For A Sign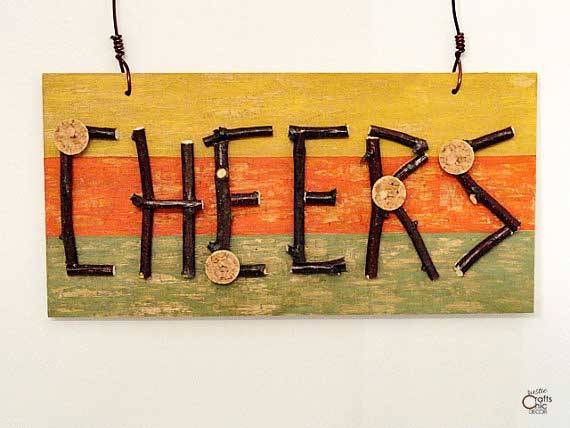 If you love rustic signs but you don't trust your handwriting, use twigs to form letters instead. It's an easy way to get a rustic look with lots of depth.
9. Twig And Pebble Art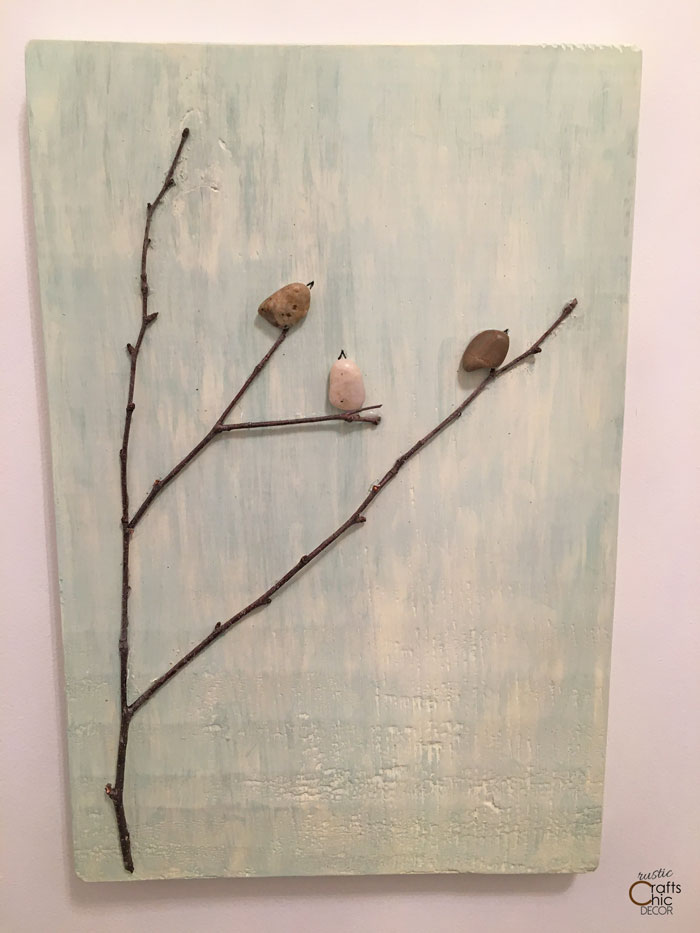 A piece of wood give the perfect canvas for creating a scene using nothing but twigs and pebbles. I love to make the twigs into branches or a power line for birds to perch.
10. Rustic Wooden Flowers

Here is another flower idea using twigs as the stems. All you need to do is drill a hole into the bottom of the wood slice to insert the twig with glue.
11. DIY Twig Snowflakes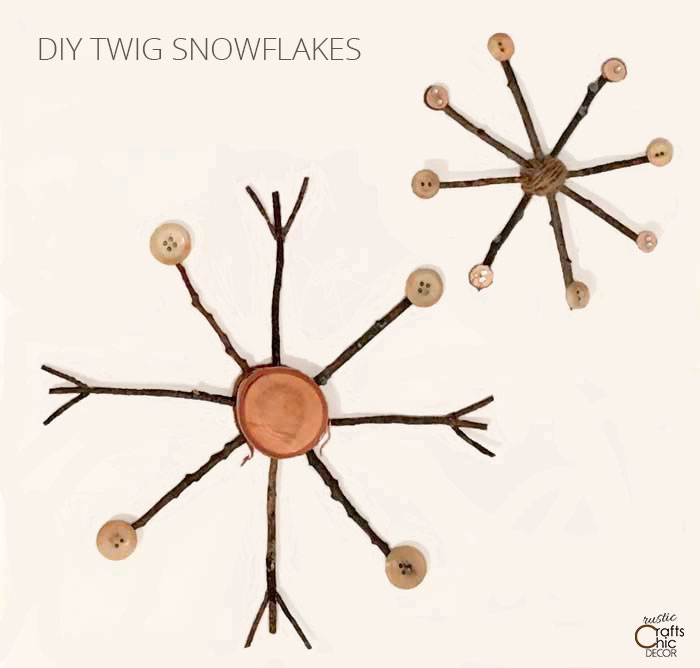 Every winter, I like to experiment with a variety of different twig snowflake designs. You really can't go wrong with whatever you come up with!
12. Twigs And Buttons Snowflake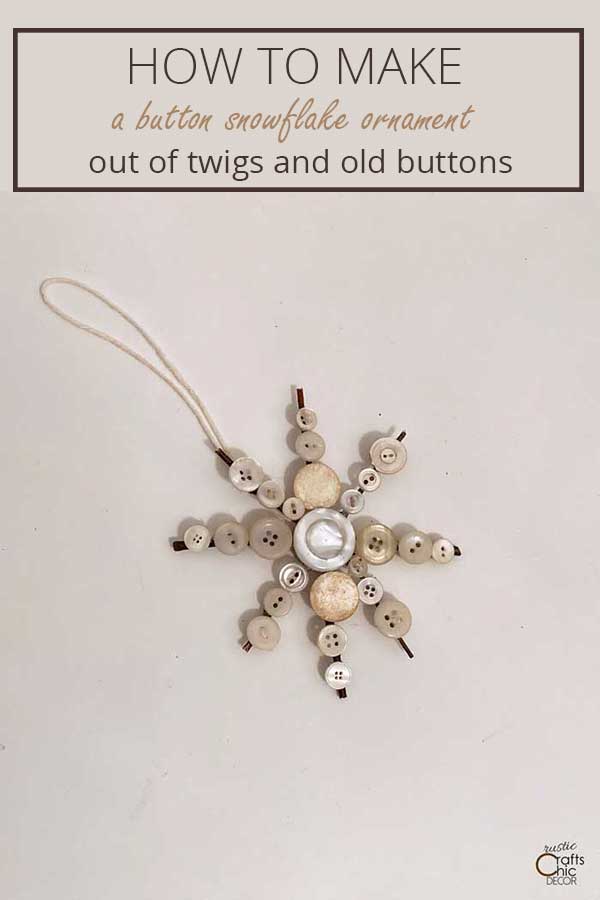 Sometimes I end up not seeing a lot of the actual twigs when I make snowflakes. In this case the twigs provided the perfect base for gluing buttons to.
13. Twig Wall Art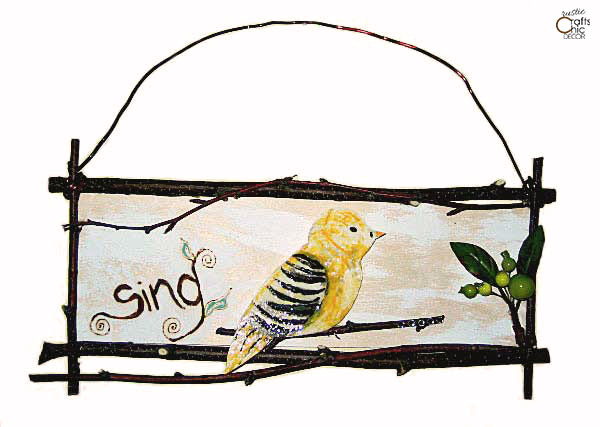 A plain piece of wood is easily made rustic by lining it with twigs. I love all of the different designs that you can get depending on the sizes and curliness of the twigs that you use.
14. Use Twigs In A Vase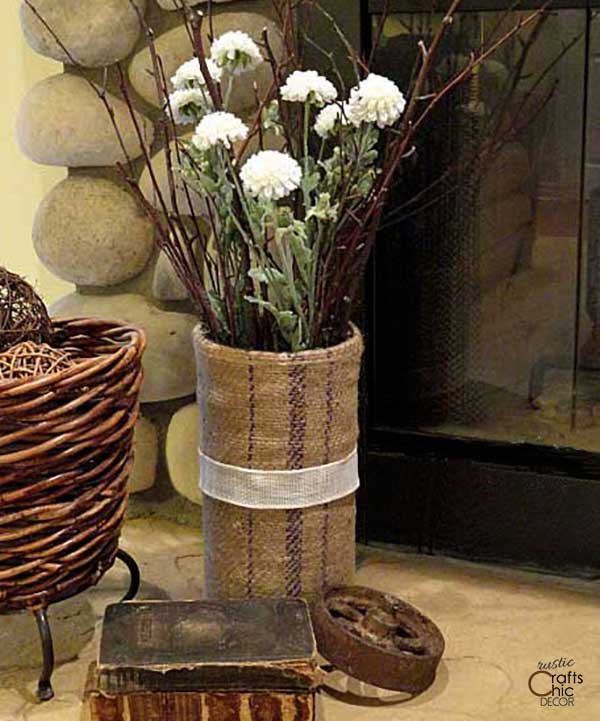 Here, I just combined plain twigs with some silk flowers for a rustic chic display.
15. Twig Lined Magnet Board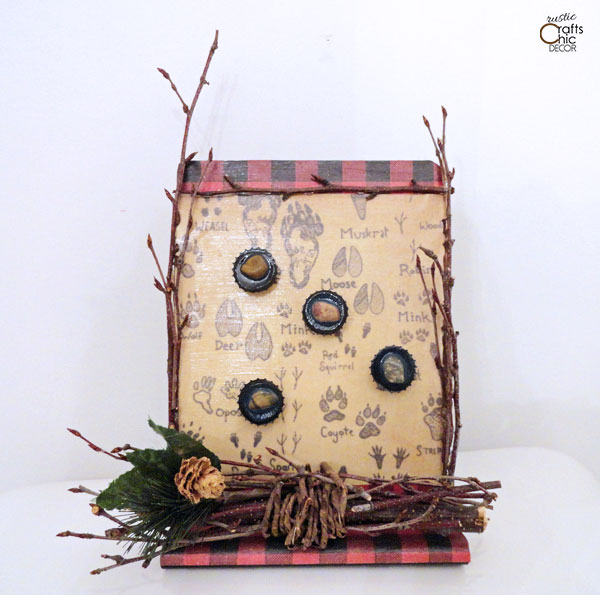 I transformed a plain metal magnet board into a rustic display with a variety of fun embellishments. Surrounding the board with twigs was the first step. Then, I wrapped another bunch of twigs with bark covered wire to add interest to the bottom of the magnet board.
16. Twig Vase Filler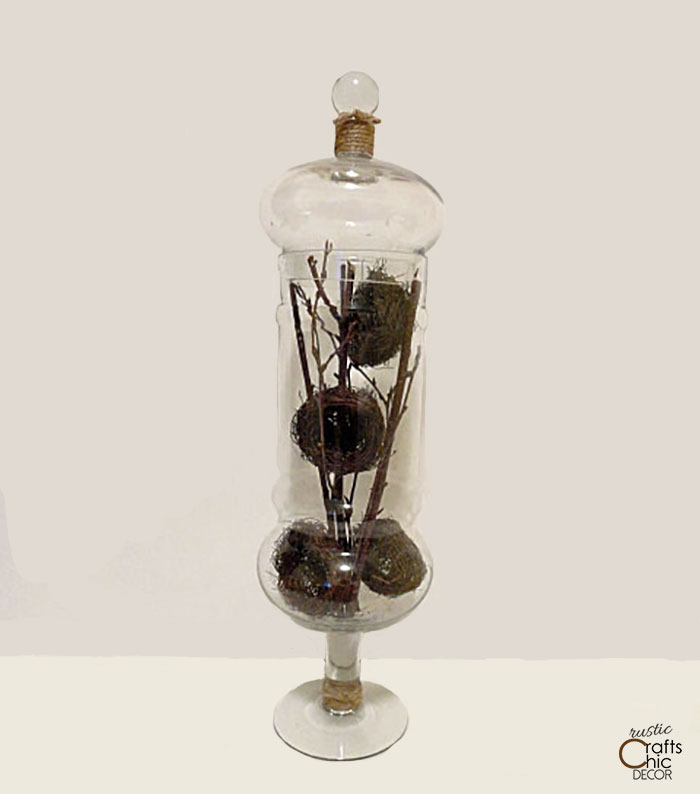 You can also just combine birch twigs with small bird nests to a clear glass vase.
17. Use Twigs In Gift Wrapping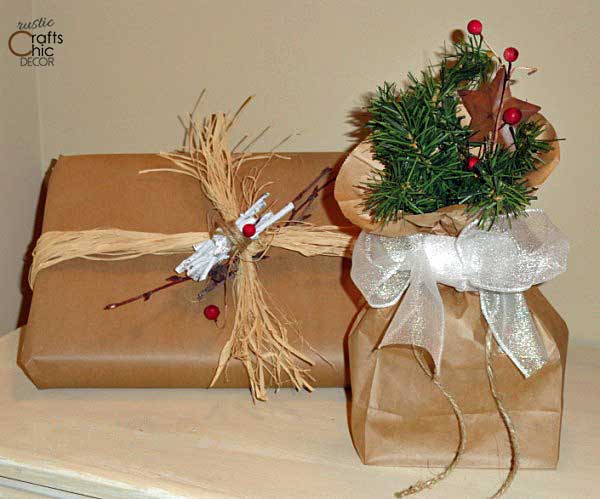 Instead of using traditional gift wrap embellishments, try using rustic pieces instead. Twigs and raffia are nice to use especially with Kraft paper.
18. DIY Canvas Art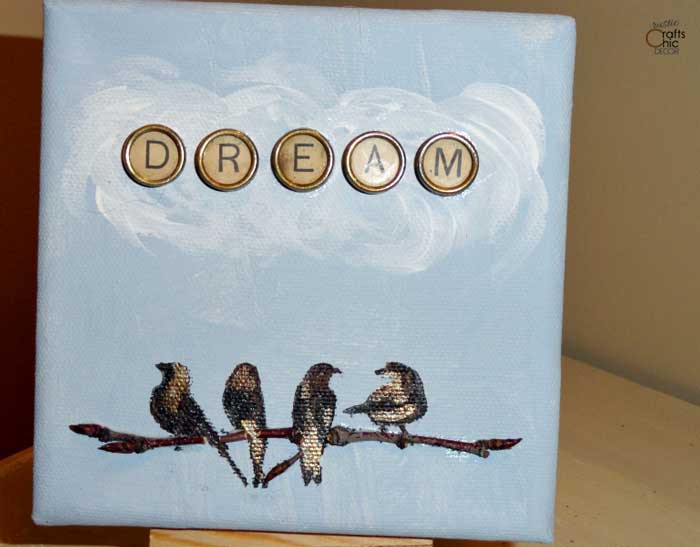 Sometimes all you need is one twig to add the finishing touch to your artwork!
19. Birch Bark Snowman Craft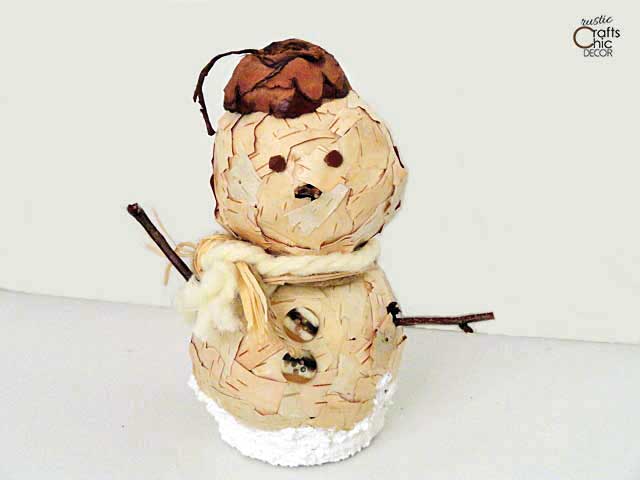 Of course, twigs make fantastic arms for a DIY snowman!
20. Twig Tree And Snowman Shadow Box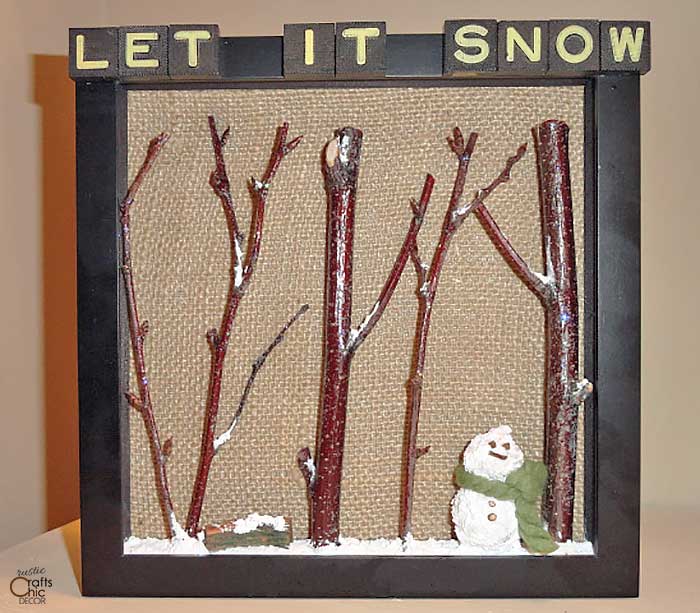 Decorate a shadow box with twigs to make a scene. I also really like to see just twigs in a frame with a white background for artsy rustic chic.
21. Sticks And Stones Tissue Box Cover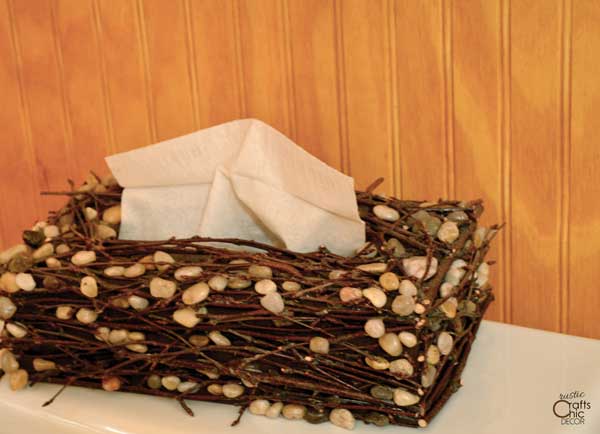 Buy an unfinished wood tissue box cover and then give it the wow factor by embellishing it with twigs and pebbles.
22. Decorate A Bird House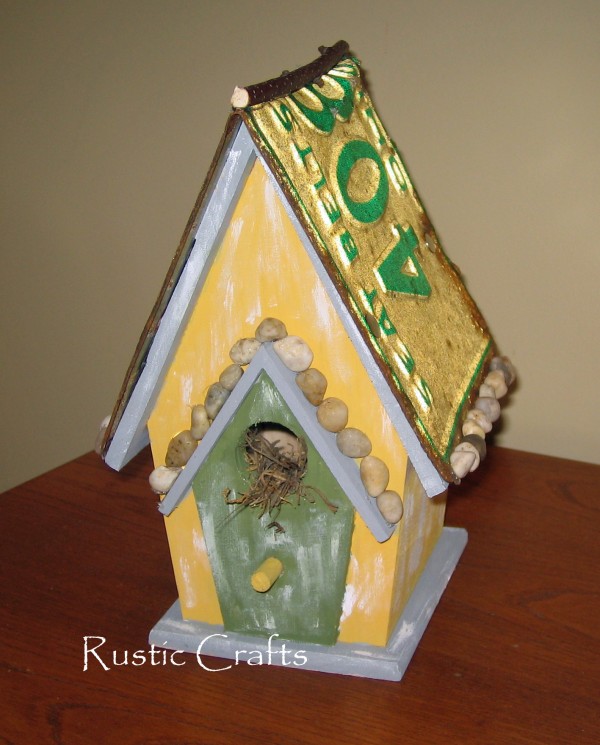 Add accents to a rustic birdhouse with twigs.
23. Rustic Bird Craft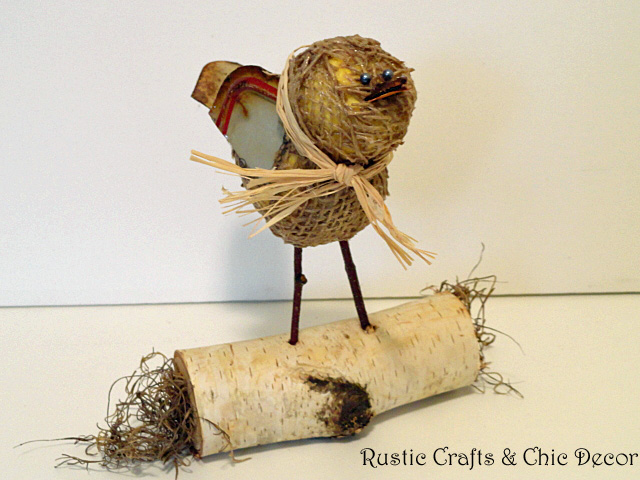 Just like twigs make perfect arms for snowmen, they also create just the right legs on craft birds.
24. DIY Pear With Twig Stem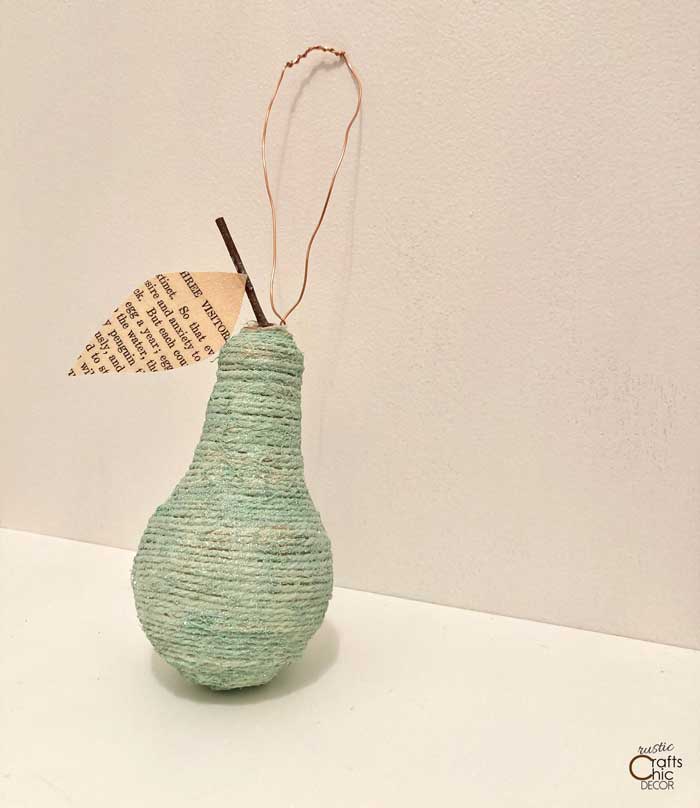 It just makes sense to use a twig section on a DIY pear!
25. Mixed Media Journal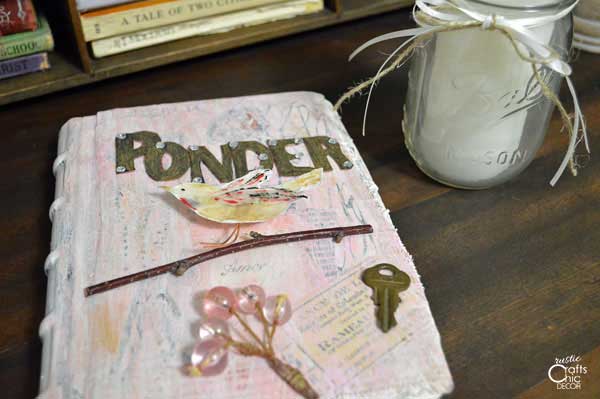 Mixed media projects use a variety of different objects. In this case, a twig provides a nice perch for the paper bird.
Need more inspiration? Check out these things to make out of branches.